Abstract
Germline LKB1 mutations are responsible for Peutz–Jeghers syndrome (PJS). Tumors at several locations frequently arise in these patients, confirming that LKB1 is linked to cancer predisposition and is therefore a bona fide tumor-suppressor gene. In humans, the LKB1 gene is located in the short arm of chromosome 19, which is frequently deleted in many tumors of sporadic origin. However, LKB1 alterations in tumors other than those of PJS are rarely reported. Notably, this is not the case for non-small-cell lung cancer, where nearly half of the tumors harbor somatic and homozygous inactivating mutations in LKB1. The present review considers the frequency and pattern of LKB1 gene mutations in sporadic cancers of various origins, and the role of the encoded protein in cancer development.
Relevant articles
Open Access articles citing this article.
Christopher W. Murray

,

Jennifer J. Brady

…

Monte M. Winslow

Nature Communications Open Access 28 February 2022

Kwan Long Mung

,

William B. Eccleshall

…

Päivi J. Koskinen

Cell Communication and Signaling Open Access 30 June 2021

Lu Deng

,

Tong Meng

…

Ping Wang

Signal Transduction and Targeted Therapy Open Access 29 February 2020
Access options
Subscribe to this journal
Receive 50 print issues and online access
$259.00 per year
only $5.18 per issue
Rent or buy this article
Get just this article for as long as you need it
$39.95
Prices may be subject to local taxes which are calculated during checkout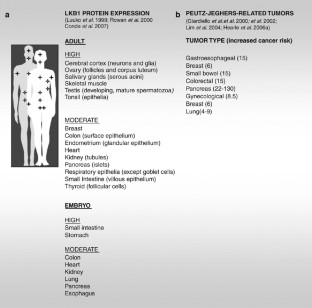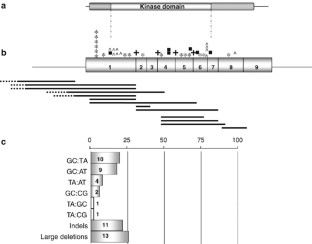 References
Ahrendt SA, Decker PA, Alawi EA, Zhu Yr YR, Sanchez-Cespedes M, Yang SC et al. (2001). Cigarette smoking is strongly associated with mutation of the K-ras gene in patients with primary adenocarcinoma of the lung. Cancer 92: 1525–1530.

Alessi DR, Sakamoto K, Bayascas JR . (2006). LKB1-dependent signaling pathways. Annu Rev Biochem 75: 137–163.

Alhopuro P, Katajisto P, Lehtonen R, Ylisaukko-Oja SK, Naatsaari L, Karhu A et al. (2005). Mutation analysis of three genes encoding novel LKB1-interacting proteins, BRG1, STRADalpha, and MO25alpha, in Peutz–Jeghers syndrome. Br J Cancer 92: 1126–1129.

Avizienyte E, Loukola A, Roth S, Hemminki A, Tarkkanen M, Salovaara R et al. (1999). LKB1 somatic mutations in sporadic tumors. Am J Pathol 154: 677–681.

Avizienyte E, Roth S, Loukola A, Hemminki A, Lothe RA, Stenwig AE et al. (1998). Somatic mutations in LKB1 are rare in sporadic colorectal and testicular tumors. Cancer Res 58: 2087–2090.

Baas AF, Boudeau J, Sapkota GP, Smit L, Medema R, Morrice NA et al. (2003). Activation of the tumour suppressor kinase LKB1 by the STE20-like pseudokinase STRAD. EMBO J 22: 3062–3072.

Baas AF, Kuipers J, van der Wel NN, Batlle E, Koerten HK, Peters PJ et al. (2004). Complete polarization of single intestinal epithelial cells upon activation of LKB1 by STRAD. Cell 116: 457–466.

Bignell GR, Barfoot R, Seal S, Collins N, Warren W, Stratton MR . (1998). Low frequency of somatic mutations in the LKB1/Peutz–Jeghers syndrome gene in sporadic breast cancer. Cancer Res 58: 1384–1386.

Boudeau J, Baas AF, Deak M, Morrice NA, Kieloch A, Schutkowski M et al. (2003). MO25alpha/beta interact with STRADalpha/beta enhancing their ability to bind, activate and localize LKB1 in the cytoplasm. EMBO J 22: 5102–5114.

Buchet-Poyau K, Mehenni H, Radhakrishna U, Antonarakis SE . (2002). Search for the second Peutz–Jeghers syndrome locus: exclusion of the STK13, PRKCG, KLK10, and PSCD2 genes on chromosome 19 and the STK11IP gene on chromosome 2. Cytogenet Genome Res 97: 171–178.

Carretero J, Medina PP, Blanco R, Smit L, Tang M, Roncador G et al. (2007). Dysfunctional AMPK activity, signalling through mTOR and survival in response to energetic stress in LKB1-deficient lung cancer. Oncogene 26: 1616–1625.

Carretero J, Medina PP, Pio R, Montuenga LM, Sanchez-Cespedes M . (2004). Novel and natural knock-out lung cancer cell lines for the LKB1/STK11 tumor suppressor gene. Oncogene 23: 4037–4040.

Conde E, Suarez-Gauthier A, Garcia-Garcia E, Lopez-Rios F, Lopez-Encuentra A, Garcia-Lujan R et al. (2007). Specific pattern of LKB1 and phospho acetyl-CoA carboxylase protein immunostaining in human normal tissues and lung carcinomas. Human Pathol: 21 May [Epub ahead of print].

Connolly DC, Katabuchi H, Cliby WA, Cho KR . (2000). Somatic mutations in the STK11/LKB1 gene are uncommon in rare gynecological tumor types associated with Peutz–Jegher's syndrome. Am J Pathol 156: 339–345.

Consortium TECS (1993). Identification and characterization of the tuberous sclerosis gene 2 on chromosome 16. Cell 75: 1305–1315.

Corradetti MN, Inoki K, Bardeesy N, DePinho RA, Guan KL . (2004). Regulation of the TSC pathway by LKB1: evidence of a molecular link between tuberous sclerosis complex and Peutz–Jeghers syndrome. Genes Dev 18: 1533–1538.

Fernandez P, Carretero J, Medina PP, Jimenez AI, Paz MF, Rodriguez-Perales S et al. (2004). Distinctive gene expression of human lung adenocarcinomas carrying LKB1 gene mutations. Oncogene 23: 5084–5091.

Ghaffar H, Sahin F, Sanchez-Cespedes M, Su GH, Zahurak M, Sidransky D et al. (2003). LKB1 protein expression in the evolution of glandular neoplasia of the lung. Clin Cancer Res 9: 2998–3003.

Giardiello FM, Brensinger JD, Tersmette AC, Goodman SN, Petersen GM, Booker SV et al. (2000). Very high risk of cancer in familial Peutz–Jeghers syndrome. Gastroenterology 119: 1447–1453.

Greenman C, Stephens P, Smith R, Dalgliesh GL, Hunter C, Bignell G et al. (2007). Patterns of somatic mutation in human cancer genomes. Nature 446: 153–158.

Guldberg P, Thor Straten P, Ahrenkiel V, Seremet T, Kirkin AF, Zeuthen J . (1999). Somatic mutation of the Peutz–Jeghers syndrome gene, LKB1/STK11, in malignant melanoma. Oncogene 18: 1777–1780.

Guo S, Kemphues KJ . (1995). par-1, a gene required for establishing polarity in C. elegans embryos, encodes a putative Ser/Thr kinase that is asymmetrically distributed. Cell 81: 611–620.

Hainaut P, Pfeifer GP . (2001). Patterns of p53 G → T transversions in lung cancers reflect the primary mutagenic signature of DNA-damage by tobacco smoke. Carcinogenesis 22: 367–374.

Hardie DG . (2003). Minireview: the AMP-activated protein kinase cascade: the key sensor of cellular energy status. Endocrinology 144: 5179–5183.

Hawley SA, Boudeau J, Reid JL, Mustard KJ, Udd L, Makela TP et al. (2003). Complexes between the LKB1 tumor suppressor, STRADalpha/beta and MO25alpha/beta are upstream kinases in the AMP-activated protein kinase cascade. J Biol 2: 28.

Hearle N, Schumacher V, Menko FH, Olschwang S, Boardman LA, Gille JJ et al. (2006a). Frequency and spectrum of cancers in the Peutz–Jeghers syndrome. Clin Cancer Res 12: 3209–3215.

Hearle NC, Rudd MF, Lim W, Murday V, Lim AG, Phillips RK et al. (2006b). Exonic STK11 deletions are not a rare cause of Peutz–Jeghers syndrome. J Med Genet 43: e15.

Hemminki A, Markie D, Tomlinson I, Avizienyte E, Roth S, Loukola A et al. (1998). A serine/threonine kinase gene defective in Peutz–Jeghers syndrome. Nature 18: 184–187.

Ikediobi ON, Davies H, Bignell G, Edkins S, Stevens C, O'Meara S et al. (2006). Mutation analysis of 24 known cancer genes in the NCI-60 cell line set. Mol Cancer Ther 5: 2606–2612.

Jeghers H, McKusic VA, Katz KH . (1949). Generalized intestinal polyposis and melanin spots of the oral mucosa, lip, and digits: a syndrome of diagnostic significance. N Engl J Med 241: 1031–1036.

Jenne DE, Reimann H, Nezu J, Friedel W, Loff S, Jeschke R et al. (1998). Peutz–Jeghers syndrome is caused by mutations in a novel serine threonine kinase. Nat Genet 18: 38–44.

Jimenez AI, Fernandez P, Dominguez O, Dopazo A, Sanchez-Cespedes M . (2003). Growth and molecular profile of lung cancer cells expressing ectopic LKB1: down-regulation of the phosphatidylinositol 3′-phosphate kinase/PTEN pathway. Cancer Res 63: 1382–1388.

Karuman P, Gozani O, Odze RD, Zhou XC, Zhu H, Shaw R et al. (2001). The Peutz–Jeghers gene product LKB1 is a mediator of p53-dependent cell death. Mol Cell 7: 1307–1319.

Katajisto P, Vallenius T, Vaahtomeri K, Ekman N, Udd L, Tiainen M et al. (2007). The LKB1 tumor suppressor kinase in human disease. Biochim Biophys Acta 1775: 63–75.

Kim CJ, Cho YG, Park JY, Kim TY, Lee JH, Kim HS et al. (2004). Genetic analysis of the LKB1/STK11 gene in hepatocellular carcinomas. Eur J Cancer 40: 136–141.

Knudson AG . (1971). Mutation and cancer: statistical study of retinoblastoma. Proc Natl Acad Sci USA 68: 820–823.

Kuragaki C, Enomoto T, Ueno Y, Sun H, Fujita M, Nakashima R et al. (2003). Mutations in the STK11 gene characterize minimal deviation adenocarcinoma of the uterine cervix. Lab Invest 83: 35–45.

Launonen V . (2005). Mutations in the human LKB1/STK11 gene. Hum Mutat 26: 291–297.

Lim W, Olschwang S, Keller JJ, Westerman AM, Menko FH, Boardman LA et al. (2004). Relative frequency and morphology of cancers in STK11 mutation carriers. Gastroenterology 126: 1788–1794.

Lizcano JM, Goransson O, Toth R, Deak M, Morrice NA, Boudeau J et al. (2004). LKB1 is a master kinase that activates 13 kinases of the AMPK subfamily, including MARK/PAR-1. EMBO J 23: 833–843.

Luukko K, Ylikorkala A, Tiainen M, Makela TP . (1999). Expression of LKB1 and PTEN tumor suppressor genes during mouse embryonic development. Mech Dev 83: 187–190.

Marignani P, Kanai F, Carpenter CL . (2001). LKB1 associates with Brg1 and is necessary for Brg1-induced growth arrest. J Biol Chem 276: 32415–32418.

Martin SG, St Johnston D . (2003). A role for Drosophila LKB1 in anterior–posterior axis formation and epithelial polarity. Nature 421: 379–384.

Matsumoto S, Iwakawa R, Takahashi K, Cono T, Nakanishi Y, Matsuno Y et al. (2007). Prevalence and specificity of LKB1 genetic alterations in lung cancers. Oncogene [E-pub ahead of print].

Mehenni H, Gehrig C, Nezu J, Oku A, Shimane M, Rossier C et al. (1998). Loss of LKB1 kinase activity in Peutz–Jeghers syndrome, and evidence for allelic and locus heterogeneity. Am J Hum Genet 63: 1641–1650.

Miyoshi H, Nakau M, Ishikawa TO, Seldin MF, Oshima M, Taketo MM . (2002). Gastrointestinal hamartomatous polyposis in Lkb1 heterozygous knock-out mice. Cancer Res 62: 2261–2266.

Nakau M, Miyoshi H, Seldin MF, Imamura M, Oshima M, Taketo MM . (2002). Hepatocellular carcinoma caused by loss of heterozygosity in lkb1 gene knock-out mice. Cancer Res 62: 4549–4553.

Qiu W, Schonleben F, Thaker HM, Goggins M, Su GH . (2006). A novel mutation of STK11/LKB1 gene leads to the loss of cell growth inhibition in head and neck squamous cell carcinoma. Oncogene 25: 2937–2942.

Rossi DJ, Ylikorkala A, Korsisaari N, Salovaara R, Luukko K, Launonen V et al. (2002). Induction of cyclooxygenase-2 in a mouse model of Peutz–Jeghers polyposis. Proc Natl Acad Sci USA 99: 12327–12332.

Rowan A, Bataille V, MacKie R, Healy E, Bicknell D, Bodmer W et al. (1999). Somatic mutations in the Peutz–Jeghers (LKB1/STKII) gene in sporadic malignant melanomas. J Invest Dermatol 112: 509–511.

Rowan A, Churchman M, Jefferey R, Hanby A, Poulsom R, Tomlinson I . (2000). In situ analysis of LKB1/STK11 mRNA expression in human normal tissues and tumours. J Pathol 192: 203–206.

Sanchez-Cespedes M, Parrella P, Esteller M, Nomoto S, Trink B, Engles JM et al. (2002). Inactivation of LKB1/STK11 is a common event in adenocarcinomas of the lung. Cancer Res 62: 3659–3662.

Shaw RJ, Bardeesy N, Manning BD, Lopez L, Kosmatka M, DePinho RA et al. (2004). The LKB1 tumor suppressor negatively regulates mTOR signaling. Cancer Cell 6: 91–99.

Spicer J, Ashworth A . (2004). LKB1 kinase: master and commander of metabolism and polarity. Curr Biol 14: R383–R385.

Su GH, Hruban RH, Bansa RK, Bova GS, Tang DJ, Shekher MC et al. (1999). Germline and somatic mutations of the STK11/LKB1 Peutz–Jeghers gene in pancreatic and biliary cancers. Am J Pathol 154: 1835–1840.

Tiainen M, Ylikorkala A, Makela TP . (1999). Growth suppression by Lkb1 is mediated by a G(1) cell cycle arrest. Proc Natl Acad Sci USA 96: 9248–9251.

Tiainen M, Vaahtomeri K, Ylikorkala A, Makela TP . (2002). Growth arrest by the LKB1 tumor suppressor: induction of p21(WAF1/CIP1). Hum Mol Genet 11: 1497–1504.

Thomas RK, Nickerson E, Simons JF, Janne PA, Tengs T, Yuza Y et al. (2006). Sensitive mutation detection in heterogeneous cancer specimens by massively parallel picoliter reactor sequencing. Nat Med 12: 852–855.

Upadhyay S, Liu C, Chatterjee A, Hoque MO, Kim MS, Engles J et al. (2006). LKB1/STK11 suppresses cyclooxygenase-2 induction and cellular invasion through PEA3 in lung cancer. Cancer Res 66: 7870–7879.

Volikos E, Robinson J, Aittomaki K, Mecklin JP, Jarvinen H, Westerman AM et al. (2006). LKB1 exonic and whole gene deletions are a common cause of Peutz–Jeghers syndrome. J Med Genet 43: e18.

Wang ZJ, Churchman M, Avizienyte E, McKeown C, Davies S, Evans DG et al. (1999a). Germline mutations of the LKB1 (STK11) gene in Peutz–Jeghers patients. J Med Genet 36: 365–368.

Wang ZJ, Churchman M, Campbell IG, Xu WH, Yan ZY, McCluggage WG et al. (1999b). Allele loss and mutation screen at the Peutz–Jeghers (LKB1) locus (19p13.3) in sporadic ovarian tumours. Br J Cancer 80: 70–72.

Ylikorkala A, Avizienyte E, Tomlinson IP, Tiainen M, Roth S, Loukola A et al. (1999). Mutations and impaired function of LKB1 in familial and non-familial Peutz–Jeghers syndrome and a sporadic testicular cancer. Hum Mol Genet 8: 45–51.

Ylikorkala A, Rossi DJ, Korsisaari N, Luukko K, Alitalo K, Henkemeyer M et al. (2001). Vascular abnormalities and deregulation of VEGF in Lkb1-deficient mice. Science 293: 1323–1326.
About this article
Cite this article
Sanchez-Cespedes, M. A role for LKB1 gene in human cancer beyond the Peutz–Jeghers syndrome. Oncogene 26, 7825–7832 (2007). https://doi.org/10.1038/sj.onc.1210594
Received:

Revised:

Accepted:

Published:

Issue Date:

DOI: https://doi.org/10.1038/sj.onc.1210594
Keywords
LKB1

lung cancer

Peutz-Jeghers syndrome

tumor suppressor gene