Abstract
Much of what is known about the deleterious effects of tobacco use on health was learned from epidemiologic studies over the last half century. These studies establish unequivocally that tobacco use, particularly manufactured cigarette smoking, causes most cancers of the lung, oropharynx, larynx, and esophagus in the USA, and approximately one-third of all cancers of the pancreas, kidney, urinary bladder and uterine cervix. More recent evidence also implicates smoking with cancers of the stomach, liver and colorectum. While over half of the estimated 440 000 smoking-attributable deaths that occur annually in the USA involve non-malignant cardiovascular and respiratory conditions, smoking-attributable cancers are more recognized and feared. Geneticists increasingly study tobacco use as a model for environmental carcinogenicity. Tobacco-exposed populations provide opportunities to characterize the somatic mutations that give rise to specific cancers and to identify the inherited genetic traits that confer susceptibility or resistance. Studies to identify the genetic determinants of addiction may be particularly important. Future research to identify other susceptibility factors, such as genes that modify carcinogen metabolism or DNA repair, will need to be substantially larger and to quantify lifetime tobacco exposure with more precision than have past studies in order to distinguish gradations in risk due to exposure from those caused by genetic susceptibility. This review considers: (a) the epidemiology of tobacco use; (b) cancers presently classified as smoking-attributable by the US Surgeon General; (c) the magnitude of the epidemic of cancers and other diseases caused by tobacco use; (d) selected issues in the epidemiology of lung cancer; and (e) the interface of genetics and epidemiology in understanding, preventing, and treating tobacco-attributable disease.
Relevant articles
Open Access articles citing this article.
Andrew P. South

,

Nicoline Y. den Breems

…

Joseph M. Curry

Scientific Reports Open Access 17 December 2019

Estela Maria Silva

,

Vânia Sammartino Mariano

…

Adhemar Longatto-Filho

Infectious Agents and Cancer Open Access 02 August 2019

Andrzej Roszak

,

Margarita Lianeri

…

Pawel P. Jagodziński

Molecular Diagnosis & Therapy Open Access 14 March 2014
Access options
Subscribe to Journal
Get full journal access for 1 year
$119.00
only $2.38 per issue
All prices are NET prices.
VAT will be added later in the checkout.
Tax calculation will be finalised during checkout.
Buy article
Get time limited or full article access on ReadCube.
$32.00
All prices are NET prices.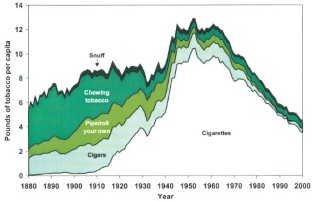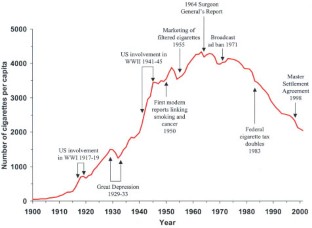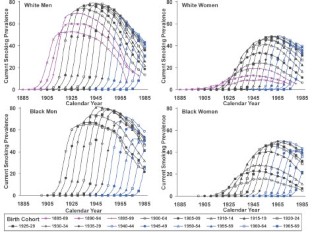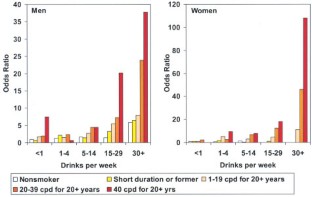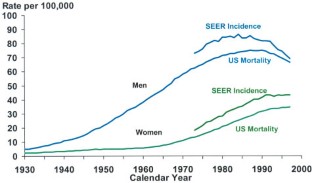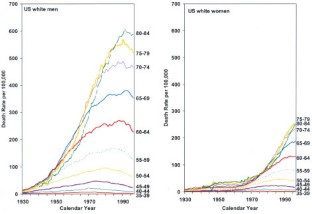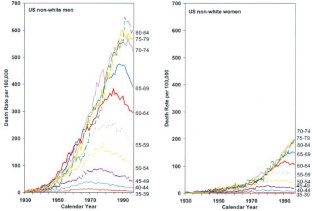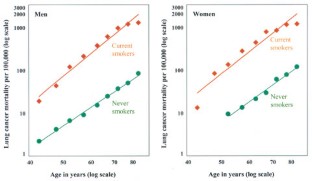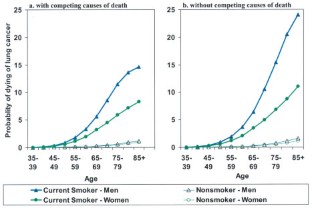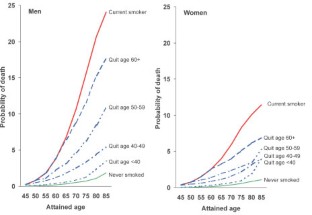 References
Ahsan H, Neugut A, Gammon M . 1997 Cancer Epidemiol. Biomarkers Prev. 10: 779–782

Ambrosone C, Freudenheim J, Graham S, Marshall J, Vena J, Brasure J, Michalek A, Laughlin R, Nemoto T, Gillenwater K, Shield P . 1996 J. Am. Med. Assoc. 276: 1494–1501

Auerbach O, Garfinkel L . 1986 Digest. Dis. Sci. 31: 1014–1020

Auerbach O, Hammond C, Garfinkel L . 1979 N. Engl. J. Med. 300: 381–386

Auerbach O, Hammond E, Garfinkel L . 1970 Cancer 25: 92–104

Auerbach O, Stout A, Hammond E, Garfinkel L . 1961 N. Engl. J. Med. 265: 253–267

Auerbach O, Stout A, Hammond E, Garfinkel L . 1962 N. Engl. J. Med. 267: 119–125

Auerbach O, Stout A, Hammond E, Garfinkel L . 1964 Am. Rev. Resp. Dis. 90: 867–876

Auerbach O, Stout A, Hammond E, Garfinkel L . 1965 Arch. Environ. Health 11: 4–15

Baron J . 1996 Br. Med. Bull. 52: 58–73

Bartsch H, Nair U, Risch A, Rojas M, Wikman H, Alexandrov K . 2000 Cancer Epidemiol. Biomarkers Prev. 9: 3–28

Bennett W, Alavanja M, Blomeke B, Vahakangas K, Castren K, Welsh J, Bowman ED, Khan MA, Flieder DB, Harris CC . 1999 J. Natl. Cancer Inst. 91: 2009–2014

Benowitz N . 2001 Risks associated with smoking cigarettes with low machine-measured yields of tar and nicotine Smoking and Tobacco Control Monograph No. 13. NIH Pub. No. 02-5074 U.S. Department of Health and Human Services, National Cancer Institute: Bethesda, MD

Benowitz N, Perez-Stable E, Herrera B, Jacob P . 2002 J. Natl. Cancer Inst. 94: 108–114

Bergen A, Caporaso N . 1999 J. Natl. Cancer Inst. 91: 1365–1375

Berkson J . 1955 Proceedings of the Staff Meetings of the Mayo Clinic 30: 319–348

Berkson J . 1958 J. Am. Stat. Assoc. 53: 28–38

Best E, Josie G, Walker C . 1961 Canad. J. Public Health 52: 99–106

Brockton N, Little J, Sharp L, Cotton S . 2000 Am. J. Epidemiol. 151: 846–861

Brownson R, Chang J, Davis J . 1992 Epidemiology 3: 61–64

Burns D, Lee L, Shen L, Gilpin E, Tolley H, Vaughn J, Shanks T . (eds) 1997 Cigarette smoking behavior in the United States National Institutes of Health: Bethesda, MD

Califano J, Leong P, Koch W, Eisenberger C, Sidransky D, Westra W . 1999 Clin. Cancer Res. 5: 1862–1867

Califano J, van der Riet P, Westra W, Nawroz H, Clayman G, Piantadosi S, Corio R, Lee D, Greenberg B, Koch W, Sidransky D . 1996 Cancer Res. 56: 2488–2492

Califano J, Westra W, Meininger G, Corio R, Koch W, Sidransky D . 2000 Clin. Cancer Res. 6: 347–352

Cardon L, Bell J . 2001 Nature Reviews/Genetics 2: 91–99

Castelao J, Yuan J, Skipper P, Tannenbaum S, Gago-Dominguez M, Crowder J, Ross R, Yu M . 2001 J. Natl. Cancer Inst. 93: 538–545

CDC. 1997 MMWR 46: 1217–1220

CDC. 2002 MMWR 51: 300–303

Clemmesen J . 1965 Statistical studies in the Aetiology of Malignant Neoplasms. I. Review and Results. Copenhagen: Munksgaard

Cohn B, Wingard D, Cirillo P, Cohen R, Kaplan G . 1996 J. Natl. Cancer Inst. 88: 1867

Cooper E, Lamb F, Sanders E, Hirst E . 1932 J. Hygiene, London 32: 293–300

Corrao M, Guindon G, Cokkinides V, Sharma N . 2000a Bulletin of the World Health Organization 78: 884–890

Corrao M, Guindon G, Sharma N, Shokoohi D . 2000b Tobacco Control: Country Profiles American Cancer Society: Atlanta, GA

Cosma G, Crofts F, Currie D, Wirgin I, Toniolo P, Garte S . 1993 Cancer Epidemiol. Biomarkers Prev. 2: 53–57

Crofts F, Cosma G, Currie D, Taioli E, Toniolo P, Garte S . 1993 Carcinogenesis 14: 1729–1731

Croninger A, Graham E, Wynder E . 1958 Cancer Res. 18: 1263–1271

Denissenko M, Pao A, Tang M-S, Pfeifer G . 1996 Science 274: 430–432

Djordjevic M, Stellman S, Zang E . 2000 J. Natl. Cancer Inst. 92: 106–111

Doll R . 1996 Br. Med. Bull. 52: 35–49

Doll R . 1998 Stat. Methods Med. Res. 7: 87–117

Doll R, Hill A . 1950 Br. Med. J. 2: 739–748

Doll R, Hill A . 1954 Br. Med. J. 1: 1451–1455

Doll R, Hill A . 1956 Br. Med. J. 2: 1071–1081

Doll R, Hill A . 1964 Br. Med. J. 1: 1399–1410

Doll R, Hill A, Kreyberg L . 1957 Br. J. Cancer ii: 43–48

Doll R, Peto R . 1978 J. Epidemiol. Community Health 32: 303–313

Doll R, Peto R . 1981 J. Natl. Cancer Inst. 66: 1191–1308

Dorn H . 1959 Public Health Rep. 74: 581–593

Eberhardt M, Ingram D, Makuc D et al . 2001 Urban and Rural Health Chartbook. Health, United States, 2001 National Center for Health Statistics: Hyattsville, Maryland

Engelbreth-Holm J, Ahlmann J . 1957 Acta Pathalogical Microbiology Scandinavia 41: 267–272

Ford B . 1994 SmokeScreen – A guide to the personal risks and global effects of the cigarette habit North Perth, WA, Australia: Halcyon Press

Fraumeni J, Mason T . 1974 J. Natl. Cancer Inst. 52: 659–665

Gaffney M, Altshuler B . 1988 J. Natl. Cancer Inst. 80: 925–931

Gammon M, Schoenberg J, Ahsan H, Risch H, Vaughan T, Chow W, Rotterdam H, West A, Dubrow R, Stanford J, Mayne S, Farrow D, Niwa S, Blot W, Fraumeni Jr J . 1997 J. Natl. Cancer Inst. 89: 1277–1284

Garcia-Closas M, Lubin J . 1999 Am. J. Epidemiol. 149: 689–692

Garte S . 2001 Cancer Epidemiol. Biomarkers Prev. 10: 1233–1237

Geisler S, Olshan A . 2001 Am. J. Epidemiol. 154: 95–105

Giovanucci E . 2001 Cancer Epidemiol. Biomarkers Prev. 10: 725–731

Glantz S, Slade J, Bero L, Hanauer P, Barnes D . 1996 The Cigarette Papers Glantz S, Slade J, Bero L, Hanauer P, Barnes D. (eds) Berkeley USA: University of California Press pp 1–24

Green J, Banks E, Berrington A, Darby S, Deo H, Newton R . 2000 Br. J. Cancer 83: 412–417

Guerin M, Cuzin J . 1957 Bulletin of the Association of France Cancer 44: 387–408

Guo Z, Yamaguchi K, Sanchez-Cespedes M, Westra W, Koch W, Sidransky D . 2001 Clin. Cancer Res. 7: 1963–1968

Haenszel W, Shimkin M, Miller H . 1956 Public Health Monograph Number 45. PHS Pub. No. 463. Public Health Service U.S. Government Printing Office, 1956: Washington, D.C

Hammond E . 1966 Natl. Cancer Inst. Monogr. 19: 127–204

Hammond E, Horn D . 1958 JAMA 166: 1294–1308

Harris J . 1983 J. Natl. Cancer Inst. 71: 473–479

Harris R, Zang E, Anderson J, Wynder E . 1993 Int. J. Epidemiol. 22: 592–599

Heath A, Cates R, Martin N, Meyer J, Hewitt J, Neale M et al . 1995 Behavior genetic approaches in behavioral medicine Turner J, Cardon L, Hewitt J. (eds) New York: Plenum Press pp 45–66

Hecht S . 1999 J. Natl. Cancer Inst. 91: 1194–1210

Hecht S . 2000 J. Natl. Cancer Inst. 92: 782–783

Henningfield J, Cohen C, Pickworth W . 1993 Nicotine Addiction, Principles and Management Orleans C, Slade J. (eds) New York: Oxford University Press pp 24–45

Hickey K, Do K-A, Green A . 2001 Epidemiologic Reviews 23: 115–125

Hill A . 1965 Proc. Royal Soc. Med. 58: 295–300

Hopper J, Southey M, Dite G, Jolley D, Giles G, McCredie M, Easton D, Venter D, and Australian Breast Cancer Family Study . 1999 Cancer Epidemiol. Biomarkers Prev. 8: 741–747

Houlston R . 1999 Cancer Epidemiol. Biomarkers Prev. 8: 675–682

IARC. 1986 IARC Monographs on the Evaluation of the Carcinogenic Risk of Chemicals to Humans: Tobacco Smoking International Agency for Reseach on Cancer: Lyon

IARC. 1987 IARC Monographs on the Evaluation of the Carcinogenic Risk of Chemicals to Humans: Overall Evaluations of Carcinogenicity An Updating of IARC Monographs Volumes 1 to 42 International Agency for Reseach on Cancer: Lyon

Kahn H . 1966 Monograph 19, Epidemiological Study of Cancer and Other Chronic Diseases. Haenszel W. (ed.) U.S. Department of Health, Education, and Welfare, Public Health Service, National Cancer Institute: Bethesda, MD pp 1–126

King T, Brunetta P . 1999 N. Engl. J. Med. 341: 1231–1233

Kreyberg L . 1962 Acta Pathol. Microbiol. Immunol. Scand. Suppl. 157: 11–92

Lagergren J, Bergstrom R, Lindgren A, Nyren O . 2000 Int. J. Cancer 85: 340–346

Lam T, Ho S, Hedley A, Mak K, Peto R . 2001 BMJ 323: 361–362

Landi M, Sinha R, Lanh N, Kadlubar F . 1999 Metabolic Polymorphisms and Susceptibility to Cancer Vol. 148: Vineas P, Malats N, Lang M, d'Errico A, Caporaso N, Cuzick J, Boffetta P (eds) Lyon, France: IARC pp 173–195

Lang M, Pelkonen O . 1999 Metabolic Polymorphisms and Susceptilibity to Cancer Vol. 148: Vineis P, Malats N, Lang M, d'Errico A, Caporaso N, Cuzick J, Boffetta P. (eds) Lyon, France: IARC Scientific Publications, International Agency for Research on Cancer pp 13–22

Law C, Day N, Chanmugaratnam K . 1976 Int. J. Cancer 17: 304–309

Lee J, Hong W, Hittelman W, Mao L, Lotan R, Shin D, Benner S, Xu X-C, Lee J, Papadimitrakopoulou V, Geyer C, Perez C, Martin J, El-Naggar A, Lippman S . 2000 Clin. Cancer Res. 6: 1702–1710

Leitch A . 1928 Fifth annual report of the British Empire Cancer Campaign London: British Empire Cancer Campaign pp 26

Levin M, Goldstein H, Gerhardt P . 1950 J. Am. Med. Assoc. 143: 336–338

Liu BQ, Peto R, Chen ZM, Boreham J, Wu YP, Li JY, Campbell TC, Chen JS . 1998 BMJ 317: 1411–1422

London S, Idle J, Daly A, Coetzee G . 1999 Lancet 353: 898–899

Lubin J, Blot W . 1984 J. Natl. Cancer Inst. 73: 383–389

Mabry M, Nelkin B, Baylin S . 1998 The Genetic Basis of Human Cancer. Vogelstein B, Kinzler K. (eds) New York: McGraw-Hill pp 671–679

Malone K, Daling J, Thompson J, O'Brien C, Francisco L, Ostrander E . 1998 JAMA 279: 922–929

Mao L, Lee J, Fan Y, Ro J, Batsakis J, Lippman S, Hittelman W, Hong W . 1996 Nat. Med. 2: 682–685

Martin G, Brown J, Eifler C, Houston G . 1999 J. Am. Dent. Assoc. 130: 945–954

Mattson M, Pollack E, Cullen J . 1987 Am. J. Public Health 77: 425–431

McDuffie H, Klassen D, Dossman J . 1991 J. Clin. Epidemiol. 44: 537–544

McGinnis J, Foege W . 1993 JAMA 270: 2207–2212

Mills C, Porter M . 1950 Cancer Res. 10: 539–542

Minna J, Roth J, Gazdar A . 2002 Cancer Cell 1: 49–52

Montesano R, Hainaut P, Hall J . 1997 Application of Biomarkers in Cancer Epidemiology Vol. 142: Toniolo P, Boffetta P, Shuker D, Rothman N, Hulka B, Pearce N. (eds) Lyon, France: IARC pp 291–301

Moolgavkar S, Luebeck G . 1990 Risk Analysis 10: 323–341

Murray C, Lopez A . 1997 Lancet 349: 1498–1504

Newman B, Mu H, Butler L, Millikan R, Moorman P, King M . 1998 JAMA 279: 915–921

Niu S-R, Yang G-H, Chen Z-M, Wang J-L, Wang G-H, He X-Z et al . 1998 BMJ 317: 1423–1424

Novotny T, Warner K, Kendrick J, Remington P . 1988 Am. J. Public Health 78: 1187–1189

Osann K, Anton-Culver H, Kurosaki T, Taylor T . 1993 Int. J. Cancer 54: 44–48

Passey R . 1929 Sixth report of British Empire Cancer Research Campaign British Empire Cancer Campaign: London p 85

Perera F . 1996 J. Natl. Cancer Inst. 88: 496–509

Perez-Stable E, Herrera B, Jacob III P, Benowitz N . 1998 JAMA 280: 152–156

Perneger T . 2001 J. Natl. Cancer Inst. 93: 1600–1602

Peto R, Darby S, Deo H, Silcocks P, Whitley E, Doll R . 2000 Br. Med. J. 321: 323–329

Peto R, Lopez A, Boreham J, Thun M, Heath Jr C . 1992 Lancet 339: 1268–1278

Peto R, Lopez A, Boreham J, Thun M, Heath CJ . 1994 Mortality from smoking in developed countries 1950–2000 New York: Oxford University Press

Peto R, Parish S, Gray R . 1985 Age-related factors in carcinogenesis Vol. 58: Likhachex A, Anisimov V, Montesano R. (eds) Lyon, France: IARC pp 43–53

Pike M, Doll R . 1965 Lancet 1: 665–668

Prescott E, Osler M, Hein H, Borch-Johnsen K, Lange P, Schnohr P, Vestbo J . 1998 Epidemiology 79: 79–83

Ratnasinghe D, Yao S, Tangrea J, Qiao Y, Andersen M, Barrett M, Giffen C, Erozan Y, Tockman M, Taylor P . 2001 Cancer Epidemiol. Biomarkers Prev. 10: 119–123

Richie JJ, Carmella S, Muscat J, Scott D . 1997 Cancer Epidemiol. Biomarkers Prev. 6: 783–790

Ries L, Eisner M, Kosary C, Hankey B, Miller B, Clegg L, Edwards B . 2001 SEER Cancer Statistics Review, 1973–1998 Bethesda, MD: National Cancer Institute

Risch H, Howe G, Jain M, Burch J, Holowaty E, Miller A . 1993 Am. J. Epidemiol. 138: 281–293

Roffo A . 1931 Zeitschrift fur Krebsforschung 33: 321–322

Rothman K, Greenland S . 1998 Modern Epidemiology. Philadelphia: Lippincott-Raven pp 7–28

Ryberg D, Hewer A, Phillips D, Haugen A . 1994 Cancer Res. 54: 5801–5803

Schrek R, Baker L, Ballard G, Dolgoff S . 1950 Cancer Res. 10: 49–58

Shields P, Caporaso N, Falk R, Sugimura H, Trivers G, Trump B, Hoover R, Weston A, Harris C . 1993 Cancer Epidemiol. Biomarkers Prev. 2: 481–485

Shriver S, Bourdeau H, Gubish C, Tirpak D, Gaither Davis A, Luketich J, Siegfried J . 2000 J. Natl. Cancer Inst. 92: 24–33

Sidransky D . 1995 Monogr. Natl. Cancer Inst. 17: 27–29

Silverman S . 1998 Oral Cancer. Hamilton: B.C. Decker Inc pp 25–40

Slade J . 1993 Nicotine Addiction, Principles and Management Orleans C, Slade J. (eds) New York: Oxford University Press pp 3–23

Smith S, Fiore M . 1999 Primary Care 26: 433–461

Sommering S . 1795 De morbis vasorum absorbentium corporis humani Frankfurt: Varrentrapp & Wenner

Spivack S, Fasco M, Walker V, Kaminsky L . 1997 Criti. Rev. Toxicol. 27: 319–365

Stellman S, Takezaki T, Wang L, Chen Y, Citron M, Djordjevic M, Harlap S, Muscat J, Neugut A, Wynder E, Oqawa H, Tajima K, Aoki K . 2001 Cancer Epidemiol. Biomarkers Prev. 10: 1193–1199

Stern M, Umbach D, van Gils C, Lunn R, Taylor J . 2001 Cancer Epidemiol. Biomarkers Prev. 10: 125–131

Stewart J . 2001 Cancer 91: 2476–2482

Strange R, Fryer A . 1999 Metabolic Polymorphisms and Suseptilibity to Cancer Vineis P, Malats N, Lang M, d'Errico A, Caporaso N, Cuzick J, Boffetta P. (eds) Lyon, France: IARC Scientific Publications No. 148. International Agency for Research on Cancer pp 231–249

Straub R, Sullivan P, Ma Y, Myakishev M, Harris-Kerr C, Wormley B, Kadambi B, Sadek H, Silverman MA, Webb BT, Neale MC, Bulik CM, Joyce PR, Kandler KS . 1999 Mol. Psychiatry 4: 129–144

Strong L, Amos C . 1996 Cancer Epidemiology and Prevention Schottenfeld D, Fraumeni J. (eds) New York: Oxford University Press pp 559–583

Struewing J, Hartge P, Wacholder S, Baker S, Berlin M, McAdams M, Timmerman M, Brody L, Tucker M . 1997 N. Engl. J. Med. 336: 1401–1408

Sugiura K . 1956 Gann. 47: 243–244

Taioli E, Ford J, Trachman J, Li Y . 1998 Carcinogenesis 19: 813–817

Thun M . 1998 Tobacco Control 7: 223–226

Thun M, Calle E, Rodriguez C, Wingo P . 2000 Cancer Epidemiol. Biomarkers Prev. 9: 861–868

Thun M, Day-Lally C, Meyers D, Calle E, Flanders W, Namboodiri M, Heath C . 1997a Monograph 8 In Changes in Cigarette-related Disease Risks and Their Implication for Prevention and Control Burns D, Garfinkel L, Samet J. (eds) Bethesda, MD: National Institutes of Health

Thun M, Day-Lally C, Myers D, Calle E, Flanders W, Zhu B, Namboodiri M, Heath CJ . 1997b National Cancer Institute, Smoking and Tobacco Control, Monograph 8: Changes in Cigarette-Related Disease Risks and Their Implication for Prevention and Control. NIH Publication No. 97-4213 Washington, DC: National Institutes of Health pp. 305–382

Thun M, Lally C, Flannery J, Calle E, Flanders W, Heath C . 1997c J. Natl. Cancer Inst. 89: 1580–1586

Tredaniel J, Boffetta P, Buiatti E, Saracci R, Hirsch A . 1997 Int. J. Cancer 72: 565–573

US Department of Agriculture. 2001 US Department of Agriculture, Commodity Economics Division Research Service: Washington, D.C

US Department of Health and Human Services. 1988 Reducing the Health Consequences of Smoking: 25 Years of Progress: A Report of the Surgeon General US Department of Health and Human Services, Public Health Service, Centers for Disease Control, Center for Chronic Disease Prevention and Health Promotion, Office on Smoking and Health: Rockville, MD

US Department of Health and Human Services. 1989 The Health Benefits of Smoking Cessation: A Report of the Surgeon General US Department of Health and Human Services, Public Health Service, Centers for Disease Control, Center for Chronic Disease Prevention and Health Promotion, Office on Smoking and Health: Rockville, MD

US Department of Health and Human Services. 1990 Nicotine Addiction. A Report of the Surgeon General DHHS Publication No. (CDC) 88-8406: Rockville, MD

US Public Health Service. 1964 Smoking and Health: Report of the Advisory Committee to the Surgeon General of the Public Health Service US Department of Health, Education, and Welfare, Public Health Service, Center for Disease Control: Washington, DC

Wakai K, Seki N, Tamakoshi A, Kondo T, Nishino Y, Ito Y, Suzuki K, Ozasa K, Watanabe Y, Ohno Y and et al . 2001 Jpn. J. Cancer Res. 92: 821–828

Weinberg C, Sandler D . 1999 J. Natl. Cancer Inst. 91: 1985–1986

Westra W, Sidransky D . 1998 J. Natl. Cancer Inst. 90: 1500–1501

Wu-Williams A, Samet J . 1994 Epidemiology of Lung Cancer Samet J (ed.) New York: Marcel Dekker, Inc pp 71–108

Wynder E, Graham E . 1950 J. Am. Med. Assoc. 143: 329–336

Wynder E, Graham E, Croninger A . 1953 Cancer Res. 13: 855–864

Wynder E, Graham E, Croninger A . 1955 Cancer Res. 15: 445–448

Yuan J-M, Ross R, Wang X-L, Gao Y-T, Henderson B, Yu M . 1996 JAMA 275: 1646–1650

Zang E, Wynder E . 1992 Cancer 70: 69–76

Zang E, Wynder E . 1996 J. Natl. Cancer Inst. 88: 183–192
About this article
Cite this article
Thun, M., Henley, S. & Calle, E. Tobacco use and cancer: an epidemiologic perspective for geneticists. Oncogene 21, 7307–7325 (2002). https://doi.org/10.1038/sj.onc.1205807
Published:

Issue Date:

DOI: https://doi.org/10.1038/sj.onc.1205807
Keywords
tobacco

cancer

genetic epidemiology