Abstract
Objective:
Preventive measures to contain the epidemic of obesity have become a major focus of attention. This report reviews the scientific evidence for medical interventions aimed at preventing obesity during childhood and adolescence.
Design:
A systematic literature review involving selection of primary research and other systematic reviews. Articles published until 2004 were added to an earlier (2002) review by the Swedish Council on Technology Assessment in Health Care.
Methods:
Inclusion criteria required controlled studies with follow-up of at least 12 months and results measured as body mass index, skinfold thickness or the percentage of overweight/obesity. Children could be recruited from normal or high-risk populations.
Results:
Combining the new data with the previous review resulted in an evaluation of 24 studies involving 25 896 children. Of these, eight reported that prevention had a statistically significant positive effect on obesity, 16 reported neutral results and none reported a negative result (sign test; P=0.0078). Adding the studies included in five other systematic reviews yielded, in total, 15 studies with positive, 24 with neutral and none with negative results. Thus, 41% of the studies, including 40% of the 33 852 children studied, showed a positive effect from prevention. These results are unlikely to be a random chance phenomenon (P=0.000061).
Conclusion:
Evidence shows that it is possible to prevent obesity in children and adolescents through limited, school-based programs that combine the promotion of healthy dietary habits and physical activity.
Relevant articles
Open Access articles citing this article.
Melanie M. Wall

,

Susan M. Mason

…

Carlos Blanco

Translational Psychiatry Open Access 17 January 2019

Chiara Marabelli

,

Elena Munarini

…

Franco Berrino

Multidisciplinary Respiratory Medicine Open Access 01 December 2017

Hong Mei

,

Yuelin Xiong

…

Jianduan Zhang

BMC Public Health Open Access 01 March 2016
Access options
Subscribe to Journal
Get full journal access for 1 year
$119.00
only $9.92 per issue
All prices are NET prices.
VAT will be added later in the checkout.
Tax calculation will be finalised during checkout.
Buy article
Get time limited or full article access on ReadCube.
$32.00
All prices are NET prices.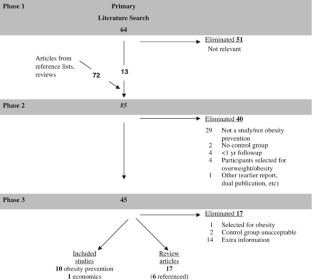 References
SBU – report no. 160 (173). Obesity–Problems and Interventions. A Systematic Review. The Swedish Council on Technology Assessment in Health Care: Stockholm, 2002 30: 595–597.

Östman J, Britton M, Jonsson E . Treating and Preventing Obesity. An Evidence Based Review. Wiley-VCH Verlag GmbH & Co. KgaA: Weinheim, 2004.

Choudhuri D, Choudhuri S, Kulkarni VA . Physical fitness: a comparative study between students of residential (Sainik) and non-residential schools (aged 12–14 years). Indian J Physiol Pharmacol 2002; 46: 328–332.

Moore LL, Gao D, Bradlee ML, Cupples LA, Sundarajan-Ramamurti A, Proctor MH et al. Does early physical activity predict body fat change throughout childhood? Prev Med 2003; 37: 10–17.

Neumark-Sztainer D, Story M, Hannan PJ, Rex J . New moves: a school-based obesity prevention program for adolescent girls. Prev Med 2003; 37: 41–51.

Alexandrov A, Isakova G, Maslennikova G, Shugaeva E, Prokhorov A, Olferiev A et al. Prevention of atherosclerosis among 11-year-old schoolchildren in two Moscow administrative districts. Health Psychol 1988; 7 (Suppl): 247–252.

Alexandrov AA, Maslennikova GY, Kulikov SM, Propirnij GA, Perova NV . Primary prevention of cardiovascular disease: 3-year intervention results in boys of 12 years of age. Prev Med 1992; 21: 53–62.

Howard JK, Bindler RM, Synoground G, van Gemert FC . A cardiovascular risk reduction program for the classroom. J Sch Nurs 1996; 12: 4–11.

Nader PR, Sallis JF, Abramson IS, Broyles SL, Patterson TL, Senn KL et al. Family-based cardiovascular risk reduction education among Mexican- and Anglo-Americans. Family Commun Health 1992; 15: 57–74.

Müller MJ, Asbeck I, Mast M, Langnase K, Grund A . Prevention of obesity – more than an intention. Concept and first results of the Kiel Obesity Prevention Study (KOPS). Int J Obes Relat Metab Disord 2001; 25 (Suppl 1): S66–S74.

Luepker RV, Perry CL, McKinlay SM, Nader PR, Parcel GS, Stone EJ et al. Outcomes of a field trial to improve children's dietary patterns and physical activity. The Child and Adolescent Trial for Cardiovascular Health. CATCH collaborative group. JAMA 1996; 275: 768–776.

Nader PR, Stone EJ, Lytle LA, Perry CL, Osganian SK, Kelder S et al. Three-year maintenance of improved diet and physical activity: the CATCH cohort. Child and Adolescent Trial for Cardiovascular Health. Arch Pediatr Adolesc Med 1999; 153: 695–704.

Addressing childhood obesity: the evidence for action. Partnership between the Canadian Association of Paediatric Health Centres (CAPHC); the Paediatric Chairs of Canada (PCC) and the CIHR Institute of Nutrition, Metabolism and Diabetes (INMD), 2004.

Wang LY, Yang Q, Lowry R, Wechsler H . Economic analysis of a school-based obesity prevention program. Obes Res 2003; 11: 1313–1324.

Gortmaker SL, Peterson K, Wiecha J, Sobol AM, Dixit S, Fox MK et al. Reducing obesity via a school-based interdisciplinary intervention among youth: Planet Health. Arch Pediatr Adolesc Med 1999; 153: 409–418.

Boström M, Garbuck A, Nyberg G, Wikzén M, Karpmyr M, Marcus C . STOPP: Stockholm Obesity Prevention Project; a school-based obesity prevention among 6–10 year old children. Int J Obes Relat Metab Disord 2004; 28 (Suppl 1) (abstract) S189.

Caballero B, Clay T, Davis SM, Ethelbah B, Rock BH, Lohman T et al. Pathways: a school-based, randomized controlled trial for the prevention of obesity in American Indian schoolchildren. Am J Clin Nutr 2003; 78: 1030–1038.

Epstein LH, Gordy CC, Raynor HA, Beddome M, Kilanowski CK, Paluch R . Increasing fruit and vegetable intake and decreasing fat and sugar intake in families at risk for childhood obesity. Obes Res 2001; 9: 171–178.

Fitzgibbon ML, Stolley MR, Dyer AR, VanHorn L, KauferChristoffel K . A community-based obesity prevention program for minority children: rationale and study design for Hip-Hop to Health Jr. Prev Med 2002; 34: 289–297.

Saarilehto S, Lapinleimu H, Keskinen S, Helenius H, Simell O . Body satisfaction in 8-year-old children after long-term dietary counseling in a prospective randomized atherosclerosis prevention trial. Arch Pediatr Adolesc Med 2003; 157: 753–758.

Mercer SL, Green LW, Rosenthal AC, Husten CG, Khan LK, Dietz WH . Possible lessons from the tobacco experience for obesity control. Am J Clin Nutr 2003; 77: 1073S–1082S.

Warren JM, Henry CJ, Lightowler HJ, Bradshaw SM, Perwaiz S . Evaluation of a pilot school programme aimed at the prevention of obesity in children. Health Promot Int 2003; 18: 287–296.

Sallis JF, McKenzie TL, Conway TL, Elder JP, Prochaska JJ, Brown M et al. Environmental interventions for eating and physical activity: a randomized controlled trial in middle schools. Am J Prev Med 2003; 24: 209–217.

James J, Thomas P, Cavan D, Kerr D . Preventing childhood obesity by reducing consumption of carbonated drinks: cluster randomised controlled trial. BMJ 2004; 328: 1237.

Resnicow K, Robinson TN . School-based cardiovascular disease prevention studies: rewiew and synthesis. Ann Epidemiol 1997; S7: S14–S31.

Harrell JS, McMurray RG, Bangdiwala SI, Frauman AC, Gansky SA, Bradley CB . Effects of a school-based intervention to reduce cardiovascular disease risk factors in elementary-school children: the Cardiovascular Health in Children (CHIC) study. J Pediatr 1996; 128: 797–805.

Killen JD, Telch MJ, Robinson TN, Maccoby N, Taylor CB, Farquhar JW . Cardiovascular disease risk reduction for tenth graders. A multiple-factor school-based approach. JAMA 1988; 260: 1728–1733.

Tamir D, Feurstein A, Brunner S, Halfon ST, Reshef A, Palti H . Primary prevention of cardiovascular diseases in childhood: changes in serum total cholesterol, high density lipoprotein, and body mass index after 2 years of intervention in Jerusalem schoolchildren age 7–9 years. Prev Med 1990; 19: 22–30.

Lionis C, Kafatos A, Vlachonikolis J, Vakaki M, Tzortzi M, Petraki A . The effects of a health education intervention program among Cretan adolescents. Prev Med 1991; 20: 685–699.

Bush PJ, Zuckerman AE, Taggart VS, Theiss PK, Peleg EO, Smith SA . Cardiovascular risk factor prevention in black school children: the 'Know Your Body' evaluation project. Health Educ Q 1989; 16: 215–227.

Donnelly JE, Jacobsen DJ, Whatley JE, Hill JO, Swift LL, Cherrington A et al. Nutrition and physical activity program to attenuate obesity and promote physical and metabolic fitness in elementary school children. Obes Res 1996; 4: 229–243.

Resnicow K, Cohn L, Reinhardt J, Cross D, Futterman R, Kirschner E et al. A three-year evaluation of the know your body program in inner-city schoolchildren. Health Educ Q 1992; 19: 463–480.

Vandongen R, Jenner DA, Thompson C, Taggart AC, Spickett EE, Burke V et al. A controlled evaluation of a fitness and nutrition intervention program on cardiovascular health in 10- to 12-year-old children. Prev Med 1995; 24: 9–22.

Walter HJ, Hofman A, Vaughan RD, Wynder EL . Modification of risk factors for coronary heart disease. Five-year results of a school-based intervention trial. N Engl J Med 1988; 318: 1093–1100.

Puska P, Vartiainen E, Pallonen U, Salonen JT, Poyhia P, Koskela K et al. The North Karelia youth project: evaluation of two years of intervention on health behavior and CVD risk factors among 13- to 15-year old children. Prev Med 1982; 11: 550–570.

Tell GS, Vellar OD . Noncommunicable disease risk factor intervention in Norwegian adolescents: the Oslo Youth Study. In: Hetzel BS, Berenson GS (eds). Cardiovascular Risk Factors in Childhood: Epidemiology and Prevention. Elsevier: New York, 1987, pp 203–217.

Hardeman W, Griffin S, Johnston M, Kinmonth AL, Wareham NJ . Interventions to prevent weight gain: a systematic review of psychological models and behaviour change methods. Int J Obes Relat Metab Disord 2000; 24: 131–143.

Simonetti D'Arca A, Tarsitani G, Cairella M, Siani V, De Filippis S, Mancinelli S et al. Prevention of obesity in elementary and nursery school children. Public Health 1986; 100: 166–173.

Stolley MR, Fitzgibbon ML . Effects of an obesity prevention program on the eating behavior of African American mothers and daughters. Health Educ Behav 1997; 24: 152–164.

Campbell K, Waters E, O'Meara S, Kelly S, Summerbell C . Interventions for preventing obesity in children (Cochrane Review). In: The Cochrane Library, Issue 2. Update Software: Oxford, 2003.

Flores R . Dance for health: improving fitness in African American and Hispanic adolescents. Public Health Rep 1995; 110: 189–193.

Robinson TN . Reducing children's television viewing to prevent obesity: a randomized controlled trial. JAMA 1999; 282: 1561–1567.

Mo-suwan L, Pongprapai S, Junjana C, Puetpaiboon A . Effects of a controlled trial of a school-based exercise program on the obesity indexes of preschool children. Am J Clin Nutr 1998; 68: 1006–1011.

Sahota P, Rudolf MC, Dixey R, Hill AJ, Barth JH, Cade J . Randomised controlled trial of primary school based intervention to reduce risk factors for obesity. BMJ 2001; 323: 1029–1032.

Reilly JJ, McDowell ZC . Physical activity interventions in the prevention and treatment of paediatric obesity: systematic review and critical appraisal. Proc Nutr Soc 2003; 62: 611–619.

Schmitz KH . Prevention of Obesity. In: Wadden TA, Stunkard AJ (eds). Handbook of Obesity Treatment. Guilford Press: New York, 2002.

Dwyer T, Coonan WE, Leitch DR, Hetzel BS, Baghurst RA . An investigation of the effects of daily physical activity on the health of primary school students in South Australia. Int J Epidemiol 1983; 12: 308–313.

Worsley A, Coonan W, Worsley A . The First Body Owner's Programme: an integrated school-based physical and nutrition education programme. Health Promot 1987; 2: 39–49.

Fardy PS, White RE, Haltiwanger-Schmitz K, Magel JR, McDermott KJ, Clark LT et al. Coronary disease risk factor reduction and behavior modification in minority adolescents: the PATH program. J Adolesc Health 1996; 18: 247–253.

Sallis JF, McKenzie TL, Alcaraz JE, Kolody B, Faucette N, Hovell MF . The effects of a 2-year physical education program (SPARK) on physical activity and fitness in elementary school students. Sports, Play and Active Recreation for Kids. Am J Public Health 1997; 87: 1328–1334.

Manios Y, Kafatos A, Mamalakis G . The effects of a health education intervention initiated at first grade over a 3 year period: physical activity and fitness indices. Health Educ Res 1998; 13: 593–606.

Manios Y, Moschandreas J, Hatzis C, Kafatos A . Evaluation of a health and nutrition education program in primary school children of Crete over a three-year period. Prev Med 1999; 28: 149–159.

Bal LV, Shugaeva EN, Deev AA, Maslova AR, Aleksandrov AA . Results of a three-year trial of arterial hypertension prevention in a population of children aged 11–15 years by overweight control. Cor Vasa 1990; 32: 448–456.

SBU-rapport 173. Förebyggande åtgärder mot fetma. Statens beredning för medicinsk utvärdering: Stockholm, 2005.
Acknowledgements
This paper is based on a Swedish report published by the SBU in January 2005.54 The SBU report contained an update of 'Interventions to Prevent Obesity' from an earlier report. The present paper is a condensed version of the section on children and adolescents. Johan Bring, Professor and statistician from Uppsala, Sweden, performed the statistical analysis.
About this article
Cite this article
Flodmark, CE., Marcus, C. & Britton, M. Interventions to prevent obesity in children and adolescents: a systematic literature review. Int J Obes 30, 579–589 (2006). https://doi.org/10.1038/sj.ijo.0803290
Received:

Revised:

Accepted:

Published:

Issue Date:

DOI: https://doi.org/10.1038/sj.ijo.0803290
Keywords
childhood

prevention

review

adolescents