Abstract
OBJECTIVE: To determine the metabolic alterations that lead to the neonatal administration of monosodium glutamate (MSG), which results in arrested growth and obesity.
ANIMALS AND DESIGN: Wistar rats were injected 5 times, every other day, with 4 g of MSG/kg b.w. or with hyperosmotic saline (controls), within the first 10 days of life, and were studied at the age of 30 days.
RESULTS: Body weight was lower, whereas adipocyte lipid content, cell diameter, surface area and volume were higher in MSG rats than in controls. Plasma glucose, insulin, NEFA, glycerol and triglyceride levels, and in vitro production of NEFA by lumbar fat pad pieces incubated under basal conditions or in the presence of epinephrine and epinephrine plus glucose in the media were lower in MSG than in control rats. In the same fat pad pieces, the conversion of 1-14C-glycerol into fatty acids was always enhanced and its conversion into glyceride glycerol was enhanced when incubations were carried out in the presence of epinephrine or glucose. Both the hormone sensitive lipase activity and mRNA expression were lower in adipose tissue from MSG rats. Besides, the number of insulin receptors, lipid synthesis from U14C glucose, 3H-2-deoxy D-glucose uptake and cellular GLUT4 translocation index were higher in adipocytes from MSG rats than from the controls.
CONCLUSION: It is proposed that an enhanced insulin sensitivity in 1 month old MSG rats is responsible for the decreased lipolytic activity and enhanced glucose uptake. In addition, the enhanced lipogenesis and glycerol reutilization seen in their adipose tissue, disturbs the normal balance between fat depots breakdown and accumulation in favor of the latter.
Relevant articles
Open Access articles citing this article.
Glaura SA Fernandes

,

Arielle C Arena

…

Wilma G Kempinas

Reproductive Biology and Endocrinology Open Access 05 December 2012

Ricardo K Yamazaki

,

Gleisson AP Brito

…

Luiz Fernandes

Lipids in Health and Disease Open Access 28 April 2011
Access options
Subscribe to Journal
Get full journal access for 1 year
$119.00
only $9.92 per issue
All prices are NET prices.
VAT will be added later in the checkout.
Tax calculation will be finalised during checkout.
Buy article
Get time limited or full article access on ReadCube.
$32.00
All prices are NET prices.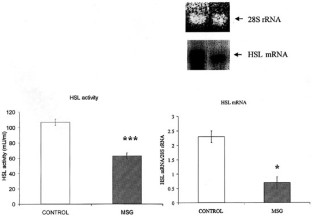 References
Nemeroff CB, Konkol RJ, Bissette G, Youngblood W, Martin JB, Brazeau P, Rone MS, Prange AJ, Breese GR, Kizer JS . Analysis of the disruption in hypothalamic-pituitary regulation in rats treated neonatally with monosodium glutamate (MSG): evidence for the involvement of tuberoinfundibular cholinergic and dopaminergic systems in neuroendocrine regulation Endocrinology 1978 101: 613–622.

Olney JW . Brain lesions, obesity and other disturbances in mice treated with monosodium glutamate Science 1969 164: 719–721.

Holzworth-McBride MA, Sladek RJ, Knigge KM . Monosodium glutamate-induced lesions of the arcuate nucleus. II. Fluorescence histochemistry of the catecholamines Anat Rec 1976 186: 197–206.

Tanaka K, Shimada M, Nakao K, Kusunoki T . Hypothalamic lesion induced by injection of monosodium glutamate in suckling period and subsequent development of obesity Exp Neurol 1978 62: 191–199.

Djazayery AD, Miller DS, Stock MJ . Energy balances in obese mice Ntr Metab 1978 23: 357–367.

Tokuyama K, Himms-Hagen J . Adrenalectomy prevents obesity in glutamate-treated mice Am J Physiol Endocrinol Metab 1989 257: E139–E144.

Dolnikoff MS, Kater CE, Egami M, Andrade IS, Marmo MR . Neonatal treatment with monosodium glutamate increases plasma corticosterone in the rat Neuroendocrinology 1988 48: 645–649.

Magariños AM, Estivariz F, Morado MI, De Nicola AF . Regulation of the central nervous system-pituitary adrenal axis in rats after neonatal treatment with monosodium glutamate Neuroendocrinology 1988 18: 105–115.

Moriscot A, Rabelo R, Bianco AC . Corticosterone inhibits uncopling protein gene expression in brown adipose tissue Am J Physiol Endocrinol Metab 1993 265: E81–E87.

Walter HC, Romsos DR . Glucocorticoids in CNS regulate BAT metabolism and plasma insulin in ob/ob mice Am J Physiol Endocrinol Metab 1992 262: E110–E117.

Morris MJ, Tortelli CF, Filippis A, Proietto J . Reduced BAT function as a mechanism for obesity in the hypophagic, neuropeptide Y deficient monosodium glutamate-treated rat Regul Pept 1998 75–76: 441–447.

Ribeiro EB, Nascimento CMO, Andrade IS, Hirata AE, Dolnikoff MS . Hormonal and metabolic adaptations to fasting in monosodium glutamate-obese rats J Comp Physiol 1997 B, 167: 430–437.

Cheung WT, Lee CM, Wong CC . Neonatal monosodium-L-glutamate treatment reduced lipolytic response of rat epididymal adipose tissue Gen Pharmacol 1988 19: 507–512.

Nascimento Curi CMO, Marmo MR, Egami M, Ribeiro EB, Andrade IS, Dolnikoff MS . Effect of monosodium glutamate treatment during neonatal development on lipogenesis and lipoprotein lipase activity in adult rats Biochem Int 1991 24: 927–935.

Machado UF, Shimizu Y, Saito M . Decreased glucose transporter (GLUT4) content in insulin-sensitive tissues of obese aurothioglucose-and monosodium glutamate-treated mice Horm Metab Res 1993 25: 462–465.

Palacin M, Lasunción MA, Herrera E . Utilization of glucose, alanine, lactate, and glycerol as lipogenic substrates by periuterine adipose tissue in situ in fed and starved rats J Lipid Res 1988 29: 26–32.

Herrera E, Lamas L . Utilization of glycerol by rat adipose tissue in vitro Biochem J 1970 120: 433–434.

Robinson J, Newsholme EA . Glycerol kinase activities in rat heart and adipose tissue Biochem J 1967 104: 2c–4c.

Thenen SW, Mayer J . Adipose tissue glycerokinase activity in genetic acquired obesity in rats and mice Proc Soc Exp Biol Med 1975 148: 953–957.

Sztalzyd C, Kraemer FB . Regulation of hormone sensitive lipase during fasting Am J Physiol 1994 266: E179–E185.

Martín-Hidalgo A, Holm C, Belfrage P, Schotz MC, Herrera E . Lipoprotein lipase and hormone-sensitive lipase activity and mRNA in rat adipose tissue during pregnancy Am J Physiol 1994 266: E930–E935.

Wilson BE, Deeb S, Florant GL . Seasonal changes in hormone-sensitive and lipoprotein lipase mRNA concentrations in marmot white adipose tissue Am J Physiol 1992 262: R177–R181.

Garland PB, Randle PJ . A rapid enzymatic assay for glycerol Nature 1962 196: 987–988.

Miles J, Glassock R, Aikens J, Gerich J, Haymond M . A microfluorometric method for the determination of free fatty acids in plasma J Lipid Res 1983 24: 96–99.

Buccolo G, David H . Quantitative determination of serum triglycerides by the use of enzymes Clin Chem 1973 19: 476–482.

Allain CC, Poon LS, Chan CSG, Richmond W, Fu PC . Enzymatic determination of total serum cholesterol Clin Chem 1974 20: 740–745.

Folch J, Lees M, Sloane Stanley GH . A simple method for the isolation and purification of total lipids from animal tissues J Biol Chem 1957 22: 24–36.

Dominguez MC, Herrera E . Effects of glycerol and glucose on the kinetics of glycerol utilization by adipose tissue in the rat Rev Esp Fisiol 1976 32: 293–300.

Chomczynski P, Sacchi N . Single step method of RNA isolation by guanidinium thiocyanate-phenol-chloroform extraction Anal Biochem 1987 162: 156–159.

Tornqvist H, Björgell P, Krabish L, Belfrage P . Monoacylmonoalkylglycerol as a substrate for diacylglycerol hydrolase activity in adipose tissue J Lipid Res 1978 19: 654–656.

Bradford MM . A rapid and sensitive method for the quantitation of microgram quantities of protein utilizing the principle of protein-dye binding Anal Biochem 1976 72: 248–254.

Oka Y, Asano T, Shibasaki Y, Kasuga M, Kanazawa Y, Takaky F . Studies with antipeptide antibody suggest the presence of at least two types of glucose transporter in rat brain and adipocyte J Biol Chem 1988 263: 13432–13439.

Rodbell M . Metabolism of isolated fat cells. I. Effects of hormones on glucose metabolism and lipolysis J Biol Chem 1964 239: 375–380.

DiGirolamo M, Mendlinger S, Fertig JW . A simple method to determine fat cell size and number in four mammalian species Am J Physiol 1971 221: 850–858.

Olefsky JM . Effects of fasting on insulin binding, glucose transport, and glucose oxidation in isolated adipocytes. Relationship between receptors and insulin action J Clin Invest 1976 58: 1450–1460.

Dole VP . A relation between non-esterified fatty acids in plasma and the metabolism of glucose J Clin Invest 1956 35: 150–154.

Oida K, Nakai T, Hayashi T, Miyabo S, Takeda R . Plasma lipoproteins of monosodium glutamate-induced obese rats Int J Obes 1984 8: 385–391.

Marmo MR, Nunes MT, Volpato CB, Kettelhut IC, Lima FB, Dolnikoff M . Reduced growth mRNA levels in 28-d old MSG rats impair protein and lipid metabolism Eur J Physiol 1994 427 (Suppl 1): 115.

Remke H, Wilsdorf A, Müller F . Development of hypothalamic obesity in growing rats Exper Pathol 1988 33: 223–232.

Jorgensen JOL, Moller N, Wolthers T, Moller J, Grofte T, Vahl N, Fisker S, Orskov H, Christiansen JS . Fuel metabolism in growth hormone deficient adults Metabolism 1995 44: 103–107.

Ochi M, Fukuhara K, Sawada T, Hattori T, Kusunoki T . Development of epididymal adipose tissue in monosodium glutamate-induced obese mice J Nutr Sci Vitaminol 1988 34: 317–326.

Herberg L, Gries FA, Hesse-Wortmann C . Effect of weight and cell size on hormone-induced lipolysis in New Zealand obese mice and American obese hyperglycemic mice Diabetologia 1970 6: 300–305.

Dulloo AG, Young JB . Effects of monosodium glutamate and gold thioglucose on dietary regulation of sympathetic nervous system activity in rodents Metabolism 1991 40: 113–121.

Yoshida T, Nishioka H, Nakamura Y, Kanatsuma T, Kondo M . Reduced norepinephrine turnover in brown adipose tissue of pre-obese mice treated with monosodium-L-glutamate Life Sci 1985 36: 931–938.

Rehorek A, Kerecsen L, Müller F . Measurement of tissue catecholamines of obese rats by liquid chromatography and electrochemical detection Biomed Biochem Acta 1987 46: 823–827.

Domínguez MC, Herrera E . Effects of 2-deoxy-D-glucose, oligomycin and theophylline on in vitro glycerol metabolism in rat adipose tissue: response to insulin and epinephrine Horm Metabol Res 1976 8: 33–37.

Domínguez MC, Herrera E . Effect of epinephrine on the synthesis of glyceride glycerol and adipose tissue in vitro Rev Esp Fisiol 1975 31: 293–298.

Domínguez MC, Herrera E . The effect of glucose, insulin and adrenaline on glycerol metabolism in vitro in rat adipose tissue Biochem J 1976 158: 183–190.

Hainault I, Guerr-Millo M, Guichard C, Lavau M . Differential regulation of adipose tissue transporters in genetic obesity (fatty rat). Selective increase in the adipose cell/muscle glucose transporter (GLUT4) expression J Clin Invest 1991 87: 1127–1131.

Zórad S, Macho L, Jezová D, Ficková M . Partial characterization of insulin resistance in adipose tissue of monosodium glutamate-induced obese rats Ann NY Acad Science 1997 827: 541–545.

Hirata AE, Andrade IS, Vaskevicius P, Dolnikoff MS . Monosodium glutamate (MSG)-obese rats develop glucose intolerance and insulin resistance to peripheral glucose uptake Braz J Med Bool Res 1997 30: 671–674.

Pujol A, Cousin B, Burnol F, Loizeau M, Picon L, Girard J, Pénicaud L . Insulin receptor kinase activity in muscles and white adipose tissue during course of VMH obesity Am J Physiol 1992 262: E161–E166.

Pénicaud L, Ferré P, Terretaz J, Kinebanyan MF, Leturque A, Doré E, Girard J, Jeanrenaud B, Picon L . Development of obesity in Zucker rats: early insulin resistance in muscles but normal sensitivity in white adipose tissues Diabetes 1987 36: 626–631.
About this article
Cite this article
Dolnikoff, M., Martín-Hidalgo, A., Machado, U. et al. Decreased lipolysis and enhanced glycerol and glucose utilization by adipose tissue prior to development of obesity in monosodium glutamate (MSG) treated-rats. Int J Obes 25, 426–433 (2001). https://doi.org/10.1038/sj.ijo.0801517
Received:

Revised:

Accepted:

Published:

Issue Date:

DOI: https://doi.org/10.1038/sj.ijo.0801517
Keywords
monosodium glutamate obesity

lipolysis

hormone sensitive lipase

glycerol

GLUT4