Matjaž Perc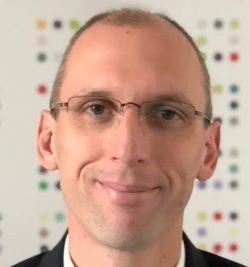 Matjaž Perc is Professor of Physics at the University of Maribor, Slovenia. His research spans social physics and complex networks including evolutionary game theory, social networks and agent-based modelling. He joined the Scientific Reports Editorial Board in 2011 and is a Guest Editor of the social physics collection. Eve Rooks (Deputy Editor at Scientific Reports) talked to Matjaž about multidisciplinary research and his experiences as a long-serving Board Member.
Could you tell me a little about your research?
I work on social physics – studying social phenomena with statistical physics, for example with Monte Carlo simulations. Some topics that fall under this are the evolution of cooperation, traffic jams, spreading of epidemic diseases and how social networks influence our behaviour.
How did you become interested in this?
I did my PhD on intraceullar calcium oscillations. Then a colleague of my supervisor visited our department and talked about their work on evolutionary game theory and I got excited about that. I thought that you could study evolutionary games using statistical physics methods and networks, which hadn't really been done much at the time. I was interested in questions like why do we do something that is good for others because according to Darwinian selection we should only do what is best for us. This interest later expanded to other social phenomena.
What made you join the Scientific Reports editorial board and how do you feel you have benefited?
During my formative years as a researcher I was often frustrated by the whole publication process; there are often delays and sometimes you think your paper was somehow not treated as it should be. I thought if I ever get the chance I will try to do this differently. So when I did get the chance I was really happy to make good on that resolution. I had a colleague who was already on the Scientific Reports board who recommended the journal to me as it was growing fast.
From becoming an editor you then get a better appreciation for the problems you experienced as an author – you see the publication process in full and that delays are sometimes unavoidable. I have a bit of a unique perspective as someone who is a physicist working on social problems in that it can be difficult to publish in traditional physics journals, so I wanted to be supportive of this field. Being on the editorial board has also helped with my visibility personally because people get to know you. I have also submitted quite a lot of articles myself, so I guess it's only fair that you give this back to the community. I'm very glad and thankful for this experience at Scientific Reports.
You've been an EBM since 2011 so how would you say your experience has changed over the last 10 years?
It definitely gets better over the years. At the beginning you don't really know anyone and you don't really have much experience, but over the years you build up a network of people that you can rely on for help, especially with difficult papers. The overall publication process itself hasn't changed a lot from my perspective. The referee forms change a bit; for example major or minor revisions decisions are now just 'revisions' but the gist remained the same.
What would you say your best experience of being a Scientific Reports EBM is?
I would have to say being a Guest Editor for the Social Physics collection. It's still open for submissions now and it's been going for over a year. It has over 100 papers published and a lot of really great scientists have contributed. I'm very happy to have helped create a place for social physics. I like to think that I'm doing my job well in terms of recognition for the field and spreading good word around the collection.
Creating opportunities for other researchers to publish their work in my field can be difficult as it is challenging to publish in traditional physics journals so Scientific Reports has played an important role in developing these connections between fields.
Do you think that research is becoming increasingly multidisciplinary?
My work has always been strongly multidiscipinary: social physics, complexity and network science and even before that, biophysics. They all had their problems being recognised as part of physics or even research fields in their own right. This kind of research is now definitely increasing, for example the traditional areas of physics have been studied for a very long time and the areas of growth in the field are now generally at the interfaces of different fields. We're moving on from 100 years or more of science being strongly disciplinary to being increasingly multidisciplinary. We have accumulated a lot of knowledge separately in different fields and it's really time now to put this knowledge together to help us better understand and solve some of the biggest challenges we have in society. I would be very happy for science to be free from the shackles of disciplines, fields and subfields. Scientific Reports and other multidisciplinary journals have always been supportive and inclusive of this kind of research, which has enabled the fields to grow.
How do you think attitudes to journal impact factor and open access publishing have changed over the last 10 years?
In my earlier career people definitely put a lot of weight on the impact factor of a journal and you made a decision of where to publish based on which journal had the highest impact factor. This has definitely decreased in recent years which I think is a good thing. Open access is also very interesting. People all around the world don't have access to publications and so many articles are behind paywalls, so open access is and was a good initiative. But even now some colleagues don't have grants that would allow them to publish in open access journals, although this is getting better.
Looking to the future, how can be further promote inclusivity, diversity and rigour in scientific publishing?
What's missing for me and my colleagues from Scientific Reports is the social sciences. I think this is also why the Social Physics collection has ben a success as it provides an obvious home for papers that cross the line between physics and social sciences. If you could weld together social sciences and hard sciences into a subfield or just say that you're open to this type of work that would be wonderful. In terms of promoting diversity I'd think this could be helped by streamlining the process of applying for APC waivers as this can be a significant impediment to publication for some researchers.
I think the most important thing you need to maintain scientific rigour in the journal is to ensure that the editorial board is strong. If you have a strong board and good editors who invite good referees then you probably have nothing to worry about.