Jin Yoshimura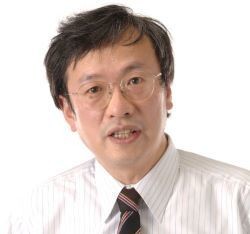 Jin Yoshimura is a Professor Emeritus at Shizuoka University, Japan. He is an evolutionary biologist, interested in the mathematical theory of optimization over time, which he applies to a broad range of topics, from periodical cicadas to financial markets. Jin has been serving as an Editorial Board Member for Scientific Reports since 2011, and has been a Senior Editorial Board Member since 2019.
For our 10th anniversary Christian Matheou (Deputy Editor at Scientific Reports) talked to Jin about his research, the journal, and the publishing landscape.
What is your research focused on?
My research is about dynamic optimization – the mathematical theory of dynamic decision-making over time. Traditional optimization is mostly based on the arithmetic mean, which is often wrong when faced with uncertainty. When the environment changes over time, optimization has to consider the growth rate instead of the average. However, in science, and many other places, the average is used, instead of the projection. So, we are trying to change biology, together with human behavioural sciences, economics, management, financial engineering...all these fields.
My early work centred on periodical cicadas. Their ancestors were present in the Jurassic era, surviving the dinosaurs, so they evolved during the Ice Age. To understand how they evolved, an environmental perspective is required. Animals are both living in and interacting with their environment, and when the environment changes – cold and freezing weather – they are forced to find a way to survive.
So, really, I'm an evolutionary biologist, but I'm often doing something totally different with the mathematical theory of dynamic optimization. For instance, the paper we are trying to publish currently concerns long-term expectations and projections in financial markets (a pre-print of this work is available).
You've been on our editorial board since the start, how have you found it?
I'm still really enjoying being on the Editorial Board. It only takes me a short time (my reading in English is much faster than in Japanese), and it's a nice exercise for perspective in science. I enjoy learning, and it exposes me to different fields – and even if it's a bad paper, it can teach me what not to do. And for those authors whose papers are rejected, it helps if they are provided guidance for future work. I think this is very important, and I always make suggestions for what they should do next.
How do you think attitudes toward inclusive publication have changed over the last 10 years?
Attitudes have certainly changed. Many scientists in the past would reject a paper on the basis of it being trivial, or not new – and even when it is new it might still get rejected.
So, once I saw PLOS One and its publishing model I started publishing there. And then, when Scientific Reports started 10 years ago, I submitted a paper right at the start, and it was accepted a month later, and published with the launch of the journal.
Now I have published maybe 30 or more papers in Scientific Reports. It's great to be able to reliably publish and share new ideas.
What sets Scientific Reports apart from other journals?
Even if you're publishing in a leading journal – Ecology, Evolution, American Naturalist – scientists outside your field will never read these journals. But when I publish in Scientific Reports, it is immediately accessible across the world.
Shortly after publishing my first paper in Scientific Reports, I was at a conference, and introduced to a professor from the Institute of Medical Science, the University of Tokyo. After talking for a bit, he asked "do you know this paper?" – he was pointing at my paper. The publicity across different fields is much stronger for Scientific Reports than for other journals.
How do you think the editorial model of Scientific Reports supports researchers working on global challenges relating to sustainability?
It can be difficult to publish papers that are at the interface between fields, but research tackling global issues and sustainability is always interdisciplinary – we cannot solve current environmental issues without many different fields working together. Scientific Reports is open to different kinds of multidiscipinary research, and has recently expanded its scope further, to the engineering disciplines.
What are the key things journals should do to ensure scientific rigour?
We have to be very careful in identifying papers that are not sound – asking ourselves if the methodology is scientifically valid, and whether the paper makes an original contribution. This can be difficult, for both editors and reviewers, but it helps when journals provide examples of papers that may be rejected.
In addition, editors often handle papers that lie at the boundary of their expertise, or that are multidisciplinary, and whilst the handling editor may not need to know everything, they do need to be able to identify relevant reviewers. Journals can help by providing services and tools to find reviewers, and improving what tools they already have.
However, whilst we strive to reject all invalid papers, we must acknowledge that editors and reviewers are human, and errors can happen. It is also important to aim to publish all the papers that do present valid and original ideas.
How would you like to see the publishing landscape change in the next 10 years – and what do you think are the biggest challenges?
The publication landscape has already changed dramatically over the last 20 years, with both new and traditional journals shifting online, and almost all publications have become paperless. But we do now have the problem of predatory journals and this problem doesn't seem to be going away.
This is one thing I hope to be addressed in the future, because many young scholars eventually submit – by chance – to one of these predatory journals. Even some professors don't know about predatory journals so I think we need a more robust way to identify and exclude them. Maybe scientists, university systems, and publishers could come together to establish a set of key journal standards, and provide better visibility of those journals that meet these standards, and those that don't.