Outstanding referees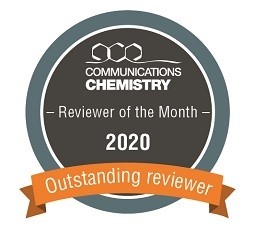 Here we acknowledge some of the outstanding referees that have reviewed for Communications Chemistry. This list is arranged alphabetically by year of nomination, updated monthly, and all referees listed have consented to being named.
While it is our opinion that these referees have gone above and beyond what is expected of a reviewer in terms of the value of their reports, the detail of their analysis, or the degree to which they have helped the authors improve their manuscripts prior to publication, we are no less grateful to the many more referees not named below. For every named referee there are countless more who have made similar contributions to the manuscripts which they reviewed. We are incredibly grateful to everyone that has taken the effort to review for us and has each contributed to the high quality of the papers published in Communications Chemistry.
2021

Dr. Rocío Mercado's research interests lie at the intersection of computational chemistry and artificial intelligence for molecular discovery, with a current focus on small molecule drug design using deep generative models.

Dr. Larissa K. S. von Krbek investigates out-of-equilibrium supramolecular systems, currently focusing on metallo-supramolecular complexes and cages whose self-organisation is activated by either chemical or photochemical stimuli.

Dr Joyanta Choudhury works at the interface of organometallic chemistry, catalysis, energy and materials.He is especially interested in 'sustainable CO2 conversion' and 'switchable catalysis'.

Dr Batagin-Neto works with the molecular modelling of organic compounds, aiming towards their application in optoelectronic devices, photovoltaics, sensors, and biomaterials. His work seeks to understand the local reactivity, optoelectronic, biological and structural properties of the compounds via DFT, Hartree-Fock and molecular dynamics calculations.

Professor Fan's research interests include low or near-zero carbon-emission energy production, low-cost chemical and material syntheses, environmental protection, computation chemistry, life cycle analysis, and techno-economic assessment.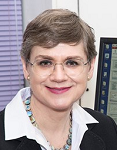 Professor Price's group is concerned with modelling the intermolecular and intramolecular forces in organic molecules, such as pharmaceuticals, sufficiently realistically that they can be used for predicting the crystallization and solid state properties of the molecules.
2020

Professor Berti studies the physical chemistry of soft matter. Her current research interests include nanostructured assemblies and fluids, and microfluidic manipulation of natural and synthetic soft matter.

Dr Bonomi develops and applies integrative computational and experimental approaches to study protein structure, dynamics, and function. These techniques are distributed in the open-source PLUMED software of which Dr Bonomi is a core developer.

Professor Cellini specializes in applying protein chemistry and cellular biochemistry approaches to unravelling the molecular mechanisms of rare diseases, as a starting point for the development of new therapeutic strategies.

The Cockroft group combine molecules of synthetic and biological origins to examine the physical organic chemistry underpinning molecular interactions and the operation of molecular machines.

Dr Landman studies materials and processes for electrochemical energy conversion, focusing on renewable hydrogen production from water.

Professor Pescarmona conducts research on the rational design and development of catalytic materials for applications of academic, societal and industrial relevance, with a special focus on green chemistry.

Dr Petitjean's group explores supramolecular approaches to biological questions. Current focuses involve the precise targeting of unusual nucleic acid structures by small molecules, and the design of smart drug delivery systems.

Professor Sigoli specializes in the spectroscopy of complexes containing lanthanide ions, hierarchically structured nanoparticles, and metal nanoparticles, focusing on chemical and physical optical sensors.

Professor Shafer studies f-element separations chemistry with a particular focus on manipulating actinide covalency, long range solution structuring and difficult to access oxidation states.

The Solt lab applies chemical biology approaches to study nuclear receptor function in the immune system. The goals of the lab are to determine whether they can be viable therapeutic targets for the treatment of autoimmune diseases.

Dr Townsend uses a range of laboratory and synchrotron techniques to investigate the environmental chemistry of radionuclides in engineered and natural environments.

Professor Zhang develops chemical biology tools to visualize and regulate the process of aggregation and liquid-liquid phase separation of cellular proteins, a research program that combines expertise from synthetic chemistry, biochemistry and cell biology.
2019
Professor Adams designs and studies self-assembled and supramolecular systems to form interesting structure materials.
Dr Andrushchenko specializes in applying experimental and theoretical spectroscopic methods to study the structure and function of biological molecules.
Dr Caitlyn Butler conducts research on biofilms with applications in water and wastewater treatment. Her work seeks to understand microbial ecology and micro-scale function and structure to enhance treatment outcomes and resource recovery.
Dr Lerch specialises in bio-inspired materials science and photocontrolled chemical tools to create systems with exciting and complex behaviours.
Dr Ma designs functional materials with inorganic, organic and hybrid frameworks for clean energy conversion and storage and environment remediation.
Professor Marbella specialises in using solid-state NMR and MRI to identify structure-performance relationships in materials for energy storage and conversion.
Dr McConnell specialises in supramolecular chemistry with a focus on the development of light-responsive and spin-crossover metal-organic cages
Dr Rajamani studies the chemical origins of life—the possible sequence of events and reactions on early Earth that led to the emergence of life.
Professor Seo uses nanoparticle probes and super-resolution optical microscopic/spectroscopic techniques to study protein/signaling dynamics at the single molecular level in live cells.
Dr Whitehead specialises in small molecule crystallography, using local source and synchrotron X-ray techniques for structure determination.
2018
Professor Barril specialises in computational drug discovery, using in silico methods to characterise binding sites, and develops computational methods for medicinal chemistry.
Dr Brock specialises in applying analytical techniques, including radiocarbon dating and micro-CT, to investigate archaeological, forensic, and environmental samples.
Dr Drisdell studies chemical mechanisms occuring at buried interfaces relevant for energy research, primarily using in situ and in operando synchrotron X-ray techniques.
Professor Kapurniotu studies protein misfolding and interactions with polypeptides, with the goal of developing functional peptides for analytical and therapeutic applications in amyloid diseases.
Dr Kurtén uses computational methods to characterise reaction kinetics and mechanisms in atmospheric aerosols.
Dr Nenoff develops nanoporous frameworks for the detection, separation and capture of environmentally important gases and ions.
Dr Pang has a background in chemical engineering and focuses on the use of aminopolymer sorbents for carbon dioxide capture.
Dr Song develops base metal complexes for small molecule activation and catalytic transformations, and designs MOFs for sensing and separation.
Professor Steiner specialises in the photochemistry and spin chemistry of a range of organic, organometallic, and biomolecular systems.
Professor Thordarson specialises in supramolecular and systems chemistry, with a focus on functional, bio-inspired nanostructures.
Dr Toma's interests lie in the synthesis and characterization of integrated material systems, to understand structure–activity relationships that enable the development of functional architectures for solar fuel production.
Dr Uspal uses analytical and numerical methods to study emergent complex behavior in soft and active material systems.
Professor Wang develops nanostructured, energy efficient functional systems, with socially critical applications in solar energy, water harvesting and desalination, and thermal storage and management.
Dr Zhang develops functional and bioinspired polymers, with a range of potential applications from surfactants to drug delivery systems.
We highlight our nominated referees via our website, social media channels, and this list. If you want to nominate any of the referees that contributed to the peer review of your Communications Chemistry article please contact the journal.