Rona Chandrawati is a Scientia Associate Professor and National Health and Medical Research Council Emerging Leadership Fellow at the School of Chemical Engineering, The University of New South Wales, Australia. She obtained her Ph.D. from The University of Melbourne in 2012 and was then a Marie Curie Fellow at Imperial College London before returning to Australia in 2015 to head the Nanotechnology for Food and Health Laboratory. Her research interests are focused on the development of nanoparticles, polymers, natural enzymes and enzyme mimics for drug delivery and sensing.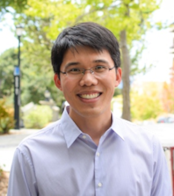 Wei Gao is an Assistant Professor of Medical Engineering, Ronald and JoAnne Willens Scholar, and Heritage Medical Research Institute Investigator at the California Institute of Technology. He received his Ph.D. in Chemical Engineering at University of California, San Diego in 2014. In 2014–2017, he was a postdoctoral fellow in the Department of Electrical Engineering and Computer Sciences at the University of California, Berkeley. He is a recipient of IAMBE Early Career Award, NSF Career Award, Pittsburgh Conference Achievement Award, ONR Young Investigator Award, Sloan Research Fellowship, IEEE EMBS Early Career Achievement Award, IEEE Sensor Council Technical Achievement Award, MIT Technology Review 35 Innovators Under 35, and ACS DIC Young Investigator Award. He is a World Economic Forum Young Scientist and a Highly Cited Researcher (Web of Science). His research interests include wearable devices, biosensors, flexible electronics, micro/nanorobotics, and nanomedicine.
Ahyeon Koh is an Assistant Professor in the Biomedical Engineering Department at SUNY Binghamton University. Her research relies on developing chemically and mechanically biocompatible electrochemical biosensors and designing intimately bio-integrated sensing systems. Additionally, her research focuses on investigating sustainable advanced bioelectronics by upcycling obsoleted electronics. Her expertise includes electrochemical biosensors, flexible and stretchable sensors, biocompatible sensors and materials, analytical devices for biomedical applications. She received the 2023 National Science Foundation (NSF) CAREER Award.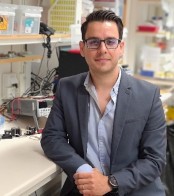 Onur Parlak earned his PhD in Bioelectronics from Linköping University in 2015. He then joined Stanford University as postdoctoral researcher, focusing on wearable bioelectronics. After three years he returned to Sweden and joined the Karolinska Institute with grant support from the Knut and Alice Walleberg Foundation. He was recently awarded Strategic Funding as part of an investment program to recruit and support leading junior researchers. Since January 2021 Dr. Parlak has been acting as an Assistant Professor and established his own lab at the Department of Medicine, Dermatology Division, at the Karolinska Institute, where he specializes in developing wearable medical sensors, bioelectronic devices, and their applications in personalized medicine and medical diagnostics.