Abstract
The drug efflux transporter permeability glycoprotein (PGP) and cytochrome P450 (CYP) 2C19 are important for eliminating antidepressants from the brain and body. The ABCB1 gene, encoding for PGP, and CYP2C19 gene have several variants that could influence enzyme function and thereby the effect of PGP- and 2C19-dependent antidepressants. We investigated the association of antidepressant side effect and common genetic variation in 789 antidepressant users. In PGP-dependent antidepressant users, the A-allele of the rs2032588 single-nucleotide polymorphism (SNP) was associated with a lower number of side effects after adjusting for gender, age, dosage and duration of use, (B=−0.44, q=4.6 × 10−3). This association was different from and absent in non-PGP-dependent antidepressant users. Other SNP associations as well as an interaction analysis between the rs2032588 SNP and the CYP2C19 SNPs were not statistically significant after adjusting for covariates and multiple comparisons. The association of rs2032588 with antidepressant side effects suggests the involvement of the ABCB1 genotype in the clinical pharmacology of PGP-dependent antidepressants.
Access options
Subscribe to this journal
Receive 6 print issues and online access
$259.00 per year
only $43.17 per issue
Rent or buy this article
Get just this article for as long as you need it
$39.95
Prices may be subject to local taxes which are calculated during checkout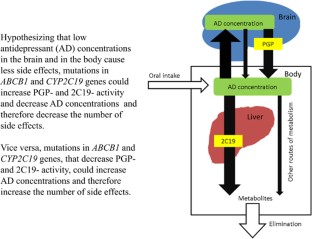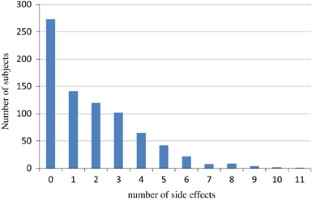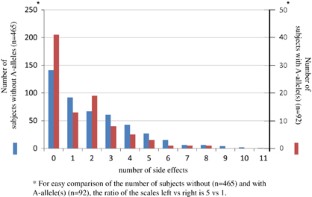 References
Alonso J, Angermeyer MC, Bernert S, Bruffaerts R, Brugha TS, Bryson H et al. Prevalence of mental disorders in Europe: results from the European Study of the Epidemiology of Mental Disorders (ESEMeD) project. Acta Psychiatr Scand Suppl 2004; 420: 21–27.

Baldwin DS, Anderson IM, Nutt DJ, Bandelow B, Bond A, Davidson JR et al. Evidence-based guidelines for the pharmacological treatment of anxiety disorders: recommendations from the British Association for Psychopharmacology. J Psychopharmacol 2005; 19: 567–596.

Weihs K, Wert JM . A primary care focus on the treatment of patients with major depressive disorder. Am J Med Sci 2011; 342: 324–330.

Davidson JR . Major depressive disorder treatment guidelines in America and Europe. J Clin Psychiatry 2010; 71: e04.

Kelly K, Posternak M, Alpert JE . Toward achieving optimal response: understanding and managing antidepressant side effects. Dialogues Clin Neurosci 2008; 10: 409–418.

Kikuchi T, Suzuki T, Uchida H, Watanabe K, Mimura M . Association between antidepressant side effects and functional impairment in patients with major depressive disorders. Psychiatry Res 2013; 210: 127–133.

Hu XH, Bull SA, Hunkeler EM, Ming E, Lee JY, Fireman B et al. Incidence and duration of side effects and those rated as bothersome with selective serotonin reuptake inhibitor treatment for depression: patient report versus physician estimate. J Clin Psychiatry 2004; 65: 959–965.

Demyttenaere K, Enzlin P, Dewe W, Boulanger B, De BJ, De TW et al. Compliance with antidepressants in a primary care setting, 1: Beyond lack of efficacy and adverse events. J Clin Psychiatry 2001; 62: 30–33.

Goethe JW, Woolley SB, Cardoni AA, Woznicki BA, Piez DA . Selective serotonin reuptake inhibitor discontinuation: side effects and other factors that influence medication adherence. J Clin Psychopharmacol 2007; 27: 451–458.

Horstmann S, Binder EB . Pharmacogenomics of antidepressant drugs. Pharmacol Ther 2009; 124: 57–73.

Hoffmeyer S, Burk O, von RO, Arnold HP, Brockmoller J, Johne A et al. Functional polymorphisms of the human multidrug-resistance gene: multiple sequence variations and correlation of one allele with P-glycoprotein expression and activity in vivo. Proc Natl Acad Sci USA 2000; 97: 3473–3478.

Gow JM, Hodges LM, Chinn LW, Kroetz DL . Substrate-dependent effects of human ABCB1 coding polymorphisms. J Pharmacol Exp Ther 2008; 325: 435–442.

Kimchi-Sarfaty C, Oh JM, Kim IW, Sauna ZE, Calcagno AM, Ambudkar SV et al. A 'silent' polymorphism in the MDR1 gene changes substrate specificity. Science 2007; 315: 525–528.

Salama NN, Yang Z, Bui T, Ho RJ . MDR1 haplotypes significantly minimize intracellular uptake and transcellular P-gp substrate transport in recombinant LLC-PK1 cells. J Pharm Sci 2006; 95: 2293–2308.

Leschziner GD, Andrew T, Pirmohamed M, Johnson MR . ABCB1 genotype and PGP expression, function and therapeutic drug response: a critical review and recommendations for future research. Pharmacogenomics J 2007; 7: 154–179.

Singh AB, Bousman CA, Ng CH, Byron K, Berk M . ABCB1 polymorphism predicts escitalopram dose needed for remission in major depression. Transl Psychiatry 2012; 2: e198.

Gex-Fabry M, Eap CB, Oneda B, Gervasoni N, Aubry JM, Bondolfi G et al. CYP2D6 and ABCB1 genetic variability: influence on paroxetine plasma level and therapeutic response. Ther Drug Monit 2008; 30: 474–482.

Dong C, Wong ML, Licinio J . Sequence variations of ABCB1, SLC6A2, SLC6A3, SLC6A4, CREB1, CRHR1 and NTRK2: association with major depression and antidepressant response in Mexican-Americans. Mol Psychiatry 2009; 14: 1105–1118.

Kato M, Fukuda T, Serretti A, Wakeno M, Okugawa G, Ikenaga Y et al. ABCB1 (MDR1) gene polymorphisms are associated with the clinical response to paroxetine in patients with major depressive disorder. Prog Neuropsychopharmacol Biol Psychiatry 2008; 32: 398–404.

Lin KM, Chiu YF, Tsai IJ, Chen CH, Shen WW, Liu SC et al. ABCB1 gene polymorphisms are associated with the severity of major depressive disorder and its response to escitalopram treatment. Pharmacogenet Genomics 2011; 21: 163–170.

Mihaljevic PA, Bozina N, Sagud M, Rojnic KM, Lovric M . MDR1 gene polymorphism: therapeutic response to paroxetine among patients with major depression. Prog Neuropsychopharmacol Biol Psychiatry 2008; 32: 1439–1444.

Nikisch G, Eap CB, Baumann P . Citalopram enantiomers in plasma and cerebrospinal fluid of ABCB1 genotyped depressive patients and clinical response: a pilot study. Pharmacol Res 2008; 58: 344–347.

Peters EJ, Slager SL, Kraft JB, Jenkins GD, Reinalda MS, McGrath PJ et al. Pharmacokinetic genes do not influence response or tolerance to citalopram in the STAR*D sample. PLoS One 2008; 3: e1872.

Sarginson JE, Lazzeroni LC, Ryan HS, Ershoff BD, Schatzberg AF, Murphy GM Jr . ABCB1 (MDR1) polymorphisms and antidepressant response in geriatric depression. Pharmacogenet Genomics 2010; 20: 467–475.

Uhr M, Tontsch A, Namendorf C, Ripke S, Lucae S, Ising M et al. Polymorphisms in the drug transporter gene ABCB1 predict antidepressant treatment response in depression. Neuron 2008; 57: 203–209.

Mas S, Gasso P, Alvarez S, Parellada E, Bernardo M, Lafuente A . Intuitive pharmacogenetics: spontaneous risperidone dosage is related to CYP2D6, CYP3A5 and ABCB1 genotypes. Pharmacogenomics J 2012; 12: 255–259.

Noordam R, Aarts N, Hofman A, van Schaik RH, Stricker BH, Visser LE . Association between genetic variation in the ABCB1 gene and switching, discontinuation, and dosage of antidepressant therapy: results from the Rotterdam Study. J Clin Psychopharmacol 2013; 33: 546–550.

Fukui N, Suzuki Y, Sawamura K, Sugai T, Watanabe J, Inoue Y et al. Dose-dependent effects of the 3435 C>T genotype of ABCB1 gene on the steady-state plasma concentration of fluvoxamine in psychiatric patients. Ther Drug Monit 2007; 29: 185–189.

Yoo HD, Cho HY, Lee SN, Yoon H, Lee YB . Population pharmacokinetic analysis of risperidone and 9-hydroxyrisperidone with genetic polymorphisms of CYP2D6 and ABCB1. J Pharmacokinet Pharmacodyn 2012; 39: 329–341.

Xiang Q, Zhao X, Zhou Y, Duan JL, Cui YM . Effect of CYP2D6, CYP3A5, and MDR1 genetic polymorphisms on the pharmacokinetics of risperidone and its active moiety. J Clin Pharmacol 2010; 50: 659–666.

Roberts RL, Joyce PR, Mulder RT, Begg EJ, Kennedy MA . A common P-glycoprotein polymorphism is associated with nortriptyline-induced postural hypotension in patients treated for major depression. Pharmacogenomics J 2002; 2: 191–196.

Jensen BP, Roberts RL, Vyas R, Bonke G, Jardine DL, Begg EJ . Influence of ABCB1 (P-glycoprotein) haplotypes on nortriptyline pharmacokinetics and nortriptyline-induced postural hypotension in healthy volunteers. Br J Clin Pharmacol 2012; 73: 619–628.

Bly MJ, Bishop JR, Thomas KL, Ellingrod VL . P-glycoprotein (PGP) polymorphisms and sexual dysfunction in female patients with depression and SSRI-associated sexual side effects. J Sex Marital Ther 2013; 39: 280–288.

Zourkova A, Slanar O, Jarkovsky J, Palcikova I, Pindurova E, Cvanova M . MDR1 in paroxetine-induced sexual dysfunction. J Sex Marital Ther 2013; 39: 71–78.

Menu P, Gressier F, Verstuyft C, Hardy P, Becquemont L, Corruble E . Antidepressants and ABCB1 gene C3435T functional polymorphism: a naturalistic study. Neuropsychobiology 2010; 62: 193–197.

Perroud N, Bondolfi G, Uher R, Gex-Fabry M, Aubry JM, Bertschy G et al. Clinical and genetic correlates of suicidal ideation during antidepressant treatment in a depressed outpatient sample. Pharmacogenomics 2011; 12: 365–377.

Laika B, Leucht S, Steimer W . ABCB1 (P-glycoprotein/MDR1) gene G2677T/a sequence variation (polymorphism): lack of association with side effects and therapeutic response in depressed inpatients treated with amitriptyline. Clin Chem 2006; 52: 893–895.

de Klerk OL, Nolte IM, Bet PM, Bosker FJ, Snieder H, den Boer JA et al. ABCB1 gene variants influence tolerance to selective serotonin reuptake inhibitors in a large sample of Dutch cases with major depressive disorder. Pharmacogenomics J 2013; 13: 349–353.

Altar CA, Hornberger J, Shewade A, Cruz V, Garrison J, Mrazek D . Clinical validity of cytochrome P450 metabolism and serotonin gene variants in psychiatric pharmacotherapy. Int Rev Psychiatry 2013; 25: 509–533.

Kirchheiner J, Nickchen K, Bauer M, Wong ML, Licinio J, Roots I et al. Pharmacogenetics of antidepressants and antipsychotics: the contribution of allelic variations to the phenotype of drug response. Mol Psychiatry 2004; 9: 442–473.

Mrazek DA, Biernacka JM, O'Kane DJ, Black JL, Cunningham JM, Drews MS et al. CYP2C19 variation and citalopram response. Pharmacogenet Genomics 2011; 21: 1–9.

Penninx BW, Beekman AT, Smit JH, Zitman FG, Nolen WA, Spinhoven P et al. The Netherlands Study of Depression and Anxiety (NESDA): rationale, objectives and methods. Int J Methods Psychiatr Res 2008; 17: 121–140.

Bet PM, Hugtenburg JG, Penninx BW, Hoogendijk WJ . Side effects of antidepressants during long-term use in a naturalistic setting. Eur Neuropsychopharmacol 2013; 23: 1443–1451.

FDA. US Food and Drug Administration, Drug development and Drug interactions: Table of Substrates, Inhibitors and Inducers Accessed Nov 2013.

WHO. WHO Collaborating Centre for Drug Statistics Methodology. Anatomical Therapeutic Chemical (ATC) Classification. http://www.whocc.no/atcddd/ Accessed Nov 2013.

O'Leary OF, O'Brien FE, O'Connor RM, Cryan JF . Drugs genes and the blues: pharmacogenetics of the antidepressant response from mouse to man. Pharmacol Biochem Behav 2014; 123: 55–76.

de Bakker PIW, Yelensky R, Pe'er I, Gabriel SB, Daly MJ, Altshuler D et al. Efficiency and power in genetic association studies. Nat Genet 2005; 37: 1217–1223.

Browning BL, Browning SR . A unified approach to genotype imputation and haplotype-phase inference for large data sets of trios and unrelated individuals. Am J Hum Genet 2009; 84: 210–223.

Purcell S, Neale B, Todd-Brown K, Thomas L, Ferreira MAR, Bender D et al. PLINK: a toolset for whole-genome association and population-based linkage analysis. Am J Hum Genet 2007; 81: 559–575.

Chen JJ, Roberson PK, Schell MJ . The false discovery rate: a key concept in large-scale genetic studies. Cancer Control 2010; 17: 58–62.

Pardo L, Bochdanovits Z, de Geus E, Hottenga JJ, Sullivan P, Posthuma D et al. Global similarity with local differences in linkage disequilibrium between the Dutch and HapMap-CEU populations. Eur J Hum Genet 2009; 17: 802–810.

Terwilliger JD, Hiekkalinna T . An utter refutation of the 'fundamental theorem of the HapMap'. Eur J Hum Genet 2006; 14: 426–437.

Karlsson L, Green H, Zackrisson AL, Bengtsson F, Jakobsen FI, Carlsson B et al. ABCB1 gene polymorphisms are associated with fatal intoxications involving venlafaxine but not citalopram. Int J Legal Med 2013; 127: 579–586.

Tang K, Ngoi SM, Gwee PC, Chua JM, Lee EJ, Chong SS et al. Distinct haplotype profiles and strong linkage disequilibrium at the MDR1 multidrug transporter gene locus in three ethnic Asian populations. Pharmacogenetics 2002; 12: 437–450.
Acknowledgements
The infrastructure for the NESDA study (www.nesda.nl) is funded through the Geestkracht program of the Netherlands Organisation for Health Research and Development (Zon-Mw, grant number 10-000-1002) and is supported by participating universities and mental health care organizations VU University Medical Center, GGZ inGeest, Arkin, Leiden University Medical Center, GGZ Rivierduinen, University Medical Center Groningen, Lentis, GGZ Friesland, GGZ Drenthe, Scientific Institute for Quality of Healthcare (IQ healthcare), the Netherlands Institute for Health Services Research (NIVEL) and the Netherlands Institute of Mental Health and Addiction (Trimbos). The funding agents were not involved in the design or conduct of the study or in the collection, management, analysis, or interpretation of the data, or preparation, review, or approval of the manuscript.
Ethics declarations
Competing interests
The authors declare no conflict of interest.
About this article
Cite this article
Bet, P., Verbeek, E., Milaneschi, Y. et al. A common polymorphism in the ABCB1 gene is associated with side effects of PGP-dependent antidepressants in a large naturalistic Dutch cohort. Pharmacogenomics J 16, 202–208 (2016). https://doi.org/10.1038/tpj.2015.38
Received:

Revised:

Accepted:

Published:

Issue Date:

DOI: https://doi.org/10.1038/tpj.2015.38
This article is cited by
Ibrahim Mohammed Badamasi
Munn Sann Lye
Johnson Stanslas

The Pharmacogenomics Journal (2021)