How to become whole from a list of parts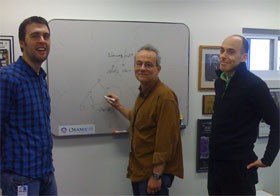 Ihor Lemischka directs the Black Family Stem Cell Institute at the Mount Sinai School of Medicine in New York. In a recent review1, he and colleagues described how systems biology can help explain how stem cells maintain themselves and guide their own fate. He spoke with Nature Reports Stem Cells about how systems and stem cell biology are shaping each other.
What's the take-home message of your review?
What systems biology is really all about is to try to integrate individual data sets to get a holistic picture of how the system actually works. All the genomic studies and proteomic studies of the past couple decades provide parts lists of [actors in] biological processes. Now the challenge is to assemble the parts lists into some sort of architecture responsible for regulating the biological phenotype. [Of course] assembling an architecture computationally is one thing; showing that this accurately reflects reality is something else entirely.
How does doing systems biology change what it means to be a biologist?
It used to be that to be a biologist you didn't have to be very quantitative, you didn't have to have a knowledge of physics or applied mathematics or computer science, but nowadays, that's really changing. At the same time, no one can be a jack of all trades. I remember years ago when I began reading a lot about systems biology and after a while how I kind of got depressed because I realized how little college mathematics I had retained, but then [I realized] that you need to know enough to be able to formulate a biological question in a way that a computational biologist or an applied mathematician or a physicist can translate your questions into, say, a system of differential equations.
We take the available information and busily build websites and interactive resources to come up with, say, a wiring model, and we say what would happen if you perturb this node, and then we go test it. You take the empirical data and then go back and you refine the model, and the refined model makes another set of predictions, and you go back and forth like that, and that's really the name of the game right now.
Can you talk about how both low- and high-throughput techniques can be combined into systems biology?
Low-throughput examples are based on sort of informed guesses. Centring a network on Nanog starts with the knowledge that Nanog plays a very vital role as a gatekeeper of pluripotency, to use an Austin Smith phrase. Here you are starting with a node that you know is important and you're asking what connects to Nanog physically. You ask what proteins bind Nanog. Having those, you can ask what proteins bind to those proteins and you grow your network out from a single node.
There's maybe 30 or so components there [that have been culled from the published literature], and they are all transcription factors. With RNAi, you can easily remove any one of these. You could see what the effect [is] on all the other [transcription factors]. So, that's a low-throughput approach. A combination of low throughput and high throughput would be to remove, say, Nanog and then measure the transcriptome, or take away Oct4 and do microarrays and deep sequencing and microRNA analysis and proteomics.
What about high throughput?
Both approaches are very complementary. In terms of hypothesis generation, building a network is only as useful as the ability to make predictions and test them. PluriNet [an example used in the review as a high-throughput approach] basically integrates everything from the literature in a prospective network. That gives you a lot of ideas and directions for testing. If you have a hundred different nodes, say gene products, and you want to construct a network, there is an astronomical number of possible wiring diagrams, so the real challenge is to come up with a list of, say, 50 possible diagrams that are consistent with lots of microarray experiments. And then with RNAi or [small hairpin] RNA you can separate the wheat from the chaff, you can easily design experiments that will eliminate some of the possible networks.
Ultimately if you have carte blanche vision, everything connects to everything else, and the key is [to] know where to draw the line and say "these are the connectivities that are necessary and sufficient for a given biological function, and the others I can probably dispense with".
In addition to constructing networks inside cells, you talk about constructing a landscape that represents cellular states.
That's a useful framework, the landscape. The idea is that you have different types of high-energy and low-energy states. When you're at energy minima, then you tend to [be] stable. We cite some interesting literature showing [how] you can get to the same low-energy state by different roads, and that's consistent with this three-dimensional view of a valley. You can fall into a valley from anywhere around the high-altitude rim, and it doesn't matter where you are on the edge, what matters is you're always going to fall into the same singular state down at the bottom. You can view the 200 or so differentiated cell types in an adult mammal as each being in a low-energy stable state and a stem cell is an unstable thing that's going to fall into one of those states through a series of intermediates.
What are the implications for reprogramming?
If you want to jump from one valley to another, you have to climb a hill first. Climbing that hill takes energy; it's difficult. But it's remarkable that you can take three or four transcription factors and march a differentiated cell all the way back to the top of this energy landscape.
And in some ways it's even more remarkable how Thomas Graf's work and Doug Melton's work show that you don't have to go back to an undifferentiated stem cell state — you can hop directly over from one differentiated cell type to another.
You talk about how cellular noise moves cells around the landscape, that cells need mechanisms to both dampen and capitalize on noise.
Biological systems need to be robust; they need to be resistant to noise, but at the same time you need noise. If you didn't have noise, evolution would be impossible. You optimize a system, but you don't over-optimize it.
The network construction feels more concrete to me than the idea of constructing a landscape.
This all comes from physics. In physics, you just heat the system up and it increases its energy. [But] how do you translate what defines a high-energy and low-energy state in a landscape when you talk about cells? What are the practical consequences and interpretations? I don't know, but it is a useful way of thinking about it.
You say most systems biology is done on bacteria and yeast and that stem cells are really the best option for mammalian cells. Why is that?
I mean only pluripotent or embryonic stem [ES] cells. You have essentially a clonal system. You can know everything chemically that goes into the growing conditions. You can grow as many cells as you want for biochemistry. So you have a really well-defined mammalian system.
What technologies are needed to move the field forward?
There is no really facile way to measure the entire proteome in limiting numbers of cells. It would be great to take individual ES cells and measure the protein levels of a few hundred transcription factors.
We also have no way of determining protein-protein interactomes in individual cells; you can measure parts of them, but if you look at any interactome, it requires a lot of cells, and in the end you're left with the average interactome. You have no guarantee that that interactome actually exists in individual cells.
But all that will change with nanotechnology and nanofluidics and multiparameter imaging and things like that.
What are some early experiments you remember doing?
I did my grad work with Philip Sharp at MIT [Massachusetts Institute of Technology]; this was back in the days when you had to make your own restriction enzymes. My first experience in his lab, he says, "Let me give you the two things you'll need to start." He walks me over to a –20° freezer, and he pulls out this chunk of ugly dark green-gray–looking frozen stuff, and he says, "This is Haemophilus influenzae paste. You'll need this." And then he walks across to a drawer and pulls out a hammer. And he says, "This is the second thing you'll need."
What advice do you find yourself giving frequently to members of your lab?
Don't give up. Also, a properly designed experiment gives you a meaningful answer whether it's [a] positive or negative result. But don't give up is the most important thing.
The other thing is I don't want to hear how many hours you spend in the lab. Just get the task done.
How do you work across disciplines?
It takes more than one meeting to establish a common language. And you need to be very open-minded. You interact with people from different disciplines for a reason, not just because they do things that you can't do but because they bring a perspective that you don't have.
What resources does the stem cell community need?
To do genomewide RNAi screens or entire proteomes is something that really needs to be accessible to young investigators, and what a lot of institutions will depend on is the ability to have a lot of first-rate central core resources and facilities.
We have a human ES/iPS [induced pluripotent stem] core facility here. The same goes in deep sequencing and flow cytometry. This allows young assistant professor–level people to do things that previously were only possible in very large labs. You have to make the technology available. These things are expensive, though, and we're thankful to the state of New York for supporting this core.
What does that mean for how the stem cell community relates with governments and the public?
It's still a work in progress. It's a breath of fresh air from the new administration. Science is good again. The culture has changed. It's no longer a bad thing to be an intellectual. Stem cell biology is also a minefield. Twenty or more years ago, there was the beginning of gene therapy and a lot was promised. It's only now, years and years later, that we're starting to get some real clinical data. We all believe stem cell research will revolutionize medicine, but exactly how is a work in progress. You need to temper your promises with a dose of realism and caution. It's really important not to go out and promise that in two years we'll cure diabetes or spinal cord injury.
References
MacArthur, B.D., Ma'ayan, A. & Lemischka, I.R. Systems biology of stem cell fate and cellular reprogramming. Nature Rev. Mol. Cell Biol. 10, 672–681 (2009)
About this article
Cite this article
Baker, M. Ihor Lemischka: stem cells meet systems biology. Nat Rep Stem Cells (2009). https://doi.org/10.1038/stemcells.2009.129
Published:

DOI: https://doi.org/10.1038/stemcells.2009.129