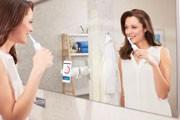 Oral-B chose this year's British Dental Conference and Exhibition as the platform to launch the brand new Oral-B Genius, with an exciting event for invited guests introduced by the British Dental Association's (BDA's) Chief Executive, Peter Ward.
The Oral-B Genius intelligent toothbrushing system features ground-breaking Postition Detection Technology, combining cutting-edge motion sensor technology located in the brush and video recognition using your smartphone's camera to track areas being brushed – so that no zone in the mouth is missed.
When patients brush with the Oral-B Genius, they receive instant feedback on the brushing of each zone of the mouth via the Oral-B App 4.1, including guidance on pressure applied and brushing duration. These features, combined with the Oral-B Oscillating-Rotating-Pulsating Technology and the unique round brush head, helps patients improve their oral health.
The real-time feedback given through the app helps patients to brush for the recommended two minutes and avoid pressing too hard or missing an area of the mouth – for example right-handers not spending enough time in the lower right hand side of the mouth.
Oral-B Genius enables more effective brushing every day. It comes with a smart travel case which charges both the brush and a USB device such as a smartphone; a practical smartphone holder supporting placement of your phone on the mirror in the bathroom; a lithium-ion battery for at least two weeks of brushing between charges; and SmartRing, a personalised multicolour 360° lighting system, featuring 12 different coloured lights for customisation.
About this article
Cite this article
The first toothbrush with position detection technology. Br Dent J 220, 607 (2016). https://doi.org/10.1038/sj.bdj.2016.426
Published:

Issue Date:

DOI: https://doi.org/10.1038/sj.bdj.2016.426