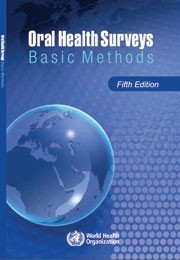 The International College of Dentists' (ICD) European Section, through the Philip Dear Fund, has sponsored the 5th edition of the World Health Organisation (WHO) manual Oral health surveys, basic methods. The liaison with the WHO is an historic milestone allowing ICD Fellows anywhere in the world to access essential information when planning and monitoring the hundreds of humanitarian projects carried out by sections of the College.
The manual outlines the principles of clinical oral health surveys as recommended by the WHO and includes guidance for conducting surveys, diagnostic criteria, the reliability of data and the selection of participants.
The public health problems associated with oral disease are a serious burden on countries around the globe, and the WHO has a long tradition of epidemiological survey methodology and surveillance in oral health, while the ICD has been focused on increasing educational and humanitarian aid projects worldwide. This collaboration marks a true symbiosis between two of the world's most respected health organisations.
About this article
Cite this article
Two health giants unite to publish manual. Br Dent J 216, 149 (2014). https://doi.org/10.1038/sj.bdj.2014.110
Published:

Issue Date:

DOI: https://doi.org/10.1038/sj.bdj.2014.110