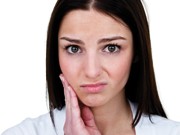 A new study supported by GlaxoSmithKline Consumer Healthcare (GSK) – ESCARCEL – reveals that almost one in three young adults suffer from tooth wear and that dentine hypersensitivity is extremely prevalent in young adults.1
The new research identifies a need to regularly screen patients for these conditions.
The ESCARCEL study of 3,187 subjects aged 18-35 across seven European countries is the first pan-European Epidemiology Study on Non-Carious Cervical Lesions (NCCL) and Associated Risk Factors. It looked at tooth wear risk factors and found that those with frequent acidic food intake had higher levels of damage.
The study also clearly identifies that erosive factors (extrinsic and/or intrinsic acid challenge, such as dietary acids or gastric reflux) strongly associated with tooth wear are also closely associated with dentine hypersensitivity. This fact had not been proven previously due to an absence of studies measuring both conditions simultaneously.
The researchers and GSK say that the study results confirm the essential role of the dental healthcare professional in identifying patients who may be at risk from acid wear and those with dentine hypersensitivity.
References
1

Bourgeois D et al. Is dental erosion and dentin hypersensitivity a public health problem?: Rationale of the European Collaborative Study. Presented at 101st FDI Annual World Dental Congress, 28-31 August 2013, Istanbul, Turkey.
About this article
Cite this article
Study highlights prevalence of tooth wear. Br Dent J 215, 365 (2013). https://doi.org/10.1038/sj.bdj.2013.970