Abstract
Coronary atherosclerosis results from the delicate interplay of genetic and exogenous risk factors, principally taking place in metabolic organs and the arterial wall. Here we show that 224 gene-regulatory coexpression networks (GRNs) identified by integrating genetic and clinical data from patients with (n = 600) and without (n = 250) coronary artery disease (CAD) with RNA-seq data from seven disease-relevant tissues in the Stockholm–Tartu Atherosclerosis Reverse Network Engineering Task (STARNET) study largely capture this delicate interplay, explaining >54% of CAD heritability. Within 89 cross-tissue GRNs associated with clinical severity of CAD, 374 endocrine factors facilitated inter-organ interactions, primarily along an axis from adipose tissue to the liver (n = 152). This axis was independently replicated in genetically diverse mouse strains and by injection of recombinant forms of adipose endocrine factors (EPDR1, FCN2, FSTL3 and LBP) that markedly altered blood lipid and glucose levels in mice. Altogether, the STARNET database and the associated GRN browser (http://starnet.mssm.edu) provide a multiorgan framework for exploration of the molecular interplay between cardiometabolic disorders and CAD.
Relevant articles
Open Access articles citing this article.
Bulang Gao

,

Caiying Li

…

Qinying Cao

European Journal of Medical Research Open Access 27 December 2022

Carina Mauersberger

,

Hendrik B. Sager

…

Thorsten Kessler

Nature Cardiovascular Research Open Access 12 December 2022
Access options
Subscribe to this journal
Receive 12 digital issues and online access to articles
$119.00 per year
only $9.92 per issue
Rent or buy this article
Get just this article for as long as you need it
$39.95
Prices may be subject to local taxes which are calculated during checkout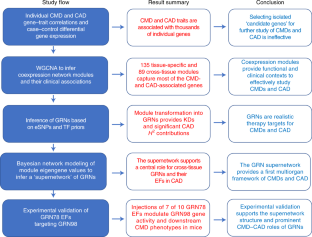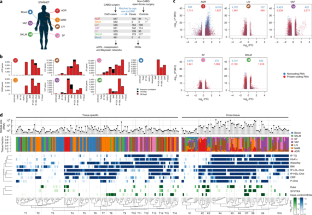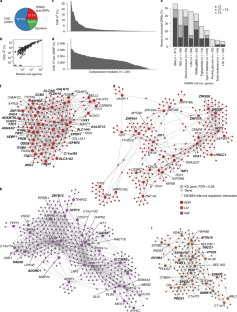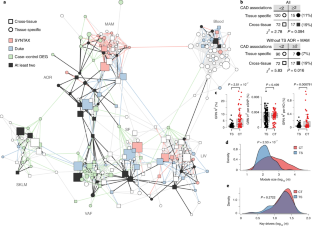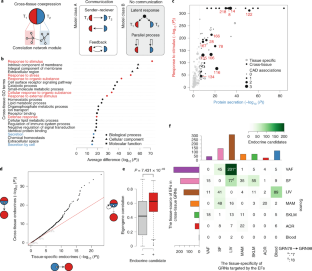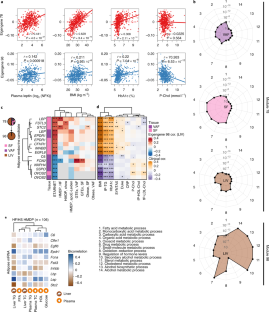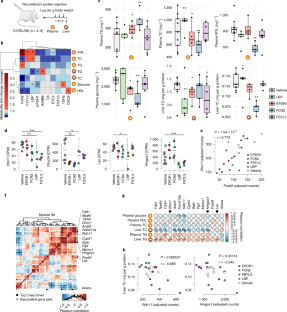 Data availability
Case and control STARNET data are available at the dbGAP site (dbGaP study accession phs001203.v1.p1). Validation data are provided by the HMDP25, GTEx32 and morbid obesity33 studies. Liver RNA-seq data generated in response to injecting mice with recombinant endocrine factors are available under GEO entry GSE189001. Source data are provided with this paper.
References
Kumar, V., Hsueh, W. A. & Raman, S. V. Multiorgan, multimodality imaging in cardiometabolic disease. Circ. Cardiovasc. Imaging 10, e005447 (2017).

Rask-Madsen, C. & Kahn, C. R. Tissue-specific insulin signaling, metabolic syndrome, and cardiovascular disease. Arterioscler. Thromb. Vasc. Biol. 32, 2052–2059 (2012).

Beverly, J. K. & Budoff, M. J. Atherosclerosis: pathophysiology of insulin resistance, hyperglycemia, hyperlipidemia, and inflammation. J. Diabetes 12, 102–104 (2020).

Schadt, E. E. et al. An integrative genomics approach to infer causal associations between gene expression and disease. Nat. Genet. 37, 710–717 (2005).

Schadt, E. E. Molecular networks as sensors and drivers of common human diseases. Nature 461, 218–223 (2009).

Schadt, E. E. & Bjorkegren, J. L. NEW: network-enabled wisdom in biology, medicine, and health care. Sci. Transl. Med. 4, 115rv111 (2012).

Bjorkegren, J. L., Kovacic, J. C., Dudley, J. T. & Schadt, E. E. Genome-wide significant loci: how important are they? Systems genetics to understand heritability of coronary artery disease and other common complex disorders. J. Am. Coll. Cardiol. 65, 830–845 (2015).

Zhang, B. et al. Integrated systems approach identifies genetic nodes and networks in late-onset Alzheimer's disease. Cell 153, 707–720 (2013).

Talukdar, H. A. et al. Cross-tissue regulatory gene networks in coronary artery disease. Cell Syst. 2, 196–208 (2016).

Cohain, A. T. et al. An integrative multiomic network model links lipid metabolism to glucose regulation in coronary artery disease. Nat. Commun. 12, 547 (2021).

Marbach, D. et al. Wisdom of crowds for robust gene network inference. Nat. Methods 9, 796–804 (2012).

van der Wijst, M. G. P., de Vries, D. H., Brugge, H., Westra, H. J. & Franke, L. An integrative approach for building personalized gene regulatory networks for precision medicine. Genome Med. 10, 96 (2018).

Zhang, B. & Horvath, S. A general framework for weighted gene co-expression network analysis. Stat. Appl. Genet. Mol. Biol. 4, Article17 (2005).

Zhang, B. & Zhu, J. Identification of key causal regulators in gene networks. Proc. World Congr. Eng. 2013 II, 1309–1312 (2013).

Shang, M. M. et al. Lim domain binding 2: a key driver of transendothelial migration of leukocytes and atherosclerosis. Arterioscler. Thromb. Vasc. Biol. 34, 2068–2077 (2014).

Wang, Y. et al. Clonally expanding smooth muscle cells promote atherosclerosis by escaping efferocytosis and activating the complement cascade. Proc. Natl Acad. Sci. USA 117, 15818–15826 (2020).

Marbach, D. et al. Tissue-specific regulatory circuits reveal variable modular perturbations across complex diseases. Nat. Methods 13, 366–370 (2016).

Wang, I. M. et al. Systems analysis of eleven rodent disease models reveals an inflammatome signature and key drivers. Mol. Syst. Biol. 8, 594 (2012).

Franzen, O. et al. Cardiometabolic risk loci share downstream cis- and trans-gene regulation across tissues and diseases. Science 353, 827–830 (2016).

Dobrin, R. et al. Multi-tissue coexpression networks reveal unexpected subnetworks associated with disease. Genome Biol. 10, R55 (2009).

Ritchie, S. C. et al. A scalable permutation approach reveals replication and preservation patterns of network modules in large datasets. Cell Syst. 3, 71–82 (2016).

Aibar, S. et al. SCENIC: single-cell regulatory network inference and clustering. Nat. Methods 14, 1083–1086 (2017).

Huynh-Thu, V. A., Irrthum, A., Wehenkel, L. & Geurts, P. Inferring regulatory networks from expression data using tree-based methods. PLoS ONE 5, e12776 (2010).

Nelson, C. P. et al. Association analyses based on false discovery rate implicate new loci for coronary artery disease. Nat. Genet. 49, 1385–1391 (2017).

Ghazalpour, A. et al. Hybrid mouse diversity panel: a panel of inbred mouse strains suitable for analysis of complex genetic traits. Mamm. Genome 23, 680–692 (2012).

Zeng, L. et al. Contribution of gene regulatory networks to heritability of coronary artery disease. J. Am. Coll. Cardiol. 73, 2946–2957 (2019).

Yao, D. W., O'Connor, L. J., Price, A. L. & Gusev, A. Quantifying genetic effects on disease mediated by assayed gene expression levels. Nat. Genet. 52, 626–633 (2020).

Buniello, A. et al. The NHGRI-EBI GWAS Catalog of published genome-wide association studies, targeted arrays and summary statistics 2019. Nucleic Acids Res. 47, D1005–D1012 (2019).

Langfelder, P. & Horvath, S. Eigengene networks for studying the relationships between co-expression modules. BMC Syst. Biol. 1, 54 (2007).

Chickering, D. M. Optimal structure identification with greedy search. J. Mach. Learn. Res. 3, 507–554 (2002).

Seldin, M. M. et al. A strategy for discovery of endocrine interactions with application to whole-body metabolism. Cell Metab. 27, 1138–1155 (2018).

GTEx Consortium. Human genomics. The Genotype–Tissue Expression (GTEx) pilot analysis: multitissue gene regulation in humans. Science 348, 648–660 (2015).

Greenawalt, D. M. et al. A survey of the genetics of stomach, liver, and adipose gene expression from a morbidly obese cohort. Genome Res. 21, 1008–1016 (2011).

Sabatine, M. S. PCSK9 inhibitors: clinical evidence and implementation. Nat. Rev. Cardiol. 16, 155–165 (2019).

von Scheidt, M. et al. Applications and limitations of mouse models for understanding human atherosclerosis. Cell Metab. 25, 248–261 (2017).

Deshmukh, A. S. et al. Proteomics-based comparative mapping of the secretomes of human brown and white adipocytes reveals EPDR1 as a novel batokine. Cell Metab. 30, 963–975 (2019).

Jones, P. D. et al. JCAD, a gene at the 10p11 coronary artery disease locus, regulates hippo signaling in endothelial cells. Arterioscler. Thromb. Vasc. Biol. 38, 1711–1722 (2018).

Davidson, E. H. Emerging properties of animal gene regulatory networks. Nature 468, 911–920 (2010).

Kauffman, S. Gene regulation networks: a theory for their global structure and behaviors. Curr. Top. Dev. Biol. 6, 145–182 (1971).

Hastie, T., Tibshirani, R. & Friedman, J. H. The Elements of Statistical Learning: Data Mining, Inference, and Prediction 2nd edn. (Springer, 2009).

Leek, J. T., Johnson, W. E., Parker, H. S., Jaffe, A. E. & Storey, J. D. The sva package for removing batch effects and other unwanted variation in high-throughput experiments. Bioinformatics 28, 882–883 (2012).

Buuren, S. V. & Groothuis-Oudshoorn, K. mice: multivariate imputation by chained equations in R. J. Stat. Softw. 45, 1–67 (2011).

Love, M. I., Huber, W. & Anders, S. Moderated estimation of fold change and dispersion for RNA-seq data with DESeq2. Genome Biol. 15, 550 (2014).

Dobin, A. et al. STAR: ultrafast universal RNA-seq aligner. Bioinformatics 29, 15–21 (2013).

Langfelder, P. & Horvath, S. WGCNA: an R package for weighted correlation network analysis. BMC Bioinformatics 9, 559 (2008).

Mi, H., Muruganujan, A., Ebert, D., Huang, X. & Thomas, P. D. PANTHER version 14: more genomes, a new PANTHER GO-slim and improvements in enrichment analysis tools. Nucleic Acids Res. 47, D419–D426 (2019).

Lambert, S. A. et al. The human transcription factors. Cell 172, 650–665 (2018).

Shu, L. et al. Mergeomics: multidimensional data integration to identify pathogenic perturbations to biological systems. BMC Genomics 17, 874 (2016).

Nikpay, M. et al. A comprehensive 1,000 Genomes-based genome-wide association meta-analysis of coronary artery disease. Nat. Genet. 47, 1121–1130 (2015).

CARDIoGRAMplusC4D Consortium et al. Large-scale association analysis identifies new risk loci for coronary artery disease. Nat. Genet. 45, 25–33 (2013).

Speed, D., Hemani, G., Johnson, M. R. & Balding, D. J. Improved heritability estimation from genome-wide SNPs. Am. J. Hum. Genet. 91, 1011–1021 (2012).

Yang, J. et al. Common SNPs explain a large proportion of the heritability for human height. Nat. Genet. 42, 565–569 (2010).

Wang, L. & Michoel, T. Efficient and accurate causal inference with hidden confounders from genome–transcriptome variation data. PLoS Comput. Biol. 13, e1005703 (2017).

Chen, L. S., Emmert-Streib, F. & Storey, J. D. Harnessing naturally randomized transcription to infer regulatory relationships among genes. Genome Biol. 8, R219 (2007).

Yavorska, O. O. & Burgess, S. MendelianRandomization: an R package for performing Mendelian randomization analyses using summarized data. Int. J. Epidemiol. 46, 1734–1739 (2017).

Cooper, G. F. et al. The center for causal discovery of biomedical knowledge from big data. J. Am. Med. Inform. Assoc. 22, 1132–1136 (2015).

Bostrom, P. et al. A PGC1-α-dependent myokine that drives brown-fat-like development of white fat and thermogenesis. Nature 481, 463–468 (2012).

Lusis, A. J. et al. The Hybrid Mouse Diversity Panel: a resource for systems genetics analyses of metabolic and cardiovascular traits. J. Lipid Res. 57, 925–942 (2016).

Serruys, P. W. et al. Assessment of the SYNTAX score in the Syntax study. EuroIntervention 5, 50–56 (2009).

Mark, D. B. et al. Continuing evolution of therapy for coronary artery disease. Initial results from the era of coronary angioplasty. Circulation 89, 2015–2025 (1994).

Phillips, P. C. Epistasis—the essential role of gene interactions in the structure and evolution of genetic systems. Nat. Rev. Genet. 9, 855–886 (2008).
Acknowledgements
J.L.M.B. acknowledges research support from NIH R01HL125863, the American Heart Association (A14SFRN20840000), the Swedish Research Council (2018-02529) and the Heart Lung Foundation (20170265) and by AstraZeneca through ICMC, Karolinska Institutet, Sweden. J.L.M.B. and H.S. acknowledge support from the Foundation Leducq ('PlaqueOmics: Novel Roles of Smooth Muscle and Other Matrix Producing Cells in Atherosclerotic Plaque Stability and Rupture', 18CVD02; 'CADgenomics: Understanding CAD Genes', 12CVD02) and the European Union under grant agreement HEALTH-F2-2013-601456 ('CVgenes-at-target'). H.S. received grants for a British Heart Foundation (BHF)–German Center of Cardiovascular Research (DZHK) collaboration and from the ERA-NET ('Druggable-MI-Genes', 01KL1802) and was supported by grants from the Federal German Ministries (AbCD-Net grant 01ZX1706C, BLOCK-CAD grant 16GW0198K and ModulMax grant ZF4590201BA8) and the DFG as part of the Sonderforschungsbereich CRC 1123 (B2) and the Transregio TRR 267 (B05) as well as the DigiMed Bayern project (DBM-1805-0001). J.C.K. acknowledges research support from the National Institutes of Health (R01HL130423, R01HL135093 and R01HL148167-01A1) and New South Wales health grant RG194194. A.J.L. acknowledges the Foundation Leducq ('CADgenomics: Understanding CAD Genes', 12CVD02) and NIH grants R01 HL144651, R01 HL147883, PO1 HL28481 and R01 DK117850. M.S. acknowledges NIH grant HL138193.
Ethics declarations
Competing interests
J.L.M.B. is the founder of Clinical Gene Networks (CGN). J.L.M.B. (chair) and A.R. are on CGN's board of directors. J.L.M.B., A.R. and T.M. are shareholders in CGN. J.L.M.B. receives financial compensation as a consultant for CGN. CGN has an invested interest in STARNET that is regulated in an agreement with the Icahn School of Medicine at Mount Sinai. Neither the Icahn School of Medicine at Mount Sinai nor CGN have made claims to results presented in this study. E.E.S. is the CEO of Sema4. C.W. and L.-M.G. are employees of AstraZeneca. No funding for this study was received from Sema4. AstraZeneca supported this study through independent grants to J.L.M.B. at the Karolinska Institutet (ICMC). The remaining authors declare no competing interests.
Peer review information
Nature Cardiovascular Research thanks Thomas Quertermous and the other, anonymous, reviewer(s) for their contribution to the peer review of this work.
Additional information
Publisher's note Springer Nature remains neutral with regard to jurisdictional claims in published maps and institutional affiliations.
Supplementary information
About this article
Cite this article
Koplev, S., Seldin, M., Sukhavasi, K. et al. A mechanistic framework for cardiometabolic and coronary artery diseases. Nat Cardiovasc Res 1, 85–100 (2022). https://doi.org/10.1038/s44161-021-00009-1
Received:

Accepted:

Published:

Issue Date:

DOI: https://doi.org/10.1038/s44161-021-00009-1
This article is cited by
Bulang Gao
Caiying Li
Qinying Cao

European Journal of Medical Research (2022)

Carina Mauersberger
Hendrik B. Sager
Thorsten Kessler

Nature Cardiovascular Research (2022)

Adam W. Turner
Shengen Shawn Hu
Clint L. Miller

Nature Genetics (2022)