Making sense of single-cell data requires various computational efforts such as clustering, visualization and gene regulatory network inference, often addressed by different methods. DeepSEM provides an all-in-one solution.
Access options
Subscribe to Journal
Get full journal access for 1 year
$99.00
only $8.25 per issue
All prices are NET prices.
VAT will be added later in the checkout.
Tax calculation will be finalised during checkout.
Rent or Buy article
Get time limited or full article access on ReadCube.
from$8.99
All prices are NET prices.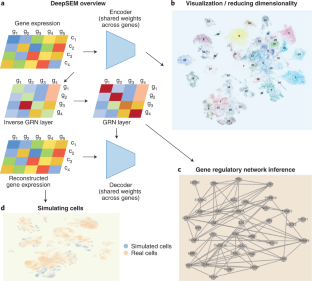 References
1.

Stuart, T. & Satija, R. Nat. Rev. Genet. 20, 257–272 (2019).

2.

Fiers, M. W. E. J. et al. Brief. Funct. Genom. 17, 246–254 (2018).

3.

Shu, H. et al. Nat. Comput. Sci. https://doi.org/10.1038/s43588-021-00099-8 (2021).

4.

Moerman, T. et al. Bioinformatics 35, 2159–2161 (2019).

5.

Higgins, I. et al. in Int. Conf. Learning Representations (ICLR, 2017).

6.

Pratapa, A., Jalihal, A. P., Law, J. N., Bharadwaj, A. & Murali, T. M. Nat. Methods 17, 147–154 (2020).

7.

Huynh-Thu, V. A., Irrthum, A., Wehenkel, L. & Geurts, P. PLoS ONE 5, e12776 (2010).

8.

Lopez, R., Regier, J., Cole, M. B., Jordan, M. I. & Yosef, N. Nat. Methods 15, 1053–1058 (2018).

9.

Marouf, M. et al. Nat. Commun. 11, 166 (2020).
Ethics declarations
Competing interests
The author declares no competing interests.
About this article
Cite this article
Ding, J. A versatile model for single-cell data analysis. Nat Comput Sci 1, 460–461 (2021). https://doi.org/10.1038/s43588-021-00103-1