Abstract
Mutations of ASXL1, encoding a component of the BAP1 histone H2A deubiquitinase complex, occur in human myeloid neoplasms and are uniformly associated with poor prognosis. However, the precise molecular mechanisms through which ASXL1 mutations alter BAP1 activity and drive leukemogenesis remain unclear. Here we demonstrate that cancer-associated frameshift mutations in ASXL1, which were originally proposed to act as destabilizing loss-of-function mutations, in fact encode stable truncated gain-of-function proteins. Truncated ASXL1 increases BAP1 protein stability, enhances BAP1 recruitment to chromatin and promotes the expression of a pro-leukemic transcriptional signature. Through a biochemical screen, we identified BAP1 catalytic inhibitors that inhibit truncated-ASXL1-driven leukemic gene expression and impair tumor progression in vivo. This study represents a breakthrough in our understanding of the molecular mechanisms of ASXL1 mutations in leukemia pathogenesis and identifies small-molecular catalytic inhibitors of BAP1 as a potential targeted therapy for leukemia.
Access options
Subscribe to Journal
Get full journal access for 1 year
$119.00
only $9.92 per issue
All prices are NET prices.
VAT will be added later in the checkout.
Tax calculation will be finalised during checkout.
Rent or Buy article
Get time limited or full article access on ReadCube.
from$8.99
All prices are NET prices.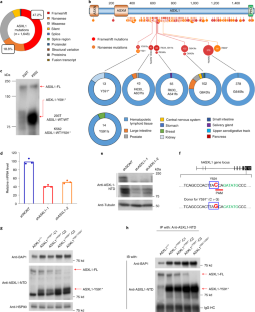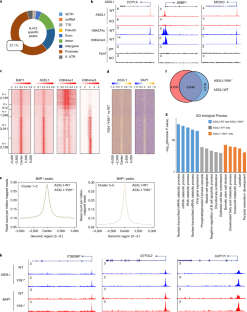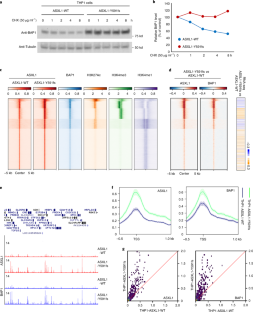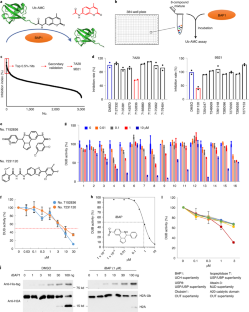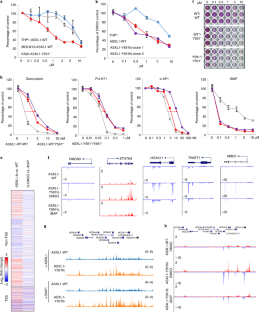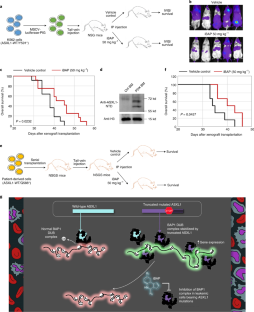 Data availability
ChIP-seq and RNA-seq data generated for this study are available at the Gene Expression Omnibus under accession number GSE166305. Source data for Figs. 1,4–6 and Extended Data Figs. 1,5 and 6 have been provided as Source Data files. All other data supporting the findings of this study are available from the corresponding author on reasonable request. Source data are provided with this paper.
Code availability
Custom scripts for analyzing NGS data will be made available upon request. The source code of Ceto pipeline used for analyzing the NGS data from this study is available at the GitHub site: https://github.com/ebartom/NGSbartom
References
1.

Lawrence, M. S. et al. Mutational heterogeneity in cancer and the search for new cancer-associated genes. Nature 499, 214–218 (2013).

2.

Wang, L. et al. Resetting the epigenetic balance of Polycomb and COMPASS function at enhancers for cancer therapy. Nat. Med. 24, 758 (2018).

3.

Wang, L. & Shilatifard, A. UTX mutations in human cancer. Cancer Cell 35, 168–176 (2019).

4.

Morgan, M. A. & Shilatifard, A. Chromatin signatures of cancer. Genes Dev. 29, 238–249 (2015).

5.

Rasmussen, K. D. & Helin, K. Role of TET enzymes in DNA methylation, development, and cancer. Gene Dev. 30, 733–750 (2016).

6.

Zhang, J. Y. et al. Disruption of KMT2D perturbs germinal center B cell development and promotes lymphomagenesis. Nat. Med. 21, 1190 (2015).

7.

Ortega-Molina, A. et al. The histone lysine methyltransferase KMT2D sustains a gene expression program that represses B cell lymphoma development. Nat. Med. 21, 1199–1208 (2015).

8.

Szczepanski, A. P. et al. ASXL3 bridges BRD4 to BAP1 complex and governs enhancer activity in small cell lung cancer. Genome Med. 12, 63 (2020).

9.

Szczepanski, A. P. & Wang, L. Emerging multifaceted roles of BAP1 complexes in biological processes. Cell Death Discov. 7, 20 (2021).

10.

Dey, A. et al. Loss of the tumor suppressor BAP1 causes myeloid transformation. Science 337, 1541–1546 (2012).

11.

Misaghi, S. et al. Association of C-terminal ubiquitin hydrolase BRCA1-associated protein 1 with cell cycle regulator host cell factor 1. Mol. Cell. Biol. 29, 2181–2192 (2009).

12.

Gelsi-Boyer, V. et al. Mutations of polycomb-associated gene ASXL1 in myelodysplastic syndromes and chronic myelomonocytic leukaemia. Brit. J. Haematol. 145, 788–800 (2009).

13.

Bejar, R. et al. Clinical effect of point mutations in myelodysplastic syndromes. N. Engl. J. Med. 364, 2496–2506 (2011).

14.

Patel, J. P. et al. Prognostic relevance of integrated genetic profiling in acute myeloid leukemia. N. Engl. J. Med. 366, 1079–1089 (2012).

15.

Abdel-Wahab, O. et al. ASXL1 mutations promote myeloid transformation through loss of PRC2-mediated gene repression. Cancer Cell 22, 180–193 (2012).

16.

Balasubramani, A. et al. Cancer-associated ASXL1 mutations may act as gain-of-function mutations of the ASXL1-BAP1 complex. Nat. Commun. 6, 7307 (2015).

17.

Yang, H. et al. Gain of function of ASXL1 truncating protein in the pathogenesis of myeloid malignancies. Blood 131, 328–341 (2018).

18.

Campagne, A. et al. BAP1 complex promotes transcription by opposing PRC1-mediated H2A ubiquitylation. Nat. Commun. 10, 348 (2019).

19.

Guo, Y. et al. Reduced BAP1 activity prevents ASXL1 truncation-driven myeloid malignancy in vivo. Leukemia 32, 1834–1837 (2018).

20.

Yu, H. et al. The ubiquitin carboxyl hydrolase BAP1 forms a ternary complex with YY1 and HCF-1 and is a critical regulator of gene expression. Mol. Cell. Biol. 30, 5071–5085 (2010).

21.

Asada, S. et al. Mutant ASXL1 cooperates with BAP1 to promote myeloid leukaemogenesis. Nat. Commun. 9, 2733 (2018).

22.

Inoue, D. et al. Myelodysplastic syndromes are induced by histone methylation-altering ASXL1 mutations. J. Clin. Invest. 123, 4627–4640 (2013).

23.

Carbone, M. et al. Tumour predisposition and cancer syndromes as models to study gene-environment interactions. Nat. Rev. Cancer 20, 533–549 (2020).

24.

Carbone, M. et al. Biological mechanisms and clinical significance of BAP1 mutations in human cancer. Cancer Discov. 10, 1103–1120 (2020).

25.

Bononi, A. et al. BAP1 regulates IP3R3-mediated Ca2+ flux to mitochondria suppressing cell transformation. Nature 546, 549 (2017).

26.

Morris, M. R. & Latif, F. The epigenetic landscape of renal cancer. Nat. Rev. Nephrol. 13, 47–60 (2017).

27.

Verdijk, R. et al. Clinical significance of immunohistochemistry for detection of BAP1 mutations in uveal melanoma. Virchows Arch. 465, S44–S44 (2014).

28.

Murali, R., Wiesner, T. & Scolyer, R. A. Tumours associated with BAP1 mutations. Pathology 45, 116–126 (2013).

29.

Qin, J. Y. et al. BAP1 promotes breast cancer cell proliferation and metastasis by deubiquitinating KLF5. Nat. Commun. 6, 8471 (2015).

30.

He, M. et al. Intrinsic apoptosis shapes the tumor spectrum linked to inactivation of the deubiquitinase BAP1. Science 364, 283–285 (2019).

31.

Sahtoe, D. D., van Dijk, W. J., Ekkebus, R., Ovaa, H. & Sixma, T. K. BAP1/ASXL1 recruitment and activation for H2A deubiquitination. Nat. Commun. 7, 10292 (2016).

32.

Daou, S. et al. The BAP1/ASXL2 histone H2A deubiquitinase complex regulates cell proliferation and is disrupted in cancer. J. Biol. Chem. 290, 28643–28663 (2015).

33.

Mashtalir, N. et al. Autodeubiquitination protects the tumor suppressor BAP1 from cytoplasmic sequestration mediated by the atypical ubiquitin ligase UBE2O. Mol. Cell 54, 392–406 (2014).

34.

Fang, Y., Fu, D. & Shen, X. Z. The potential role of ubiquitin C-terminal hydrolases in oncogenesis. Bba-Rev. Cancer 1806, 1–6 (2010).

35.

D'Arcy, P. et al. Inhibition of proteasome deubiquitinating activity as a new cancer therapy. Nat. Med. 17, 1636–U1150 (2011).

36.

Anders, S., Pyl, P. T. & Huber, W. HTSeq-a Python framework to work with high-throughput sequencing data. Bioinformatics 31, 166–169 (2015).

37.

Robinson, M. D., McCarthy, D. J. & Smyth, G. K. edgeR: a Bioconductor package for differential expression analysis of digital gene expression data. Bioinformatics 26, 139–140 (2010).

38.

Saldanha, A. J. Java Treeview-extensible visualization of microarray data. Bioinformatics 20, 3246–3248 (2004).

39.

Tripathi, S. et al. Meta- and Orthogonal integration of influenza 'OMICs' data defines a role for UBR4 in virus budding. Cell Host Microbe 18, 723–735 (2015).

40.

Zhang, Y. et al. Model-based analysis of ChIP-seq (MACS). Genome Biol. 9, R137 (2008).

41.

Shen, L., Shao, N. Y., Liu, X. C. & Nestler, E. ngs.plot: quick mining and visualization of next-generation sequencing data by integrating genomic databases. BMC Genomics 15, 284 (2014).
Acknowledgements
We thank M. Mrksich for providing the compound library for our screening. We thank A. P. Szczepanski for editorial assistance. We thank F. Zhang for the kind gifts of the lentiCRISPR v2 vectors. Z.Z. is supported in part by National Institutes of Health/National Cancer Institute training grant T32 CA070085 and Alex's Lemonade Stand Foundation. Studies in the Shilatifard laboratory related to this project are supported by National Cancer Institute's Outstanding Investigator Award R35CA197569.
Ethics declarations
Competing interests
The authors declare no competing interests.
Additional information
Peer review information Nature Cancer thanks David Vetrie and the other, anonymous, reviewer(s) for their contribution to the peer review of this work.
Publisher's note Springer Nature remains neutral with regard to jurisdictional claims in published maps and institutional affiliations.
Supplementary information
Supplementary Table 1. Small molecule screening data. The table summarizes the small-molecule compound screening platform, details for the screening assay and compound library information, as well as the candidate prioritization criteria. Supplementary Table 2. Structure–activity relationship (SAR) table. The core structure of iBAP and the side chain (R1 and R2) of each analog. The IC50 for BAP1 enzyme inhibition, IC50 for K562 cell viability was also provided for each of the analogs
About this article
Cite this article
Wang, L., Birch, N.W., Zhao, Z. et al. Epigenetic targeted therapy of stabilized BAP1 in ASXL1 gain-of-function mutated leukemia. Nat Cancer 2, 515–526 (2021). https://doi.org/10.1038/s43018-021-00199-4
Received:

Accepted:

Published:

Issue Date: