Abstract
Polyclonal metastases frequently arise from clusters of circulating tumor cells (CTCs). CTC clusters metastasize better than single CTCs, but the underlying molecular mechanisms are poorly understood. Here, we show that polyclonal metastatic seeds exhibit higher resistance to natural killer (NK) cell killing. Using breast cancer models, we observed higher proportions of polyclonal lung metastasis in immunocompetent mice compared with mice lacking NK cells. Depleting NK cells selectively increased monoclonal but not polyclonal metastases, suggesting that CTC clusters are less sensitive to NK-mediated suppression. Transcriptional analyses revealed that clusters have elevated expression of cell–cell adhesion and epithelial genes, which is associated with decreased expression of NK cell activating ligands. Furthermore, perturbing tumor cell epithelial status altered NK ligand expression and sensitivity to NK-mediated killing. Collectively, our findings show that NK cells can determine the fate of CTCs of different epithelial and mesenchymal states, and impact metastatic clonal evolution by favoring polyclonal seeding.
Relevant articles
Open Access articles citing this article.
Barbara Breznik

,

Meng-Wei Ko

…

Anahid Jewett

Communications Biology Open Access 10 May 2022

Sana Belkahla

,

Joaquin Marco Brualla

…

Martin Villalba

Scientific Reports Open Access 25 February 2022

S. David Nathanson

,

Michael Detmar

…

Kevin Cheung

Clinical & Experimental Metastasis Open Access 05 May 2021
Access options
Subscribe to Nature+
Get immediate online access to the entire Nature family of 50+ journals
Subscribe to Journal
Get full journal access for 1 year
$119.00
only $9.92 per issue
All prices are NET prices.
VAT will be added later in the checkout.
Tax calculation will be finalised during checkout.
Buy article
Get time limited or full article access on ReadCube.
$32.00
All prices are NET prices.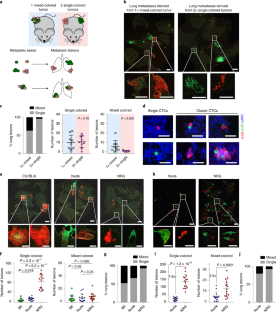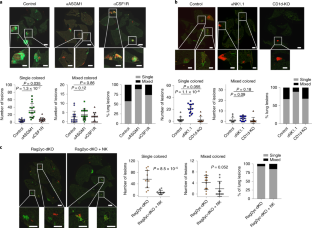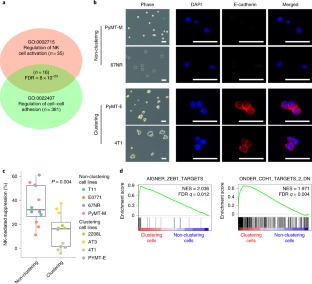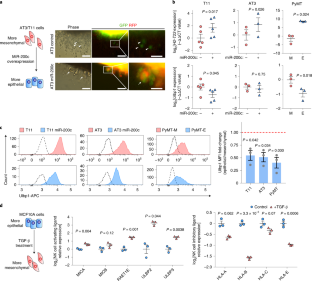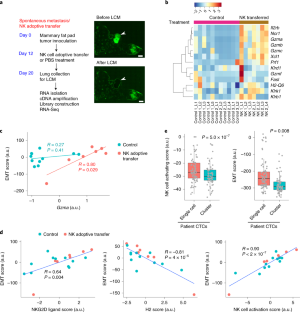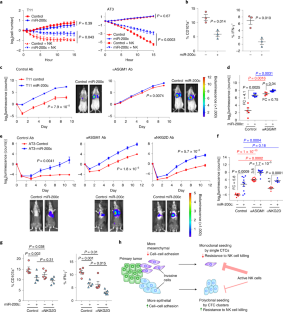 Data availability
The RNA-Seq data that support the findings of this study have been deposited in the Gene Expression Omnibus under accession the code GSE144713. Previously published RNA-Seq data that were re-analyzed here are available under accession codes GSE51827, GSE111065, GSE104765 and GSE81955. Source data for Figs. 1–4 and 6 and Extended Data Figs. 1–5 and 7–9 are provided with the paper. All other data supporting the findings of this study are available from the corresponding author upon reasonable request.
Code availability
The custom code used to estimate the percentage local mixing of primary tumors was kindly provided by A. Ewald (Johns Hopkins University) and K. Cheung (Fred Hutchinson Cancer Research Center)7. Please direct any code requests to the original authors.
References
Lambert, A. W., Pattabiraman, D. R. & Weinberg, R. A. Emerging biological principles of metastasis. Cell 168, 670–691 (2016).

Massagué, J. & Obenauf, A. C. Metastatic colonization by circulating tumour cells. Nature 529, 298–306 (2016).

Gundem, G. et al. The evolutionary history of lethal metastatic prostate cancer. Nature 520, 353–357 (2015).

Siegel, M. B. et al. Integrated RNA and DNA sequencing reveals early drivers of metastatic breast cancer. J. Clin. Invest. 128, 1371–1383 (2018).

Thiery, J. P., Acloque, H., Huang, R. Y. J. & Nieto, M. A. Epithelial–mesenchymal transitions in development and disease. Cell 139, 871–890 (2009).

Dongre, A. & Weinberg, R. A. New insights into the mechanisms of epithelial–mesenchymal transition and implications for cancer. Nat. Rev. Mol. Cell Biol. 20, 69–84 (2019).

Cheung, K. J. et al. Polyclonal breast cancer metastases arise from collective dissemination of keratin 14-expressing tumor cell clusters. Proc. Natl Acad. Sci. USA 113, E854–E863 (2016).

Aiello, N. M. et al. EMT subtype influences epithelial plasticity and mode of cell migration. Dev. Cell 45, 681–695.e4 (2018).

Reichert, M. et al. Regulation of epithelial plasticity determines metastatic organotropism in pancreatic cancer. Dev. Cell 45, 696–711.e8 (2018).

Klameth, L. et al. Small cell lung cancer: model of circulating tumor cell tumorospheres in chemoresistance. Sci. Rep. 7, 5337 (2017).

Krol, I. et al. Detection of circulating tumour cell clusters in human glioblastoma. Br. J. Cancer 119, 487–491 (2018).

Aceto, N. et al. Circulating tumor cell clusters are oligoclonal precursors of breast cancer metastasis. Cell 158, 1110–1122 (2014).

Giuliano, M. et al. Perspective on circulating tumor cell clusters: why it takes a village to metastasize. Cancer Res. 78, 845–853 (2018).

Liu, X. et al. Homophilic CD44 interactions mediate tumor cell aggregation and polyclonal metastasis in patient-derived breast cancer models. Cancer Discov. 9, 96–113 (2019).

Gkountela, S. et al. Circulating tumor cell clustering shapes DNA methylation to enable metastasis seeding. Cell 176, 98–112.e14 (2019).

Jansson, S., Bendahl, P. O., Larsson, A. M., Aaltonen, K. E. & Rydén, L. Prognostic impact of circulating tumor cell apoptosis and clusters in serial blood samples from patients with metastatic breast cancer in a prospective observational cohort. BMC Cancer 16, 433 (2016).

Szczerba, B. M. et al. Neutrophils escort circulating tumour cells to enable cell cycle progression. Nature 566, 553–557 (2019).

Kitamura, T., Qian, B. Z. & Pollard, J. W. Immune cell promotion of metastasis. Nat. Rev. Immunol. 15, 73–86 (2015).

Meng, S. et al. Circulating tumor cells in patients with breast cancer dormancy. Clin. Cancer Res. 10, 8152–8162 (2004).

Lanier, L. L. Up on the tightrope: natural killer cell activation and inhibition. Nat. Immunol. 9, 495–502 (2008).

Navarro, A. G., Björklund, A. T. & Chekenya, M. Therapeutic potential and challenges of natural killer cells in treatment of solid tumors. Front. Immunol. 6, 202 (2015).

López-Soto, A., Gonzalez, S., Smyth, M. J. & Galluzzi, L. Review control of metastasis by NK cells. Cancer Cell 32, 135–154 (2017).

Cheung, K. J., Gabrielson, E., Werb, Z. & Ewald, A. J. Collective invasion in breast cancer requires a conserved basal epithelial program. Cell 155, 1639–1651 (2013).

Pearson, T. et al. Non-obese diabetic–recombination activating gene-1 (NOD–Rag1 null) interleukin (IL)-2 receptor common gamma chain (IL2rγ null) null mice: a radioresistant model for human lymphohaematopoietic engraftment. Clin. Exp. Immunol. 154, 270–284 (2008).

Cerwenka, A. & Lanier, L. L. Natural killer cell memory in infection, inflammation and cancer. Nat. Rev. Immunol. 16, 112–123 (2016).

Kasai, M. et al. In vivo effect of anti-asialo GM1 antibody on natural killer activity. Nature 127, 34–38 (1981).

Chen, Y. H., Chiu, N. M., Mandal, M., Wang, N. & Wang, C. R. Impaired NK1+ T cell development and early IL-4 production in CD1-deficient mice. Immunity 6, 459–467 (1997).

Smyth, M. J., Crowe, N. Y. & Godfrey, D. I. NK cells and NKT cells collaborate in host protection from methylcholanthrene-induced fibrosarcoma. Int. Immunol. 13, 459–463 (2001).

Vivier, E., Tomasello, E., Baratin, M., Walzer, T. & Ugolini, S. Functions of natural killer cells. Nat. Immunol. 9, 503–510 (2008).

Chockley, P. J. et al. Epithelial–mesenchymal transition leads to NK cell-mediated metastasis-specific immunosurveillance in lung cancer. J. Clin. Invest. 128, 1384–1396 (2018).

Lopez-Soto, A. et al. Epithelial–mesenchymal transition induces an antitumor immune response mediated by NKG2D receptor. J. Immunol. 190, 4408–4419 (2013).

Burk, U. et al. A reciprocal repression between ZEB1 and members of the miR-200 family promotes EMT and invasion in cancer cells. EMBO Rep. 9, 582–589 (2008).

Gregory, P. A. et al. The miR-200 family and miR-205 regulate epithelial to mesenchymal transition by targeting ZEB1 and SIP1. Nat. Cell Biol. 10, 593–601 (2008).

Korpal, M., Lee, E. S., Hu, G. & Kang, Y. The miR-200 family inhibits epithelial–mesenchymal transition and cancer cell migration by direct targeting of E-cadherin transcriptional repressors ZEB1 and ZEB2. J. Biol. Chem. 283, 14910–14914 (2008).

Knezevic, J. et al. Expression of miR-200c in claudin-low breast cancer alters stem cell functionality, enhances chemosensitivity and reduces metastatic potential. Oncogene 34, 5997–6006 (2015).

Vance, R. E., Kraft, J. R., Altman, J. D., Jensen, P. E. & Raulet, D. Mouse CD94/NKG2A is a natural killer cell receptor for the nonclassical MHC class I molecule Qa-1b. J. Exp. Med. 188, 1841–1848 (1998).

Carayannopoulos, L. N., Naidenko, O. V., Fremont, D. H. & Yokoyama, W. M. Cutting edge: murine UL16-binding protein-like transcript 1: a newly described transcript encoding a high-affinity ligand for murine NKG2D. J. Immunol. 169, 4079–4083 (2002).

Diefenbach, A., Hsia, J. K., Hsiung, M. Y. B. & Raulet, D. H. A novel ligand for the NKG2D receptor activates NK cells and macrophages and induces tumor immunity. Eur. J. Immunol. 33, 381–391 (2003).

Popa, N., Garmy, N. & Che, E. The NKG2D ligands RAE-1δ and RAE-1ε differ with respect to their receptor affinity, expression profiles and transcriptional regulation. PLoS ONE 5, e13466 (2010).

Chaudhury, A. et al. CELF1 is a central node in post-transcriptional regulatory programmes underlying EMT. Nat. Commun. 7, 13362 (2016).

Kaiser, B. K. et al. Interactions between NKG2x immunoreceptors and HLA-E ligands display overlapping affinities and thermodynamics. J. Immunol. 174, 2878–2884 (2005).

Eisele, G. et al. TGF-β and metalloproteinases differentially suppress NKG2D ligand surface expression on malignant glioma cells. Brain 129, 2416–2425 (2006).

Taube, J. H. et al. Core epithelial-to-mesenchymal transition interactome gene-expression signature is associated with claudin-low and metaplastic breast cancer subtypes. Proc. Natl Acad. Sci. USA 107, 15449–15454 (2010).

Labelle, M., Begum, S. & Hynes, R. O. Direct signaling between platelets and cancer cells induces an epithelial–mesenchymal-like transition and promotes metastasis. Cancer Cell 20, 576–590 (2011).

Ao, Z. et al. Identification of cancer-associated fibroblasts in circulating blood from patients with metastatic breast cancer. Cancer Res. 75, 4681–4687 (2015).

Lamouille, S., Xu, J. & Derynck, R. Molecular mechanisms of epithelial–mesenchymal transition. Nat. Rev. Mol. Cell Biol. 15, 178–196 (2014).

Pastushenko, I. et al. Identification of the tumour transition states occurring during EMT. Nature 556, 463–468 (2018).

Li, W. & Kang, Y. Probing the fifty shades of EMT in metastasis. Trends Cancer 2, 65–67 (2016).

Tsai, J. H., Donaher, J. L., Murphy, D. A., Chau, S. & Yang, J. Spatiotemporal regulation of epithelial–mesenchymal transition is essential for squamous cell carcinoma metastasis. Cancer Cell 22, 725–736 (2012).

Dobin, A. et al. STAR: ultrafast universal RNA-Seq aligner. Bioinformatics 29, 15–21 (2013).

Love, M. I., Huber, W. & Anders, S. Moderated estimation of fold change and dispersion for RNA-Seq data with DESeq2. Genome Biol. 15, 550 (2014).

Subramanian, A. et al. Gene set enrichment analysis: a knowledge-based approach for interpreting genome-wide expression profiles. Proc. Natl Acad. Sci. USA 102, 15545–15550 (2005).

Balsa-Canto, E., Henriques, D., Gábor, A. & Banga, J. R. AMIGO2, a toolbox for dynamic modeling, optimization and control in systems biology. Bioinformatics 32, 3357–3359 (2016).
Acknowledgements
We thank L. Metelitsa for providing the CD1d-KO mice and A. Ewald and K. Cheung for sharing ImageJ code for tumor color-mixing measurements. We also thank all members of the Zhang laboratory for discussion and support while developing this work. X.H.-F.Z. is supported by the Breast Cancer Research Foundation, NCI (CA227904), US Department of Defense (DAMD W81XWH-16-1-0073 and W81XWH-18-1-0574) and McNair Medical Institute. J.M.R. is supported by the NCI (CA148761) and CPRIT (RP170172). J.R.N. is supported by the NCI (CA190467) and The Samuel Waxman Cancer Research Foundation. A.S.K. is supported by P01 AI116501, R01 AI145108-01, IO1 IBX0104588A and R41 CA224520-01A1. The flow cytometry experiments were performed at the Cytometry and Cell Sorting Core at Baylor College of Medicine, with funding from the CPRIT Core Facility Support Award (CPRIT-RP180672) and NIH (P30 CA125123 and S10 RR024574) and expert assistance from J. M. Sederstrom. Mosaic scanning was performed at the RNA In Situ Hybridization Core at Baylor College of Medicine, which is, in part, supported by a Shared Instrumentation grant from the NIH (1S10OD016167).
Ethics declarations
Competing interests
The authors declare no competing interests.
Additional information
Publisher's note Springer Nature remains neutral with regard to jurisdictional claims in published maps and institutional affiliations.
Supplementary information
About this article
Cite this article
Lo, H.C., Xu, Z., Kim, I.S. et al. Resistance to natural killer cell immunosurveillance confers a selective advantage to polyclonal metastasis. Nat Cancer 1, 709–722 (2020). https://doi.org/10.1038/s43018-020-0068-9
Received:

Accepted:

Published:

Issue Date:

DOI: https://doi.org/10.1038/s43018-020-0068-9