Abstract
EGFR inhibition is an effective treatment in the minority of non-small cell lung cancer (NSCLC) cases harboring EGFR-activating mutations, but not in EGFR wild-type (EGFRwt) tumors. Here we demonstrate that EGFR inhibition triggers an antiviral defense pathway in NSCLC. Inhibiting mutant EGFR triggers type I interferon (IFN)-I upregulation via a RIG-I–TANK-binding kinase 1 (TBK1)–IRF3 pathway. The ubiquitin ligase TRIM32 associates with TBK1 upon EGFR inhibition and is required for K63-linked ubiquitination and TBK1 activation. Inhibiting EGFRwt upregulates IFNs via a NF-κB-dependent pathway. Inhibition of IFN signaling enhances EGFR-tyrosine kinase inhibitor (TKI) sensitivity in EGFR-mutant NSCLC and renders EGFRwt/KRAS-mutant NSCLC sensitive to EGFR inhibition in xenograft and immunocompetent mouse models. Furthermore, NSCLC tumors with decreased IFN-I expression are more responsive to EGFR-TKI treatment. We propose that IFN-I signaling is a major determinant of EGFR-TKI sensitivity in NSCLC and that a combination of EGFR-TKI plus IFN-neutralizing antibody could be useful in most patients with NSCLC.
Access options
Subscribe to Journal
Get full journal access for 1 year
$119.00
only $9.92 per issue
All prices are NET prices.
VAT will be added later in the checkout.
Tax calculation will be finalised during checkout.
Rent or Buy article
Get time limited or full article access on ReadCube.
from$8.99
All prices are NET prices.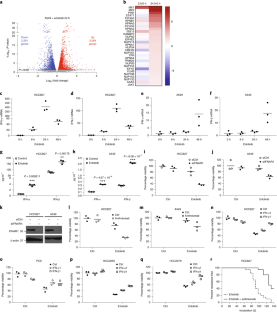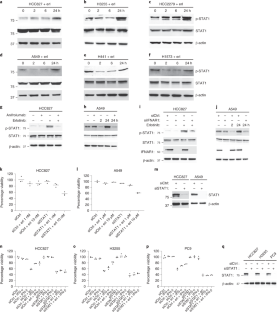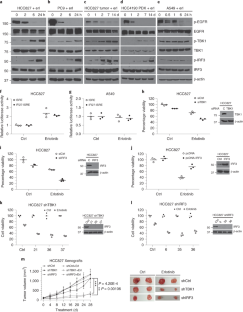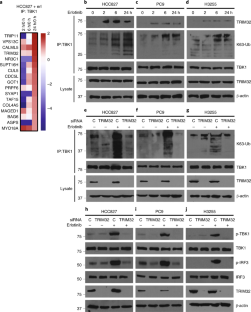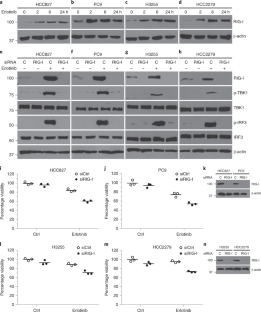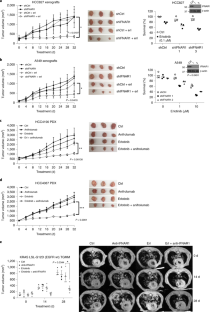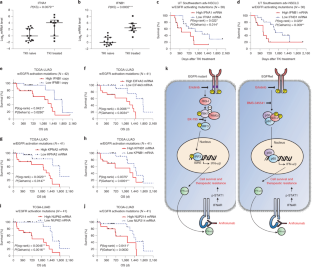 Data availability
RNA-seq data that support the findings of this study have been deposited in the Sequence Read Archive under accession code PRJNA593064.
MS data have been deposited in ProteomeXchange with primary accession code PXD016558.
Human LUAD data were derived from the TCGA Research Network: http://cancergenome.nih.gov/. Unprocessed western blot images for Figs. 1–7 and Extended Data Figs. 1–10, have been provided as source data files, Source Data Figs. 1–7 and Source Data Extended Data Figs. 1–10. Raw digital source data for Figs. 1–3, 5–8 and Extended Data Figs. 1–7, 9–10 have been provided as source data files, Source Data Figs. 1–3, 5–8 and Source Data Extended Data Figs. 1–7, 9–10. All other data supporting the findings of this study are available from the corresponding author upon reasonable request.
Code availability
Information regarding codes used in this study have been proved in the Reporting Summary. They are either commercially available or open source.
References
1.

Honda, K. & Taniguchi, T. IRFs: master regulators of signalling by Toll-like receptors and cytosolic pattern-recognition receptors. Nat. Rev. Immunol. 6, 644–658 (2006).

2.

Negishi, H., Taniguchi, T. & Yanai, H. The interferon (IFN) class of cytokines and the IFN regulatory factor (IRF) transcription factor family. Cold Spring Harb. Perspect. Biol. 10, a028423 (2018).

3.

Yoneyama, M., Suhara, W. & Fujita, T. Control of IRF-3 activation by phosphorylation. J. Interferon Cytokine Res. 22, 73–76 (2002).

4.

Fitzgerald, K. A. et al. IKKepsilon and TBK1 are essential components of the IRF3 signaling pathway. Nat. Immunol. 4, 491–496 (2003).

5.

Liu, S. et al. Phosphorylation of innate immune adaptor proteins MAVS, STING and TRIF induces IRF3 activation. Science 347, aaa2630 (2015).

6.

Ivashkiv, L. B. & Donlin, L. T. Regulation of type I interferon responses. Nat. Rev. Immunol. 14, 36–49 (2014).

7.

Budhwani, M., Mazzieri, R. & Dolcetti, R. Plasticity of type I interferon-mediated responses in cancer therapy: from anti-tumor immunity to resistance. Front. Oncol. 8, 322 (2018).

8.

Snell, L. M., McGaha, T. L., Brooks, D. G. & Type, I. Interferon in chronic virus infection and cancer. Trends Immunol. 38, 542–557 (2017).

9.

Zitvogel, L., Galluzzi, L., Kepp, O., Smyth, M. J. & Kroemer, G. Type I interferons in anticancer immunity. Nat. Rev. Immunol. 15, 405–414 (2015).

10.

Ye, Z. et al. Prevalent homozygous deletions of type I interferon and defensin genes in human cancers associate with immunotherapy resistance. Clin. Cancer Res. 24, 3299–3308 (2018).

11.

Chong, C. R. & Janne, P. A. The quest to overcome resistance to EGFR-targeted therapies in cancer. Nat. Med. 19, 1389–1400 (2013).

12.

Liu, Q. et al. EGFR-TKIs resistance via EGFR-independent signaling pathways. Mol. Cancer 17, 53 (2018).

13.

Rusch, V. et al. Differential expression of the epidermal growth factor receptor and its ligands in primary non-small cell lung cancers and adjacent benign lung. Cancer Res. 53, 2379–2385 (1993).

14.

Sharma, S. V., Bell, D. W., Settleman, J. & Haber, D. A. Epidermal growth factor receptor mutations in lung cancer. Nat. Rev. Cancer. 7, 169–181 (2007).

15.

Volante, M. et al. Epidermal growth factor ligand/receptor loop and downstream signaling activation pattern in completely resected nonsmall cell lung cancer. Cancer 110, 1321–1328 (2007).

16.

Hsieh, E. T., Shepherd, F. A. & Tsao, M. S. Co-expression of epidermal growth factor receptor and transforming growth factor-α is independent of Ras mutations in lung adenocarcinoma. Lung Cancer 29, 151–157 (2000).

17.

Guo, G. et al. Ligand-Independent EGFR Signaling. Cancer Res. 75, 3436–3441 (2015).

18.

Chakraborty, S. et al. Constitutive and ligand-induced EGFR signalling triggers distinct and mutually exclusive downstream signalling networks. Nat. Commun. 5, 5811 (2014).

19.

Endres, N. F. et al. Conformational coupling across the plasma membrane in activation of the EGF receptor. Cell 152, 543–556 (2013).

20.

Yu, H. A. et al. Analysis of tumor specimens at the time of acquired resistance to EGFR-TKI therapy in 155 patients with EGFR-mutant lung cancers. Clin. Cancer Res. 19, 2240–2247 (2013).

21.

Engelman, J. A. et al. MET amplification leads to gefitinib resistance in lung cancer by activating ERBB3 signaling. Science 316, 1039–1043 (2007).

22.

Sun, C. & Bernards, R. Feedback and redundancy in receptor tyrosine kinase signaling: relevance to cancer therapies. Trends Biochem. Sci. 39, 465–474 (2014).

23.

Lee, H. J. et al. Drug resistance via feedback activation of Stat3 in oncogene-addicted cancer cells. Cancer Cell 26, 207–221 (2014).

24.

Blakely, C. M. et al. NF-κB-activating complex engaged in response to EGFR oncogene inhibition drives tumor cell survival and residual disease in lung cancer. Cell Rep 11, 98–110 (2015).

25.

Gong, K. et al. TNF-driven adaptive response mediates resistance to EGFR inhibition in lung cancer. J. Clin. Invest. 128, 2500–2518 (2018).

26.

Guo, G. et al. A TNF–JNK–AXL–ERK signaling axis mediates primary resistance to EGFR inhibition in glioblastoma. Nat. Neurosci. 20, 1074–1084 (2017).

27.

Guo, G. et al. Efficacy of EGFR plus TNF inhibition in a preclinical model of temozolomide-resistant glioblastoma. Neuro. Oncol. 21, 1529–1539 (2019).

28.

Warta, R. & Herold-Mende, C. Helping EGFR inhibition to block cancer. Nat. Neurosci. 20, 1035–1037 (2017).

29.

Furie, R. et al. Anifrolumab, an anti-interferon-α receptor monoclonal antibody, in moderate-to-severe systemic lupus erythematosus. Arthritis Rheumatol. 69, 376–386 (2017).

30.

Cheon, H. et al. IFN-β-dependent increases in STAT1, STAT2 and IRF9 mediate resistance to viruses and DNA damage. EMBO J. 32, 2751–2763 (2013).

31.

Duarte, C. W. et al. Expression signature of IFN/STAT1 signaling genes predicts poor survival outcome in glioblastoma multiforme in a subtype-specific manner. PLoS ONE 7, e29653 (2012).

32.

Khodarev, N. N. et al. Signal transducer and activator of transcription 1 regulates both cytotoxic and prosurvival functions in tumor cells. Cancer Res. 67, 9214–9220 (2007).

33.

Meissl, K., Macho-Maschler, S., Muller, M. & Strobl, B. The good and the bad faces of STAT1 in solid tumours. Cytokine 89, 12–20 (2017).

34.

Rickardson, L. et al. Identification of molecular mechanisms for cellular drug resistance by combining drug activity and gene expression profiles. Br. J. Cancer 93, 483–492 (2005).

35.

Weichselbaum, R. R. et al. An interferon-related gene signature for DNA damage resistance is a predictive marker for chemotherapy and radiation for breast cancer. Proc. Natl Acad. Sci. USA 105, 18490–18495 (2008).

36.

Lazzari, E. & Meroni, G. TRIM32 ubiquitin E3 ligase, one enzyme for several pathologies: from muscular dystrophy to tumours. Int. J. Biochem. Cell Biol. 79, 469–477 (2016).

37.

Zhang, J., Hu, M. M., Wang, Y. Y. & Shu, H. B. TRIM32 protein modulates type I interferon induction and cellular antiviral response by targeting MITA/STING protein for K63-linked ubiquitination. J. Biol. Chem. 287, 28646–28655 (2012).

38.

Tu, D. et al. Structure and ubiquitination-dependent activation of TANK-binding kinase 1. Cell Rep. 3, 747–758 (2013).

39.

Song, G. et al. E3 ubiquitin ligase RNF128 promotes innate antiviral immunity through K63-linked ubiquitination of TBK1. Nat. Immunol. 17, 1342–1351 (2016).

40.

Wang, L., Li, S. & Dorf, M. E. NEMO binds ubiquitinated TANK-binding kinase 1 (TBK1) to regulate innate immune responses to RNA viruses. PLoS ONE 7, e43756 (2012).

41.

Chow, K. T., Gale, M. Jr. & Loo, Y. M. RIG-I and other RNA sensors in antiviral immunity. Annu. Rev. Immunol. 36, 667–694 (2018).

42.

Kitajima, S. et al. Suppression of STING associated with LKB1 loss in KRAS-driven lung cancer. Cancer Discov. 9, 34–45 (2019).

43.

Terai, H. et al. ER stress signaling promotes the survival of cancer "persister cells" tolerant to EGFR tyrosine kinase inhibitors. Cancer Res. 78, 1044–1057 (2018).

44.

Ye, M. et al. Activation of the aryl hydrocarbon receptor leads to resistance to EGFR TKIs in non-small cell lung cancer by activating Src-mediated bypass signaling. Clin. Cancer Res. 24, 1227–1239 (2018).

45.

Liu, Y. et al. Tumor-repopulating cells induce PD-1 expression in CD8(+) T cells by transferring kynurenine and AhR activation. Cancer Cell 33, 480–494 (2018).

46.

Akbay, E. A. et al. Activation of the PD-1 pathway contributes to immune escape in EGFR-driven lung tumors. Cancer Discov. 3, 1355–1363 (2013).

47.

Thungappa, S. et al. Immune checkpoint inhibitors in lung cancer: the Holy Grail has not yet been found. ESMO Open 2, e000162 (2017).

48.

Gainor, J. F. et al. EGFR mutations and ALK rearrangements are associated with low response rates to PD-1 pathway blockade in non-small cell lung cancer: a retrospective analysis. Clin. Cancer Res. 22, 4585–4593 (2016).

49.

Muhlbauer, M. et al. PD-L1 is induced in hepatocytes by viral infection and by interferon-α and -γ and mediates T cell apoptosis. J. Hepatol. 45, 520–528 (2006).

50.

Yoshida, T. et al. Tyrosine phosphoproteomics identifies both codrivers and cotargeting strategies for T790M-related EGFR-TKI resistance in non-small cell lung cancer. Clin. Cancer Res. 20, 4059–4074 (2014).

51.

Zhang, Z. et al. Activation of AXL kinase causes resistance to EGFR-targeted therapy in lung cancer. Nat. Genet. 44, 852–860 (2012).

52.

Akbay, E. A. & Kim, J. Autochthonous murine models for the study of smoker and never-smoker associated lung cancers. Transl. Lung Cancer Res. 7, 464–486 (2018).

53.

Kruspig, B. et al. The ERBB network facilitates KRAS-driven lung tumorigenesis. Sci. Transl. Med. 10, eaao2565 (2018).

54.

Moll, H. P. et al. Afatinib restrains K-RAS-driven lung tumorigenesis. Sci. Transl. Med. 10, eaao2301 (2018).

55.

Chandarlapaty, S. et al. AKT inhibition relieves feedback suppression of receptor tyrosine kinase expression and activity. Cancer Cell 19, 58–71 (2011).

56.

Prahallad, A. et al. Unresponsiveness of colon cancer to BRAF(V600E) inhibition through feedback activation of EGFR. Nature 483, 100–103 (2012).

57.

Duncan, J. S. et al. Dynamic reprogramming of the kinome in response to targeted MEK inhibition in triple-negative breast cancer. Cell 149, 307–321 (2012).

58.

Corcoran, R. B. et al. EGFR-mediated re-activation of MAPK signaling contributes to insensitivity of BRAF mutant colorectal cancers to RAF inhibition with vemurafenib. Cancer Discov. 2, 227–235 (2012).

59.

Sun, C. et al. Intrinsic resistance to MEK inhibition in KRAS mutant lung and colon cancer through transcriptional induction of ERBB3. Cell Rep. 7, 86–93 (2014).

60.

Fallahi-Sichani, M. et al. Systematic analysis of BRAF(V600E) melanomas reveals a role for JNK/c-Jun pathway in adaptive resistance to drug-induced apoptosis. Mol. Syst. Biol. 11, 797 (2015).

61.

Puliyappadamba, V. T. et al. Opposing effect of EGFRwt on EGFRvIII mediated NF-kappaB activation with RIP1 as a cell death switch. Cell Reports 4, 764–775 (2013).

62.

Trudgian, D. C. et al. Comparative evaluation of label‐free SINQ normalized spectral index quantitation in the central proteomics facilities pipeline. Proteomics 11, 2790–2797 (2011).
Acknowledgements
This work was supported in part by the Office of Medical Research, Departments of Veterans Affairs, a Lung Cancer SPORE Career Enhancement Program Award and support from the Dallas VA Research Corporation to A.A.H. This work was also supported by National Cancer Institute (NCI) Lung Cancer SPORE (P50CA70907), U01CA176284 and Cancer Prevention and Research Institute of Texas (CPRIT) (RP110708 and RP160652) to J.D.M. D.E.G. was supported by a NCI Midcareer Investigator Award in Patient-Oriented Research, K24CA201543-01. S.B. was supported by grants from the National Institutes of Health (NIH) (R01CA197796) and the National Aeronautics and Space Administration (NNX16AD78G). C.-M.C.'s research was supported by NIH (CA103867), CPRIT (RP180349 and RP190077) and the Welch Foundation (I-1805). D.Z. was supported by NIH grant R01CA194578. E.A.A. was supported by CPRIT Scholar Award RR160080 and a Career Enhancement Award through NIH 5P50CA070907. Research reported in this publication was supported in part by the Harold C. Simmons Comprehensive Cancer Center's Biomarker Research Core, which is supported by NCI Cancer Center Support grant 1P30 CA142543–03. We acknowledge NIH shared instrumentation grant 1S10OD023552-01 that funded MRI equipment. We thank Dr J. Hiscott for providing IRF3 plasmid and J. Saltarski (UT Southwestern Medical Center) for assistance in obtaining FFPE tissues.
Ethics declarations
Competing interests
The authors declare no competing interests.
Additional information
Publisher's note Springer Nature remains neutral with regard to jurisdictional claims in published maps and institutional affiliations.
Supplementary information
About this article
Cite this article
Gong, K., Guo, G., Panchani, N. et al. EGFR inhibition triggers an adaptive response by co-opting antiviral signaling pathways in lung cancer. Nat Cancer 1, 394–409 (2020). https://doi.org/10.1038/s43018-020-0048-0
Received:

Accepted:

Published:

Issue Date: