Abstract
Despite objective responses to poly(ADP-ribose) polymerase (PARP) inhibition and improvements in progression-free survival (PFS) compared to standard chemotherapy in patients with BRCA-associated triple-negative breast cancer (TNBC), benefits are transitory. Using high-dimensional single-cell profiling of human TNBC, here we demonstrate that macrophages are the predominant infiltrating immune cell type in breast cancer susceptibility (BRCA)-associated TNBC. Through multi-omics profiling, we show that PARP inhibitors enhance both anti- and pro-tumor features of macrophages through glucose and lipid metabolic reprogramming, driven by the sterol regulatory element-binding protein 1 (SREBF1, SREBP1) pathway. Combining PARP inhibitor therapy with colony-stimulating factor 1 receptor (CSF1R)-blocking antibodies significantly enhanced innate and adaptive antitumor immunity and extended survival in mice with BRCA-deficient tumors in vivo, and this was mediated by CD8+ T cells. Collectively, our results uncover macrophage-mediated immune suppression as a liability of PARP inhibitor treatment and demonstrate that combined PARP inhibition and macrophage-targeting therapy induces a durable reprogramming of the tumor microenvironment (TME), thus constituting a promising therapeutic strategy for TNBC.
This is a preview of subscription content
Access options
Subscribe to Journal
Get full journal access for 1 year
$119.00
only $9.92 per issue
All prices are NET prices.
VAT will be added later in the checkout.
Tax calculation will be finalised during checkout.
Rent or Buy article
Get time limited or full article access on ReadCube.
from$8.99
All prices are NET prices.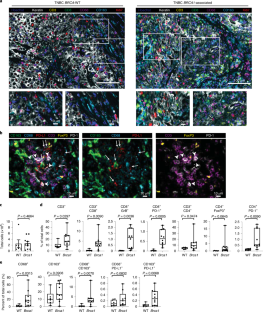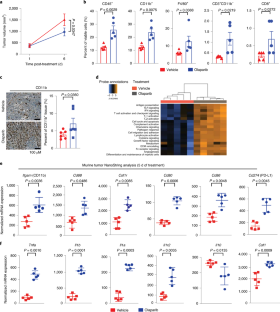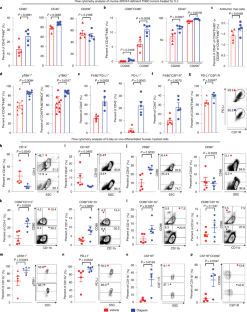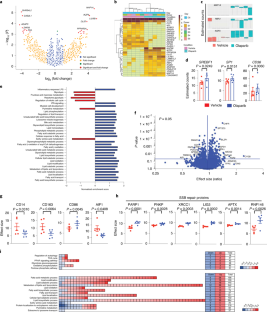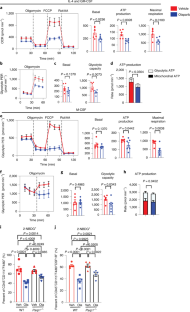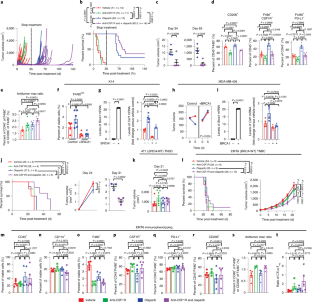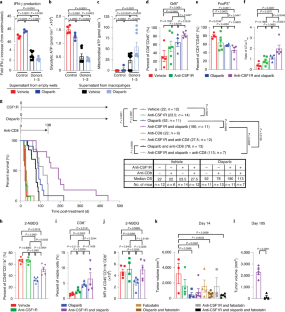 Data availability
The data that support the findings of this study are available upon reasonable request from the corresponding author (J.L.G.). The data are not publicly available due to IRB restrictions of data containing information that could compromise research participant privacy and/or consent. With controlled use, the MS proteomic data were deposited in the ProteomeXchange Consortium via the PRIDE partner repository under the dataset identifier PXD015804. With controlled use, the RNA-seq data were deposited in Synapse (syn23018992). All CyCIF images are available at https://www.cycif.org/data/mehta-2020/. Source data are provided with this paper.
References
1.

Robson, M. E. et al. OlympiAD final overall survival and tolerability results: olaparib versus chemotherapy treatment of physician's choice in patients with a germline BRCA mutation and HER2-negative metastatic breast cancer. Ann. Oncol. 30, 558–566 (2019).

2.

O'Donovan, P. J. & Livingston, D. M. BRCA1 and BRCA2: breast/ovarian cancer susceptibility gene products and participants in DNA double-strand break repair. Carcinogenesis 31, 961–967 (2010).

3.

Tung, N. et al. Frequency of germline mutations in 25 cancer susceptibility genes in a sequential series of patients with breast cancer. J. Clin. Oncol. 34, 1460–1468 (2016).

4.

Litton, J. K. et al. Talazoparib in patients with advanced breast cancer and a germline BRCA mutation. N. Engl. J. Med. 379, 753–763 (2018).

5.

Robson, M. et al. Olaparib for metastatic breast cancer in patients with a germline BRCA mutation. N. Engl. J. Med. 377, 523–533 (2017).

6.

Kaufman, B. et al. Olaparib monotherapy in patients with advanced cancer and a germline BRCA1/2 mutation. J. Clin. Oncol. 33, 244–250 (2015).

7.

Tutt, A. et al. Oral poly(ADP-ribose) polymerase inhibitor olaparib in patients with BRCA1 or BRCA2 mutations and advanced breast cancer: a proof-of-concept trial. Lancet 376, 235–244 (2010).

8.

Schmid, P. et al. Atezolizumab and nab-paclitaxel in advanced triple-negative breast cancer. N. Engl. J. Med. 379, 2108–2121 (2018).

9.

Emens, L. A. et al. Abstract 2859: inhibition of PD-L1 by MPDL3280A leads to clinical activity in patients with metastatic triple-negative breast cancer (TNBC). Cancer Res. 75, 2859 (2015).

10.

DeNardo, D. G. & Coussens, L. M. Inflammation and breast cancer. Balancing immune response: crosstalk between adaptive and innate immune cells during breast cancer progression. Breast Cancer Res. 9, 212 (2007).

11.

Gil Del Alcazar, C. R. et al. Immune escape in breast cancer during in situ to invasive carcinoma transition. Cancer Discov. 7, 1098–1115 (2017).

12.

DeNardo, D. G. et al. Leukocyte complexity predicts breast cancer survival and functionally regulates response to chemotherapy. Cancer Discov. 1, 54–67 (2011).

13.

Ruffell, B. et al. Leukocyte composition of human breast cancer. Proc. Natl Acad. Sci. USA 109, 2796–2801 (2012).

14.

Gonda, K. et al. Myeloid-derived suppressor cells are increased and correlated with type 2 immune responses, malnutrition, inflammation, and poor prognosis in patients with breast cancer. Oncol. Lett. 14, 1766–1774 (2017).

15.

Yuan, Z.-Y., Luo, R.-Z., Peng, R.-J., Wang, S.-S. & Xue, C. High infiltration of tumor-associated macrophages in triple-negative breast cancer is associated with a higher risk of distant metastasis. Onco. Targets Ther. 7, 1475–1480 (2014).

16.

Tymoszuk, P. et al. High STAT1 mRNA levels but not its tyrosine phosphorylation are associated with macrophage infiltration and bad prognosis in breast cancer. BMC Cancer 14, 257 (2014).

17.

Allavena, P., Sica, A., Solinas, G., Porta, C. & Mantovani, A. The inflammatory micro-environment in tumor progression: the role of tumor-associated macrophages. Crit. Rev. Oncol. Hematol. 66, 1–9 (2008).

18.

Pollard, J. W. Macrophages define the invasive microenvironment in breast cancer. J. Leukoc. Biol. 84, 623–630 (2008).

19.

Solinas, G., Germano, G., Mantovani, A. & Allavena, P. Tumor-associated macrophages (TAM) as major players of the cancer-related inflammation. J. Leukoc. Biol. 86, 1065–1073 (2009).

20.

Qian, B. Z. & Pollard, J. W. Macrophage diversity enhances tumor progression and metastasis. Cell 141, 39–51 (2010).

21.

Lin, E. Y. et al. Macrophages regulate the angiogenic switch in a mouse model of breast cancer. Cancer Res. 66, 11238–11246 (2006).

22.

Guerriero, J. L. Macrophages: the road less traveled, changing anticancer therapy. Trends Mol. Med. 24, 472–489 (2018).

23.

Engblom, C., Pfirschke, C. & Pittet, M. J. The role of myeloid cells in cancer therapies. Nat. Rev. Cancer 16, 447–462 (2016).

24.

Yang, L. & Zhang, Y. Tumor-associated macrophages, potential targets for cancer treatment. Biomark. Res. 5, 25 (2017).

25.

Qian, B. et al. A distinct macrophage population mediates metastatic breast cancer cell extravasation, establishment and growth. PLoS ONE 4, e6562 (2009).

26.

Marks, S. C. Jr. & Lane, P. W. Osteopetrosis, a new recessive skeletal mutation on chromosome 12 of the mouse. J. Hered. 67, 11–18 (1976).

27.

Wiktor-Jedrzejczak, W. W., Ahmed, A., Szczylik, C. & Skelly, R. R. Hematological characterization of congenital osteopetrosis in op/op mouse. Possible mechanism for abnormal macrophage differentiation. J. Exp. Med. 156, 1516–1527 (1982).

28.

Wesolowski, R. et al. Phase Ib study of the combination of pexidartinib (PLX3397), a CSF-1R inhibitor, and paclitaxel in patients with advanced solid tumors. Ther. Adv. Med. Oncol. 11, 1758835919854238 (2019).

29.

Quail, D. F. et al. The tumor microenvironment underlies acquired resistance to CSF-1R inhibition in gliomas. Science 352, aad3018 (2016).

30.

Cannarile, M. A., Ries, C. H., Hoves, S. & Ruttinger, D. Targeting tumor-associated macrophages in cancer therapy and understanding their complexity. Oncoimmunology 3, e955356 (2014).

31.

Lin, J. R. et al. Highly multiplexed immunofluorescence imaging of human tissues and tumors using t-CyCIF and conventional optical microscopes. eLife 7, e31657 (2018).

32.

Lin, J. R., Fallahi-Sichani, M., Chen, J. Y. & Sorger, P. K. Cyclic immunofluorescence (CycIF), a highly multiplexed method for single-cell imaging. Curr. Protoc. Chem. Biol. 8, 251–264 (2016).

33.

Lin, J. R., Fallahi-Sichani, M. & Sorger, P. K. Highly multiplexed imaging of single cells using a high-throughput cyclic immunofluorescence method. Nat. Commun. 6, 8390 (2015).

34.

Nolan, E. et al. Combined immune checkpoint blockade as a therapeutic strategy for BRCA1-mutated breast cancer. Sci. Transl. Med. 9, eaal4922 (2017).

35.

Barros, M. H., Hauck, F., Dreyer, J. H., Kempkes, B. & Niedobitek, G. Macrophage polarisation: an immunohistochemical approach for identifying M1 and M2 macrophages. PLoS ONE 8, e80908 (2013).

36.

Liu, X. et al. Somatic loss of BRCA1 and p53 in mice induces mammary tumors with features of human BRCA1-mutated basal-like breast cancer. Proc. Natl Acad. Sci. USA 104, 12111–12116 (2007).

37.

Rottenberg, S. et al. High sensitivity of BRCA1-deficient mammary tumors to the PARP inhibitor AZD2281 alone and in combination with platinum drugs. Proc. Natl Acad. Sci. USA 105, 17079–17084 (2008).

38.

Pantelidou, C. et al. PARP inhibitor efficacy depends on CD8+ T cell recruitment via intratumoral STING pathway activation in BRCA-deficient models of triple-negative breast cancer. Cancer Discov. 9, 722–737 (2019).

39.

Danaher, P. et al. Gene expression markers of tumor infiltrating leukocytes. J. Immunother. Cancer 5, 18 (2017).

40.

Jablonski, K. A. et al. Novel markers to delineate murine M1 and M2 macrophages. PLoS ONE 10, e0145342 (2015).

41.

Jiao, S. et al. PARP inhibitor upregulates PD-L1 expression and enhances cancer-associated immunosuppression. Clin. Cancer Res. 23, 3711–3720 (2017).

42.

Helft, J. et al. GM-CSF mouse bone marrow cultures comprise a heterogeneous population of CD11c+MHCII+ macrophages and dendritic cells. Immunity 42, 1197–1211 (2015).

43.

Akagawa, K. S. et al. Functional heterogeneity of colony-stimulating factor-induced human monocyte-derived macrophages. Respirology 11, S32–S36 (2006).

44.

Murai, J. et al. Trapping of PARP1 and PARP2 by clinical PARP inhibitors. Cancer Res. 72, 5588–5599 (2012).

45.

Pettitt, S. J. et al. Genome-wide and high-density CRISPR-Cas9 screens identify point mutations in PARP1 causing PARP inhibitor resistance. Nat. Commun. 9, 1849 (2018).

46.

Cai, H. et al. Colony-stimulating factor-1-induced AIF1 expression in tumor-associated macrophages enhances the progression of hepatocellular carcinoma. Oncoimmunology 6, e1333213 (2017).

47.

Berger, N. A. et al. Opportunities for the repurposing of PARP inhibitors for the therapy of non-oncological diseases. Br. J. Pharmacol. 175, 192–222 (2018).

48.

Liu, C. et al. Treg cells promote the SREBP1-dependent metabolic fitness of tumor-promoting macrophages via repression of CD8+ T cell-derived interferon-γ. Immunity 51, 381–397 (2019).

49.

Ries, C. H. et al. Targeting tumor-associated macrophages with anti-CSF-1R antibody reveals a strategy for cancer therapy. Cancer Cell 25, 846–859 (2014).

50.

Castano, Z. et al. IL-1β inflammatory response driven by primary breast cancer prevents metastasis-initiating cell colonization. Nat. Cell Biol. 20, 1084–1097 (2018).

51.

Ray Chaudhuri, A. & Nussenzweig, A. The multifaceted roles of PARP1 in DNA repair and chromatin remodelling. Nat. Rev. Mol. Cell Biol. 18, 610–621 (2017).

52.

Ame, J. C. et al. PARP-2, a novel mammalian DNA damage-dependent poly(ADP-ribose) polymerase. J. Biol. Chem. 274, 17860–17868 (1999).

53.

Feingold, K. R. et al. Mechanisms of triglyceride accumulation in activated macrophages. J. Leukoc. Biol. 92, 829–839 (2012).

54.

Modis, K. et al. Cellular bioenergetics is regulated by PARP1 under resting conditions and during oxidative stress. Biochem. Pharmacol. 83, 633–643 (2012).

55.

Ying, W., Garnier, P. & Swanson, R. A. NAD+ repletion prevents PARP-1-induced glycolytic blockade and cell death in cultured mouse astrocytes. Biochem. Biophys. Res. Commun. 308, 809–813 (2003).

56.

Shrestha, E. et al. Poly(ADP-ribose) polymerase 1 represses liver X receptor-mediated ABCA1 expression and cholesterol efflux in macrophages. J. Biol. Chem. 291, 11172–11184 (2016).

57.

Pang, J. et al. Inhibition of poly(ADP-ribose) polymerase increased lipid accumulation through SREBP1 modulation. Cell. Physiol. Biochem. 49, 645–652 (2018).

58.

Poggio, F. et al. Single-agent PARP inhibitors for the treatment of patients with BRCA-mutated HER2-negative metastatic breast cancer: a systematic review and meta-analysis. ESMO Open 3, e000361 (2018).

59.

Cassier, P. A. et al. CSF1R inhibition with emactuzumab in locally advanced diffuse-type tenosynovial giant cell tumours of the soft tissue: a dose-escalation and dose-expansion phase 1 study. Lancet Oncol. 16, 949–956 (2015).

60.

Gelderblom, H. & van de Sande, M. Pexidartinib: first approved systemic therapy for patients with tenosynovial giant cell tumor. Future Oncol. 16, 2345–2356 (2020).

61.

Navarro, J. et al. PARP-1/PARP-2 double deficiency in mouse T cells results in faulty immune responses and T lymphomas. Sci. Rep. 7, 41962 (2017).

62.

Pacella, I. et al. Fatty acid metabolism complements glycolysis in the selective regulatory T cell expansion during tumor growth. Proc. Natl Acad. Sci. USA 115, E6546–E6555 (2018).

63.

Guerriero, J. L. et al. Class IIa HDAC inhibition reduces breast tumours and metastases through anti-tumour macrophages. Nature 543, 428–432 (2017).

64.

Conesa, A. et al. A survey of best practices for RNA-seq data analysis. Genome Biol. 17, 13 (2016).

65.

Zerbino, D. R. et al. Ensembl 2018. Nucleic Acids Res. 46, D754–D761 (2018).

66.

Bray, N. L., Pimentel, H., Melsted, P. & Pachter, L. Near-optimal probabilistic RNA-seq quantification. Nat. Biotechnol. 34, 525–527 (2016).

67.

Pimentel, H., Bray, N. L., Puente, S., Melsted, P. & Pachter, L. Differential analysis of RNA-seq incorporating quantification uncertainty. Nat. Methods 14, 687–690 (2017).

68.

Sergushichev, A. A. An algorithm for fast preranked gene set enrichment analysis using cumulative statistic calculation. Preprint at bioRxiv https://doi.org/10.1101/060012 (2016).

69.

Mookerjee, S. A., Gerencser, A. A., Nicholls, D. G. & Brand, M. D. Quantifying intracellular rates of glycolytic and oxidative ATP production and consumption using extracellular flux measurements. J. Biol. Chem. 292, 7189–7207 (2017).

70.

McAlister, G. C. et al. MultiNotch MS3 enables accurate, sensitive, and multiplexed detection of differential expression across cancer cell line proteomes. Anal. Chem. 86, 7150–7158 (2014).

71.

Gygi, J. P. et al. Web-based search tool for visualizing instrument performance using the triple knockout (TKO) proteome standard. J. Proteome. Res. 18, 687–693 (2019).

72.

Huttlin, E. L. et al. A tissue-specific atlas of mouse protein phosphorylation and expression. Cell 143, 1174–1189 (2010).

73.

Paulo, J. A. et al. Quantitative mass spectrometry-based multiplexing compares the abundance of 5000 S. cerevisiae proteins across 10 carbon sources. J. Proteomics 148, 85–93 (2016).

74.

Maere, S., Heymans, K. & Kuiper, M. BiNGO: a Cytoscape plugin to assess overrepresentation of gene ontology categories in biological networks. Bioinformatics 21, 3448–3449 (2005).

75.

Johnson, N. et al. Stabilization of mutant BRCA1 protein confers PARP inhibitor and platinum resistance. Proc. Natl Acad. Sci. USA 110, 17041–17046 (2013).

76.

Barazas, M. et al. Radiosensitivity is an acquired vulnerability of PARPi-resistant BRCA1-deficient tumors. Cancer Res. 79, 452–460 (2019).
Acknowledgements
This work was supported by the DFCI/Eli Lilly & Co. Research Collaboration (J.L.G.), the Dana-Farber/Harvard Cancer Center (DF/HCC) Specialized Program of Research Excellence (SPORE) in Breast Cancer P50 CA1685404 Career Enhancement Award (J.L.G.), the Susan G. Komen Foundation Career Catalyst Award CCR18547597 (J.L.G.), the Terri Brodeur Breast Cancer Foundation (J.L.G.), the Breast Cancer Research Foundation (N.T.), the Ludwig Center at Harvard (J.L.G., S.S., P.K.S. and G.I.S.), the Center for Cancer Systems Pharmacology NCI U54-CA225088 (J.-R.L., P.K.S., S.S., M.K., S.A.B. and J.L.G), Eli Lilly (J.L.G.) and NIH/NHLBI K08 HL128802 (W.M.O.). S.J. was the recipient of R01 CA090687 and P50 CA1685404 Diversity Supplements. E.A.M. acknowledges the Rob and Karen Hale Distinguished Chair in Surgical Oncology for support. J.Y. acknowledges funding from the Spanish Ministerio de Economia, Industria y Competitividad (grant SAF2017-83565-R) and the Fundación Cientifica de la Asociacion Española Contra el Cancer (AECC) (grant PROYEI6018YELA). We thank A. Letai for his guidance and input during early experiments and J. Agudo for support and discussions related to the preparation of this manuscript. We thank G. Wulf and J. Jonkers for providing reagents for animal experiments, S. Mei for technical assistance with CyCIF and S. Lazo for technical help in setting up flow cytometry panels. We are grateful for expertise and help from the following core facilities: the Dana-Farber Animal Research Facility, the Dana-Farber Flow Cytometry Core, Brigham and Women's Seahorse Core, the Brigham and Women's Center for Advanced Molecular Diagnostics Research Core Lab, the Harvard Medical School Rodent Pathology Core and the Proteomics Platform, Sequencing Platform and Multiplex Imaging Platform of the Laboratory of Systems Pharmacology (LSP) at Harvard Medical School. We thank K. Shaw for assistance in drawing summary cartoons.
Ethics declarations
Competing interests
J.L.G. is a consultant for GlaxoSmithKline (GSK), Codagenix, Verseau, Kymera and Array BioPharma and receives sponsored research support from GSK, Array BioPharma and Eli Lilly. G.I.S. has served on advisory boards for Pfizer, Eli Lilly, G1 Therapeutics, Roche, Merck KGaA/EMD Serono, Sierra Oncology, Bicycle Therapeutics, Fusion Pharmaceuticals, Cybrexa Therapeutics, Astex, Almac, Ipsen, Bayer, Angiex, Daiichi Sankyo, Seattle Genetics, Boehringer Ingelheim, ImmunoMet, Asana, Artios, Atrin, Concarlo Holdings, Syros and Zentalis and has received sponsored research support from Merck, Eli Lilly, Merck/EMD Serono and Sierra Oncology. Clinical trial support from Pfizer and Array Biopharma was provided to the DFCI for the conduct of investigator-initiated studies led by G.I.S. He holds a patent entitled, 'Dosage regimen for sapacitabine and seliciclib', also issued to Cyclacel Pharmaceuticals and a pending patent entitled 'Compositions and methods for predicting response and resistance to CDK4/6 inhibition', together with L. Cornell. E.A.M. is on the scientific advisory board (SAB) for AstraZeneca/MedImmune, Celgene, Genentech, Genomic Health, Merck, Peregrine Pharmaceuticals, SELLAS Life Sciences and TapImmune and has clinical trial support for her former institution (MDACC) from AstraZeneca/MedImmune, EMD Serono, Galena Biopharma and Genentech, as well as Genentech support from an SU2C grant, as well as sponsored research support for the laboratory from GSK and Eli Lilly. S.R. receives research funding from Merck, Bristol Myers Squibb, Gilead and Affimed and is on the SAB for Immunitas. S.S. is a consultant for RareCyte, Inc. N.T. receives research support from AstraZeneca. P.K.S. serves on the SAB or board of directors of Glencoe Software, Applied BioMath and RareCyte, Inc. and has equity in these companies; he is a member of the NanoString SAB and is also a co-founder of Glencoe Software, which contributes to and supports the open-source OME/OMERO image informatics software used in this paper. D.A.D. consults for Novartis and is on the advisory board for Oncology Analytics, Inc. S.J. receives consulting fees from Venn Therapeutics.
Additional information
Publisher's note Springer Nature remains neutral with regard to jurisdictional claims in published maps and institutional affiliations.
Supplementary information
Supplementary Tables 1 and 2
About this article
Cite this article
Mehta, A.K., Cheney, E.M., Hartl, C.A. et al. Targeting immunosuppressive macrophages overcomes PARP inhibitor resistance in BRCA1-associated triple-negative breast cancer. Nat Cancer 2, 66–82 (2021). https://doi.org/10.1038/s43018-020-00148-7
Received:

Accepted:

Published:

Issue Date: