Abstract
The peptide antibiotic albicidin is a DNA topoisomerase inhibitor with low-nanomolar bactericidal activity towards fluoroquinolone-resistant Gram-negative pathogens. However, its mode of action is poorly understood. We determined a 2.6 Å resolution cryoelectron microscopy structure of a ternary complex between Escherichia coli topoisomerase DNA gyrase, a 217 bp double-stranded DNA fragment and albicidin. Albicidin employs a dual binding mechanism where one end of the molecule obstructs the crucial gyrase dimer interface, while the other intercalates between the fragments of cleaved DNA substrate. Thus, albicidin efficiently locks DNA gyrase, preventing it from religating DNA and completing its catalytic cycle. Two additional structures of this trapped state were determined using synthetic albicidin analogues that demonstrate improved solubility, and activity against a range of gyrase variants and E. coli topoisomerase IV. The extraordinary promiscuity of the DNA-intercalating region of albicidins and their excellent performance against fluoroquinolone-resistant bacteria holds great promise for the development of last-resort antibiotics.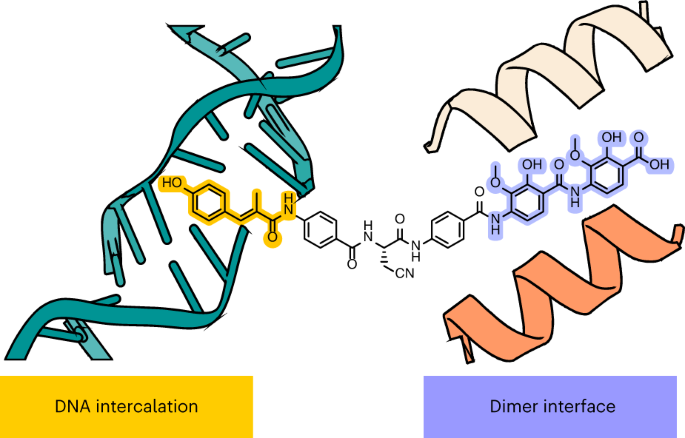 Data availability
All data needed to evaluate the conclusions in the paper are present in the paper and/or the Supplementary Materials or from the authors upon reasonable request. The Gyr-Mu217-Albi, Gyr-Mu217-Albi-1-TG, Gyr-Mu217-Albi-1-AA and Gyr-Mu217-Albi-2 coordinates have been submitted to the Protein Data Bank (https://www.rcsb.org/) with PDB IDs 7Z9C, 7Z9K, 7Z9M and 7Z9G, respectively. Corresponding EM maps have been submitted to the Electron Microscopy Data Bank (https://www.ebi.ac.uk/pdbe/emdb/) with IDs EMD-14570, EMD-14573, EMD-14574, and EMD-14572, respectively. Raw data were submitted to the Electron Microscopy Public Image Archive (https://www.ebi.ac.uk/pdbe/emdb/empiar/) with IDs EMPIAR-11244 (albicidin), EMPIAR-11245 (Albi-1) and EMPIAR-11246 (Albi-2). Source data are provided with this paper.
References
Antimicrobial Resistance Collaborators. Global burden of bacterial antimicrobial resistance in 2019: a systematic analysis. Lancet 399, 629–655 (2022).

Rawson, T. M., Ming, D., Ahmad, R., Moore, L. S. P. & Holmes, A. H. Antimicrobial use, drug-resistant infections and COVID-19. Nat. Rev. Microbiol. 18, 409–410 (2020).

Nowak, J. et al. High incidence of pandrug-resistant Acinetobacter baumannii isolates collected from patients with ventilator-associated pneumonia in Greece, Italy and Spain as part of the MagicBullet clinical trial. J. Antimicrob. Chemother. 72, 3277–3282 (2017).

Lewis, K. The science of antibiotic discovery. Cell 181, 29–45 (2020).

Aldred, K. J., Kerns, R. J. & Osheroff, N. Mechanism of quinolone action and resistance. Biochemistry 53, 1565–1574 (2014).

Bates, A. D., Berger, J. M. & Maxwell, A. The ancestral role of ATP hydrolysis in type II topoisomerases: prevention of DNA double-strand breaks. Nucleic Acids Res. 39, 6327–6339 (2011).

Wohlkonig, A. et al. Structural basis of quinolone inhibition of type IIA topoisomerases and target-mediated resistance. Nat. Struct. Mol. Biol. 17, 1152–1153 (2010).

Blower, T. R., Williamson, B. H., Kerns, R. J. & Berger, J. M. Crystal structure and stability of gyrase-fluoroquinolone cleaved complexes from Mycobacterium tuberculosis. Proc. Natl Acad. Sci. USA 113, 1706–1713 (2016).

Bush, N. G., Diez-Santos, I., Abbott, L. R. & Maxwell, A. Quinolones: mechanism, lethality and their contributions to antibiotic resistance. Molecules 25, 5662 (2020).

Kalghatgi, S. et al. Bactericidal antibiotics induce mitochondrial dysfunction and oxidative damage in mammalian cells. Sci. Transl. Med. 5, 192ra185–192ra185 (2013).

Sankar, A. et al. Association of fluoroquinolone prescribing rates with black box warnings from the US Food and Drug Administration. JAMA Netw. Open 4, e2136662 (2021).

Scangarella-Oman, N. E. et al. Dose selection for phase III clinical evaluation of gepotidacin (GSK2140944) in the treatment of uncomplicated urinary tract infections. Antimicrob. Agents Chemother. 66, e0149221 (2022).

Taylor, S. N. et al. Gepotidacin for the treatment of uncomplicated urogenital gonorrhea: A phase 2, randomized, dose-ranging, single-oral dose evaluation. Clin. Infect. Dis. 67, 504–512 (2018).

Bradford, P. A., Miller, A. A., O'Donnell, J. & Mueller, J. P. Zoliflodacin: an oral spiropyrimidinetrione antibiotic for the treatment of Neisseria gonorrheae, including multi-drug-resistant isolates. ACS Infect. Dis. 6, 1332–1345 (2020).

Hossain, M., Zhou, M., Tiffany, C., Dumont, E. & Darpo, B. A phase I, randomized, double-blinded, placebo- and moxifloxacin-controlled, four-period crossover study to evaluate the effect of gepotidacin on cardiac conduction as assessed by 12-lead electrocardiogram in healthy volunteers. Antimicrob. Agents Chemother. 61, e02385-16 (2017).

Hashimi, S. M. Albicidin, a potent DNA gyrase inhibitor with clinical potential. J. Antibiot. (Tokyo) 72, 785–792 (2019).

Birch, R. G. & Patil, S. S. Evidence that an albicidin-like phytotoxin induces chlorosis in sugarcane leaf scald disease by blocking plastid DNA replication. Physiol. Mol. Plant 30, 207–214 (1987).

Wall, M. K., Mitchenall, L. A. & Maxwell, A. Arabidopsis thaliana DNA gyrase is targeted to chloroplasts and mitochondria. Proc. Natl Acad. Sci. USA 101, 7821–7826 (2004).

Evans-Roberts, K. M. et al. DNA gyrase is the target for the quinolone drug ciprofloxacin in Arabidopsis thaliana. J. Biol. Chem. 291, 3136–3144 (2016).

Hashimi, S. M., Wall, M. K., Smith, A. B., Maxwell, A. & Birch, R. G. The phytotoxin albicidin is a novel inhibitor of DNA gyrase. Antimicrob. Agents Chemother. 51, 181–187 (2007).

Cociancich, S. et al. The gyrase inhibitor albicidin consists of p-aminobenzoic acids and cyanoalanine. Nat. Chem. Biol. 11, 195–197 (2015).

Kretz, J. et al. Total synthesis of albicidin: a lead structure from Xanthomonas albilineans for potent antibacterial gyrase inhibitors. Angew. Chem. Int. Ed. Engl. 54, 1969–1973 (2015).

Grätz, S. et al. Synthesis and antimicrobial activity of albicidin derivatives with variations of the central cyanoalanine building block. ChemMedChem 11, 1499–1502 (2016).

Kerwat, D. et al. Synthesis of albicidin derivatives: assessing the role of N-terminal acylation on the antibacterial activity. ChemMedChem 11, 1899–1903 (2016).

Behroz, I. et al. Extensive structure–activity relationship study of albicidin's C-terminal dipeptidic p-aminobenzoic acid moiety. Eur. J. Chem. 25, 16538–16543 (2019).

Zborovsky, L. et al. Improvement of the antimicrobial potency, pharmacokinetic and pharmacodynamic properties of albicidin by incorporation of nitrogen atoms. Chem. Sci. 12, 14606–14617 (2021).

Rostock, L. et al. Molecular insights into antibiotic resistance—how a binding protein traps albicidin. Nat. Commun. 9, 3095 (2018).

Zhang, L., Xu, J. & Birch, R. G. High affinity binding of albicidin phytotoxins by the AlbA protein from Klebsiella oxytoca. Microbiology (Reading) 144, 555–559 (1998).

Sikandar, A. et al. Adaptation of a bacterial multidrug resistance system revealed by the structure and function of AlbA. J. Am. Chem. Soc. 140, 16641–16649 (2018).

Zhang, L. & Birch, R. G. Mechanisms of biocontrol by Pantoea dispersa of sugar cane leaf scald disease caused by Xanthomonas albilineans. J. Appl. Microbiol. 82, 448–454 (1997).

Kleebauer, L. et al. Overcoming AlbD protease resistance and improving potency: synthesis and bioactivity of antibacterial albicidin analogues with amide bond isosteres. Org. Lett. 23, 7023–7027 (2021).

Vieweg, L. et al. The albicidin resistance factor AlbD is a serine endopeptidase that hydrolyzes unusual oligoaromatic-type peptides. J. Am. Chem. Soc. 137, 7608–7611 (2015).

Vetting, M. W., Hegde, S. S., Zhang, Y. & Blanchard, J. S. Pentapeptide-repeat proteins that act as topoisomerase poison resistance factors have a common dimer interface. Acta Crystallogr. F 67, 296–302 (2011).

Mazurek, Ł. et al. Pentapeptide repeat protein QnrB1 requires ATP hydrolysis to rejuvenate poisoned gyrase complexes. Nucleic Acids Res. 49, 1581–1596 (2021).

Baumann, S. et al. Cystobactamids: myxobacterial topoisomerase inhibitors exhibiting potent antibacterial activity. Angew. Chem. Int. Ed. Engl. 53, 14605–14609 (2014).

Kampranis, S. C. & Maxwell, A. Conversion of DNA gyrase into a conventional type II topoisomerase. Proc. Natl Acad. Sci. USA 93, 14416–14421 (1996).

Srikannathasan, V. et al. Crystallization and initial crystallographic analysis of covalent DNA-cleavage complexes of Staphyloccocus aureus DNA gyrase with QPT-1, moxifloxacin and etoposide. Acta Crystallogr. F 71, 1242–1246 (2015).

Heddle, J. G. et al. The antibiotic microcin B17 is a DNA gyrase poison: characterisation of the mode of inhibition. J. Mol. Biol. 307, 1223–1234 (2001).

Pierrat, O. A. & Maxwell, A. Evidence for the role of DNA strand passage in the mechanism of action of microcin B17 on DNA gyrase. Biochemistry 44, 4204–4215 (2005).

Vanden Broeck, A., Lotz, C., Ortiz, J. & Lamour, V. Cryo-EM structure of the complete E. coli DNA gyrase nucleoprotein complex. Nat. Commun. 10, 4935 (2019).

Scheirer, K. E. & Higgins, N. P. The DNA cleavage reaction of DNA gyrase. Comparison of stable ternary complexes formed with enoxacin and CcdB protein. J. Biol. Chem. 272, 27202–27209 (1997).

Sutormin, D., Rubanova, N., Logacheva, M., Ghilarov, D. & Severinov, K. Single-nucleotide-resolution mapping of DNA gyrase cleavage sites across the Escherichia coli genome. Nucleic Acids Res. 47, 1373–1388 (2019).

Bax, B. D., Murshudov, G., Maxwell, A. & Germe, T. DNA topoisomerase inhibitors: trapping a DNA-cleaving machine in motion. J. Mol. Biol. 431, 3427–3449 (2019).

Behroz, I. et al. Acetylenic replacement of albicidin's methacrylamide residue circumvents detrimental E/Z photoisomerization and preserves antibacterial activity. Eur. J. Chem. 27, 9077–9086 (2021).

Birch, R. G. & Patil, S. S. Preliminary characterization of an antibiotic produced by Xanthomonas albilineans which inhibits DNA synthesis in Escherichia coli. J. Gen. Microbiol. 131, 1069–1075 (1985).

Chen, S. F. et al. Structural insights into the gating of DNA passage by the topoisomerase II DNA-gate. Nat. Commun. 9, 3085 (2018).

Soczek, K. M., Grant, T., Rosenthal, P. B. & Mondragón, A. CryoEM structures of open dimers of gyrase A in complex with DNA illuminate mechanism of strand passage. eLife 7, e41215 (2018).

Schmidt, B. H., Burgin, A. B., Deweese, J. E., Osheroff, N. & Berger, J. M. A novel and unified two-metal mechanism for DNA cleavage by type II and IA topoisomerases. Nature 465, 641–644 (2010).

Sartorius, J. & Schneider, H. J. Supramolecular chemistry. 71. Intercalation mechanisms with ds-DNA: binding modes and energy contributions with benzene, naphthalene, quinoline and indole derivatives including some antimalarials. J. Chem. Soc. Perkin 2, 2319–2327 (1997).

Banks, T. M., Clay, S. F., Glover, S. A. & Schumacher, R. R. Mutagenicity of N-acyloxy-N-alkoxyamides as an indicator of DNA intercalation part 1: evidence for naphthalene as a DNA intercalator. Org. Biomol. Chem. 14, 3699–3714 (2016).

Birch, R. G., Pemberton, J. M. & Basnayake, W. V. S. Stable albicidin resistance in Escherichia coli involves an altered outer-membrane nucleoside uptake system. Microbiology 136, 51–58 (1990).

Ashkenazy, H. et al. ConSurf 2016: an improved methodology to estimate and visualize evolutionary conservation in macromolecules. Nucleic Acids Res. 44, W344–W350 (2016).

Germe, T. et al. A new class of antibacterials, the imidazopyrazinones, reveal structural transitions involved in DNA gyrase poisoning and mechanisms of resistance. Nucleic Acids Res. 46, 4114–4128 (2018).

Chenia, H. Y., Pillay, B. & Pillay, D. Analysis of the mechanisms of fluoroquinolone resistance in urinary tract pathogens. J. Antimicrob. Chemother. 58, 1274–1278 (2006).

Marcusson, L. L., Frimodt-Møller, N. & Hughes, D. Interplay in the selection of fluoroquinolone resistance and bacterial fitness. PLoS Pathog. 5, e1000541 (2009).

Heddle, J. & Maxwell, A. Quinolone-binding pocket of DNA gyrase: role of GyrB. Antimicrob. Agents Chemother. 46, 1805–1815 (2002).

Collin, F., Karkare, S. & Maxwell, A. Exploiting bacterial DNA gyrase as a drug target: current state and perspectives. Appl. Microbiol. Biot. 92, 479–497 (2011).

Feng, L. et al. The pentapeptide-repeat protein, MfpA, interacts with mycobacterial DNA gyrase as a DNA T-segment mimic. Proc. Natl Acad. Sci. USA 118, e2016705118 (2021).

Shah, S. & Heddle, J. G. Squaring up to DNA: pentapeptide repeat proteins and DNA mimicry. Appl. Microbiol. Biotechnol. 98, 9545–9560 (2014).

Panter, F., Krug, D., Baumann, S. & Müller, R. Self-resistance guided genome mining uncovers new topoisomerase inhibitors from myxobacteria. Chem. Sci. 9, 4898–4908 (2018).

Garrido, M. C., Herrero, M., Kolter, R. & Moreno, F. The export of the DNA replication inhibitor Microcin B17 provides immunity for the host cell. EMBO J. 7, 1853–1862 (1988).

Fsihi, H., Kottwitz, B. & Bremer, E. Single amino acid substitutions affecting the substrate specificity of the Escherichia coli K-12 nucleoside-specific Tsx channel. J. Biol. Chem. 268, 17495–17503 (1993).

Heydenreich, F. M. et al. High-throughput mutagenesis using a two-fragment PCR approach. Sci. Rep. 7, 6787 (2017).

Gibson, D. G. et al. Enzymatic assembly of DNA molecules up to several hundred kilobases. Nat. Methods 6, 343–345 (2009).

Dyer, P. N. et al. Reconstitution of nucleosome core particles from recombinant histones and DNA. Methods Enzymol. 375, 23–44 (2004).

Punjani, A., Rubinstein, J. L., Fleet, D. J. & Brubaker, M. A. cryoSPARC: algorithms for rapid unsupervised cryo-EM structure determination. Nat. Methods 14, 290–296 (2017).

Punjani, A., Zhang, H. & Fleet, D. J. Non-uniform refinement: adaptive regularization improves single-particle cryo-EM reconstruction. Nat. Methods 17, 1214–1221 (2020).

Zivanov, J., Nakane, T. & Scheres, S. H. W. Estimation of high-order aberrations and anisotropic magnification from cryo-EM data sets in RELION-3.1. IUCrJ 7, 253–267 (2020).

Gong, X. et al. Structural insights into the Niemann–Pick C1 (NPC1)-mediated cholesterol transfer and ebola infection. Cell 165, 1467–1478 (2016).

Emsley, P., Lohkamp, B., Scott, W. G. & Cowtan, K. Features and development of Coot. Acta Crystallogr. D 66, 486–501 (2010).

Pettersen, E. F. et al. UCSF ChimeraX: Structure visualization for researchers, educators, and developers. Protein Sci. 30, 70–82 (2021).

Liebschner, D. et al. Macromolecular structure determination using X-rays, neutrons and electrons: recent developments in Phenix. Acta Crystallogr. D 75, 861–877 (2019).

Croll, T. I. ISOLDE: a physically realistic environment for model building into low-resolution electron-density maps. Acta Crystallogr. D 74, 519–530 (2018).

Katz, A. K., Glusker, J. P., Beebe, S. A. & Bock, C. W. Calcium ion coordination: a comparison with that of beryllium, magnesium, and zinc. J. Am. Chem. Soc. 118, 5752–5763 (1996).

Williams, C. J. et al. MolProbity: more and better reference data for improved all-atom structure validation. Protein Sci. 27, 293–315 (2018).

Laskowski, R. A. & Swindells, M. B. LigPlot+: multiple ligand-protein interaction diagrams for drug discovery. J. Chem. Inf. Model. 51, 2778–2786 (2011).
Acknowledgements
We thank V. Lamour (IGBMC Strasbourg) for pET28-GyrATS and pET28-GyrBTS plasmids for E. coli gyrase expression and H. P. McDonald (John Innes Centre) for purified Topo IV. We are grateful to V. Baskerville and A. Maxwell (John Innes Centre) for comments and thoughts on the manuscript. We thank the national cryo-EM facility and staff at the SOLARIS National Synchrotron Radiation Centre, Poland (Polish Ministry of Education and Science project: 'Support for research and development with the use of research infrastructure of the National Synchrotron Radiation Centre SOLARIS' under contract number 1/SOL/2021/2). We thank M. Rawski and P. Indyka for the excellent technical support. We acknowledge MCB Structural Biology Core Facility (supported by the TEAM TECH CORE FACILITY/2017-4/6 grant from the Foundation for Polish Science). The cryo-EM data analysis was supported by the PLGrid infrastructure. Funding for this work was provided by the National Science Centre (NCN, Poland) grant numbers 2016/21/B/CC1/00274 (OPUS 11) (Z.P., D.G., J.G.H.), 2019/35/D/NZ1/01770 (E.M., Z.P., Ł.M., D.G.) and 2020/39/B/NZ1/02898 (OPUS 20) (Z.P., E.M., D.G., J.G.H.). D.G. is a recipient of Sir Henry Dale Fellowship (221868/Z/20/Z) jointly funded by Wellcome Trust and the Royal Society; the work is also supported by a BBSRC Institute Strategic Programme Grant (BB/P012523/1). We acknowledge financial support granted by the Deutsche Forschungsgemeinschaft (DFG, SU 239/11-1, PE 2600/1-1, and RTG 2473 'Bioactive Peptides', project number 392923329) (K.H., R.D.S.), the Dahlem Research School (Elsa-Neumann-Stipendium für Promovierende, Τ70011) (M.K.), and the Bundesministerium für Bildung und Forschung (BMBF VIP grant 03VP00030) (I.B., M.S., R.D.S.).
Ethics declarations
Competing interests
The following authors declare competing interests. R.D.S. is inventor of patent EP2956437A1. R.D.S., I.B. and J.W. are inventors of patents EP3655394A1 and EP3655394A1. R.D.S., K.H., I.B. and J.W. are inventors of patent EP3974416A1. R.D.S., M.K., K.H., L.Z. and J.W. are inventors of patent EP22163715.0. All listed patents have been filed at the TU Berlin and are describing the synthesis and use of albicidin and derivatives thereof. Synthesis of albicidin derivatives published in the manuscript NATCATAL-22067343A are covered by the aforementioned patents. R.D.S. is a consultant to Selmod GmbH. The remaining authors have no conflicts of interest to declare.
Peer review
Peer review information
Nature Catalysis thanks Neil Osheroff and the other, anonymous, reviewer(s) for their contribution to the peer review of this work.
Additional information
Publisher's note Springer Nature remains neutral with regard to jurisdictional claims in published maps and institutional affiliations.
Supplementary information
Supplementary Tables 1–4, Figs. 1–11, Note 1 and Methods.
Source data
Uncropped gels and calculations used to determine CC50 values for Fig. 4e (single replicates).
Rights and permissions
Open Access This article is licensed under a Creative Commons Attribution 4.0 International License, which permits use, sharing, adaptation, distribution and reproduction in any medium or format, as long as you give appropriate credit to the original author(s) and the source, provide a link to the Creative Commons license, and indicate if changes were made. The images or other third party material in this article are included in the article's Creative Commons license, unless indicated otherwise in a credit line to the material. If material is not included in the article's Creative Commons license and your intended use is not permitted by statutory regulation or exceeds the permitted use, you will need to obtain permission directly from the copyright holder. To view a copy of this license, visit http://creativecommons.org/licenses/by/4.0/.
About this article
Cite this article
Michalczyk, E., Hommernick, K., Behroz, I. et al. Molecular mechanism of topoisomerase poisoning by the peptide antibiotic albicidin. Nat Catal 6, 52–67 (2023). https://doi.org/10.1038/s41929-022-00904-1
Received:

Accepted:

Published:

Issue Date:

DOI: https://doi.org/10.1038/s41929-022-00904-1