Enhancing the oxygen exchange rate at the surface of oxides through rational design has long been a key goal of researchers pursuing sustainable energy solutions. Now, a simple infiltration method reveals that reaction rates on porous mixed-conducting oxides scale with the acidity of the infiltrate and can be tuned by orders of magnitude.
Access options
Subscribe to Journal
Get full journal access for 1 year
$99.00
only $8.25 per issue
All prices are NET prices.
VAT will be added later in the checkout.
Rent or Buy article
Get time limited or full article access on ReadCube.
from$8.99
All prices are NET prices.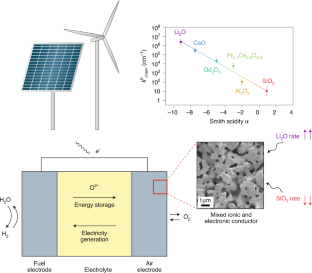 References
1.

Choudhury, A., Chandra, H. & Arora, A. Renew. Sust. Energ. Rev. 20, 430–442 (2013).

2.

Jiang, Z. Y., Xia, C. R. & Chen, F. L. Electrochim. Acta 55, 3595–3605 (2010).

3.

Adler, S. B. Chem. Rev. 104, 4791–4843 (2004).

4.

Hu, B. B. & Xia, C. R. Asia-Pac. J. Chem. Eng. 11, 327–337 (2016).

5.

Nicollet, C. T. et al. Nat. Catal. https://doi.org/10.1038/s41929-020-00520-x (2020).

6.

González-Cobos, J. & de Lucas-Consuegra, A. Catalysts 6, 15 (2016).

7.

Onn, T. M., Küngas, R., Fornasiero, P., Huang, K. & Gorte, R. J. Inorganics 6, 1–20 (2018).

8.

Schaube, M., Merkle, R. & Maier, J. J. Mater. Chem. A 7, 21854–21866 (2019).

9.

Trovarelli, A. & Llorca, J. ACS Catal. 7, 4716–4735 (2017).

10.

Usiskin, R. E., Maruyama, S., Kucharczyk, C. J., Takeuchi, I. & Haile, S. M. J. Mater. Chem. A 3, 19330–19345 (2015).
Ethics declarations
Competing interests
The author declares no competing interests.
About this article
Cite this article
Haile, S.M. Accelerating oxygen surface exchange. Nat Catal 3, 863–864 (2020). https://doi.org/10.1038/s41929-020-00537-2