Guiding principles for the design of novel catalysts are key to developing new synthesis approaches. Now, a general principle has been defined to predict the reactivity for the hydrogen cycle of atomically dispersed metals on carbon supports.
Access options
Subscribe to Journal
Get full journal access for 1 year
$99.00
only $8.25 per issue
All prices are NET prices.
VAT will be added later in the checkout.
Tax calculation will be finalised during checkout.
Rent or Buy article
Get time limited or full article access on ReadCube.
from$8.99
All prices are NET prices.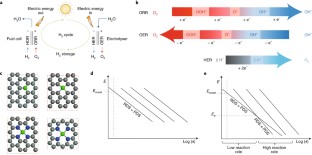 References
1.

Katsounaros, I., Cherevko, S., Zeradjanin, R. & Mayrhofer, K. J. J. Angew. Chem. Int. Ed. 53, 102–121 (2014).

2.

Chen, Z., Higgins, D., Yu, A., Zhang, L. & Zhang, J. Energy Env. Sci. 4, 3167–3192 (2011).

3.

Fei, H. et al. Nat. Catal. 1, 63–72 (2018).

4.

Xu, H., Cheng, D., Cao, D. & Zeng, X. C. Nat. Catal. https://doi.org/10.1038/s41929-018-0063-z (2018).

5.

Koper, M. T. M. J. Electroanal. Chem. 660, 254–260 (2011).

6.

Zagal, J. H. & Koper, M. T. M. Angew. Chem. Int. Ed. 55, 14510–14521 (2016).

7.

Li, J., Alsudairi, A., Ma, Z.-F., Mukerjee, S. & Jia, Q. J. Am. Chem. Soc. 139, 1384–1387 (2017).
About this article
Cite this article
Jaouen, F. Predicting electrochemical activity. Nat Catal 1, 314–315 (2018). https://doi.org/10.1038/s41929-018-0076-7
Further reading
Yinlong Wu

,

Jilin Huang

,

Zhipeng Lin

,

Longfu Li

,

Guofeng Liang

,

Yan Qi Jin

,

Guoju Huang

,

Hao Zhang

,

Jian Chen

,

Fangyan Xie

,

Yanshuo Jin

,

Nan Wang

&

Hui Meng

Chemical Engineering Journal (2021)

Zhen-Feng Huang

,

Jiajia Song

,

Shuo Dou

,

Xiaogang Li

,

Jiong Wang

&

Xin Wang

Matter (2019)