Abstract
Across carbon- and biodiversity-rich tropical forests, titling initiatives are implemented with the goal of regularizing land tenure and decreasing deforestation. However, the effect of tenure security on deforestation is theoretically ambiguous, and credible empirical evidence is lacking. We analyse the responses of 10,647 landholders between 2011 and 2016 to a large-scale land-titling programme called Terra Legal in the Brazilian Amazon, set to regulate an area as big as Germany and France combined. Using a fixed-effects regression modelling strategy and property-level data, we managed to explore the causal chain between land titling and deforestation. Contrary to expectations, we find evidence that small and medium landholders increased deforestation in response to the programme, whereas large landholders remained largely unaffected. Landholders with property titles deforest more as crop and cattle prices increase, indicating greater market integration at the expense of conservation. Our results suggest that titling alone without greater coordination with other policies will not yield the expected environmental benefits.
Relevant articles
Open Access articles citing this article.
Andrea Pacheco

&

Carsten Meyer

Nature Communications Open Access 01 October 2022

Samantha H. Cheng

,

Sebastien Costedoat

…

Carlos L. Muñoz Brenes

Environmental Evidence Open Access 19 April 2022

Aurora Miho Yanai

,

Paulo Maurício Lima de Alencastro Graça

…

Philip Martin Fearnside

Regional Environmental Change Open Access 01 March 2022
Access options
Subscribe to Nature+
Get immediate online access to Nature and 55 other Nature journal
Subscribe to Journal
Get full journal access for 1 year
$119.00
only $9.92 per issue
All prices are NET prices.
VAT will be added later in the checkout.
Tax calculation will be finalised during checkout.
Buy article
Get time limited or full article access on ReadCube.
$32.00
All prices are NET prices.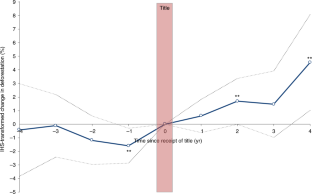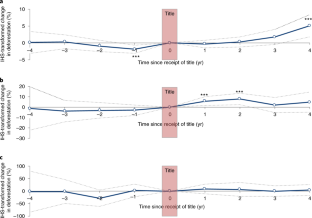 Data availability
The data that support the findings of this study are available from SERFAL, but restrictions apply to the availability of these data, which were used under license for the current study, and so are not publicly available. The data are, however, available from the authors upon request and with the permission of SERFAL. Source data are provided with this paper.
Code availability
The code is available from the corresponding author upon request.
References
Kalamandeen, M. et al. Pervasive rise of small-scale deforestation in Amazonia. Sci. Rep. 8, 1600 (2018).

Alix-Garcia, J., Rausch, L. L., L'Roe, J., Gibbs, H. K. & Munger, J. Avoided deforestation linked to environmental registration of properties in the Brazilian Amazon. Conserv. Lett. 11, e12414 (2018).

Baccini, A. et al. Estimated carbon dioxide emissions from tropical deforestation improved by carbon-density maps. Nat. Clim. Change 2, 182–185 (2012).

Harris, N. L. et al. Baseline map of carbon emissions from deforestation in tropical regions. Science 336, 1573–1576 (2012).

Assunção, J., Gandour, C. & Rocha, R. DETERring Deforestation in the Brazilian Amazon: Environmental Monitoring and Law Enforcement (Climate Policy Initiative, 2013).

Gibbs, H. K. et al. Brazil's soy moratorium. Science 347, 377–378 (2015).

Assunção, J., Gandour, C., Rocha, R. & Rocha, R. Does Credit Affect Deforestation? Evidence from a Rural Credit Policy in the Brazilian Amazon (Climate Policy Initiative, 2013); https://go.nature.com/2SskwLJ

Azevedo, A. A. et al. Limits of Brazil's Forest Code as a means to end illegal deforestation. Proc. Natl Acad. Sci. USA 114, 7653–7658 (2017).

Freitas, F. L. M. et al. Potential increase of legal deforestation in Brazilian Amazon after Forest Act revision. Nat. Sustain. 1, 3–8 (2018).

Monitoramento da Floresta Amazônica Brasileira por Satélite (PRODES, 2019); https://go.nature.com/3dc6XIt

Godar, J., Gardner, T. A., Tizado, E. J. & Pacheco, P. Actor-specific contributions to the deforestation slowdown in the Brazilian Amazon. Proc. Natl Acad. Sci. USA 111, 15591–15596 (2014).

Rasmussen, L. V., Jung, S., Brites, A. D., Watkins, C. & Agrawal, A. Understanding smallholders' intended deforestation behavior in the Brazilian Cerrado following environmental registry. Environ. Res. Lett. 12, 094001 (2016).

Busch, J. & Ferretti-Gallon, K. What drives deforestation and what stops it? A meta-analysis. Rev. Environ. Econ. Policy 11, 3–23 (2017).

Land Tenure Regularisation in the Amazon—Terra Legal (GIZ, 2014); https://go.nature.com/2WkHnKx

Buntaine, M. T., Hamilton, S. E. & Millones, M. Titling community land to prevent deforestation: an evaluation of a best-case program in Morona-Santiago, Ecuador. Glob. Environ. Change 33, 32–43 (2015).

BenYishay, A., Heuser, S., Runfola, D. & Trichler, R. Indigenous land rights and deforestation: evidence from the Brazilian Amazon. J. Environ. Econ. Manage. 86, 29–47 (2017).

Land Tenure and Property Rights: Tools for Transformational Development (USAID, 2008).

Hasan, K. M. Agricultural taxation in developing countries: a survey of issues and policy. Agric. Econ. 24, 315–328 (2001).

Ali, D. A., Deininger, K. & Goldstein, M. Environmental and gender impacts of land tenure regularization in Africa: pilot evidence from Rwanda. J. Dev. Econ. 110, 262–275 (2014).

Araujo, C., Bonjean, C. A., Combes, J. L., Combes Motel, P. & Reis, E. J. Property rights and deforestation in the Brazilian Amazon. Ecol. Econ. 68, 2461–2468 (2009).

Araujo, C., Combes, J. L. & Féres, J. G. Determinants of Amazon deforestation: the role of off-farm income. Environ. Dev. Econ. 24, 138–156 (2019).

Wood, C. H. & Walker, R. Land Titles, Tenure Security and Resource Use among Small Farmers in the Brazilian Amazon. In 24th General Population Conference of the International Union for the Scientific Study of Population (IUSSP, 2001).

Keswell, M. & Carter, M. R. Poverty and land redistribution. J. Dev. Econ. 110, 250–261 (2014).

Goldstein, M., Houngbedji, K., Kondylis, F., O'Sullivan, M. & Selod, H. Formalization without certification? Experimental evidence on property rights and investment. J. Dev. Econ. 132, 57–74 (2018).

Liscow, Z. D. Do property rights promote investment but cause deforestation? Quasi-experimental evidence from Nicaragua. J. Environ. Econ. Manage. 65, 241–261 (2013).

L'Roe, J., Rausch, L., Munger, J. & Gibbs, H. K. Land use policy mapping properties to monitor forests: landholder response to a large environmental registration program in the Brazilian Amazon. Land Use Policy 57, 193–203 (2016).

Stefanes, M. et al. Property size drives differences in forest code compliance in the Brazilian Cerrado. Land Use Policy 75, 43–49 (2018).

Schielein, J. & Börner, J. Recent transformations of land-use and land-cover dynamics across different deforestation frontiers in the Brazilian Amazon. Land Use Policy 76, 81–94 (2018).

Kupper, B. et al. Protection and sustainable use of tropical forests need land tenure regularization: evidence from Brazil. In Annual World Bank Conference on Land and Poverty 1–25 (2017).

Kettle, S., Hernandez, M., Ruda, S. & Sanders, M. Behavioral Interventions in Tax Compliance: Evidence from Guatemala Policy Research Working Paper No. WPS7690 (World Bank, 2016).

Maisonnave, F. Worst land-related killings in decades expose Amazon's lawless frontier. Climate Home News https://go.nature.com/2xoDxaA (2017).

INPE-Projeto Prodes: Monitoramento da floresta Amazônica Brasileira por Satélite http://www.obt.inpe.br/OBT/assuntos/programas/amazonia/prodes (2017).

Burbidge, J. B., Magee, L. & Robb, A. L. Alternative transformations to handle extreme values of the dependent variable. J. Am. Stat. Assoc. 83, 123–127 (1988).

Fick, S. E. & Hijmans, R. J. WorldClim 2: new 1-km spatial resolution climate surfaces for global land areas. Int. J. Climatol. 37, 4302–4315 (2017).

SimBrasil / Optimizagro Project: Simulated land-use change and associated carbon emissions in Brazil under agricultural and deforestation scenarios csr.ufmg.br/simbrasil (2017).

Assuncąo, J., Gandour, C. & Rocha, R. Deforestation slowdown in the Brazilian Amazon: prices or policies? Environ. Dev. Econ. 20, 697–722 (2015).

QGIS Development Team QGIS Geographic Information System (Open Source Geospatial Foundation Project, 2016); http://qgis.osgeo.org

RStudio Team RStudio: Integrated Development for R (RStudio, Inc., 2017); http://www.rstudio.com/

StataCorp Stata Statistical Software: Release 13 (StataCorp LP, 2013).

Brito, B. & Barreto, P. A Regularização Fundiária Avançou na Amazônia?: os dois anos do Pro-grama Terra Legal (Instituto do Homem e Meio Ambiente da Amazônia-IMAZON, 2011).

Blackman, A., Corral, L., Lima, E. S. & Asner, G. P. Titling indigenous communities protects forests in the Peruvian Amazon. Proc. Natl Acad. Sci. USA 114, 4123–4128 (2017).

Chow, C. G. Tests of equality between sets of coefficients in two linear regressions. Econometrica 28, 591–605 (1960).
Ethics declarations
Competing interests
The authors declare no competing interests.
Additional information
Publisher's note Springer Nature remains neutral with regard to jurisdictional claims in published maps and institutional affiliations.
Supplementary information
About this article
Cite this article
Probst, B., BenYishay, A., Kontoleon, A. et al. Impacts of a large-scale titling initiative on deforestation in the Brazilian Amazon. Nat Sustain 3, 1019–1026 (2020). https://doi.org/10.1038/s41893-020-0537-2
Received:

Accepted:

Published:

Issue Date:

DOI: https://doi.org/10.1038/s41893-020-0537-2
This article is cited by
Andrea Pacheco
Carsten Meyer

Nature Communications (2022)

Aurora Miho Yanai
Paulo Maurício Lima de Alencastro Graça
Philip Martin Fearnside

Regional Environmental Change (2022)

Samantha H. Cheng
Sebastien Costedoat
Carlos L. Muñoz Brenes

Environmental Evidence (2022)