Co-locating solar panels and crops reduces competition for land between energy and food production. In addition, these agrivoltaic systems create positive synergistic relationships between crops and solar panels.
This is a preview of subscription content
Access options
Subscribe to Journal
Get full journal access for 1 year
$99.00
only $8.25 per issue
All prices are NET prices.
VAT will be added later in the checkout.
Tax calculation will be finalised during checkout.
Rent or Buy article
Get time limited or full article access on ReadCube.
from$8.99
All prices are NET prices.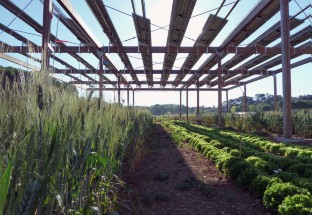 References
1.

Barron-Gafford G. A. et al. Nat. Sustain. https://doi.org/10.1038/s41893-019-0364-5 (2019).

2.

Barron-Gafford, G. A. et al. Nat. Sci. Rep. 6, 35070 (2016).

3.

Bahaidarah, H. M. S. et al. Renew. Sust. Energ. Rev. 57, 1520–1544 (2016).

4.

Goetzberger, A. & Zastrow, A. Int. J. Sol. Energy 1, 55–69 (1982).

5.

Adeh, E. H., Selker, J. S. & Higgins, C. W. PLoS ONE 13, 666 (2018).

6.

Marrou, H., Wery, J., Dufour, L. & Dupraz, C. Eur. J. Agron. 44, 54–66 (2013).

7.

Marrou, H., Guilioni, L., Dufour, L., Dupraz, C. & Wery, J. Agr. Forest Meteorol. 177, 117–132 (2013).
About this article
Cite this article
Marrou, H. Co-locating food and energy. Nat Sustain 2, 793–794 (2019). https://doi.org/10.1038/s41893-019-0377-0