Aquifers and groundwater resources are a critical lifeline for billions of people. Drilling deeper wells is one adaptive strategy to lower groundwater, but uncertainty plagues every aspect of dynamic aquifer systems.
Access options
Subscribe to Journal
Get full journal access for 1 year
$99.00
only $8.25 per issue
All prices are NET prices.
VAT will be added later in the checkout.
Rent or Buy article
Get time limited or full article access on ReadCube.
from$8.99
All prices are NET prices.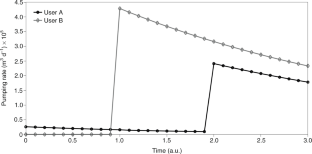 References
1.

Large Aquifer Systems of the World (WHYMAP & Margat, 2008).

2.

Koundouri, P. J. Econ. Surv. 18, 703–740 (2004).

3.

Bethke, C. M. & Johnson, T. M. Geology 30, 107–110 (2002).

4.

Perrone, D. & Jasechko, S. Nat. Sustain. https://doi.org/10.1038/s41893-019-0325-z (2019).

5.

Dieter, C. A. et al. Estimated Use of Water in the United States in 2015 (USGS, 2018).

6.

Famiglietti, J. S. Nat. Clim. Change 4, 945–948 (2014).

7.

Döll, P., Müller Schmied, H., Schuh, C., Portmann, F. T. & Eicker, A. Water Resour. Res. 50, 5698–5720 (2014).

8.

Faunt, C. C., Sneed, M., Traum, J. & Brandt, J. T. Hydrogeol. J. 24, 675–684 (2016).

9.

Josset, L. et al. Earth's. Future 7, 433–449 (2019).
About this article
Cite this article
Thomas, B.F. How deep can the straw go?. Nat Sustain 2, 659–660 (2019). https://doi.org/10.1038/s41893-019-0335-x