Abstract
Workers in rural areas in developing countries often face precarious working conditions, low wages and poverty. Sustainability standards—such as Fairtrade—could potentially improve the situation. Although many studies have analysed the impact of Fairtrade on smallholder farmers, few focus on wage workers beyond those employed by large companies despite most workers being employed by small farms and cooperatives. We analyse the effect of Fairtrade on workers' wages and working conditions in the small farm sector. We conducted a survey among workers in the cocoa sector in Cote d'Ivoire and their employers, distinguishing between farm workers and cooperative workers. Fairtrade improves wages and reduces poverty among cooperative workers, but not among farm workers, even though the latter are particularly deprived. At the cooperative level, labour standards are regularly monitored by Fairtrade. Certification also helps cooperatives increase the services offered to their members, which leads to more and better-paid employment at the cooperative level. At the farm level, inspections of labour standards are more costly, difficult and rare. Thus, Fairtrade hardly affects traditional employment modalities at the farm level even when farmers themselves benefit from certification. Ensuring that labour standards are met at all levels may require innovative and more efficient monitoring approaches.
Access options
Subscribe to Journal
Get full journal access for 1 year
$99.00
only $8.25 per issue
All prices are NET prices.
VAT will be added later in the checkout.
Rent or Buy article
Get time limited or full article access on ReadCube.
from$8.99
All prices are NET prices.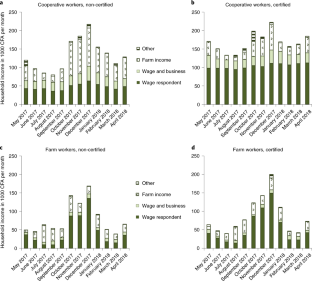 Data availability
The data are available from the corresponding author upon request.
Code availability
Data were analysed using Stata14 and pre-installed codes.
References
1.

Employment by sector — ILO modelled estimates https://go.nature.com/2K2uP6M (ILO, 2018).

2.

Agricultural Workers and their Contribution to Sustainable Agriculture and Rural Development (ILO, 2007).

3.

Raynolds, L. T. Fairtrade, certification, and labor. Global and local tensions in improving conditions for agricultural workers. Agric. Hum. Values 31, 499–511 (2014).

4.

Schuster, M. & Maertens, M. Do private standards benefit workers in horticultural export chains in Peru? J. Clean. Prod. 112, 2392–2406 (2016).

5.

van den Broeck, G., van Hoyweghen, K. & Maertens, M. Employment conditions in the Senegalese horticultural export industry. A worker perspective. Dev. Policy Rev. 34, 301–319 (2016).

6.

World Employment and Social Outlook: Trends 2017 (ILO, 2017).

7.

Krumbiegel, K., Maertens, M. & Wollni, M. The role of Fairtrade certification for wages and job satisfaction of plantation workers. World Dev. 102, 195–212 (2018).

8.

Maertens, M., Minten, B. & Swinnen, J. Modern food supply chains and development. Evidence from horticulture export sectors in sub-Saharan Africa. Dev. Policy Rev. 30, 473–497 (2012).

9.

The State of Sustainable Markets 2018. Statistics and Emerging Trends (ITC, 2018).

10.

Bennett, E. A. Voluntary sustainability standards. A squandered opportunity to improve workers' wages. Sustain. Dev. 95, 937 (2017).

11.

Declaration on Fundamental Principles and Rights at Work and its Follow-up 2nd edn (ILO, 2010).

12.

Fairtrade Standard for Hired Labour (Fairtrade International, 2014).

13.

Fairtrade Standard for Small Producer Organizations (Fairtrade International, 2011).

14.

Certifying Fairtrade https://www.fairtrade.net/producers/certifying-producers.html (Fairtrade International, 2019).

15.

Chiputwa, B., Spielman, D. J. & Qaim, M. Food standards, certification, and poverty among coffee farmers in Uganda. World Dev. 66, 400–412 (2015).

16.

Meemken, E.-M., Spielman, D. J. & Qaim, M. Trading off nutrition and education? A panel data analysis of the dissimilar welfare effects of Organic and Fairtrade standards. Food Policy 71, 74–85 (2017).

17.

Meemken, E.-M. & Qaim, M. Can private food standards promote gender equality in the small farm sector? J. Rural Stud. 58, 39–51 (2018).

18.

Minten, B., Dereje, M., Engida, E. & Tamru, S. Tracking the quality premium of certified coffee. Evidence from Ethiopia. World Dev. 101, 119–132 (2018).

19.

Mitiku, F., Mey, Y., de, Nyssen, J. & Maertens, M. Do private sustainability standards contribute to income growth and poverty alleviation? A comparison of different coffee certification schemes in Ethiopia. Sustainability 9, 246 (2017).

20.

Ruben, R. & Fort, R. The impact of Fair Trade certification for coffee farmers in Peru. World Dev. 40, 570–582 (2012).

21.

van Rijsbergen, B., Elbers, W., Ruben, R. & Njuguna, S. N. The ambivalent impact of coffee certification on farmers' welfare. A matched panel approach for cooperatives in central Kenya. World Dev. 77, 277–292 (2016).

22.

Oya, C., Schaefer, F. & Skalidou, D. The effectiveness of agricultural certification in developing countries. A systematic review. World Dev. 112, 282–312 (2018).

23.

Makita, R. Fairtrade certification. The case of tea plantation workers in India. Dev. Policy Rev. 30, 87–107 (2012).

24.

Raynolds, L. T. Fairtrade flowers. Global certification, environmental sustainability, and labor standards. Rural Sociol. 77, 493–519 (2012).

25.

Ehlert, C. R., Mithöfer, D. & Waibel, H. Worker welfare on Kenyan export vegetable farms. Food Policy 46, 66–73 (2014).

26.

Riisgaard, L. Global value chains, labor organization and private social standards. Lessons from East African cut flower industries. World Dev. 37, 326–340 (2009).

27.

Colen, L., Maertens, M. & Swinnen, J. Private standards, trade and poverty. GlobalGAP and horticultural employment in Senegal. World Econ. 35, 1073–1088 (2012).

28.

Cramer, C., Johnston, D., Mueller, B., Oya, C. & Sender, J. Fairtrade and labour markets in Ethiopia and Uganda. J. Dev. Stud. 64, 841–856 (2016).

29.

Valkila, J. & Nygren, A. Impacts of Fairtrade certification on coffee farmers, cooperatives, and laborers in Nicaragua. Agric. Hum. Values 27, 321–333 (2010).

30.

Cramer, C., Johnston, D., Oya, C. & Sender, J. Fairtrade cooperatives in Ethiopia and Uganda. Uncensored. Rev. Afr. Political Econ. 41, 115–S127 (2015).

31.

Luetchford, P. Fairtrade and a Global Commodity. Coffee in Costa Rica (Pluto Press, 2008).

32.

Valkila, J. Fairtrade Organic coffee production in Nicaragua—sustainable development or a poverty trap? Ecol. Econ. 68, 3018–3025 (2009).

33.

Terstappen, V., Hanson, L. & McLaughlin, D. Gender, health, labor, and inequities. A review of the fair and alternative trade literature. Agric. Hum. Values 30, 21–39 (2013).

34.

Répertoire de Sociétés Coopératives (Ministère de l'Agriculture et du Développement Rural, 2017).

35.

Colin, J.-P. Contractual practice and land conflicts. The 'Plant & Share' arrangement in Cote d'Ivoire. J. Agrar. Change 17, 144–165 (2017).

36.

Colin, J.-P. Securing rural land transactions in Africa. An Ivorian perspective. Land Use Policy 31, 430–440 (2013).

37.

Schuster, M. & Maertens, M. Worker empowerment through private standards. Evidence from the Peruvian horticultural export sector. J. Dev. Stud. 53, 618–637 (2016).

38.

Audit Standard Operating Procedure (FLOCERT, 2016).

39.

Standards in progress https://go.nature.com/2EVhaKw (Fairtrade International, 2019)

40.

Portail officiel du gouvernement de Cote d'Ivoire (Government of Cote d'Ivoire, 2018); http://www.gouv.ci/_actualite-article.php?recordID=9149

41.

Deaton, A. Instruments, randomization, and learning about development. J. Econ. Lit. 48, 424–455 (2010).

42.

Imbens, G. W. & Wooldridge, J. M. Recent developments in the econometrics of program evaluation. J. Econ. Lit. 47, 5–86 (2009).
Acknowledgements
This research was funded by the German Research Foundation (DFG) through the GlobalFood Programme (No. RTG 1666) and a DFG-fellowship (No. ME 5179/1-1). Additional financial support was received from the foundation Fiat Panis.
Ethics declarations
Competing interests
The authors declare no competing interests.
Additional information
Publisher's note: Springer Nature remains neutral with regard to jurisdictional claims in published maps and institutional affiliations.
Supplementary information
About this article
Cite this article
Meemken, EM., Sellare, J., Kouame, C.N. et al. Effects of Fairtrade on the livelihoods of poor rural workers. Nat Sustain 2, 635–642 (2019). https://doi.org/10.1038/s41893-019-0311-5
Received:

Accepted:

Published:

Issue Date: