Abstract
The structural conservation across the AAA (ATPases associated with diverse cellular activities) protein family makes designing selective chemical inhibitors challenging. Here, we identify a triazolopyridine-based fragment that binds the AAA domain of human katanin, a microtubule-severing protein. We have developed a model for compound binding and designed ASPIR-1 (allele-specific, proximity-induced reactivity-based inhibitor-1), a cell-permeable compound that selectively inhibits katanin with an engineered cysteine mutation. Only in cells expressing mutant katanin does ASPIR-1 treatment increase the accumulation of CAMSAP2 at microtubule minus ends, confirming specific on-target cellular activity. Importantly, ASPIR-1 also selectively inhibits engineered cysteine mutants of human VPS4B and FIGL1—AAA proteins, involved in organelle dynamics and genome stability, respectively. Structural studies confirm our model for compound binding at the AAA ATPase site and the proximity-induced reactivity-based inhibition. Together, our findings suggest a chemical genetics approach to decipher AAA protein functions across essential cellular processes and to test hypotheses for developing therapeutics.
Access options
Subscribe to Journal
Get full journal access for 1 year
$59.00
only $4.92 per issue
All prices are NET prices.
VAT will be added later in the checkout.
Tax calculation will be finalised during checkout.
Rent or Buy article
Get time limited or full article access on ReadCube.
from$8.99
All prices are NET prices.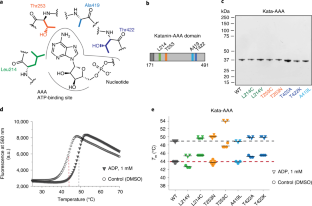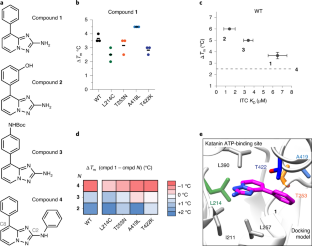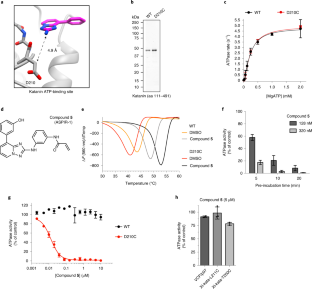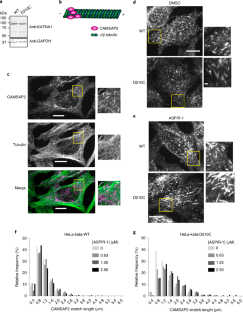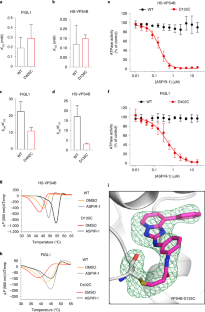 Data availability
The structure of VPS4B-D135C bound to ASPIR-2 has been deposited in the Protein Data Bank (PDB) under accession code PDB 7L9X. Data generated or analyzed during this study are included in this published Article (and its Supplementary Information files). Source data are provided with this paper.
References
1.

Puchades, C., Sandate, C. R. & Lander, G. C. The molecular principles governing the activity and functional diversity of AAA proteins. Nat. Rev. Mol. Cell Biol. 21, 43–58 (2020).

2.

Seraphim, T. V. & Houry, W. A. AAA proteins. Curr. Biol. 30, R251–R257 (2020).

3.

Gates, S. N. & Martin, A. Stairway to translocation: AAA+ motor structures reveal the mechanisms of ATP‐dependent substrate translocation. Protein Sci. 29, 407–419 (2020).

4.

Wendler, P., Ciniawsky, S., Kock, M. & Kube, S. Structure and function of the AAA nucleotide binding pocket. Biochim. Biophys. Acta Mol. Cell Res. 1823, 2–14 (2012).

5.

McCullough, J., Frost, A. & Sundquist, W. I. Structures, functions, and dynamics of ESCRT-III/Vps4 membrane remodeling and fission complexes. Annu. Rev. Cell Dev. Biol. 34, 85–109 (2018).

6.

Roll-Mecak, A. & McNally, F. J. Microtubule-severing enzymes. Curr. Opin. Cell Biol. 22, 96–103 (2010).

7.

Bleichert, F., Botchan, M. R. & Berger, J. M. Mechanisms for initiating cellular DNA replication. Science 355, eaah6317 (2017).

8.

Assimon, V. A. et al. CB-6644 is a selective inhibitor of the RUVBL1/2 complex with anticancer activity. ACS Chem. Biol. 14, 236–244 (2019).

9.

Anderson, D. J. et al. Targeting the AAA ATPase p97 as an approach to treat cancer through disruption of protein homeostasis. Cancer Cell 28, 653–665 (2015).

10.

Bishop, A. C., Buzko, O. & Shokat, K. M. Magic bullets for protein kinases. Trends Cell Biol. 11, 167–172 (2001).

11.

Islam, K. The bump-and-hole tactic: expanding the scope of chemical genetics. Cell Chem. Biol. 25, 1171–1184 (2018).

12.

Zhou, H.-J. et al. Discovery of a first-in-class, potent, selective and orally bioavailable inhibitor of the p97 AAA ATPase (CB-5083). J. Med. Chem. 58, 9480–9497 (2015).

13.

Cupido, T., Pisa, R., Kelley, M. E. & Kapoor, T. M. Designing a chemical inhibitor for the AAA protein spastin using active site mutations. Nat. Chem. Biol. 15, 444–452 (2019).

14.

Pisa, R., Cupido, T., Steinman, J. B., Jones, N. H. & Kapoor, T. M. Analyzing resistance to design selective chemical inhibitors for AAA proteins. Cell Chem. Biol. 26, 1263–1273 (2019).

15.

Pisa, R. & Kapoor, T. M. Chemical strategies to overcome resistance against targeted anticancer therapeutics. Nat. Chem. Biol. 16, 817–825 (2020).

16.

Chou, T.-F. & Deshaies, R. J. Development of p97 AAA ATPase inhibitors. Autophagy 7, 1091–1092 (2011).

17.

Pisa, R., Cupido, T. & Kapoor, T. M. Designing allele-specific inhibitors of spastin, a microtubule-severing AAA protein. J. Am. Chem. Soc. 141, 5602–5606 (2019).

18.

Tang, W. K., Odzorig, T., Jin, W. & Xia, D. Structural basis of p97 inhibition by the site-selective anticancer compound CB-5083. Mol. Pharmacol. 95, 286–293 (2019).

19.

Niesen, F. H., Berglund, H. & Vedadi, M. The use of differential scanning fluorimetry to detect ligand interactions that promote protein stability. Nat. Protoc. 2, 2212–2221 (2007).

20.

Lagoutte, R., Patouret, R. & Winssinger, N. Covalent inhibitors: an opportunity for rational target selectivity. Curr. Opin. Chem. Biol. 39, 54–63 (2017).

21.

Garske, A. L., Peters, U., Cortesi, A. T., Perez, J. L. & Shokat, K. M. Chemical genetic strategy for targeting protein kinases based on covalent complementarity. Proc. Natl Acad. Sci. USA 108, 15046–15052 (2011).

22.

Magnaghi, P. et al. Covalent and allosteric inhibitors of the ATPase VCP/p97 induce cancer cell death. Nat. Chem. Biol. 9, 548–556 (2013).

23.

Kuo, T.-C. et al. Purine-type compounds induce microtubule fragmentation and lung cancer cell death through interaction with katanin. J. Med. Chem. 59, 8521–8534 (2016).

24.

Cheung, K. et al. Proteomic analysis of the mammalian Katanin family of microtubule-severing enzymes defines Katanin p80 subunit B-like 1 (KATNBL1) as a regulator of mammalian Katanin microtubule severing. Mol. Cell. Proteomics 15, 1658–1669 (2016).

25.

Hendershott, M. C. & Vale, R. D. Regulation of microtubule minus-end dynamics by CAMSAPs and patronin. Proc. Natl Acad. Sci. USA 111, 5860–5865 (2014).

26.

Jiang, K. et al. Structural basis of formation of the microtubule minus-end-regulating CAMSAP–katanin complex. Structure 26, 375–382 (2018).

27.

Jiang, K. et al. Microtubule minus-end stabilization by polymerization-driven CAMSAP deposition. Dev. Cell 28, 295–309 (2014).

28.

Kumar, R., Duhamel, M., Coutant, E., Ben-Nahia, E. & Mercier, R. Antagonism between BRCA2 and FIGL1 regulates homologous recombination. Nucleic Acids Res. 47, 5170–5180 (2019).

29.

Pöhler, R. et al. A non-competitive inhibitor of VCP/p97 and VPS4 reveals conserved allosteric circuits in type I and II AAA ATPases. Angew. Chem. Int. Ed. 57, 1576–1580 (2018).

30.

Scott, A. et al. Structural and mechanistic studies of VPS4 proteins. EMBO J. 24, 3658–3669 (2005).

31.

Azmi, I. et al. Recycling of ESCRTs by the AAA-ATPase Vps4 is regulated by a conserved VSL region in Vta1. J. Cell Biol. 172, 705–717 (2006).

32.

Yang, D. & Hurley, J. H. Structural role of the Vps4-Vta1 interface in ESCRT-III recycling. Structure 18, 976–984 (2010).

33.

Strelow, J. M. A perspective on the kinetics of covalent and irreversible inhibition. SLAS Discov. 22, 3–20 (2017).

34.

Bradshaw, J. M. et al. Prolonged and tunable residence time using reversible covalent kinase inhibitors. Nat. Chem. Biol. 11, 525–531 (2015).

35.

Knott, G. J. & Doudna, J. A. CRISPR-Cas guides the future of genetic engineering. Science 361, 866–869 (2018).

36.

Dunleavy, J. E. M. et al. Katanin-like 2 (KATNAL2) functions in multiple aspects of haploid male germ cell development in the mouse. PLoS Genet. 13, e1007078 (2017).

37.

Neale, B. M. et al. Patterns and rates of exonic de novo mutations in autism spectrum disorders. Nature 485, 242–245 (2012).

38.

Zhang, C. et al. A second-site suppressor strategy for chemical genetic analysis of diverse protein kinases. Nat. Methods 2, 435–441 (2005).

39.

Ma, J. et al. FIGNL1 is overexpressed in small cell lung cancer patients and enhances NCI-H446 cell resistance to cisplatin and etoposide. Oncol. Rep. 37, 1935–1942 (2017).

40.

McDonald, E. R. III et al. Project DRIVE: a compendium of cancer dependencies and synthetic lethal relationships uncovered by large-scale, deep RNAi screening. Cell 170, 577–592 (2017).

41.

Shin, S. H. et al. Synthetic lethality by targeting the RUVBL1/2–TTT complex in mTORC1-hyperactive cancer cells. Sci. Adv. 6, eaay9131 (2020).

42.

Marks, D. H. et al. Mad2 overexpression uncovers a critical role for TRIP13 in mitotic exit. Cell Rep. 19, 1832–1845 (2017).

43.

Uphoff, C. C. & Drexler, H. G. Detection of mycoplasma contaminations. Methods Mol. Biol. 946, 1–13 (2013).

44.

Miller, M. S. et al. Getting the most out of your crystals: data collection at the new high-flux, Microfocus MX beamlines at NSLS-II. Molecules 24, 496 (2019).

45.

Kabsch, W. XDS. Acta Crystallogr. D Biol. Crystallogr. 66, 125–132 (2010).

46.

Adams, P. D. et al. PHENIX: a comprehensive Python-based system for macromolecular structure solution. Acta Crystallogr. D Biol. Crystallogr. 66, 213–221 (2010).

47.

McCoy, A. J. et al. Phaser crystallographic software. J. Appl. Crystallogr. 40, 658–674 (2007).

48.

Emsley, P., Lohkamp, B., Scott, W. G. & Cowtan, K. Features and development of Coot. Acta Crystallogr. D Biol. Crystallogr. 66, 486–501 (2010).

49.

Afonine, P. V. et al. Towards automated crystallographic structure refinement with phenix.refine. Acta Crystallogr. D Biol. Crystallogr. 68, 352–367 (2012).

50.

Moriarty, N. W., Grosse-Kunstleve, R. W. & Adams, P. D. Electronic Ligand Builder and Optimization Workbench (eLBOW): a tool for ligand coordinate and restraint generation. Acta Crystallogr. D Biol. Crystallogr. 65, 1074–1080 (2009).

51.

Chen, V. B. et al. MolProbity: all-atom structure validation for macromolecular crystallography. Acta Crystallogr. D Biol. Crystallogr. 66, 12–21 (2010).
Acknowledgements
We thank J. Ross (UMass Amherst) for providing the H. sapiens katanin-p60 plasmid. T.M.K. is grateful to the NIH (GM130234) and Starr Cancer Consortium (I12-0055) for supporting this research. T.C. was supported in part by the 2018 Kestenbaum Award for Neurodegeneration. N.H.J. was supported in part by the National Science Foundation Graduate Research Fellowship Program (2017242069) and the NIH T32 GM115327 Chemistry-Biology Interface Training Grant to the Tri-Institutional PhD Program in Chemical Biology. M.J.G. was supported in part by an NCI T32 Training Grant (5 T32 CA 9673-40). We are grateful to the High Throughput and Spectroscopy Resource Center at The Rockefeller University for instrument use. We also thank Michael Oldham and Jue Chen (The Rockefeller University) and Deena Oren (Structural Biology Resource Center at The Rockefeller University) for equipment use and for engaging in helpful discussions regarding crystallography experiments. This research used the 17-ID-1 beamline of the National Synchrotron Light Source II, a US Department of Energy (DOE) Office of Science User Facility operated for the DOE Office of Science by Brookhaven National Laboratory under contract no. DE-SC0012704.
Ethics declarations
Competing interests
The authors declare no competing interests.
Additional information
Peer review information Nature Structural & Molecular Biology thanks Petra Wendler and the other, anonymous, reviewer(s) for their contribution to the peer review of this work. Peer reviewer reports are available. Inês Chen and Florian Ullrich were the primary editors on this article and managed its editorial process and peer review in collaboration with the rest of the editorial team.
Publisher's note Springer Nature remains neutral with regard to jurisdictional claims in published maps and institutional affiliations.
Supplementary information
About this article
Cite this article
Cupido, T., Jones, N.H., Grasso, M.J. et al. A chemical genetics approach to examine the functions of AAA proteins. Nat Struct Mol Biol 28, 388–397 (2021). https://doi.org/10.1038/s41594-021-00575-9
Received:

Accepted:

Published:

Issue Date:
Further reading
Saša Petrović

&

Petra Wendler

Nature Structural & Molecular Biology (2021)