Abstract
Complexes containing a pair of structural maintenance of chromosomes (SMC) family proteins are fundamental for the three-dimensional (3D) organization of genomes in all domains of life. The eukaryotic SMC complexes cohesin and condensin are thought to fold interphase and mitotic chromosomes, respectively, into large loop domains, although the underlying molecular mechanisms have remained unknown. We used cryo-EM to investigate the nucleotide-driven reaction cycle of condensin from the budding yeast Saccharomyces cerevisiae. Our structures of the five-subunit condensin holo complex at different functional stages suggest that ATP binding induces the transition of the SMC coiled coils from a folded-rod conformation into a more open architecture. ATP binding simultaneously triggers the exchange of the two HEAT-repeat subunits bound to the SMC ATPase head domains. We propose that these steps result in the interconversion of DNA-binding sites in the catalytic core of condensin, forming the basis of the DNA translocation and loop-extrusion activities.
Access options
Access Nature and 54 other Nature Portfolio journals
Get Nature+, our best-value online-access subscription
$29.99 / 30 days
cancel any time
Subscribe to this journal
Receive 12 print issues and online access
$189.00 per year
only $15.75 per issue
Rent or buy this article
Prices vary by article type
from$1.95
to$39.95
Prices may be subject to local taxes which are calculated during checkout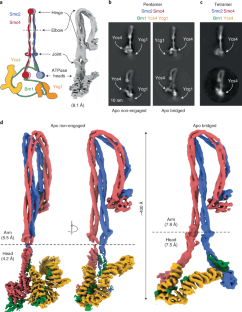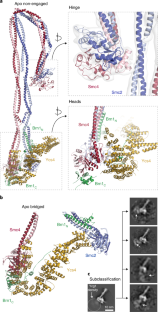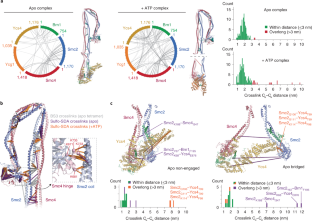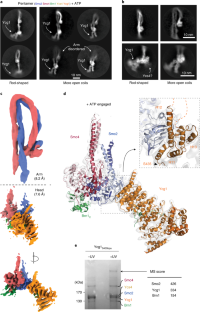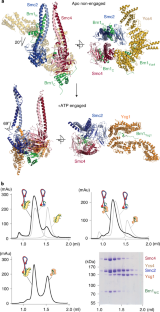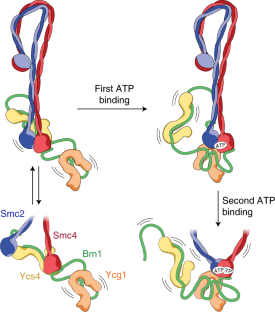 Similar content being viewed by others
Data availability
The cryo-EM maps and the pseudo-atomic model of the apo condensin structure were deposited in the EM Data Bank (EMDB) and Protein Data Bank (PDB) with accession codes EMD-10951 (non-engaged overall), EMD-10948 (non-engaged arm segment), EMD-10947 (non-engaged head segment), EMD-10954 (bridged overall), EMD-10953 (bridged arm segment), EMD-10952 (bridged head segment), EMD-10944 (+ATP head segment), EMD-10964 (+ATP arm segment) and PDB 6YVU (non-engaged overall model), PDB 6YVV (bridged head segment) and PDB 6YVD (+ATP head segment). Crosslinking MS data are available via the ProteomeXchange with identifiers PXD019275 (BS3) and PXD019274 (sulfo-SDA). Source data are provided with this paper. All other data are available in the main text or the supplementary materials.
References
Yatskevich, S., Rhodes, J. & Nasmyth, K. Organization of chromosomal DNA by SMC complexes. Annu. Rev. Genet. 53, 445–482 (2019).

Uhlmann, F. SMC complexes: from DNA to chromosomes. Nat. Rev. Mol. Cell Biol. 17, 399–412 (2016).

Hopfner, K. P. & Tainer, J. A. Rad50/SMC proteins and ABC transporters: unifying concepts from high-resolution structures. Curr. Opin. Struct. Biol. 13, 249–255 (2003).

Gligoris, T. & Löwe, J. Structural insights into ring formation of cohesin and related SMC complexes. Trends Cell Biol. 26, 680–693 (2016).

Haering, C. H., Löwe, J., Hochwagen, A. & Nasmyth, K. Molecular architecture of SMC proteins and the yeast cohesin complex. Mol. Cell 9, 773–788 (2002).

Palecek, J. J. & Gruber, S. Kite proteins: a superfamily of SMC/Kleisin partners conserved across bacteria, archaea, and eukaryotes. Structure 23, 2183–2190 (2015).

Wells, J. N., Gligoris, T. G., Nasmyth, K. A. & Marsh, J. A. Evolution of condensin and cohesin complexes driven by replacement of Kite by Hawk proteins. Curr. Biol. 27, R17–R18 (2017).

Goloborodko, A., Imakaev, M. V., Marko, J. F. & Mirny, L. Compaction and segregation of sister chromatids via active loop extrusion. Elife 5, e14864 (2016).

Alipour, E. & Marko, J. F. Self-organization of domain structures by DNA-loop-extruding enzymes. Nucleic Acids Res. 40, 11202–11212 (2012).

Wang, X., Brandao, H. B., Le, T. B., Laub, M. T. & Rudner, D. Z. Bacillus subtilis SMC complexes juxtapose chromosome arms as they travel from origin to terminus. Science 355, 524–527 (2017).

Nasmyth, K. Disseminating the genome: joining, resolving, and separating sister chromatids during mitosis and meiosis. Annu. Rev. Genet 35, 673–745 (2001).

Guacci, V. et al. Structure and function of chromosomes in mitosis of budding yeast. Cold Spring Harb. Symp. Quant. Biol. 58, 677–685 (1993).

Davidson, I. F. et al. DNA loop extrusion by human cohesin. Science 366, 1338–1345 (2019).

Kim, Y., Shi, Z., Zhang, H., Finkelstein, I. J. & Yu, H. Human cohesin compacts DNA by loop extrusion. Science 366, 1345–1349 (2019).

Kim, E., Kerssemakers, J., Shaltiel, I. A., Haering, C. H. & Dekker, C. DNA-loop extruding condensin complexes can traverse one another. Nature 579, 438–442 (2020).

Ganji, M. et al. Real-time imaging of DNA loop extrusion by condensin. Science 360, 102–105 (2018).

Fudenberg, G. et al. Formation of chromosomal domains by loop extrusion. Cell Reports 15, 2038–2049 (2016).

Sanborn, A. L. et al. Chromatin extrusion explains key features of loop and domain formation in wild-type and engineered genomes. Proc. Natl Acad. Sci. USA 112, E6456–E6465 (2015).

Gibcus, J. H. et al. A pathway for mitotic chromosome formation. Science 359, eaao6135 (2018).

Hassler, M. et al. Structural basis of an asymmetric condensin ATPase cycle. Mol. Cell 74, 1175–1188.e9 (2019).

Soh, Y. M. et al. Molecular basis for SMC rod formation and its dissolution upon DNA binding. Mol. Cell 57, 290–303 (2015).

Burmann, F. et al. A folded conformation of MukBEF and cohesin. Nat. Struct. Mol. Biol. 26, 227–236 (2019).

Anderson, D. E., Losada, A., Erickson, H. P. & Hirano, T. Condensin and cohesin display different arm conformations with characteristic hinge angles. J. Cell Biol. 156, 419–424 (2002).

Yoshimura, S. H. et al. Condensin architecture and interaction with DNA: regulatory non-SMC subunits bind to the head of SMC heterodimer. Curr. Biol. 12, 508–513 (2002).

Gligoris, T. G. et al. Closing the cohesin ring: structure and function of its Smc3-kleisin interface. Science 346, 963–967 (2014).

Haering, C. H. et al. Structure and stability of cohesin's Smc1-kleisin interaction. Mol. Cell 15, 951–964 (2004).

Burmann, F. et al. An asymmetric SMC–kleisin bridge in prokaryotic condensin. Nat. Struct. Mol. Biol. 20, 371–379 (2013).

Kschonsak, M. et al. Structural basis for a safety-belt mechanism that anchors condensin to chromosomes. Cell 171, 588–600.e24 (2017).

Li, Y. et al. Structural basis for Scc3-dependent cohesin recruitment to chromatin. Elife 7, e38356 (2018).

Kashammer, L. et al. Mechanism of DNA end sensing and processing by the Mre11-Rad50 complex. Mol. Cell 76, 382–394.e6 (2019).

Piazza, I. et al. Association of condensin with chromosomes depends on DNA binding by its HEAT-repeat subunits. Nat. Struct. Mol. Biol. 21, 560–568 (2014).

Diebold-Durand, M. L. et al. Structure of full-length SMC and rearrangements required for chromosome organization. Mol. Cell 67, 334–347.e5 (2017).

Eeftens, J. M. et al. Condensin Smc2-Smc4 dimers are flexible and dynamic. Cell Reports 14, 1813–1818 (2016).

Russo, C. J., Scotcher, S. & Kyte, M. A precision cryostat design for manual and semi-automated cryo-plunge instruments. Rev. Sci. Instrum. 87, 114302 (2016).

Schorb, M., Haberbosch, I., Hagen, W. J. H., Schwab, Y. & Mastronarde, D. N. Software tools for automated transmission electron microscopy. Nat. Methods 16, 471–477 (2019).

Danev, R., Buijsse, B., Khoshouei, M., Plitzko, J. M. & Baumeister, W. Volta potential phase plate for in-focus phase contrast transmission electron microscopy. Proc. Natl Acad. Sci. USA 111, 15635–15640 (2014).

Zivanov, J. et al. New tools for automated high-resolution cryo-EM structure determination in RELION-3. Elife 7, e42166 (2018).

Zheng, S. Q. et al. MotionCor2: anisotropic correction of beam-induced motion for improved cryo-electron microscopy. Nat. Methods 14, 331–332 (2017).

Zhang, K. Gctf: real-time CTF determination and correction. J. Struct. Biol. 193, 1–12 (2016).

Rosenthal, P. B. & Henderson, R. Optimal determination of particle orientation, absolute hand, and contrast loss in single-particle electron cryomicroscopy. J. Mol. Biol. 333, 721–745 (2003).

Pettersen, E. F. et al. UCSF Chimera—a visualization system for exploratory research and analysis. J. Comput.Chem. 25, 1605–1612 (2004).

Zivanov, J., Nakane, T. & Scheres, S. H. W. A Bayesian approach to beam-induced motion correction in cryo-EM single-particle analysis. IUCrJ 6, 5–17 (2019).

Punjani, A., Rubinstein, J. L., Fleet, D. J. & Brubaker, M. A. cryoSPARC: algorithms for rapid unsupervised cryo-EM structure determination. Nat. Methods 14, 290–296 (2017).

Emsley, P. & Cowtan, K. Coot: model-building tools for molecular graphics. Acta Crystallogr. D Biol. Crystallogr. 60, 2126–2132 (2004).

Waterhouse, A. et al. SWISS-MODEL: homology modelling of protein structures and complexes. Nucleic Acids Res. 46, W296–W303 (2018).

Shevchenko, A., Tomas, H., Havlis, J., Olsen, J. V. & Mann, M. In-gel digestion for mass spectrometric characterization of proteins and proteomes. Nat. Protoc. 1, 2856–2860 (2006).

Rappsilber, J., Ishihama, Y. & Mann, M. Stop and go extraction tips for matrix-assisted laser desorption/ionization, nanoelectrospray, and LC/MS sample pretreatment in proteomics. Anal. Chem. 75, 663–670 (2003).

Kolbowski, L., Mendes, M. L. & Rappsilber, J. Optimizing the parameters governing the fragmentation of cross-linked peptides in a tribrid mass spectrometer. Anal. Chem. 89, 5311–5318 (2017).

Mendes, M. L. et al. An integrated workflow for crosslinking mass spectrometry. Mol. Syst. Biol. 15, e8994 (2019).

Fischer, L. & Rappsilber, J. Quirks of error estimation in cross-linking/mass spectrometry. Anal. Chem. 89, 3829–3833 (2017).

Chen, H. T., Warfield, L. & Hahn, S. The positions of TFIIF and TFIIE in the RNA polymerase II transcription preinitiation complex. Nat. Struct. Mol. Biol. 14, 696–703 (2007).

Kucukelbir, A., Sigworth, F. J. & Tagare, H. D. Quantifying the local resolution of cryo-EM density maps. Nat. Methods 11, 63–65 (2014).
Acknowledgements
We thank D. D'Amours for sharing plasmids and yeast strains. We are grateful to L. Thärichen, S. Perović and C. Stober for help with yeast experiments and W. Hagen and F. Weis of the EMBL Cryo-EM Platform for support with cryo-EM data collection and processing (all EMBL). We thank F. Coscia, G. Cannone, A. Gonzales, J. García-Nafría, K. Zhang, S. Scheres and the MRC-LMB EM facility for assistance and advice with data collection and processing and T. Darling and J. Grimmett for computing (all MRC-LMB). We thank Alejandra F. Cid for help with purifications (MRC-LMS). We acknowledge the Diamond Light Source (eBIC), Astbury Biostructure Electron Microscopy (Leeds) and Cambridge Nano Science Centre for access and help (facilities supported by Wellcome Trust, MRC and BBSRC). T.N. was supported by the Japan Society for the Promotion of Science. This work was funded by the European Molecular Biology Laboratory, the European Research Council (ERC-2015-CoG 681365 to C.H.H.), the Medical Research Council (U105184326 to J.L. and MC-A652-5PY00 to L.A.), the DFG (EXC 2008/1 - 390540038 and 329673113 to J.R.) and the Wellcome Trust (202754/Z/16/Z to J.L. and 100955/Z/13/Z to L.A.).
Ethics declarations
Competing interests
The authors declare no competing interests.
Additional information
Peer review information Anke Sparmann was the primary editor on this article and managed its editorial process and peer review in collaboration with the rest of the editorial team.
Publisher's note Springer Nature remains neutral with regard to jurisdictional claims in published maps and institutional affiliations.
Supplementary information
Source data
Unprocessed SDS PAGE gel stained with Coomassie Blue
Unprocessed Western blots
Unprocessed SDS PAGE gel stained with Coomassie Blue
About this article
Cite this article
Lee, BG., Merkel, F., Allegretti, M. et al. Cryo-EM structures of holo condensin reveal a subunit flip-flop mechanism. Nat Struct Mol Biol 27, 743–751 (2020). https://doi.org/10.1038/s41594-020-0457-x
Received:

Accepted:

Published:

Issue Date:

DOI: https://doi.org/10.1038/s41594-020-0457-x