Abstract
How the epigenetic landscape is established in development is still being elucidated. Here, we uncover developmental pluripotency associated 2 and 4 (DPPA2/4) as epigenetic priming factors that establish a permissive epigenetic landscape at a subset of developmentally important bivalent promoters characterized by low expression and poised RNA-polymerase. Differentiation assays reveal that Dppa2/4 double knockout mouse embryonic stem cells fail to exit pluripotency and differentiate efficiently. DPPA2/4 bind both H3K4me3-marked and bivalent gene promoters and associate with COMPASS- and Polycomb-bound chromatin. Comparing knockout and inducible knockdown systems, we find that acute depletion of DPPA2/4 results in rapid loss of H3K4me3 from key bivalent genes, while H3K27me3 is initially more stable but lost following extended culture. Consequently, upon DPPA2/4 depletion, these promoters gain DNA methylation and are unable to be activated upon differentiation. Our findings uncover a novel epigenetic priming mechanism at developmental promoters, poising them for future lineage-specific activation.
Access options
Subscribe to Journal
Get full journal access for 1 year
$209.00
only $17.42 per issue
All prices are NET prices.
VAT will be added later in the checkout.
Rent or Buy article
Get time limited or full article access on ReadCube.
from$8.99
All prices are NET prices.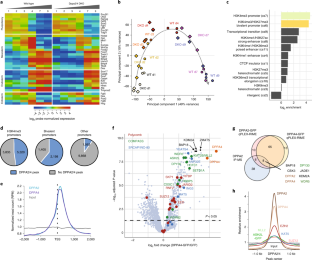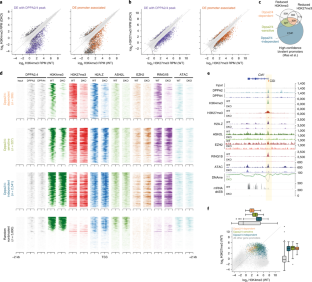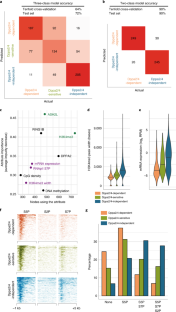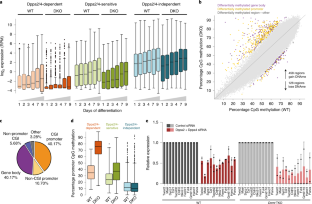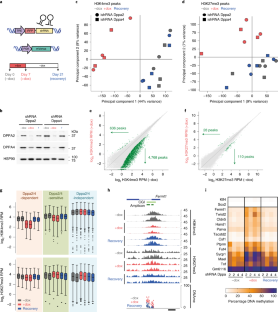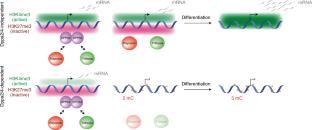 Data availability
All sequencing data generated in this study have been submitted to the Gene Expression Omnibus under accession number GSE135841. The mass spectrometry proteomics data have been deposited to the ProteomeXchange Consortium via the PRIDE38 partner repository with the data set identifier PXD014981. DPPA2 and DPPA4 ChIP data were reanalyzed from ref. 9 (GSE117173), RNA polymerase II ChIP was reanalyzed from ref. 20 (GSE34520), EZH2 and SUZ12 ChIP data in Fig. 2 were reanalyzed from ref. 39 (GSE49435), ASH2L-GFP ChIP data in Fig. 2 reanalyzed from ref. 1 (GSE52071), MLL2 ChIP data in Fig. 2 reanalyzed from ref. 2 (GSE48172), TIP60/KAT5 ChIP data reanalyzed from ref. 40 (GSE69671), high-confidence bivalent gene list from ref. 14, DNMT TKO ESC RNA-seq data from ref. 21 (GSE67867) and 2C-like ZGA gene list from ref. 41. Uncropped images of immunoblots presented in Fig. 5b are provided as source data.
References
1.

Denissov, S. et al. Mll2 is required for H3K4 trimethylation on bivalent promoters in embryonic stem cells, whereas Mll1 is redundant. Dev. 141, 526–537 (2014).

2.

Hu, D. et al. The Mll2 branch of the COMPASS family regulates bivalent promoters in mouse embryonic stem cells. Nat. Struct. Mol. Biol. 20, 1093–1097 (2013).

3.

Voigt, P., Tee, W.-W. & Reinberg, D. A double take on bivalent promoters. Genes Dev. 27, 1318–1338 (2013).

4.

Bernstein, B. E. et al. A bivalent chromatin structure marks key developmental genes in embryonic stem cells. Cell 125, 315–326 (2006).

5.

Azuara, V. et al. Chromatin signatures of pluripotent cell lines. Nat. Cell Biol. 8, 532–538 (2006).

6.

Eckersley-Maslin, M. et al. Dppa2 and Dppa4 directly regulate the Dux-driven zygotic transcriptional program. Genes Dev. 33, 194–208 (2019).

7.

De Iaco, A., Coudray, A., Duc, J. & Trono, D. DPPA2 and DPPA4 are necessary to establish a 2C‐like state in mouse embryonic stem cells. EMBO Rep. 20, e47382 (2019).

8.

Yan, Y.-L. et al. DPPA2/4 and SUMO E3 ligase PIAS4 opposingly regulate zygotic transcriptional program. PLoS Biol. 17, e3000324 (2019).

9.

Hernandez, C. et al. Dppa2/4 facilitate epigenetic remodeling during reprogramming to pluripotency. Cell. Stem Cell 23, 396–411.e8 (2018).

10.

Klein, R. H., Tung, P.-Y., Somanath, P., Fehling, H. J. & Knoepfler, P. S. Genomic functions of developmental pluripotency associated factor 4 (Dppa4) in pluripotent stem cells and cancer. Stem Cell Res. 31, 83–94 (2018).

11.

Engelen, E. et al. Proteins that bind regulatory regions identified by histone modification chromatin immunoprecipitations and mass spectrometry. Nat. Commun. 6, 7155 (2015).

12.

Madan, B. et al. The pluripotency-associated gene Dppa4 is dispensable for embryonic stem cell identity and germ cell development but essential for embryogenesis. Mol. Cell. Biol. 29, 3186–3203 (2009).

13.

Nakamura, T., Nakagawa, M., Ichisaka, T., Shiota, A. & Yamanaka, S. Essential roles of ECAT15-2/Dppa2 in functional lung development. Mol. Cell. Biol. 31, 4366–4378 (2011).

14.

Mas, G. et al. Promoter bivalency favors an open chromatin architecture in embryonic stem cells. Nat. Genet. 50, 1452–1462 (2018).

15.

Maldonado-Saldivia, J. et al. Dppa2 and Dppa4 are closely linked SAP motif genes restricted to pluripotent cells and the germ line. Stem Cells 25, 19–28 (2007).

16.

Masaki, H., Nishida, T., Sakasai, R. & Teraoka, H. DPPA4 modulates chromatin structure via association with DNA and core histone H3 in mouse embryonic stem cells. Genes Cells 15, 327–337 (2010).

17.

Papachristou, E. K. et al. A quantitative mass spectrometry-based approach to monitor the dynamics of endogenous chromatin-associated protein complexes. Nat. Commun. 9, 2311 (2018).

18.

Surface, L. E. et al. H2A.Z.1 monoubiquitylation antagonizes BRD2 to maintain poised chromatin in ESCs. Cell Rep. 14, 1142–1155 (2016).

19.

Benayoun, B. A. et al. H3K4me3 breadth is linked to cell identity and transcriptional consistency. Cell 158, 673–688 (2014).

20.

Brookes, E. et al. Polycomb associates genome-wide with a specific RNA polymerase II variant, and regulates metabolic genes in ESCs. Cell Stem Cell 10, 157–170 (2012).

21.

Domcke, S. et al. Competition between DNA methylation and transcription factors determines binding of NRF1. Nature 528, 575–579 (2015).

22.

Klobucar, T. et al. IMPLICON: an ultra-deep sequencing method to uncover DNA methylation at imprinted regions. Preprint at bioRxiv https://doi.org/10.1101/2020.03.21.000042 (2020).

23.

Sneppen, K. & Ringrose, L. Theoretical analysis of Polycomb-Trithorax systems predicts that poised chromatin is bistable and not bivalent. Nat. Commun. 10, 2133 (2019).

24.

Ooi, S. K. T. et al. DNMT3L connects unmethylated lysine 4 of histone H3 to de novo methylation of DNA. Nature 448, 714–717 (2007).

25.

Creyghton, M. P. et al. The histone variant H2AZ is enriched at Polycomb group target genes in ES cells and is necessary for proper execution of developmental programs. Cell 135, 649 (2008).

26.

Ku, M. et al. H2A.Z landscapes and dual modifications in pluripotent and multipotent stem cells underlie complex genome regulatory functions. Genome Biol. 13, R85 (2012).

27.

Wang, Y. et al. Histone variants H2A.Z and H3.3 coordinately regulate PRC2-dependent H3K27me3 deposition and gene expression regulation in mES cells. BMC Biol. 16, 107 (2018).

28.

Hu, G. et al. H2A.Z facilitates access of active and repressive complexes to chromatin in embryonic stem cell self-renewal and differentiation. Cell Stem Cell 12, 180–192 (2013).

29.

Buenrostro, J. D., Wu, B., Chang, H. Y. & Greenleaf, W. J. ATAC-seq: a method for assaying chromatin accessibility genome-wide. Curr. Protoc. Mol. Biol. 109, 21.29.1–21.29.9 (2015).

30.

Ficz, G. et al. FGF signaling inhibition in ESCs drives rapid genome-wide demethylation to the epigenetic ground state of pluripotency. Cell Stem Cell 13, 351–359 (2013).

31.

Krueger, F. & Andrews, S. R. Bismark: a flexible aligner and methylation caller for Bisulfite-Seq applications. Bioinformatics 27, 1571–1572 (2011).

32.

Kirschner, K. et al. Phenotype specific analyses reveal distinct regulatory mechanism for chronically activated p53. PLoS Genet. 11, e1005053 (2015).

33.

Ritchie, M. E. et al. limma powers differential expression analyses for RNA-sequencing and microarray studies. Nucleic Acids Res. 43, e47 (2015).

34.

Benjamini, Y. & Hochberg, Y. Controlling the false discovery rate: a practical and powerful approach to multiple testing. J. R. Stat. Soc. Ser. B Stat. Methodol. 57, 289–300 (1995).

35.

Pintacuda, G. et al. hnRNPK recruits PCGF3/5-PRC1 to the Xist RNA B-repeat to establish Polycomb-mediated chromosomal silencing. Mol. Cell 68, 955–969.e10 (2017).

36.

Ernst, J. & Kellis, M. Chromatin-state discovery and genome annotation with ChromHMM. Nat. Protoc. 12, 2478–2492 (2017).

37.

Witten, I. H. et al. Data Mining: Practical Machine Learning Tools And Techniques (Morgan Kaufmann, 2016).

38.

Vizcaíno, J. A. et al. 2016 update of the PRIDE database and its related tools. Nucleic Acids Res. 44, 11033–11033 (2016).

39.

Kaneko, S., Son, J., Shen, S. S., Reinberg, D. & Bonasio, R. PRC2 binds active promoters and contacts nascent RNAs in embryonic stem cells. Nat. Struct. Mol. Biol. 20, 1258–1264 (2013).

40.

Ravens, S., Yu, C., Ye, T., Stierle, M. & Tora, L. Tip60 complex binds to active Pol II promoters and a subset of enhancers and co-regulates the c-Myc network in mouse embryonic stem cells. Epigenet. Chromatin 8, 45 (2015).

41.

Eckersley-Maslin, M. A. et al. MERVL/Zscan4 network activation results in transient genome-wide DNA demethylation of mESCs. Cell Rep. 17, 179–192 (2016).
Acknowledgements
We thank all members of the Reik laboratory for helpful discussions. We also thank F. di Tullio for help generating overexpression cell lines, F. Krueger for processing sequencing data and for general bioformatics support, S. Wingett for bioinformatic assistance and S. Andrews for bioinformatic advice. We thank B. Hussey and E. Easthope at Sanger Institute and K. Tabbada at Babraham Institute for assistance with high-throughput sequencing, R. Walker for assistance with flow cytometry, and J. Webster and D. Oxley for mass spectrometry. Dnmt TKO cells were a kind gift from D. Schübeler (FMI). M.A.E.-M. is supported by a BBSRC Discovery Fellowship (BB/T009713/1) and was supported by an EMBO Fellowship (ALTF938–2014) and a Marie Sklodowska-Curie Individual Fellowship. A.P. is supported by a Sir Henry Wellcome Fellowship (215912/Z/19/Z). M.B. was supported by an Erasmus Grant. M.N. and Y.I. were supported by a Cancer Research UK Cambridge Institute Core grant (no. C9545/A29580). Research in the Reik laboratory is supported by the Biotechnology and Biological Sciences Research Council (BB/K010867/1) and the Wellcome Trust (095645/Z/11/Z).
Ethics declarations
Competing interests
W.R. is a consultant and shareholder of Cambridge Epigenetix. The remaining authors declare no competing interests.
Additional information
Peer review information Peer reviewer reports are available. Anke Sparmann was the primary editor on this article and managed its editorial process and peer review in collaboration with the rest of the editorial team.
Publisher's note Springer Nature remains neutral with regard to jurisdictional claims in published maps and institutional affiliations.
Supplementary information
About this article
Cite this article
Eckersley-Maslin, M.A., Parry, A., Blotenburg, M. et al. Epigenetic priming by Dppa2 and 4 in pluripotency facilitates multi-lineage commitment. Nat Struct Mol Biol 27, 696–705 (2020). https://doi.org/10.1038/s41594-020-0443-3
Received:

Accepted:

Published:

Issue Date: