Abstract
The majority of eukaryotic proteins are N-terminally α-acetylated by N-terminal acetyltransferases (NATs). Acetylation usually occurs co-translationally and defects have severe consequences. Nevertheless, it is unclear how these enzymes act in concert with the translating ribosome. Here, we report the structure of a native ribosome–NatA complex from Saccharomyces cerevisiae. NatA (comprising Naa10, Naa15 and Naa50) displays a unique mode of ribosome interaction by contacting eukaryotic-specific ribosomal RNA expansion segments in three out of four binding patches. Thereby, NatA is dynamically positioned directly underneath the ribosomal exit tunnel to facilitate modification of the emerging nascent peptide chain. Methionine amino peptidases, but not chaperones or signal recognition particle, would be able to bind concomitantly. This work assigns a function to the hitherto enigmatic ribosomal RNA expansion segments and provides mechanistic insights into co-translational protein maturation by N-terminal acetylation.
Access options
Subscribe to Journal
Get full journal access for 1 year
$59.00
only $4.92 per issue
All prices are NET prices.
VAT will be added later in the checkout.
Tax calculation will be finalised during checkout.
Rent or Buy article
Get time limited or full article access on ReadCube.
from$8.99
All prices are NET prices.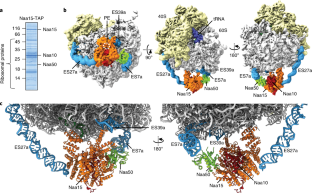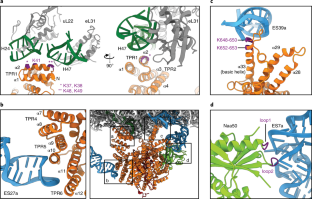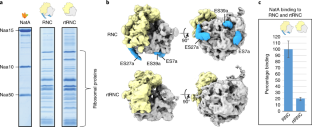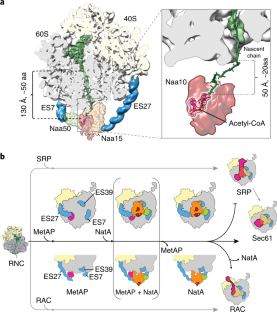 Data availability
The cryo-EM map for the ribosome–NatA complex and the respective atomic coordinates have been deposited in the EMDataBank and PDB with accession codes EMD-0201 and 6HD5 for local refinement of NatA, respectively, and with accession codes EMD-0202 and 6HD7 for regular refinement. The map for RNaseI-treated ribosomes was deposited with accession code EMD-0203. Source data for Fig. 3c are available with the paper online. Primary data are available upon reasonable request from the corresponding authors.
References
1.

Gautschi, M. et al. The yeast N(alpha)-acetyltransferase NatA is quantitatively anchored to the ribosome and interacts with nascent polypeptides. Mol. Cell. Biol. 23, 7403–7414 (2003).

2.

Polevoda, B., Brown, S., Cardillo, T. S., Rigby, S. & Sherman, F. Yeast N(alpha)-terminal acetyltransferases are associated with ribosomes. J. Cell. Biochem. 103, 492–508 (2008).

3.

Magin, R. S., Deng, S., Zhang, H., Cooperman, B. & Marmorstein, R. Probing the interaction between NatA and the ribosome for co-translational protein acetylation. PLoS ONE 12, e0186278 (2017).

4.

Driessen, H. P., de Jong, W. W., Tesser, G. I. & Bloemendal, H. The mechanism of N-terminal acetylation of proteins. CRC Crit. Rev. Biochem. 18, 281–325 (1985).

5.

Arnesen, T. et al. Proteomics analyses reveal the evolutionary conservation and divergence of N-terminal acetyltransferases from yeast and humans. Proc. Natl Acad. Sci. USA 106, 8157–8162 (2009).

6.

Lee, K. E., Heo, J. E., Kim, J. M. & Hwang, C. S. N-terminal acetylation-targeted N-end rule proteolytic system: the Ac/N-end rule pathway. Mol. Cells 39, 169–178 (2016).

7.

Aksnes, H., Drazic, A., Marie, M. & Arnesen, T. First things first: vital protein marks by N-terminal acetyltransferases. Trends. Biochem. Sci. 41, 746–760 (2016).

8.

Drazic, A. et al. NAA80 is actin's N-terminal acetyltransferase and regulates cytoskeleton assembly and cell motility. Proc. Natl Acad. Sci. USA 115, 4399–4404 (2018).

9.

Polevoda, B., Norbeck, J., Takakura, H., Blomberg, A. & Sherman, F. Identification and specificities of N-terminal acetyltransferases from Saccharomyces cerevisiae. EMBO J. 18, 6155–6168 (1999).

10.

Liszczak, G. et al. Molecular basis for N-terminal acetylation by the heterodimeric NatA complex. Nat. Struct. Mol. Biol. 20, 1098–1105 (2013).

11.

Weyer, F. A. et al. Structural basis of HypK regulating N-terminal acetylation by the NatA complex. Nat. Commun. 8, 15726 (2017).

12.

Gottlieb, L. & Marmorstein, R. Structure of human NatA and its regulation by the Huntingtin interacting protein HYPK. Structure, https://doi.org/10.1016/j.str.2018.04.003 (2018).

13.

Varland, S. & Arnesen, T. Investigating the functionality of a ribosome-binding mutant of NAA15 using Saccharomyces cerevisiae. BMC Res. Notes 11, 404 (2018).

14.

Schmidt, C. et al. The cryo-EM structure of a ribosome-Ski2-Ski3-Ski8 helicase complex. Science 354, 1431–1433 (2016).

15.

Schmidt, C. et al. Structure of the hypusinylated eukaryotic translation factor eIF-5A bound to the ribosome. Nucleic Acids Res. 44, 1944–1951 (2016).

16.

Beckmann, R. et al. Architecture of the protein-conducting channel associated with the translating 80S ribosome. Cell 107, 361–372 (2001).

17.

Gerbi, S. A. Expansion segment: regions of variable size that interrupt the universal core secondary structure of ribosomal RNA in Ribosomal RNA: Structure, Evolution, Processing, and Function in Protein Synthesis (eds. Zimmermann, R. A. & Dahlberg, A. E.) 71–87 (CRC Press, Boca-Raton, FL, USA, 1996).

18.

Hashem, Y. et al. Structure of the mammalian ribosomal 43S preinitiation complex bound to the scanning factor DHX29. Cell 153, 1108–1119 (2013).

19.

Yamamoto, H. et al. Molecular architecture of the ribosome-bound Hepatitis C Virus internal ribosomal entry site RNA. EMBO J. 34, 3042–3058 (2015).

20.

Bradatsch, B. et al. Structure of the pre-60S ribosomal subunit with nuclear export factor Arx1 bound at the exit tunnel. Nat. Struct. Mol. Biol. 19, 1234–1241 (2012).

21.

Greber, B. J., Boehringer, D., Montellese, C. & Ban, N. Cryo-EM structures of Arx1 and maturation factors Rei1 and Jjj1 bound to the 60S ribosomal subunit. Nat. Struct. Mol. Biol. 19, 1228–1233 (2012).

22.

Ramesh, M. & Woolford, J. L. Jr. Eukaryote-specific rRNA expansion segments function in ribosome biogenesis. RNA 22, 1153–1162 (2016).

23.

Kater, L. et al. Visualizing the assembly pathway of nucleolar pre-60S ribosomes. Cell 171, 1599–1610, e1514 (2017).

24.

Sweeney, R., Chen, L. & Yao, M. C. An rRNA variable region has an evolutionarily conserved essential role despite sequence divergence. Mol. Cell. Biol. 14, 4203–4215 (1994).

25.

Armache, J. P. et al. Cryo-EM structure and rRNA model of a translating eukaryotic 80S ribosome at 5.5-A resolution. Proc. Natl Acad. Sci. USA 107, 19748–19753 (2010).

26.

Gomez Ramos, L. M. et al. Yeast rRNA expansion segments: folding and function. J. Mol. Biol. 428, 4048–4059 (2016).

27.

Vetro, J. A. & Chang, Y. H. Yeast methionine aminopeptidase type 1 is ribosome-associated and requires its N-terminal zinc finger domain for normal function in vivo. J. Cell. Biochem. 85, 678–688 (2002).

28.

Sandikci, A. et al. Dynamic enzyme docking to the ribosome coordinates N-terminal processing with polypeptide folding. Nat. Struct. Mol. Biol. 20, 843–850 (2013).

29.

Van Damme, P., Hole, K., Gevaert, K. & Arnesen, T. N-terminal acetylome analysis reveals the specificity of Naa50 (Nat5) and suggests a kinetic competition between N-terminal acetyltransferases and methionine aminopeptidases. Proteomics 15, 2436–2446 (2015).

30.

Neuwald, A. F. & Landsman, D. GCN5-related histone N-acetyltransferases belong to a diverse superfamily that includes the yeast SPT10 protein. Trends Biochem. Sci. 22, 154–155 (1997).

31.

Hou, F., Chu, C. W., Kong, X., Yokomori, K. & Zou, H. The acetyltransferase activity of San stabilizes the mitotic cohesin at the centromeres in a shugoshin-independent manner. J. Cell. Biol. 177, 587–597 (2007).

32.

Evjenth, R. et al. Human Naa50p (Nat5/San) displays both protein N alpha- and N epsilon-acetyltransferase activity. J. Biol. Chem. 284, 31122–31129 (2009).

33.

Arnesen, T. et al. Cloning and characterization of hNAT5/hSAN: an evolutionarily conserved component of the NatA protein N-alpha-acetyltransferase complex. Gene 371, 291–295 (2006).

34.

Forte, G. M., Pool, M. R. & Stirling, C. J. N-terminal acetylation inhibits protein targeting to the endoplasmic reticulum. PLoS Biol. 9, e1001073 (2011).

35.

Defenouillere, Q. et al. Cdc48-associated complex bound to 60S particles is required for the clearance of aberrant translation products. Proc. Natl Acad. Sci. USA 110, 5046–5051 (2013).

36.

Bhushan, S. et al. Structural basis for translational stalling by human cytomegalovirus and fungal arginine attenuator peptide. Mol. Cell 40, 138–146 (2010).

37.

Zheng, S. Q. et al. MotionCor2: anisotropic correction of beam-induced motion for improved cryo-electron microscopy. Nat. Methods 14, 331–332 (2017).

38.

Zhang, K. Gctf: real-time CTF determination and correction. J. Struct. Biol. 193, 1–12 (2016).

39.

Scheres, S. H. RELION: implementation of a Bayesian approach to cryo-EM structure determination. J. Struct. Biol. 180, 519–530 (2012).

40.

Kimanius, D., Forsberg, B. O., Scheres, S. H. & Lindahl, E. Accelerated cryo-EM structure determination with parallelisation using GPUs in RELION-2. eLife 5, https://doi.org/10.7554/eLife.18722 (2016).

41.

Emsley, P., Lohkamp, B., Scott, W. G. & Cowtan, K. Features and development of Coot. Acta Crystallogr. D. Biol. Crystallogr. 66, 486–501 (2010).

42.

Jucker, F. M. & Pardi, A. Solution structure of the CUUG hairpin loop: a novel RNA tetraloop motif. Biochemistry 34, 14416–14427 (1995).

43.

Pettersen, E. F. et al. UCSF Chimera–a visualization system for exploratory research and analysis. J. Comput. Chem. 25, 1605–1612 (2004).

44.

Goddard, T. D. et al. UCSF ChimeraX: meeting modern challenges in visualization and analysis. Protein Sci. 27, 14–25 (2018).
Acknowledgements
We thank S. Rieder, J. Musial and H. Sieber for technical assistance. This work was supported by the German Research Council (GRK1721 and FOR1805 to R.B.) and we acknowledge support by the Center for Integrated Protein Science Munich (CiPS-M). A.G.K. is supported by a DFG fellowship through the Graduate School of Quantitative Biosciences Munich.
Ethics declarations
Competing interests
The authors declare no competing interests.
Additional information
Publisher's note: Springer Nature remains neutral with regard to jurisdictional claims in published maps and institutional affiliations.
Integrated supplementary information
Supplementary information
Supplementary Figures 1–9 and Supplementary Note
About this article
Cite this article
Knorr, A.G., Schmidt, C., Tesina, P. et al. Ribosome–NatA architecture reveals that rRNA expansion segments coordinate N-terminal acetylation. Nat Struct Mol Biol 26, 35–39 (2019). https://doi.org/10.1038/s41594-018-0165-y
Received:

Accepted:

Published:

Issue Date: