Abstract
Synchronization of mitochondrial and cytoplasmic translation rates is critical for the maintenance of cellular fitness, with cancer cells being especially vulnerable to translational uncoupling. Although alterations of cytosolic protein synthesis are common in human cancer, compensating mechanisms in mitochondrial translation remain elusive. Here we show that the malignant long non-coding RNA (lncRNA) SAMMSON promotes a balanced increase in ribosomal RNA (rRNA) maturation and protein synthesis in the cytosol and mitochondria by modulating the localization of CARF, an RNA-binding protein that sequesters the exo-ribonuclease XRN2 in the nucleoplasm, which under normal circumstances limits nucleolar rRNA maturation. SAMMSON interferes with XRN2 binding to CARF in the nucleus by favoring the formation of an aberrant cytoplasmic RNA–protein complex containing CARF and p32, a mitochondrial protein required for the processing of the mitochondrial rRNAs. These data highlight how a single oncogenic lncRNA can simultaneously modulate RNA–protein complex formation in two distinct cellular compartments to promote cell growth.
Relevant articles
Open Access articles citing this article.
Sylvain Delaunay

,

Gloria Pascual

…

Michaela Frye

Nature Open Access 29 June 2022

Elsa Zacco

,

Owen Kantelberg

…

Gian Gaetano Tartaglia

Nature Communications Open Access 23 June 2022

Carlos Pulido-Quetglas

&

Rory Johnson

Mammalian Genome Open Access 17 September 2021
Access options
Subscribe to Nature+
Get immediate online access to Nature and 55 other Nature journal
Subscribe to Journal
Get full journal access for 1 year
$99.00
only $8.25 per issue
All prices are NET prices.
VAT will be added later in the checkout.
Tax calculation will be finalised during checkout.
Buy article
Get time limited or full article access on ReadCube.
$32.00
All prices are NET prices.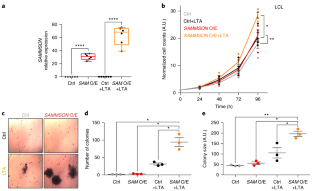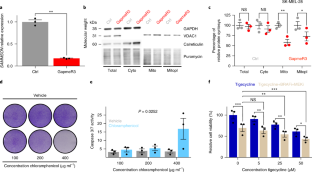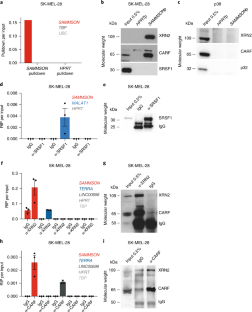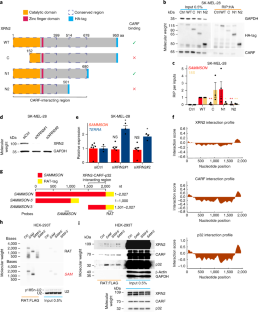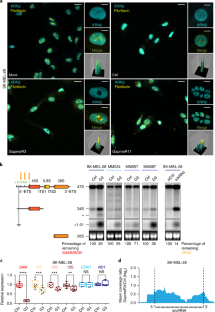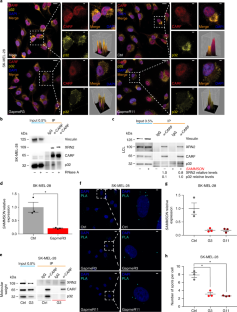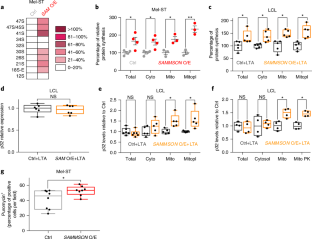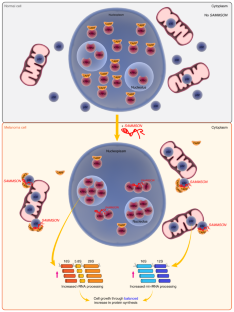 Data availability
Small RNA sequencing data have been submitted to the Sequence Read Archive under accession code SRP151840. Source data and statistical analysis for Figs. 1a,b,d,e, 2a,c,e,f, 3a,d,f,h, 4c,e, 5c, 6d,g,h and 7b–g are available in the in the Supplementary Information online. All other data that support the findings of this study are available from the corresponding author upon reasonable request.
References
Vander Heiden, M. G., Cantley, L. C. & Thompson, C. B. Understanding the Warburg Effect: the metabolic requirements of cell proliferation. Science (80-.). 324, 1029–1033 (2009).

Wang, M. & Pestov, D. G. 5'-end surveillance by Xrn2 acts as a shared mechanism for mammalian pre-rRNA maturation and decay. Nucleic Acids Res. 39, 1811–1822 (2011).

Teng, T., Thomas, G. & Mercer, C. A. Growth control and ribosomopathies. Curr. Opin. Genet. Dev. 23, 63–71 (2013).

Wu, H., Sun, H., Liang, X., Lima, W. F. & Crooke, S. T. Human RNase H1 is associated with protein P32 and is involved in mitochondrial pre-rRNA processing. PLoS ONE 8, e71006 (2013).

Ruggero, D. & Pandolfi, P. P. Does the ribosome translate cancer?. Nat. Rev. Cancer 3, 179–192 (2003).

Mayer, C. & Grummt, I. Ribosome biogenesis and cell growth: mTOR coordinates transcription by all three classes of nuclear RNA polymerases. Oncogene 25, 6384–6391 (2006).

Yang, L. et al. Regulation of SirT1-nucleomethylin binding by rRNA coordinates ribosome biogenesis with nutrient availability. Mol. Cell. Biol. 33, 3835–3848 (2013).

Nishimura, K. et al. Perturbation of ribosome biogenesis drives cells into senescence through 5S RNP-mediated p53 activation. Cell Rep. 10, 1310–1323 (2015).

Schmidt, O., Pfanner, N. & Meisinger, C. Mitochondrial protein import: from proteomics to functional mechanisms. Nat. Rev. Mol. Cell Biol. 11, 655–667 (2010).

Fogal, V. et al. Mitochondrial p32 protein is a critical regulator of tumor metabolism via maintenance of oxidative phosphorylation. Mol. Cell. Biol. 30, 1303–1318 (2010).

Skrtić, M. et al. Inhibition of mitochondrial translation as a therapeutic strategy for human acute myeloid leukemia. Cancer Cell. 20, 674–688 (2011).

D'Andrea, A. et al. The mitochondrial translation machinery as a therapeutic target in Myc-driven lymphomas. Oncotarget 7, 72415–72430 (2016).

Battersby, B. J. & Richter, U. Why translation counts for mitochondria – retrograde signalling links mitochondrial protein synthesis to mitochondrial biogenesis and cell proliferation. J. Cell. Sci. 126, 4331–4338 (2013).

Wang, X. & Chen, X. J. A cytosolic network suppressing mitochondria-mediated proteostatic stress and cell death. Nature 524, 481–484 (2015).

Wrobel, L. et al. Mistargeted mitochondrial proteins activate a proteostatic response in the cytosol. Nature 524, 485–488 (2015).

Rosenwald, I. B. The role of translation in neoplastic transformation from a pathologist's point of view. Oncogene 23, 3230–3247 (2004).

Ruggero, D. The role of Myc-induced protein synthesis in cancer. Cancer Res. 69, 8839–8843 (2009).

Fogal, V. et al. Mitochondrial p32 is upregulated in Myc expressing brain cancers and mediates glutamine addiction. Oncotarget 6, 1157–1170 (2015).

Leucci, E. et al. Melanoma addiction to the long non-coding RNA SAMMSON. Nature 531, 518–522 (2016).

Tollervey, D. Termination by torpedo. Nature 432, 456–457 (2004).

Watanabe, K. et al. Degradation of initiator tRNAMet by Xrn1/2 via its accumulation in the nucleus of heat-treated HeLa cells. Nucleic Acids Res. 41, 4671–4685 (2013).

Watanabe, K., Ijiri, K. & Ohtsuki, T. MTOR regulates the nucleoplasmic diffusion of Xrn2 under conditions of heat stress. FEBS Lett. 588, 3454–3460 (2014).

Petfalski, E., Dandekar, T., Henry, Y. & Tollervey, D. Processing of the precursors to small nucleolar RNAs and rRNAs requires common components. Mol. Cell. Biol. 18, 1181–1189 (1998).

Henras, A. K., Plisson-Chastang, C., O'Donohue, M. F., Chakraborty, A. & Gleizes, P. E. An overview of pre-ribosomal RNA processing in eukaryotes. Wiley Interdiscip. Rev. RNA 6, 225–242 (2015).

Preti, M. et al. Gradual processing of the ITS1 from the nucleolus to the cytoplasm during synthesis of the human 18S rRNA. Nucleic Acids Res. 41, 4709–4723 (2013).

Sato, S. et al. Collaborator of alternative reading frame protein (CARF) regulates early processing of pre-ribosomal RNA by retaining XRN2 (5′-3′ exoribonuclease) in the nucleoplasm. Nucleic Acids Res. 43, 10397–10410 (2015).

Gupta, P. B. et al. The melanocyte differentiation program predisposes to metastasis after neoplastic transformation. Nat. Genet. 37, 1047–1054 (2005).

Boshuizen, J. et al. Cooperative targeting of melanoma heterogeneity with an AXL antibody-drug conjugate and BRAF/MEK inhibitors. Nat. Med. 24, 203–212 (2018).

Tripathi, V. et al. The nuclear-retained noncoding RNA MALAT1 regulates alternative splicing by modulating SR splicing factor phosphorylation. Mol. Cell 39, 925–938 (2010).

Novo, C. et al. The heterochromatic chromosome caps in great apes impact telomere metabolism. Nucleic Acids Res. 41, 4792–4801 (2013).

Livi, C. M., Klus, P., Delli Ponti, R. & Tartaglia, G. G. CatRAPID signature: identification of ribonucleoproteins and RNA-binding regions. Bioinformatics 32, 773–775 (2015).

Richter, U. et al. A mitochondrial ribosomal and RNA decay pathway blocks cell proliferation. Curr. Biol. 23, 535–541 (2013).

West, J. A. et al. The long noncoding RNAs NEAT1 and MALAT1 bind active chromatin sites. Mol. Cell 55, 791–802 (2014).

Adriaens, C. et al. P53 induces formation of NEAT1 lncRNA-containing paraspeckles that modulate replication stress response and chemosensitivity. Nat. Med. 22, 861–868 (2016).

Schillewaert, S., Wacheul, L., Lhomme, F. & Lafontaine, D. L. J. The evolutionarily conserved protein Las1 is required for pre-rRNA processing at both ends of ITS2. Mol. Cell. Biol. 32, 430–444 (2012).

Tollervey, D. & Kiss, T. Function and synthesis of small nucleolar RNAs. Curr. Opin. Cell Biol. 9, 337–342 (1997).

Weinstein, L. B. & Steitz, J. A. Guided tours: from precursor snoRNA to functional snoRNP. Curr. Opin. Cell Biol. 11, 378–384 (1999).

Schmidt, E. K., Clavarino, G., Ceppi, M. & Pierre, P. SUnSET, a nonradioactive method to monitor protein synthesis. Nat. Methods 6, 275–277 (2009).

Pianese, G., Teuscher, R. & Ziegler, E. Beitrag zur Histologie und Aetiologie des Carcinoms: Histologische und experimentelle Untersuchungen. (G. Fischer, Jena, Germany, 1896).

Bywater, M. J. et al. Inhibition of RNA polymerase I as a therapeutic strategy to promote cancer-specific activation of p53. Cancer Cell. 22, 51–65 (2012).

Quin, J. E. et al. Targeting the nucleolus for cancer intervention. Biochim. Biophys. Acta 1842, 802–816 (2014).

Silvera, D., Formenti, S. C. & Schneider, R. J. Translational control in cancer. Nat. Rev. Cancer 10, 254–266 (2010).

Richter-Dennerlein, R., Dennerlein, S. & Rehling, P. Integrating mitochondrial translation into the cellular context. Nat. Rev. Mol. Cell Biol. 16, 586–592 (2015).

Richter-Dennerlein, R. et al. Mitochondrial protein synthesis adapts to influx of nuclear-encoded protein. Cell 167, 471–483.e10 (2016).

Richter, U., Lahtinen, T., Marttinen, P., Suomi, F. & Battersby, B. J. Quality control of mitochondrial protein synthesis is required for membrane integrity and cell fitness. J. Cell. Biol. 211, 373–389 (2015).

Delloye-Bourgeois, C. et al. Nucleolar localization of a netrin-1 isoform enhances tumor cell proliferation. Sci. Signal. 5, ra57–ra57 (2012).

Bellucci, M., Agostini, F., Masin, M. & Tartaglia, G. G. Predicting protein associations with long noncoding RNAs. Nat. Methods 8, 444–445 (2011).

Cirillo, D. et al. Quantitative predictions of protein interactions with long noncoding RNAs: to the editor. Nat. Methods 14, 5–6 (2016).

Ishikawa, H. et al. Identification of truncated forms of U1 snRNA reveals a novel RNA degradation pathway during snRNP biogenesis. Nucleic Acids Res. 42, 2708–2724 (2014).

McHugh, C. A. et al. The Xist lncRNA interacts directly with SHARP to silence transcription through HDAC3. Nature 521, 232–236 (2015).

Ishikawa, H. et al. Truncated forms of U2 snRNA (U2-tfs) are shunted toward a novel uridylylation pathway that differs from the degradation pathway for U1-tfs. RNA Biol. 15, 261–268 (2018).

Tafforeau, L. et al. The complexity of human ribosome biogenesis revealed by systematic nucleolar screening of pre-rRNA processing factors. Mol. Cell 51, 539–551 (2013).

Kozomara, A. & Griffiths-Jones, S. MiRBase: annotating high confidence microRNAs using deep sequencing data. Nucleic Acids Res. 42, D68–D73 (2014).

Speir, M. L. et al. The UCSC Genome Browser database: 2016 update. Nucleic Acids Res. 44, D717–D725 (2016).

Yates, A. et al. Ensembl 2016. Nucleic Acids Res. 44, D710–D716 (2016).
Acknowledgements
GapmeRs were designed by J. Lai (Exiqon, Copenhagen Denmark). We would like to thank M. Leucci for reading and editing the manuscript. This study was supported by the Fund Emile Carpentier—Fund André Vander Stricht—Fund Van Damme 2017-J1810830-207301. The authors wish to thank H. Brems for providing NHEM cultures, A. Sablina (VIB-KULeuven) for providing the SV40 LTA plasmid, M. Spinazzi (VIB-KULeuven) for the technical assistance and for sharing some antibodies, G. Ghanem (Jules Bordet Institute) for the patient-derived melanoma cell line and somersault18:24 (http://www.somersault1824.com/) for providing some graphical illustrations. R.V. is a recipient of the FWO PhD fellowship 1S08316N. D.L. is supported by Fonds National de la Recherche (FRS/FNRS). G.G.T.'s research is supported by the European Research Council (grant no. RIBOMYLOME_309545) and the Spanish Ministry of Economy and Competitiveness (grant nos. BFU2014-55054-P and BFU2017-86970-P).
Ethics declarations
Competing interests
The authors declare no competing interests.
Additional information
Publisher's note: Springer Nature remains neutral with regard to jurisdictional claims in published maps and institutional affiliations.
Integrated supplementary information
Supplementary information
Supplementary Figures 1–7 and Supplementary Table 1
About this article
Cite this article
Vendramin, R., Verheyden, Y., Ishikawa, H. et al. SAMMSON fosters cancer cell fitness by concertedly enhancing mitochondrial and cytosolic translation. Nat Struct Mol Biol 25, 1035–1046 (2018). https://doi.org/10.1038/s41594-018-0143-4
Received:

Accepted:

Published:

Issue Date:

DOI: https://doi.org/10.1038/s41594-018-0143-4