Abstract
The shelterin protein TRF2 assembles protective T loops at chromosome ends by stimulating intramolecular invasion of the telomeric G-rich single-stranded DNA (ssDNA) overhang into the duplex telomeric array. The other shelterin factor, TRF1, is thought to mainly facilitate telomeric dsDNA replication without directly participating in end protection. Here we show that in vitro human TRF2 stimulates invasion of G-rich TERRA-like RNA into telomeric dsDNA, leading to formation of telomeric RNA–DNA hybrids (telR loops). The N-terminal basic domain of TRF2 binds to TERRA-like RNA and enables TRF2 to promote efficient RNA invasion. TRF1, through its N-terminal acidic domain, counteracts TRF2-mediated RNA invasion but not ssDNA invasion. In vivo, when TRF1 is depleted or replaced with a variant lacking the acidic domain, TRF2 induces formation of telR loops, which in turn cause telomere loss. Hence, uncontrolled TRF2 threatens telomere integrity, and TRF1 directly supports end protection by suppressing harmful telR loops.
Access options
Access options
Subscribe to Journal
Get full journal access for 1 year
$225.00
only $18.75 per issue
All prices are NET prices.
VAT will be added later in the checkout.
Rent or Buy article
Get time limited or full article access on ReadCube.
from$8.99
All prices are NET prices.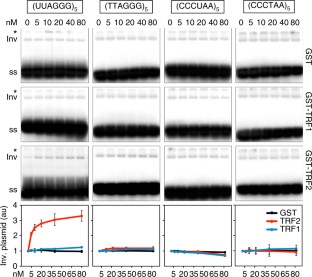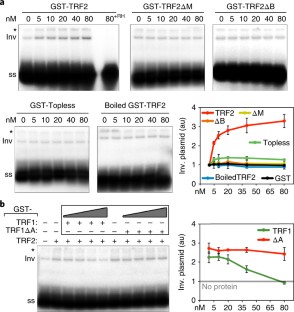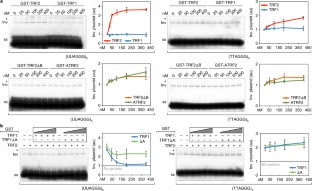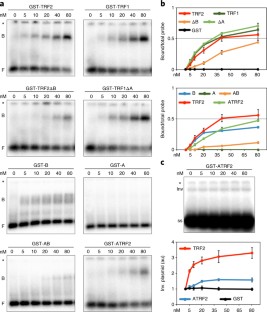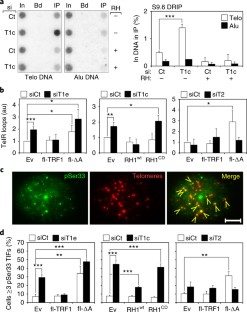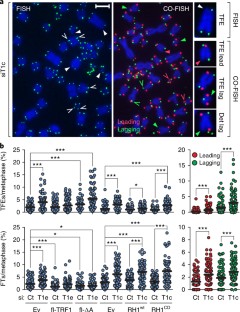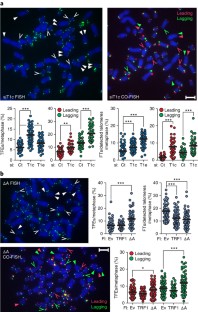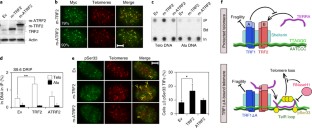 References
1.

Martínez, P. & Blasco, M. A. Replicating through telomeres: a means to an end. Trends Biochem. Sci. 40, 504–515 (2015).

2.

Azzalin, C. M. & Lingner, J. Telomere functions grounding on TERRA firma. Trends Cell. Biol. 25, 29–36 (2015).

3.

Azzalin, C. M., Reichenbach, P., Khoriauli, L., Giulotto, E. & Lingner, J. Telomeric repeat containing RNA and RNA surveillance factors at mammalian chromosome ends. Science 318, 798–801 (2007).

4.

Nergadze, S. G. et al. CpG-island promoters drive transcription of human telomeres. RNA 15, 2186–2194 (2009).

5.

Schoeftner, S. & Blasco, M. A. Developmentally regulated transcription of mammalian telomeres by DNA-dependent RNA polymerase II. Nat. Cell. Biol. 10, 228–236 (2008).

6.

Arnoult, N. & Karlseder, J. Complex interactions between the DNA-damage response and mammalian telomeres. Nat. Struct. Mol. Biol. 22, 859–866 (2015).

7.

de Lange, T. How shelterin solves the telomere end-protection problem. Cold Spring Harb. Symp. Quant. Biol. 75, 167–177 (2010).

8.

Sfeir, A. & de Lange, T. Removal of shelterin reveals the telomere end-protection problem. Science 336, 593–597 (2012).

9.

Broccoli, D., Smogorzewska, A., Chong, L. & de Lange, T. Human telomeres contain two distinct Myb-related proteins, TRF1 and TRF2. Nat. Genet. 17, 231–235 (1997).

10.

Sfeir, A. et al. Mammalian telomeres resemble fragile sites and require TRF1 for efficient replication. Cell 138, 90–103 (2009).

11.

Zimmermann, M., Kibe, T., Kabir, S. & de Lange, T. TRF1 negotiates TTAGGG repeat-associated replication problems by recruiting the BLM helicase and the TPP1/POT1 repressor of ATR signaling. Genes. Dev. 28, 2477–2491 (2014).

12.

Martínez, P. et al. Increased telomere fragility and fusions resulting from TRF1 deficiency lead to degenerative pathologies and increased cancer in mice. Genes. Dev. 23, 2060–2075 (2009).

13.

Denchi, E. L. & de Lange, T. Protection of telomeres through independent control of ATM and ATR by TRF2 and POT1. Nature 448, 1068–1071 (2007).

14.

Griffith, J. D. et al. Mammalian telomeres end in a large duplex loop. Cell 97, 503–514 (1999).

15.

Doksani, Y., Wu, J. Y., de Lange, T. & Zhuang, X. Super-resolution fluorescence imaging of telomeres reveals TRF2-dependent T-loop formation. Cell 155, 345–356 (2013).

16.

Amiard, S. et al. A topological mechanism for TRF2-enhanced strand invasion. Nat. Struct. Mol. Biol. 14, 147–154 (2007).

17.

Benarroch-Popivker, D. et al. TRF2-mediated control of telomere DNA topology as a mechanism for chromosome-end protection. Mol. Cell. 61, 274–286 (2016).

18.

Court, R., Chapman, L., Fairall, L. & Rhodes, D. How the human telomeric proteins TRF1 and TRF2 recognize telomeric DNA: a view from high-resolution crystal structures. EMBO Rep. 6, 39–45 (2005).

19.

Wu, H., Lima, W. F. & Crooke, S. T. Investigating the structure of human RNase H1 by site-directed mutagenesis. J. Biol. Chem. 276, 23547–23553 (2001).

20.

Deng, Z., Norseen, J., Wiedmer, A., Riethman, H. & Lieberman, P. M. TERRA RNA binding to TRF2 facilitates heterochromatin formation and ORC recruitment at telomeres. Mol. Cell. 35, 403–413 (2009).

21.

Apte, M. S. & Cooper, J. P. Life and cancer without telomerase: ALT and other strategies for making sure ends (don't) meet. Crit. Rev. Biochem. Mol. Biol. 52, 57–73 (2017).

22.

Arora, R. et al. RNaseH1 regulates TERRA-telomeric DNA hybrids and telomere maintenance in ALT tumour cells. Nat. Commun. 5, 5220 (2014).

23.

Boguslawski, S. J. et al. Characterization of monoclonal antibody to DNA.RNA and its application to immunodetection of hybrids. J. Immunol. Methods 89, 123–130 (1986).

24.

Smith, S., Giriat, I., Schmitt, A. & de Lange, T. Tankyrase, a poly(ADP-ribose) polymerase at human telomeres. Science 282, 1484–1487 (1998).

25.

Dynek, J. N. & Smith, S. Resolution of sister telomere association is required for progression through mitosis. Science 304, 97–100 (2004).

26.

Nguyen, H. D. et al. Functions of replication protein A as a sensor of R loops and a regulator of RNaseH1. Mol. Cell. 65, 832–847.e4. (2017).

27.

Muñoz, P., Blanco, R., Flores, J. M. & Blasco, M. A. XPF nuclease-dependent telomere loss and increased DNA damage in mice overexpressing TRF2 result in premature aging and cancer. Nat. Genet. 37, 1063–1071 (2005).

28.

Nera, B., Huang, H. S., Lai, T. & Xu, L. Elevated levels of TRF2 induce telomeric ultrafine anaphase bridges and rapid telomere deletions. Nat. Commun. 6, 10132 (2015).

29.

Tong, A. S. et al. ATM and ATR signaling regulate the recruitment of human telomerase to telomeres. Cell. Rep. 13, 1633–1646 (2015).

30.

Balk, B. et al. Telomeric RNA-DNA hybrids affect telomere-length dynamics and senescence. Nat. Struct. Mol. Biol. 20, 1199–1205 (2013).

31.

Graf, M. et al. Telomere length determines TERRA and R-Loop regulation through the cell cycle. Cell 170, 72–85.e14 (2017).

32.

Fouché, N. et al. The basic domain of TRF2 directs binding to DNA junctions irrespective of the presence of TTAGGG repeats. J. Biol. Chem. 281, 37486–37495 (2006).

33.

Poulet, A. et al. TRF2 promotes, remodels and protects telomeric Holliday junctions. EMBO J. 28, 641–651 (2009).

34.

Schmutz, I., Timashev, L., Xie, W., Patel, D. J. & de Lange, T. TRF2 binds branched DNA to safeguard telomere integrity. Nat. Struct. Mol. Biol. 24, 734–742 (2017).

35.

Santos-Pereira, J. M. & Aguilera, A. R loops: new modulators of genome dynamics and function. Nat. Rev. Genet. 16, 583–597 (2015).

36.

Lee, Y. W. & Kim, W. T. Telomerase-dependent 3′ G-strand overhang maintenance facilitates GTBP1-mediated telomere protection from misplaced homologous recombination. Plant Cell. 25, 1329–1342 (2013).
Acknowledgements
We thank T. de Lange (The Rockefeller University, New York), J. Karlseder (The Salk Institute for Biological Studies, La Jolla, CA, USA), E. Gilson (IRCAN, Nice, France), S. Smith (The Skirball Institute of Biomolecular Medicine, New York), S. Leppla (NIAID, Bethesda, MD, USA) and J. Lingner (ISREC, Lausanne, Switzerland) for reagents, the Bioimaging facility of iMM Lisboa and the Scientific Center for Optical and Electron Microscopy of ETHZ for microscopy services, members of the Azzalin laboratory for discussions and J. Lingner for critical reading of the manuscript. This work was initiated at the Institute of Biochemistry of ETH Zürich and supported by grants awarded to C.M.A. by the Swiss National Science Foundation (31003A_160338), the European Research Council (BFTERRA), EMBO (IG3576) and Fundação para a Ciência e a Tecnologia (IF/01269/2015). Y.W.L. was supported by an EMBO long-term fellowship (ALTF 395-2014) and the National Research Foundation of Korea (NRF-2013R1A6A3A03063846). Publication costs were supported through LISBOA-01-0145-FEDER-007391, a project cofunded by FEDER through POR Lisboa 2020 (Programa Operacional Regional de Lisboa, PORTUGAL 2020) and Fundação para a Ciência e a Tecnologia.
Ethics declarations
Competing interests
The authors declare no competing financial interests.
Additional information
Publisher's note: Springer Nature remains neutral with regard to jurisdictional claims in published maps and institutional affiliations.
Integrated supplementary information
Supplementary information
Supplementary Figures 1–8 and Supplementary Table 1
Uncropped images for gels used in main figures