Abstract
Orexins (also called hypocretins) are hypothalamic neuropeptides that carry out essential functions in the central nervous system; however, little is known about their release and range of action in vivo owing to the limited resolution of current detection technologies. Here we developed a genetically encoded orexin sensor (OxLight1) based on the engineering of circularly permutated green fluorescent protein into the human type-2 orexin receptor. In mice OxLight1 detects optogenetically evoked release of endogenous orexins in vivo with high sensitivity. Photometry recordings of OxLight1 in mice show rapid orexin release associated with spontaneous running behavior, acute stress and sleep-to-wake transitions in different brain areas. Moreover, two-photon imaging of OxLight1 reveals orexin release in layer 2/3 of the mouse somatosensory cortex during emergence from anesthesia. Thus, OxLight1 enables sensitive and direct optical detection of orexin neuropeptides with high spatiotemporal resolution in living animals.
Relevant articles
Open Access articles citing this article.
Szimonetta Xénia Tamás

,

Benoit Thomas Roux

…

Balázs Enyedi

Nature Communications Open Access 01 August 2023

Nikola Grujic

,

Alexander Tesmer

…

Denis Burdakov

Nature Neuroscience Open Access 19 June 2023
Access options
Access Nature and 54 other Nature Portfolio journals
Get Nature+, our best-value online-access subscription
$29.99 / 30 days
cancel any time
Subscribe to this journal
Receive 12 print issues and online access
$259.00 per year
only $21.58 per issue
Rent or buy this article
Prices vary by article type
from$1.95
to$39.95
Prices may be subject to local taxes which are calculated during checkout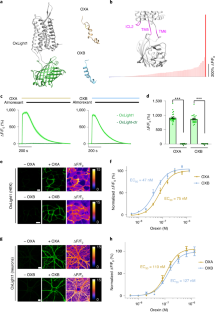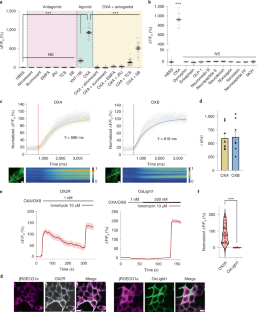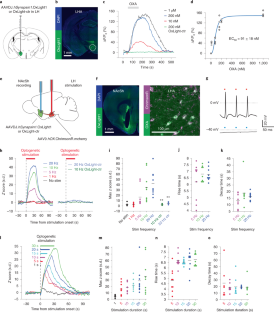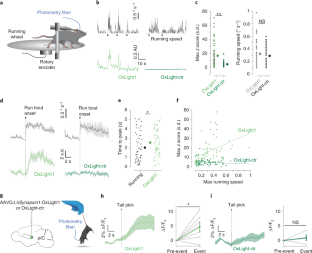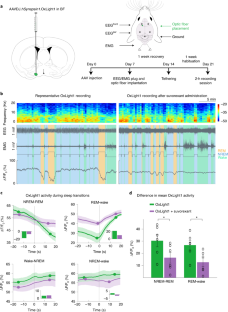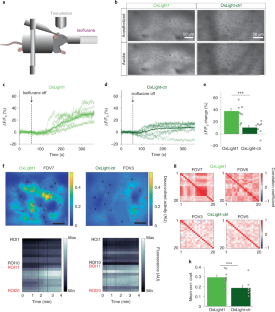 Data availability
DNA and protein sequences of the sensors developed in this study have been deposited on the National Center for Biotechnology Information database (accession nos. MW845970 and MW845971) and are available in the Supplementary Note. The corresponding DNA plasmids for viral production have been deposited both at the VVF (https://vvf.ethz.ch/) and at Addgene. Viral vectors for sensor expression can be obtained either from the Patriarchi laboratory, the VVF or Addgene. All source data are provided with the manuscript. All other raw data can be made available upon reasonable request. Accession codes (Protein Data Bank) are 5WQC, 3SG7, 1WSO and 1CQ0. Source data are provided with this paper.
References
Lecea, Lde et al. The hypocretins: hypothalamus-specific peptides with neuroexcitatory activity. PNAS 95, 322–327 (1998).

Sakurai, T. et al. Orexins and orexin receptors: a family of hypothalamic neuropeptides and G protein-coupled receptors that regulate feeding behavior. Cell 92, 573–585 (1998).

Chemelli, R. M. et al. Narcolepsy in orexin knockout mice: molecular genetics of sleep regulation. Cell 98, 437–451 (1999).

Hara, J. et al. Genetic ablation of orexin neurons in mice results in narcolepsy, hypophagia, and obesity. Neuron 30, 345–354 (2001).

Willie, J. T. et al. Distinct narcolepsy syndromes in orexin receptor-2 and orexin null mice: molecular genetic dissection of non-REM and REM sleep regulatory processes. Neuron 38, 715–730 (2003).

Lin, L. et al. The sleep disorder canine narcolepsy is caused by a mutation in the hypocretin (orexin) receptor 2 gene. Cell 98, 365–376 (1999).

Thannickal, T. C. et al. Reduced number of hypocretin neurons in human narcolepsy. Neuron 27, 469–474 (2000).

Nishino, S., Ripley, B., Overeem, S., Lammers, G. J. & Mignot, E. Hypocretin (orexin) deficiency in human narcolepsy. Lancet 355, 39–40 (2000).

Peyron, C. et al. A mutation in a case of early onset narcolepsy and a generalized absence of hypocretin peptides in human narcoleptic brains. Nat. Med. 6, 991–997 (2000).

Sakurai, T. The role of orexin in motivated behaviours. Nat. Rev. Neurosci. 15, 719–731 (2014).

Peyron, C. et al. Neurons containing hypocretin (orexin) project to multiple neuronal systems. J. Neurosci. 18, 9996–10015 (1998).

Pol, A. Nvanden Hypothalamic hypocretin (orexin): robust innervation of the spinal cord. J. Neurosci. 19, 3171–3182 (1999).

Peyron, C. & Kilduff, T. S. Mapping the hypocretin/orexin neuronal system: an unexpectedly productive journey. J. Neurosci. 37, 2268–2272 (2017).

Johnson, P. L. et al. A key role for orexin in panic anxiety. Nat. Med. 16, 111–115 (2010).

Blomeley, C., Garau, C. & Burdakov, D. Accumbal D2 cells orchestrate innate risk-avoidance according to orexin signals. Nat. Neurosci. 21, 29–32 (2018).

Giardino, W. J. et al. Parallel circuits from the bed nuclei of stria terminalis to the lateral hypothalamus drive opposing emotional states. Nat. Neurosci. 21, 1084–1095 (2018).

Mahler, S. V., Moorman, D. E., Smith, R. J., James, M. H. & Aston-Jones, G. Motivational activation: a unifying hypothesis of orexin/hypocretin function. Nat. Neurosci. 17, 1298–1303 (2014).

González, J. A., Iordanidou, P., Strom, M., Adamantidis, A. & Burdakov, D. Awake dynamics and brain-wide direct inputs of hypothalamic MCH and orexin networks. Nat. Commun. 7, 11395 (2016).

Mileykovskiy, B. Y., Kiyashchenko, L. I. & Siegel, J. M. Behavioral correlates of activity in identified hypocretin/orexin. Neurons Neuron 46, 787–798 (2005).

Burdakov, D. et al. Tandem-pore K+ channels mediate inhibition of orexin neurons by glucose. Neuron 50, 711–722 (2006).

Karnani, M. M. et al. Activation of central orexin/hypocretin neurons by dietary amino acids. Neuron 72, 616–629 (2011).

Mahoney, C. E., Cogswell, A., Koralnik, I. J. & Scammell, T. E. The neurobiological basis of narcolepsy. Nat. Rev. Neurosci. 20, 83–93 (2019).

Patriarchi, T. et al. Ultrafast neuronal imaging of dopamine dynamics with designed genetically encoded sensors. Science 360, eaat4422 (2018).

Patriarchi, T. et al. An expanded palette of dopamine sensors for multiplex imaging in vivo. Nat. Methods https://doi.org/10.1038/s41592-020-0936-3 (2020).

Feng, J. et al. A genetically encoded fluorescent sensor for rapid and specific in vivo detection of norepinephrine. Neuron 102, 745–761 (2019).

Sun, F. et al. Next-generation GRAB sensors for monitoring dopaminergic activity in vivo. Nat. Methods 17, 1156–1166 (2020).

Wan, J. et al. A genetically encoded sensor for measuring serotonin dynamics. Nat. Neurosci. https://doi.org/10.1038/s41593-021-00823-7 (2021).

Jing, M. et al. An optimized acetylcholine sensor for monitoring in vivo cholinergic activity. Nat. Methods 17, 1139–1146 (2020).

Ammoun, S. et al. Distinct recognition of OX1 and OX2 receptors by orexin peptides. J. Pharmacol. Exp. Ther. 305, 507–514 (2003).

Hong, C. et al. Structures of active-state orexin receptor 2 rationalize peptide and small-molecule agonist recognition and receptor activation. Nat. Commun. 12, 815 (2021).

Baimel, C., Lau, B. K., Qiao, M. & Borgland, S. L. Projection-target-defined effects of orexin and dynorphin on VTA dopamine neurons. Cell Rep. 18, 1346–1355 (2017).

Muschamp, J. W. et al. Hypocretin (orexin) facilitates reward by attenuating the antireward effects of its cotransmitter dynorphin in ventral tegmental area. Proc. Natl Acad. Sci. USA 111, E1648–E1655 (2014).

Smart, D. et al. Characterization of recombinant human orexin receptor pharmacology in a Chinese hamster ovary cell-line using FLIPR. Br. J. Pharmacol. 128, 1–3 (1999).

Wan, Q. et al. Mini-G protein probes for active G protein-coupled receptors (GPCRs) in live cells. J. Biol. Chem. 293, 7466–7473 (2018).

Karnani, M. M. et al. Role of spontaneous and sensory orexin network dynamics in rapid locomotion initiation. Prog. Neurobiol. 187, 101771 (2020).

Harris, G. C., Wimmer, M. & Aston-Jones, G. A role for lateral hypothalamic orexin neurons in reward seeking. Nature 437, 556–559 (2005).

Gehrlach, D. A. et al. Aversive state processing in the posterior insular cortex. Nat. Neurosci. 22, 1424–1437 (2019).

Sakurai, T. The neural circuit of orexin (hypocretin): maintaining sleep and wakefulness. Nat. Rev. Neurosci. 8, 171–181 (2007).

Franks, N. P. General anaesthesia: from molecular targets to neuronal pathways of sleep and arousal. Nat. Rev. Neurosci. 9, 370–386 (2008).

Marcus, J. N. et al. Differential expression of orexin receptors 1 and 2 in the rat brain. J. Comp. Neurol. 435, 6–25 (2001).

Wenger Combremont, A.-L., Bayer, L., Dupré, A., Mühlethaler, M. & Serafin, M. Slow bursting neurons of mouse cortical layer 6b are depolarized by hypocretin/orexin and major transmitters of arousal. Front. Neurol. https://doi.org/10.3389/fneur.2016.00088 (2016).

Takai, T. et al. Orexin-A is composed of a highly conserved C-terminal and a specific, hydrophilic N-terminal region, revealing the structural basis of specific recognition by the orexin-1 receptor. J. Pept. Sci. 12, 443–454 (2006).

Lee, J.-H. et al. Solution structure of a new hypothalamic neuropeptide, human hypocretin-2/orexin-B. Eur. J. Biochem. 266, 831–839 (1999).

Sievers, F. & Higgins, D. G. Clustal omega, accurate alignment of very large numbers of sequences. Methods Mol. Biol. 1079, 105–116 (2014).

Quan, J. & Tian, J. Circular polymerase extension cloning of complex gene libraries and pathways. PLoS ONE 4, e6441 (2009).

Früh, S., Tyagarajan, S. K., Campbell, B., Bosshard, G. & Fritschy, J.-M. The catalytic function of the gephyrin-binding protein IQSEC3 regulates neurotransmitter-specific matching of pre- and post-synaptic structures in primary hippocampal cultures. J. Neurochem. 147, 477–494 (2018).

Mayrhofer, J. M. et al. Design and performance of an ultra-flexible two-photon microscope for in vivo research. Biomed. Opt. Express 6, 4228–4237 (2015).

Xu, C. & Webb, W. W. Measurement of two-photon excitation cross sections of molecular fluorophores with data from 690 to 1050 nm. J. Opt. Soc. Am. B 13, 481–491 (1996).

Reguardati, S., de, Pahapill, J., Mikhailov, A., Stepanenko, Y. & Rebane, A. High-accuracy reference standards for two-photon absorption in the 680–1050 nm wavelength range. Opt. Express 24, 9053–9066 (2016).

Barnett, L. M., Hughes, T. E. & Drobizhev, M. Deciphering the molecular mechanism responsible for GCaMP6m's Ca2+-dependent change in fluorescence. PLoS ONE 12, e0170934 (2017).

Dana, H. et al. Sensitive red protein calcium indicators for imaging neural activity. eLife 5, e12727 (2016).

Pachitariu, M. et al. Suite2p: beyond 10,000 neurons with standard two-photon microscopy. Preprint at bioRxiv https://doi.org/10.1101/061507 (2017).
Acknowledgements
The results are part of a project that has received funding from the European Research Council (ERC) under the European Union's Horizon 2020 research and innovation program (grant agreement no. 891959; to T.P.). We also acknowledge funding from the University of Zurich and the Swiss National Science Foundation (grant no. 310030_196455; to T.P.); Forschungskredit Candoc (to X.Z.); ETH Zurich (to D.B.); Swiss National Science Foundation (grant no. PCEFP3_181282; to M.S.); ERC-2017-STG (grant agreement no. 758448; to N.G.); Swiss National Science Foundation and ERC-2016-CoG (grant agreement no. 725850) (A.R.A.); University of Bern and Inselspital University Hospital (A.R.A. and M.H.S.); ERC-2014-CoG (grant agreement no. 647725) and National Institutes of Health Brain Initiative (U19 NS107464) (both to T.F.); H2020-ICT (grant agreement no. 101016787; to T.P. and T.F.). We thank J.-C. Paterna and the VVF of the Neuroscience Center Zurich for help with virus production, M. Drobizhev (Montana State University) for sharing the Rh6G reference two-photon spectrum and useful insights and F. Succol for technical support and for performing IHC and confocal image acquisition. The plasmids coding for mini-Gi-mRuby2, mini-Gs-mRuby2 and mini-Gq-mRuby2 were a kind gift from N. Lambert (Augusta University). The Alexa-647 labeled M1 anti-FLAG antibody was a kind gift from M. von Zastrow (University of California San Francisco).
Ethics declarations
Competing interests
T.P. is a co-inventor on a patent application related to the technology described in this article. All other authors declare no competing interests.
Peer review
Peer review information
Nature Methods thanks Yang Dan, Takeharu Nagai and the other, anonymous, reviewer(s) for their contribution to the peer review of this work. Nina Vogt was the primary editor on this article and managed its editorial process and peer review in collaboration with the rest of the editorial team.
Additional information
Publisher's note Springer Nature remains neutral with regard to jurisdictional claims in published maps and institutional affiliations.
Supplementary information
About this article
Cite this article
Duffet, L., Kosar, S., Panniello, M. et al. A genetically encoded sensor for in vivo imaging of orexin neuropeptides. Nat Methods 19, 231–241 (2022). https://doi.org/10.1038/s41592-021-01390-2
Received:

Accepted:

Published:

Issue Date:

DOI: https://doi.org/10.1038/s41592-021-01390-2
This article is cited by
Szimonetta Xénia Tamás
Benoit Thomas Roux
Balázs Enyedi

Nature Communications (2023)

Zacharoula Kagiampaki
Valentin Rohner
Tommaso Patriarchi

Nature Methods (2023)

Nikola Grujic
Alexander Tesmer
Denis Burdakov

Nature Neuroscience (2023)