Relevant articles
Open Access articles citing this article.
Sindhuja Sridharan

,

Alberto Hernandez-Armendariz

…

Mikhail M. Savitski

Nature Chemical Biology Open Access 21 July 2022

Siqi Fang

,

Paul D. W. Kirk

…

Oliver M. Crook

Communications Biology Open Access 29 June 2021
Access options
Subscribe to Nature+
Get immediate online access to the entire Nature family of 50+ journals
Subscribe to Journal
Get full journal access for 1 year
$99.00
only $8.25 per issue
All prices are NET prices.
VAT will be added later in the checkout.
Tax calculation will be finalised during checkout.
Buy article
Get time limited or full article access on ReadCube.
$32.00
All prices are NET prices.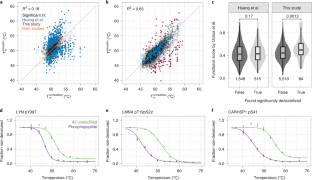 Data availability
Mass spectrometry proteomic data were deposited to the ProteomeXchange Consortium via the PRIDE partner repository with the dataset identifier PXD015993.
References
Needham, E. J., Parker, B. L., Burykin, T., James, D. E. & Humphrey, S. J. Illuminating the dark phosphoproteome. Sci. Signal. 12, eaau8645 (2019).

Huang, J. X. et al. High throughput discovery of functional protein modifications by Hotspot Thermal Profiling. Nat. Methods 16, 894–901 (2019).

Mateus, A. et al. Thermal proteome profiling for interrogating protein interactions. Mol. Syst. Biol. 16, e9232 (2020).

Savitski, M. M. et al. Tracking cancer drugs in living cells by thermal profiling of the proteome. Science 346, 1255784 (2014).

Noble, W. S. How does multiple testing correction work? Nat. Biotechnol. 27, 1135–1137 (2009).

Smith, I. R. et al. Identification of phosphosites that alter protein thermal stability. Nat. Methods https://doi.org/10.1038/s41592-021-01178-4 (in press).

Savitski, M. M. et al. Measuring and managing ratio compression for accurate iTRAQ/TMT quantification. J. Proteome Res. 12, 3586–3598 (2013).

Tan, C. S. H. et al. Thermal proximity coaggregation for system-wide profiling of protein complex dynamics in cells. Science 359, 1170–1177 (2018).

Becher, I. et al. Pervasive protein thermal stability variation during the cell cycle. Cell 173, 1495–1507 (2018).

Ochoa, D. et al. The functional landscape of the human phosphoproteome. Nat. Biotechnol. 38, 365–373 (2019).

Ingley, E. Functions of the Lyn tyrosine kinase in health and disease. Cell Commun. Signal. 10, 21 (2012).

Gruenbaum, Y. & Foisner, R. Lamins: nuclear intermediate filament proteins with fundamental functions in nuclear mechanics and genome regulation. Annu. Rev. Biochem. 84, 131–164 (2015).

Heald, R. & McKeon, F. Mutations of phosphorylation sites in lamin A that prevent nuclear lamina disassembly in mitosis. Cell 61, 579–589 (1990).

Pfeiffer, J. R., McAvoy, B. L., Fecteau, R. E., Deleault, K. M. & Brooks, S. A. CARHSP1 is required for effective tumor necrosis factor α mRNA stabilization and localizes to processing bodies and exosomes. Mol. Cell. Biol. 31, 277–286 (2011).

Hou, H. et al. Structure–functional analyses of CRHSP-24 plasticity and dynamics in oxidative stress response. J. Biol. Chem. 286, 9623–9635 (2011).

Franken, H. et al. Thermal proteome profiling for unbiased identification of direct and indirect drug targets using multiplexed quantitative mass spectrometry. Nat. Protoc. 10, 1567–1593 (2015).

Reinhard, F. B. et al. Thermal proteome profiling monitors ligand interactions with cellular membrane proteins. Nat. Methods 12, 1129–1131 (2015).

Potel, C. M., Lin, M. H., Heck, A. J. R. & Lemeer, S. Defeating major contaminants in Fe3+-immobilized metal ion affinity chromatography (IMAC) phosphopeptide enrichment. Mol. Cell. Proteomics 17, 1028–1034 (2018).

Hughes, C. S. et al. Ultrasensitive proteome analysis using paramagnetic bead technology. Mol. Syst. Biol. 10, 757 (2014).

Hughes, C. S. et al. Single-pot, solid-phase-enhanced sample preparation for proteomics experiments. Nat. Protoc. 14, 68–85 (2019).

Mathieson, T. isobarQuant. Github https://github.com/protcode/isob (2015).

Cox, J. & Mann, M. MaxQuant enables high peptide identification rates, individualized p.p.b.-range mass accuracies and proteome-wide protein quantification. Nat. Biotechnol. 26, 1367–1372 (2008).

Olsen, J. V. et al. Global, in vivo, and site-specific phosphorylation dynamics in signaling networks. Cell 127, 635–648 (2006).

Ritz, C., Baty, F., Streibig, J. C. & Gerhard, D. Dose–response analysis using R. PLoS ONE 10, e0146021 (2015).

Benjamini, Y. & Hochberg, Y. Controlling the false discovery rate: a practical and powerful approach to multiple testing. J. R. Stat. Soc. Ser. B (Methodol.) 57, 289–300 (1995).
Acknowledgements
This work was supported by the European Molecular Biology Laboratory. C.M.P. and A.M. were supported by a fellowship from the EMBL Interdisciplinary Postdoctoral (EI3POD) Programme under Marie Skłodowska-Curie Actions COFUND (grant number 664726). N.K. was supported by a fellowship from the EMBL International PhD Programme.
Ethics declarations
Competing interests
The authors declare no competing interests.
Supplementary information
About this article
Cite this article
Potel, C.M., Kurzawa, N., Becher, I. et al. Impact of phosphorylation on thermal stability of proteins. Nat Methods 18, 757–759 (2021). https://doi.org/10.1038/s41592-021-01177-5
Received:

Accepted:

Published:

Issue Date:

DOI: https://doi.org/10.1038/s41592-021-01177-5