Abstract
Sensitive detection of two biological events in vivo has long been a goal in bioluminescence imaging. Antares, a fusion of the luciferase NanoLuc to the orange fluorescent protein CyOFP, has emerged as a bright bioluminescent reporter with orthogonal substrate specificity to firefly luciferase (FLuc) and its derivatives such as AkaLuc. However, the brightness of Antares in mice is limited by the poor solubility and bioavailability of the NanoLuc substrate furimazine. Here, we report a new substrate, hydrofurimazine, whose enhanced aqueous solubility allows delivery of higher doses to mice. In the liver, Antares with hydrofurimazine exhibited similar brightness to AkaLuc with its substrate AkaLumine. Further chemical exploration generated a second substrate, fluorofurimazine, with even higher brightness in vivo. We used Antares with fluorofurimazine to track tumor size and AkaLuc with AkaLumine to visualize CAR-T cells within the same mice, demonstrating the ability to perform two-population imaging with these two luciferase systems.
Access options
Subscribe to Journal
Get full journal access for 1 year
$119.00
only $9.92 per issue
All prices are NET prices.
VAT will be added later in the checkout.
Tax calculation will be finalised during checkout.
Rent or Buy article
Get time limited or full article access on ReadCube.
from$8.99
All prices are NET prices.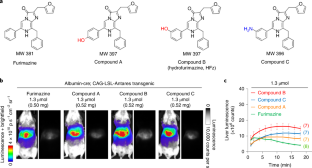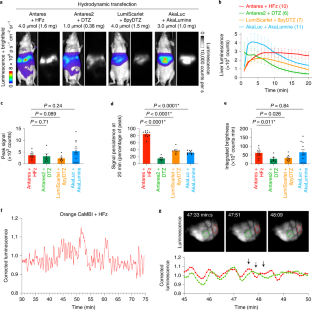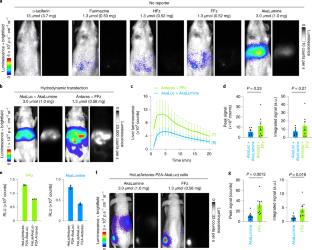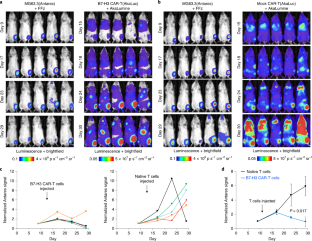 Data availability
The data that support the findings of this study are available from the corresponding authors upon request.
References
1.

Prescher, J. A. & Contag, C. H. Guided by the light: visualizing biomolecular processes in living animals with bioluminescence. Curr. Opin. Chem. Biol. 14, 80–89 (2010).

2.

Genevois, C., Loiseau, H. & Couillaud, F. In vivo follow-up of brain tumor growth via bioluminescence imaging and fluorescence tomography. Int. J. Mol. Sci. 17, 1815 (2016).

3.

Levin, R. A. et al. An optimized triple modality reporter for quantitative in vivo tumor imaging and therapy evaluation. PLoS ONE 9, e97415 (2014).

4.

Contag, C. H. et al. Visualizing gene expression in living mammals using a bioluminescent reporter. Photochemistry Photobiol. 66, 523–531 (1997).

5.

Iwano, S. et al. Single-cell bioluminescence imaging of deep tissue in freely moving animals. Science 359, 935–939 (2018).

6.

Hall, M. P. et al. Engineered luciferase reporter from a deep sea shrimp utilizing a novel imidazopyrazinone substrate. ACS Chem. Biol. 7, 1848–1857 (2012).

7.

Chu, J. et al. A bright cyan-excitable orange fluorescent protein facilitates dual-emission microscopy and enhances bioluminescence imaging in vivo. Nat. Biotechnol. 34, 760 (2016).

8.

Suzuki, K. et al. Five colour variants of bright luminescent protein for real-time multicolour bioimaging. Nat. Commun. 7, 13718 (2016).

9.

Zhao, H. et al. Emission spectra of bioluminescent reporters and interaction with mammalian tissue determine the sensitivity of detection in vivo. J. Biomed. Opt. 10, 41210 (2005).

10.

Yeh, H.-W. et al. Red-shifted luciferase–luciferin pairs for enhanced bioluminescence imaging. Nat. Methods 14, 971 (2017).

11.

Stacer, A. C. et al. NanoLuc reporter for dual luciferase imaging in living animals. Mol. Imaging 12, 1–13 (2013).

12.

Germain-Genevois, C., Garandeau, O. & Couillaud, F. Detection of brain tumors and systemic metastases using NanoLuc and Fluc for dual reporter imaging. Mol. Imaging Biol. 18, 62–69 (2016).

13.

Taylor, A., Sharkey, J., Plagge, A., Wilm, B. & Murray, P. Multicolour in vivo bioluminescence imaging using a NanoLuc-based BRET reporter in combination with firefly luciferase. Contrast Media Mol. Imag. 2018, 2514796 (2018).

14.

Mezzanotte, L., van 't Root, M., Karatas, H., Goun, E. A. & Löwik, C. W. G. M. In vivo molecular bioluminescence imaging: new tools and applications. Trends Biotechnol. 35, 640–652 (2017).

15.

England, C. G., Ehlerding, E. B. & Cai, W. NanoLuc: a small luciferase is brightening up the field of bioluminescence. Bioconjug Chem. 27, 1175–1187 (2016).

16.

Gopalakrishnan, R. et al. A novel luciferase-based assay for the detection of chimeric antigen receptors. Sci. Rep. 9, 1957 (2019).

17.

Nath, N., Flemming, R., Godat, B. & Urh, M. Development of NanoLuc bridging immunoassay for detection of anti-drug antibodies. J. Immunol. Meth. 450, 17–26 (2017).

18.

Edinger, M. et al. Noninvasive assessment of tumor cell proliferation in animal models. Neoplasia 1, 303–310 (1999).

19.

Inouye, S. & Shimomura, O. The use of renilla luciferase, oplophorus luciferase, and apoaequorin as bioluminescent reporter protein in the presence of coelenterazine analogues as substrate. Biochem Biophys. Res. Commun. 233, 349–353 (1997).

20.

Tasic, B. et al. Site-specific integrase-mediated transgenesis in mice via pronuclear injection. Proc. Natl Acad. Sci. USA 108, 7902–7907 (2011).

21.

Yeh, H. W. et al. ATP-independent bioluminescent reporter variants to improve in vivo imaging. ACS Chem. Biol. 14, 959–965 (2019).

22.

Bodratti, A. M. & Bodratti, P. Formulation of poloxamers for drug delivery. J. Funct. Biomater. 9, 11 (2018).

23.

Johnston, T. P. et al. Potential downregulation of HMG-CoA reductase after prolonged administration of P-407 in C57BL/6 mice. J. Cardiovasc. Pharm. 34, 831–842 (1999).

24.

Oh, Y. et al. An orange calcium-modulated bioluminescent indicator for non-invasive activity imaging. Nat. Chem. Biol. 15, 433–436 (2019).

25.

Gillis, E. P., Eastman, K. J., Hill, M. D., Donnelly, D. J. & Meanwell, N. A. Applications of fluorine in medicinal chemistry. J. Med. Chem. 58, 8315–8359 (2015).

26.

Suda, T. & Liu, D. Hydrodynamic gene delivery: its principles and applications. Mol. Ther. 15, 2063–2069 (2007).

27.

Mašek, T., Vopalenský, V. & Pospíšek, M. The Luc2 gene enhances reliability of bicistronic assays. Open Life Sci. 8, 423–431 (2013).

28.

Yeh, H. W., Wu, T., Chen, M. & Ai, H. W. Identification of factors complicating bioluminescence imaging. Biochemistry 58, 1689–1697 (2019).

29.

Shakhmin, A. et al. Three efficient methods for preparation of coelenterazine analogues. Chemistry 22, 10369–10375 (2016).

30.

Shrestha, T., Troyer, D. & Bossmann, S. Strategies for large-scale synthesis of coelenterazine for in vivo applications. Synthesis 46, 646–652 (2014).

31.

Walker, A. J. et al. Tumor antigen and receptor densities regulate efficacy of a chimeric antigen receptor targeting anaplastic lymphoma kinase. Mol. Ther. 25, 2189–2201 (2017).

32.

Schindelin, J. et al. Fiji: an open-source platform for biological-image analysis. Nat. Methods 9, 676–682 (2012).
Acknowledgements
We thank H. Zeng and the Stanford Transgenic, Knockout, and Tumor Model Center for generating H11P-CAG-LSL-Antares and -FLuc transgenic mice, C. Manalac and L. Luo (Stanford University) for nestin-Cre transgenic mice, and G. Tao and K. Sylvester (Stanford University) for albumin-Cre transgenic mice. We thank J. Osterman and H. Lazaro in the analytical department at Promega Biosciences for their support in compound characterization. Cell sorting/flow cytometry analysis for this project was done on instruments in the Stanford Shared FACS Facility. We thank the Stanford Animal Histology Services for help with preparation of histologic specimens. This work was supported by American Heart Association Innovative Research grant no. 15IRG23290018 (M.Z.L.), NIH grant no. 1R21DA048252 (M.Z.L.), an American Heart Association Postdoctoral Fellowship (N.K.), NCI grant no. P5P30CA124435 (C.L.M.), a St Baldrick's/Stand Up 2 Cancer Pediatric Dream Team Translational Cancer Research Grant (C.L.M.), Virginia and D.K. Ludwig Fund for Cancer Research (C.L.M.) and Stanford University School of Medicine Discovery Innovation Awards (J.R.C. and M.Z.L.). Stand Up 2 Cancer is a program of the Entertainment Industry Foundation administered by the American Association for Cancer Research. C.L.M is a member of the Parker Institute for Cancer Immunotherapy, which supports the Stanford University Cancer Immunotherapy Program. L.L. received support from the National Science Foundation Graduate Research Fellowship, Stanford Graduate Fellowship and Stanford EDGE Fellowship. R.G.M. is the Taube Distinguished Scholar for Pediatric Immunotherapy at Stanford University School of Medicine.
Ethics declarations
Competing interests
J.R.W., T.P.S., M.P.H., R.H., L.P.E. and T.A.K. are employees of Promega Corporation and inventors on a patent describing furimazine and furimazine derivatives. L.L. is a consultant for Lyell Immunopharma. R.G.M. is a consultant for Lyell Immunopharma, Xyphos Biosciences, Gamma Delta Therapeutics and Illumina Radiopharmaceuticals. Y.P., D.C.W., L.X.L., Y.S., N.K., K.M.C. and M.Z.L. declare no competing interests. C.L.M. is a founder, holds equity in and is a consultant for Lyell Immunopharma, consults for Neoimmune Tech, Apricity and Nektar, holds equity in Apricity and Allogene and has received royalties from NIH for a CD22-CAR licensed to Juno.
Additional information
Peer review information Rita Strack was the primary editor on this article and managed its editorial process and peer review in collaboration with the rest of the editorial team.
Publisher's note Springer Nature remains neutral with regard to jurisdictional claims in published maps and institutional affiliations.
Supplementary information
Supplementary Figs. 1–7 and Tables 1–3.
A mouse was injected with 4.2 μmol hydrofurimazine in P-407-based formulation. Vasopressin was added before the 30-min frame, with its presence indicated by the white circle. The localized nature of calcium oscillations can be more easily seen after time 45 min.
About this article
Cite this article
Su, Y., Walker, J.R., Park, Y. et al. Novel NanoLuc substrates enable bright two-population bioluminescence imaging in animals. Nat Methods 17, 852–860 (2020). https://doi.org/10.1038/s41592-020-0889-6
Received:

Accepted:

Published:

Issue Date:
Further reading
Gang Yuan
Natasha M. Flores
Or Gozani

Nature (2021)

Yaohua Li
Xinyu He
Wei Wang

Analytical and Bioanalytical Chemistry (2021)

Francesco Amadeo
Antonius Plagge
Arthur Taylor

European Journal of Nuclear Medicine and Molecular Imaging (2021)