Abstract
The mechanical phenotype of a cell is an inherent biophysical marker of its state and function, with many applications in basic and applied biological research. Microfluidics-based methods have enabled single-cell mechanophenotyping at throughputs comparable to those of flow cytometry. Here, we present a standardized cross-laboratory study comparing three microfluidics-based approaches for measuring cell mechanical phenotype: constriction-based deformability cytometry (cDC), shear flow deformability cytometry (sDC) and extensional flow deformability cytometry (xDC). All three methods detect cell deformability changes induced by exposure to altered osmolarity. However, a dose-dependent deformability increase upon latrunculin B-induced actin disassembly was detected only with cDC and sDC, which suggests that when exposing cells to the higher strain rate imposed by xDC, cellular components other than the actin cytoskeleton dominate the response. The direct comparison presented here furthers our understanding of the applicability of the different deformability cytometry methods and provides context for the interpretation of deformability measurements performed using different platforms.
Relevant articles
Open Access articles citing this article.
Biomechanics and Modeling in Mechanobiology Open Access 28 February 2023

Antoine Leblanc-Hotte

,

Cindy Audiger

…

Sylvie Lesage

Scientific Reports Open Access 03 February 2023

Chad ten Pas

,

Ke Du

…

Shiyou Xu

Scientific Reports Open Access 27 November 2022
Access options
Access Nature and 54 other Nature Portfolio journals
Get Nature+, our best-value online-access subscription
$29.99 per month
cancel any time
Subscribe to this journal
Receive 12 print issues and online access
$209.00 per year
only $17.42 per issue
Rent or buy this article
Get just this article for as long as you need it
$39.95
Prices may be subject to local taxes which are calculated during checkout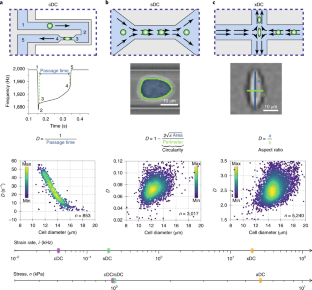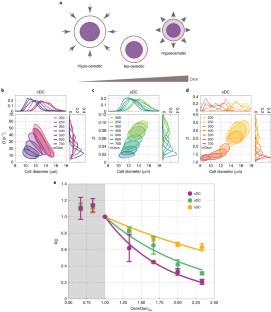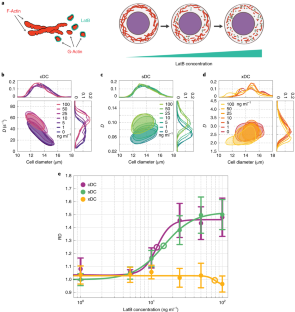 References
Di Carlo, D. A mechanical biomarker of cell state in medicine. J. Lab. Autom. 17, 32–42 (2012).

Nematbakhsh, Y. & Lim, C. T. Cell biomechanics and its applications in human disease diagnosis. Acta Mech. Sin. 31, 268–273 (2015).

Darling, E. M. & Di Carlo, D. High-throughput assessment of cellular mechanical properties. Annu. Rev. Biomed. Eng. 17, 35–62 (2015).

Otto, O. et al. Real-time deformability cytometry: on-the-fly cell mechanical phenotyping. Nat. Methods 12, 199–202 (2015).

Guck, J. et al. Optical deformability as an inherent cell marker for testing malignant transformation and metastatic competence. Biophys. J. 88, 3689–3698 (2005).

Swaminathan, V. et al. Mechanical stiffness grades metastatic potential in patient tumor cells and in cancer cell lines. Cancer Res. 71, 5075–5080 (2011).

Byun, S. et al. Characterizing deformability and surface friction of cancer cells. Proc. Natl Acad. Sci. USA 110, 7580–7585 (2013).

Tse, H. T. K. et al. Quantitative diagnosis of malignant pleural effusions by single-cell mechanophenotyping. Sci. Transl. Med. 5, 212ra163 (2013).

Bufi, N. et al. Human primary immune cells exhibit distinct mechanical properties that are modified by inflammation. Biophys. J. 108, 2181–2190 (2015).

Bashant, K. R. et al. Real-time deformability cytometry reveals sequential contraction and expansion during neutrophil priming. J. Leukoc. Biol. 105, 1143–1153 (2019).

Gossett, D. R. et al. Hydrodynamic stretching of single cells for large population mechanical phenotyping. Proc. Natl Acad. Sci. USA 109, 7630–7635 (2012).

Toepfner, N. et al. Detection of human disease conditions by single-cell morpho-rheological phenotyping of blood. eLife 7, e29213 (2018).

Rosenbluth, M. J., Lam, W. A. & Fletcher, D. A. Analyzing cell mechanics in hematologic diseases with microfluidic biophysical flow cytometry. Lab Chip 8, 1062–1070 (2008).

Ekpenyong, A. E. et al. Viscoelastic properties of differentiating blood cells are fate- and function-dependent. PLoS ONE 7, e45237 (2012).

Urbanska, M. et al. Single-cell mechanical phenotype is an intrinsic marker of reprogramming and differentiation along the mouse neural lineage. Development 144, 4313–4321 (2017).

Lin, J. et al. High-throughput physical phenotyping of cell differentiation. Microsyst. Nanoeng. 3, 17013 (2017).

Mammoto, T. & Ingber, D. E. Mechanical control of tissue and organ development. Development 137, 1407–1420 (2010).

Chan, C. J., Heisenberg, C. P. & Hiiragi, T. Coordination of morphogenesis and cell-fate specification in development. Curr. Biol. 27, R1024–R1035 (2017).

Radmacher, M. Studying the mechanics of cellular processes by atomic force microscopy. Methods Cell Biol. 83, 347–372 (2007).

Hochmuth, R. M. Micropipette aspiration of living cells. J. Biomech. 33, 15–22 (2000).

Guck, J. et al. The optical stretcher: a novel laser tool to micromanipulate cells. Biophys. J. 81, 767–784 (2001).

Thoumine, O., Ott, A., Cardoso, O. & Meister, J.-J. Microplates: a new tool for manipulation and mechanical perturbation of individual cells. J. Biochem. Biophys. Methods 39, 47–62 (1999).

Wu, P. H. et al. A comparison of methods to assess cell mechanical properties. Nat. Methods 15, 491–498 (2018).

Adamo, A. et al. Microfluidics-based assessment of cell deformability. Anal. Chem. 84, 6438–6443 (2012).

Lange, J. R. et al. Microconstriction arrays for high-throughput quantitative measurements of cell mechanical properties. Biophys. J. 109, 26–34 (2015).

Nyberg, K. D. et al. Quantitative deformability cytometry: rapid, calibrated measurements of cell mechanical properties. Biophys. J. 113, 1574–1584 (2017).

Guillou, L. et al. Measuring cell viscoelastic properties using a microfluidic extensional flow device. Biophys. J. 111, 2039–2050 (2016).

Armistead, F. J., De Pablo, J. G., Gadêlha, H., Peyman, S. A. & Evans, S. D. Cells under stress: an inertial-shear microfluidic determination of cell behaviour. Biophys. J. 4, 1127–1135 (2019).

Golfier, S. et al. High-throughput cell mechanical phenotyping for label-free titration assays of cytoskeletal modifications. Cytoskeleton 74, 283–296 (2017).

Di Carlo, D. Inertial microfluidics. Lab Chip 9, 3038 (2009).

Guilak, F., Erickson, G. K. & Ting-Beall, H. P. The effects of osmotic stress on the viscoelastic and physical properties of articular chondrocytes. Biophys. J. 82, 720–727 (2002).

Zhou, E. H. et al. Universal behavior of the osmotically compressed cell and its analogy to the colloidal glass transition. Proc. Natl Acad. Sci. USA 106, 10632–10637 (2009).

Moeendarbary, E. et al. The cytoplasm of living cells behaves as a poroelastic material. Nat. Mater. 12, 253–261 (2013).

Guo, M. et al. Cell volume change through water efflux impacts cell stiffness and stem cell fate. Proc. Natl Acad. Sci. USA 114, E8618–E8627 (2017).

Silverthorn, D. U., Johnson, B. R., Ober, W. C., Garrison, C. W. & Silverthorn, A. C. Human Physiology: An Integrated Approach Ch. 5 (Pearson Education, Boston, 2013).

Wakatsuki, T., Schwab, B., Thompson, N. C. & Elson, E. L. Effects of cytochalasin D and latrunculin B on mechanical properties of cells. J. Cell Sci. 114, 1025–1036 (2001).

Salbreux, G., Charras, G. & Paluch, E. Actin cortex mechanics and cellular morphogenesis. Trends Cell Biol. 22, 536–545 (2012).

Spector, I., Shorlet, N. R., Blasberger, D. & Kashman, Y. Latrunculins—novel marine macrolides that disrupt microfilament organization and affect cell growth: I. Comparison with cytochalasin D. Cell Motil. Cytoskeleton 13, 127–144 (1989).

Morton, W. M., Ayscough, K. R. & Mclaughlin, P. J. Latrunculin alters the actin-monomer subunit interface to prevent polymerization. Nat. Cell Biol. 2, 376–378 (2000).

Guck, J. & Chilvers, E. R. Mechanics meets medicine. Sci. Transl. Med. 5, 3–6 (2013).

Finan, J. D. & Guilak, F. The effects of osmotic stress on the structure and function of the cell nucleus. J. Cell. Biochem. 109, 460–467 (2010).

Hallows, K. R., Packman, C. H. & Knauf, P. A. Acute cell volume changes in anisotonic media affect F-actin content of HL-60 cells. Am. J. Physiol. 261, C1154–C1161 (1991).

Maruyama, K., Kaibara, M. & Fukada, E. Rheology of F-actin I. Network of F-actin in solution. Biochim. Biophys. Acta Protein Struct. 371, 20–29 (1974).

Janmey, P. A., Euteneuer, U., Traub, P. & Schliwa, M. Viscoelastic properties of vimentin compared with other filamentous biopolymer networks. J. Cell Biol. 113, 155–160 (1991).

Burg, T. P. et al. Weighing of biomolecules, single cells and single nanoparticles in fluid. Nature 446, 1066–1069 (2007).

Nawaz, A. A. et al. Using real-time fluorescence and deformability cytometry and deep learning to transfer molecular specificity to label-free sorting. Preprint at bioRxiv https://doi.org/10.1101/862227 (2019).

Rosendahl, P. et al. Real-time fluorescence and deformability cytometry. Nat. Methods 15, 355–358 (2018).

Mietke, A. et al. Extracting cell stiffness from real-time deformability cytometry: theory and experiment. Biophys. J. 109, 2023–2036 (2015).

Mokbel, M. et al. Numerical simulation of real-time deformability cytometry to extract cell mechanical properties. ACS Biomater. Sci. Eng. 3, 2962–2973 (2017).

Fregin, B. et al. High-throughput single-cell rheology in complex samples by dynamic real-time deformability cytometry. Nat. Commun. 10, 415 (2019).

Guck, J. Some thoughts on the future of cell mechanics. Biophys. Rev. 11, 667–670 (2019).

Lee, J. et al. Suspended microchannel resonators with piezoresistive sensors. Lab Chip 11, 645–651 (2011).

Cermak, N. et al. High-throughput measurement of single-cell growth rates using serial microfluidic mass sensor arrays. Nat. Biotechnol. 34, 1052–1059 (2016).

Herbig, M. et al. in Flow Cytometry Protocols. Methods in Molecular Biology Vol. 1678 (eds Hawley, T. & Hawley, R.) 347–369 (Humana Press, 2018).

Herold, C. Mapping of deformation to apparent Young's modulus in real-time deformability cytometry. Preprint at http://arxiv.org/abs/1704.00572 (2017).

Hoffmann, E., Lambert, I. H. & Pedersen, S. F. Physiology of cell volume regulation in vertebrates. Physiol. Rev. 89, 193–277 (2009).

Motulsky, H. & Christopoulos, A. Fitting Models to Biological Data Using Linear and Nonlinear Regression: A Practical Guide to Curve Fitting Ch. F.22, 138–142 (Oxford Univ. Press, 2004).

Abdi, H. in Encyclopedia of Measurement and Statistics (ed. Salkind, N.) 103–107 (Sage, 2007).

Ritz, C., Baty, F., Streibig, J. C. & Gerhard, D. Dose-response analysis using R. PLoS ONE 10, e0146021 (2015).

Urbanska, M. et al. MetaDeformability Dataset (Figshare, 2020); https://doi.org/10.6084/m9.figshare.11704119
Acknowledgements
We thank P. Janmey for helpful discussions, J. H. Kang and D. Soteriou for useful comments on the manuscript, A. Mietke (Massachusetts Institute of Technology) and C. Herold (Zellmechanik Dresden) for sharing parts of analysis codes, A.L. and D.E. Olins (University of New England) for providing the HL60/S4 cell line and the Microstructure Facility at the Center for Molecular and Cellular Bioengineering at Technische Universität Dresden (in part funded by the State of Saxony and the European Regional Development Fund) for help with the production of sDC chips. We acknowledge funding from the Alexander von Humboldt-Stiftung (Alexander von Humboldt Professorship to J.G.), the Ludwig Center for Molecular Oncology (S.R.M.), the Cancer Systems Biology Consortium U54 CA217377 and the Koch Institute Support Grant P30 CA14051 from the NCI (S.R.M.), the German Federal Ministry of Research and Education (ZIK grant to O.O. under grant agreement 03Z22CN11), and a Presidential Early Career Award for Scientists and Engineers (N00014-16-1-2997, to D.D.).
Ethics declarations
Competing interests
M.U., H.E.M., J.S.B. and J.G. declare no competing interests. O.O. is a shareholder of Zellmechanik Dresden GmbH distributing real-time deformability cytometry; Zellmechanik Dresden GmbH owns a patent for Real-Time Deformability Cytometry (RT-DC): EU patent under the number EP 30 036 520 B1. S.R.M. is a founder of Travera and Affinity Biosensors. D.D. has financial interests in Cytovale Inc., which is commercializing deformability cytometry technology.
Additional information
Peer review information Nina Vogt was the primary editor on this article and managed its editorial process and peer review in collaboration with the rest of the editorial team.
Publisher's note Springer Nature remains neutral with regard to jurisdictional claims in published maps and institutional affiliations.
Integrated supplementary information
Supplementary information
Supplementary Figs. 1–11, Note and Tables 1–3.
About this article
Cite this article
Urbanska, M., Muñoz, H.E., Shaw Bagnall, J. et al. A comparison of microfluidic methods for high-throughput cell deformability measurements. Nat Methods 17, 587–593 (2020). https://doi.org/10.1038/s41592-020-0818-8
Received:

Accepted:

Published:

Issue Date:

DOI: https://doi.org/10.1038/s41592-020-0818-8