Abstract
Spatial and molecular characteristics determine tissue function, yet high-resolution methods to capture both concurrently are lacking. Here, we developed high-definition spatial transcriptomics, which captures RNA from histological tissue sections on a dense, spatially barcoded bead array. Each experiment recovers several hundred thousand transcript-coupled spatial barcodes at 2-μm resolution, as demonstrated in mouse brain and primary breast cancer. This opens the way to high-resolution spatial analysis of cells and tissues.
Access options
Subscribe to Journal
Get full journal access for 1 year
$259.00
only $21.58 per issue
All prices are NET prices.
VAT will be added later in the checkout.
Rent or Buy article
Get time limited or full article access on ReadCube.
from$8.99
All prices are NET prices.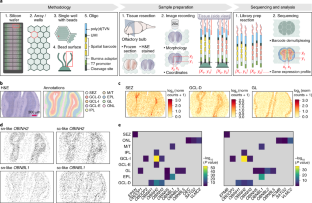 References
1.

Oh, S. W. et al. Nature 508, 207–214 (2014).

2.

Lein, E., Borm, L. E. & Linnarsson, S. Science 358, 64–69 (2017).

3.

Macosko, E. Z. et al. Cell 161, 1202–1214 (2015).

4.

Zheng, G. X. Y. et al. Nat. Commun. 8, 14049 (2017).

5.

van den Brink, S. C. et al. Nat. Methods 14, 935–936 (2017).

6.

Chen, K. H., Boettiger, A. N., Moffitt, J. R., Wang, S. & Zhuang, X. Science 348, aaa6090 (2015).

7.

Wang, X. et al. Science 361, eaat5691 (2018).

8.

Coskun, A. F. & Cai, L. Nat. Methods 13, 657–660 (2016).

9.

Beliveau, B. J. et al. Nat. Commun. 6, 7147 (2015).

10.

Lee, J. H. et al. Science 343, 1360–1363 (2014).

11.

Ke, R. et al. Nat. Methods 10, 857–860 (2013).

12.

Ståhl, P. L. et al. Science 353, 78–82 (2016).

13.

Michael, K. L., Taylor, L. C., Schultz, S. L. & Walt, D. R. Anal. Chem. 70, 1242–1248 (1998).

14.

Gunderson, K. L. et al. Genome Res. 14, 870–877 (2004).

15.

Nagayama, S., Homma, R. & Imamura, F. Front. Neural Circuits 8, 98 (2014).

16.

Lein, E. S. et al. Nature 445, 168–176 (2007).

17.

Zeisel, A. et al. Cell 174, 999–1014 (2018).

18.

Karaayvaz, M. et al. Nat. Commun. 9, 3588 (2018).

19.

Zhang, X. et al. Breast Cancer Res. 19, 15 (2017).

20.

Rodriques, S. G. et al. Science 363, 1463–1467 (2019).

21.

Salmén, F. et al. Nat. Protoc. 13, 2501–2534 (2018).

22.

Jemt, A. et al. Sci. Rep. 6, 37137 (2016).

23.

Navarro, J. F., Sjöstrand, J., Salmén, F., Lundeberg, J. & Ståhl, P. L. Bioinformatics 33, 2591–2593 (2017).

24.

Dobin, A. et al. Bioinformatics 29, 15–21 (2012).

25.

Anders, S., Pyl, P. T. & Huber, W. Bioinformatics 31, 166–169 (2015).

26.

Costea, P. I., Lundeberg, J. & Akan, P. PLoS ONE 8, e57521 (2013).

27.

Gautheret, D., Poirot, O., Lopez, F., Audic, S. & Claverie, J. M. Genome Res. 8, 524–530 (1998).

28.

Wong, K., Navarro, J. F., Bergenstråhle, L., Ståhl, P. L. & Lundeberg, J. Bioinformatics 34, 1966–1968 (2018).

29.

Sommer, C., Straehle, C., Kothe, U. & Hamprecht, F. A. In IEEE International Symposium on Biomedical Imaging: From Nano to Macro 230–233 (IEEE, 2011).

30.

Lamprecht, M. R., Sabatini, D. M. & Carpenter, A. E. Biotechniques 42, 71–75 (2007).

31.

Lyubimova, A. et al. Nat. Protoc. 8, 1743–1758 (2013).

32.

Schindelin, J. et al. Nat. Methods 9, 676–682 (2012).

33.

Wolf, F. A., Angerer, P. & Theis, F. J. Genome Biol. 19, 15 (2018).

34.

Svensson, V., Teichmann, S. A. & Stegle, O. Nat. Methods 15, 343–346 (2018).
Acknowledgements
We thank the NGI Stockholm, SciLifeLab, Flatiron Institute and Simons Foundation for providing infrastructure support. We thank L. Gaffney, A. Hupalowska and J. Rood for help with manuscript preparation. Work was supported by the Knut and Alice Wallenberg Foundation, Swedish Foundation for Strategic Research, Swedish Cancer Society and the Swedish Research Council (to S.V., J.L. and P.L.S.), the EMBO long-term fellowship (no. ALTF 738-2017) to J.K., Early Postdoc Mobility fellowship (no. P2ZHP3_181475) to D.S., the NIH HuBMAP HIVE project and the Klarman Cell Observatory and HHMI (to A.R.). S.V is supported as a Wallenberg Fellow at the Broad Institute of MIT and Harvard.
Ethics declarations
Competing interests
F.S., J.F., J.L. and P.L.S. are authors on patents PCT/EP2012/056823 (WO2012/140224), PCT/EP2013/071645 (WO2014/060483) and PCT/EP2016/057355 applied for by Spatial Transcriptomics AB (10x Genomics) covering the described technology. M.R. is employed by Illumina Inc. A.R. is a founder and equity holder of Celsius Therapeutics and an SAB member of Syros Pharmaceuticals and ThermoFisher Scientific.
Additional information
Peer review information: Nicole Rusk was the primary editor on this article and managed its editorial process and peer review in collaboration with the rest of the editorial team.
Publisher's note: Springer Nature remains neutral with regard to jurisdictional claims in published maps and institutional affiliations.
Integrated supplementary information
Supplementary information
About this article
Cite this article
Vickovic, S., Eraslan, G., Salmén, F. et al. High-definition spatial transcriptomics for in situ tissue profiling. Nat Methods 16, 987–990 (2019). https://doi.org/10.1038/s41592-019-0548-y
Received:

Accepted:

Published:

Issue Date: