Abstract
We introduce an interferometric single-molecule localization method for super-resolution fluorescence microscopy. Fluorescence molecules are located by the intensities of multiple excitation patterns of an interference fringe, providing around a twofold improvement in the localization precision compared with the conventional imaging with the same photon budget. We demonstrate this technique by resolving nanostructures down to 5 nm in size over a large 25 × 25 μm2 field of view.
Access options
Subscribe to Journal
Get full journal access for 1 year
$259.00
only $21.58 per issue
All prices are NET prices.
VAT will be added later in the checkout.
Rent or Buy article
Get time limited or full article access on ReadCube.
from$8.99
All prices are NET prices.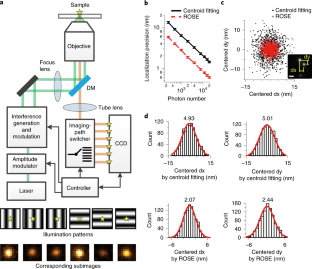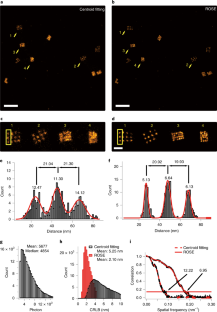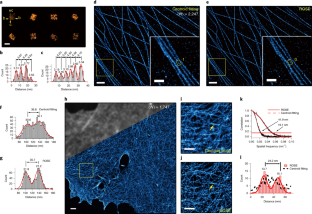 Data availability
The data that support the findings of this study are available from the corresponding author upon request.
Code availability
MATLAB programs for simulation data generation and data analysis are freely available for academic use and are provided online with this paper as Supplementary Software. The LabVIEW program for device controlling and the Python program for drift correction during imaging, which are hardware-dependent, are available from the corresponding author upon request.
References
1.

Betzig, E. et al. Science 313, 1642–1645 (2006).

2.

Hess, S. T., Girirajan, T. P. K. & Mason, M. D. Biophys. J. 91, 4258–4272 (2006).

3.

Rust, M. J., Bates, M. & Zhuang, X. Nat. Methods 3, 793 (2006).

4.

Thompson, R. E., Larson, D. R. & Webb, W. W. Biophys. J. 82, 2775–2783 (2002).

5.

Zheng, Q. et al. Chem. Soc. Rev. 43, 1044–1056 (2014).

6.

Vogelsang, J. et al. Angew. Chem. Int. Ed. 47, 5465–5469 (2008).

7.

Dai, M., Jungmann, R. & Yin, P. Nat. Nanotechnol. 11, 798 (2016).

8.

Weisenburger, S. et al. ChemPhysChem 15, 763–770 (2014).

9.

Li, W., Stein, S. C., Gregor, I. & Enderlein, J. Opt. Express 23, 3770–3783 (2015).

10.

Liu, B. et al. Sci. Rep. 5, 13017 (2015).

11.

Balzarotti, F. et al.Science 355, 606–612 (2017).

12.

Shtengel, G. et al. Proc. Natl Acad. Sci. USA 106, 3125–3130 (2009).

13.

Aquino, D. et al. Nat. Methods 8, 353 (2011).

14.

Huang, F. et al.Cell 166, 1028–1040 (2016).

15.

Jungmann, R. et al. Nat. Methods 11, 313–318 (2014).

16.

Gustafsson, M. G. L. J. Microsc. 198, 82–87 (2000).

17.

Lew, M. D., Backlund, M. P. & Moerner, W. E. Nano Lett. 13, 3967–3972 (2013).
Acknowledgements
We thank L. Pan for helping with the preparation of COS-7 cells stained with Alexa-647-labeled phalloidin, and Y. Zhang and B. Liu for discussions. This work was supported by the National Key Research and Development Program of China (grant no. 2017YFA0505300 to W.J., grant no. 2016YFA0500200 to T.X., grant no. 2016YFA0502400 to W.J.), the National Foundation of Natural Science of China (grant no. 31730054, 31661143041, 31127901 to T.X., grant no. 31700743 to L.G.), Beijing Municipal Science & Technology Commission project no. Z181100004218002 (to T.X.), the Instrument Development Project of CAS (grant no. GJJSTD20180001 to T.X., grant no. YJKYYQ20180069 to W.J.) and the Youth Innovation Promotion Association of CAS (grant no. 2013066 to W.J. and grant no. 2017135 to L.G.).
Ethics declarations
Competing interests
The authors declare no competing interests.
Additional information
Peer review information Rita Strack was the primary editor on this article and managed its editorial process and peer review in collaboration with the rest of the editorial team.
Publisher's note Springer Nature remains neutral with regard to jurisdictional claims in published maps and institutional affiliations.
Integrated supplementary information
Supplementary information
Supplementary Figs. 1–15 and Notes 1–4.
About this article
Cite this article
Gu, L., Li, Y., Zhang, S. et al. Molecular resolution imaging by repetitive optical selective exposure. Nat Methods 16, 1114–1118 (2019). https://doi.org/10.1038/s41592-019-0544-2
Received:

Accepted:

Published:

Issue Date: