Abstract
Single-cell RNA sequencing (scRNA-seq) data are noisy and sparse. Here, we show that transfer learning across datasets remarkably improves data quality. By coupling a deep autoencoder with a Bayesian model, SAVER-X extracts transferable gene−gene relationships across data from different labs, varying conditions and divergent species, to denoise new target datasets.
Access options
Subscribe to Journal
Get full journal access for 1 year
$59.00
only $4.92 per issue
All prices are NET prices.
VAT will be added later in the checkout.
Tax calculation will be finalised during checkout.
Rent or Buy article
Get time limited or full article access on ReadCube.
from$8.99
All prices are NET prices.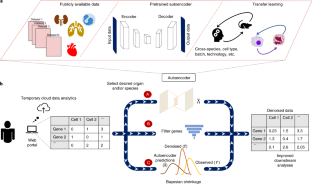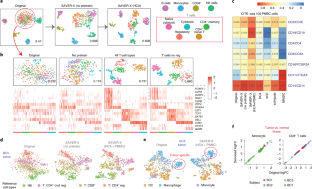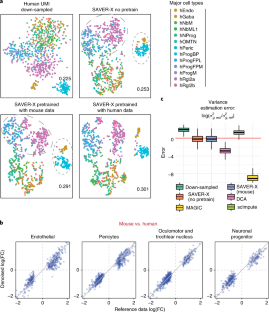 Data availability
The HCA dataset was downloaded from the HCA data portal (https://preview.data.humancellatlas.org/) and the PBMC data14 were downloaded from the 10X website (https://support.10xgenomics.com/single-cell-gene-expression/datasets, Supplementary Table 2). The breast cancer data16 were downloaded from the Gene Expression Omnibus (GEO) (GSE114725). The developing midbrain data12 were downloaded from GEO (GSE76381). For the other mouse developing brain datasets in Fig. 3, we included cells from neonatal and fetal brain tissues in the Mouse Cell Atlas7 data (GSE108097). For the non-UMI human developing brain datasets in Supplementary Fig. 8, we included GSE75140 (ref. 18) GSE104276 (ref. 19) and SRP041736 (ref. 17). No gene or cell filtering was done on the original dataset.
A complete list of the pretraining datasets used for pretraining the models on the SAVER-X website is provided in Supplementary Table 2.
Code availability
SAVER-X is publicly available at http://singlecell.wharton.upenn.edu/saver-x/, where users can currently upload their data for cloud computing and choose from models pretrained on 31 mouse tissues and human immune cells. Models jointly pretrained on cells from both species are also available for brain and pancreatic tissues. The R package and source code of SAVER-X was also released at https://github.com/jingshuw/SAVERX.
References
1.

Huang, M. et al. Nat. Methods 15, 539–542 (2018).

2.

Li, W. V. & Li, J. J. Nat. Commun. 9, 1–9 (2018).

3.

van Dijk, D. et al. Cell 174, 716–729 (2018).

4.

Eraslan, G., Simon, L. M., Mircea, M., Mueller, N. S. & Theis, F. J. Nat. Commun. 10, 390 (2019).

5.

Gong, W., Kwak, I., Pota, P., Koyano-nakagawa, N. & Garry, D. J. BMC Bioinforma. 19, 1–10 (2018).

6.

Lopez, R., Regier, J., Cole, M. B., Jordan, M. I. & Yosef, N. Nat. Methods 15, 1053–1058 (2018).

7.

Han, X. et al. Cell 172, 1091–1097 (2018).

8.

Tabula, T. & Consortium, M. Nature 562, 367–372 (2018).

9.

Regev, A. et al. eLife 6, 1–30 (2017).

10.

Hinton, G. E. & Salakhutdinov, R. R. Science 313, 504–507 (2006).

11.

Andrews, T. S., Hemberg, M. & Hicks, S. F1000Research 7, 1740 (2018).

12.

La Manno, G. et al. Cell 167, 566–580 (2016).

13.

Nguyen, A. et al. Front. Immunol. 9, 1553 (2018).

14.

Zheng, G. X. Y. et al. Nat. Commun. 8, 1–12 (2017).

15.

Stoeckius, M. et al. Nat. Methods 14, 865–868 (2017).

16.

Azizi, E. et al. Cell 174, 1293–1308 (2018).

17.

Pollen, A. A. et al. Nat. Biotechnol. 32, 1053–1058 (2014).

18.

Camp, J. G. et al. Proc. Natl Acad. Sci. USA 112, 15672–15677 (2015).

19.

Zhong, S. et al. Nature 555, 524–528 (2018).

20.

Wang, J. et al. Proc. Natl Acad. Sci. USA 115, E6437–E6446 (2018).

21.

Kim, J. K. et al. Nat. Commun. 6, 8687 (2015).
Acknowledgements
We thank H. MacMullan IV, V. Conley and S. Zamechek from Wharton Computing's Research & Analytics Team (https://research-it.wharton.upenn.edu/) for their valuable assistance in implementing the code in a scalable fashion and integrating the scalable code solution into a backend service for our website. We also thank the National Institute of Health for the award 5R01-HG006137 (for D.A., Z.Z., and N.Z.), the National Science Foundation for the award DMS-1562665 (to J.W., N.Z.), the Blavatnik Family Foundation's Graduate Student Fellowship awarded to D.A., NSF Graduate Fellowship DGE-1321851 awarded to M.H., and the Natural Science Foundation of Tianjin for grant 18JCYBJC24900 to G.H. This work used the Extreme Science and Engineering Discovery Environment (XSEDE), which is supported by National Science Foundation grant number ACI-1548562. Specifically, it used the Bridges system, which is supported by NSF award number ACI-1445606, at the Pittsburgh Supercomputing Center (PSC).
Ethics declarations
Competing interests
The authors declare no competing interests.
Additional information
Peer review information: Nicole Rusk was the primary editor on this article and managed its editorial process and peer review in collaboration with the rest of the editorial team.
Publisher's note: Springer Nature remains neutral with regard to jurisdictional claims in published maps and institutional affiliations.
Integrated supplementary information
Supplementary information
Supplementary Figures 1–9, Supplementary Tables 1 and 2, Supplementary Notes 1–6.
About this article
Cite this article
Wang, J., Agarwal, D., Huang, M. et al. Data denoising with transfer learning in single-cell transcriptomics. Nat Methods 16, 875–878 (2019). https://doi.org/10.1038/s41592-019-0537-1
Received:

Accepted:

Published:

Issue Date: