Abstract
Although structures determined at near-atomic resolution are now routinely reported by cryo-electron microscopy (cryo-EM), many density maps are determined at an intermediate resolution, and extracting structure information from these maps is still a challenge. We report a computational method, Emap2sec, that identifies the secondary structures of proteins (α-helices, β-sheets and other structures) in EM maps at resolutions of between 5 and 10 Å. Emap2sec uses a three-dimensional deep convolutional neural network to assign secondary structure to each grid point in an EM map. We tested Emap2sec on EM maps simulated from 34 structures at resolutions of 6.0 and 10.0 Å, as well as on 43 maps determined experimentally at resolutions of between 5.0 and 9.5 Å. Emap2sec was able to clearly identify the secondary structures in many maps tested, and showed substantially better performance than existing methods.
Access options
Subscribe to Journal
Get full journal access for 1 year
$119.00
only $9.92 per issue
All prices are NET prices.
VAT will be added later in the checkout.
Tax calculation will be finalised during checkout.
Rent or Buy article
Get time limited or full article access on ReadCube.
from$8.99
All prices are NET prices.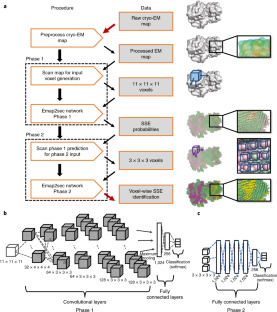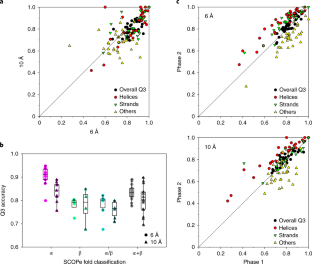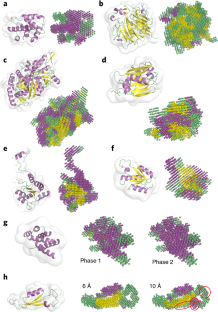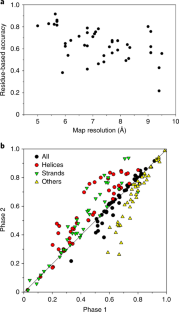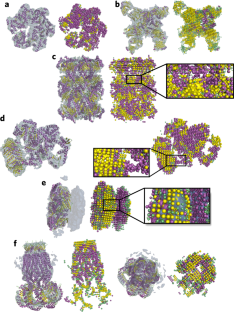 Data availability
The raw data of accuracies are provided in Supplementary Tables 1, 3 and 4. The experimental EM maps can be downloaded from EMDB (Supplementary Table 3). Output files from Emap2sec for the simulated and experimental maps that support the findings of this study are available from the corresponding author upon request.
References
1.

Kuhlbrandt, W. Cryo-EM enters a new era. eLife 3, e03678 (2014).

2.

Cheng, Y. Single-particle cryo-EM—how did it get here and where will it go. Science 361, 876–880 (2018).

3.

Patwardhan, A. Trends in the Electron Microscopy Data Bank (EMDB). Acta Crystallogr. D Struct. Biol. 73, 503–508 (2017).

4.

Nogales, E. The development of cryo-EM into a mainstream structural biology technique. Nat. Methods 13, 24–27 (2016).

5.

Esquivel-Rodriguez, J. & Kihara, D. Computational methods for constructing protein structure models from 3D electron microscopy maps. J. Struct. Biol. 184, 93–102 (2013).

6.

Kirmizialtin, S., Loerke, J., Behrmann, E., Spahn, C. M. & Sanbonmatsu, K. Y. Using molecular simulation to model high-resolution cryo-EM reconstructions. Methods Enzym. 558, 497–514 (2015).

7.

Miyashita, O., Kobayashi, C., Mori, T., Sugita, Y. & Tama, F. Flexible fitting to cryo-EM density map using ensemble molecular dynamics simulations. J. Comput. Chem. 38, 1447–1461 (2017).

8.

Esquivel-Rodriguez, J. & Kihara, D. Fitting multimeric protein complexes into electron microscopy maps using 3D zernike descriptors. J. Phys. Chem. B 116, 6854–6861 (2012).

9.

Saha, M. & Morais, M. C. FOLD-EM: automated fold recognition in medium- and low-resolution (4–15 Å) electron density maps. Bioinformatics 28, 3265–3273 (2012).

10.

Zheng, W. Accurate flexible fitting of high-resolution protein structures into cryo-electron microscopy maps using coarse-grained pseudo-energy minimization. Biophys. J. 100, 478–488 (2011).

11.

Brown, A. et al. Tools for macromolecular model building and refinement into electron cryo-microscopy reconstructions. Acta Crystallogr. D Biol. Crystallogr. 71, 136–153 (2015).

12.

Terwilliger, T. C. et al. Iterative model building, structure refinement and density modification with the PHENIX auto build wizard. Acta Crystallogr. D Biol. Crystallogr. 64, 61–69 (2008).

13.

DiMaio, F. et al. Atomic-accuracy models from 4.5-Å cryo-electron microscopy data with density-guided iterative local refinement. Nat. Methods 12, 361–365 (2015).

14.

Chen, M., Baldwin, P. R., Ludtke, S. J. & Baker, M. L. De novo modeling in cryo-EM density maps with pathwalking. J. Struct. Biol. 196, 289–298 (2016).

15.

Terashi, G. & Kihara, D. De novo main-chain modeling for EM maps using MAINMAST. Nat. Commun. 9, 1618 (2018).

16.

Terashi, G. & Kihara, D. De novo main-chain modeling with MAINMAST in 2015/2016 EM model challenge. J. Struct. Biol. 204, 351–359 (2018).

17.

Jiang, W., Baker, M. L., Ludtke, S. J. & Chiu, W. Bridging the information gap: computational tools for intermediate resolution structure interpretation. J. Mol. Biol. 308, 1033–1044 (2001).

18.

Dou, H., Burrows, D. W., Baker, M. L. & Ju, T. Flexible fitting of atomic models into cryo-EM density maps guided by helix correspondences. Biophys. J. 112, 2479–2493 (2017).

19.

Kong, Y., Zhang, X., Baker, T. S. & Ma, J. A structural-informatics approach for tracing β-sheets: building pseudo-Cα traces for β-strands in intermediate-resolution density maps. J. Mol. Biol. 339, 117–130 (2004).

20.

Si, D. & He, J. Modeling β-traces for β-barrels from cryo-EM density maps. Biomed. Res. Int. 2017, 1793213 (2017).

21.

Si, D. & He, J. Tracing β strands using StrandTwister from cryo-EM density maps at medium resolutions. Structure 22, 1665–1676 (2014).

22.

Lindert, S. et al. EM-fold: de novo atomic-detail protein structure determination from medium-resolution density maps. Structure 20, 464–478 (2012).

23.

Berman, H. M. et al. The Protein Data Bank. Nucleic Acids Res. 28, 235–242 (2000).

24.

Biswas, A. et al. An effective computational method incorporating multiple secondary structure predictions in topology determination for cryo-EM images. IEEE/ACM Trans. Comput. Biol. Bioinform 14, 578–586 (2017).

25.

Li, R. J., Si, D., Zeng, T., Ji, S. W. & He, J. Deep convolutional neural networks for detecting secondary structures in protein density maps from cryo-electron microscopy. in 2016 IEEE International Conference on Bioinformatics and Biomedicine (BIBM) (eds Tian, T. et al.) 41–46 (IEEE, 2016).

26.

Russakovsky, O. et al. Image net large scale visual recognition challenge. Int. J. Comput. Vis. 115, 1–42 (2015).

27.

Maturana, D. & Scherer, S. VoxNet: a 3D convolutional neural network for real-time object recognition. in 2015 IEEE/RSJ International Conference on Intelligent Robots and Systems (IROS) 922–928 (IEEE, 2015).

28.

Jones, D. T. Protein secondary structure prediction based on position-specific scoring matrices. J. Mol. Biol. 292, 195 (1999).

29.

Fox, N. K., Brenner, S. E. & Chandonia, J. M. SCOPe: structural classification of proteins—extended, integrating SCOP and ASTRAL data and classification of new structures. Nucleic Acids Res. 42, D304–D309 (2014).

30.

Deneka, D., Sawicka, M., Lam, A. K. M., Paulino, C. & Dutzler, R. Structure of a volume-regulated anion channel of the LRRC8 family. Nature 558, 254–259 (2018).

31.

Langer, G., Cohen, S. X., Lamzin, V. S. & Perrakis, A. Automated macromolecular model building for X-ray crystallography using ARP/wARP version 7. Nat. Protoc. 3, 1171–1179 (2008).

32.

Tang, G. et al. EMAN2: an extensible image processing suite for electron microscopy. J. Struct. Biol. 157, 38–46 (2007).

33.

Subramaniya, S. R. M. V., Terashi, G. & Kihara, D. Protein secondary structure detection in intermediate resolution cryo-electron microscopy maps using deep learning v.2.0 (Code Ocean, 2019); https://doi.org/10.24433/CO.3068754.v2

34.

Frishman, D. & Argos, P. Knowledge-based protein secondary structure assignment. Proteins 23, 566–579 (1995).

35.

Monroe, L., Terashi, G. & Kihara, D. Variability of protein structure models from electron microscopy. Structure 25, 592–602 (2017).
Acknowledgements
The authors acknowledge C. Christoffer for his help in finalizing the manuscript. This work was partly supported by the National Institutes of Health (R01GM123055), the National Science Foundation (DMS1614777 and CMMI1825941) and the Purdue Institute of Drug Discovery.
Ethics declarations
Competing interests
The authors declare no competing interests.
Additional information
Peer review information: Allison Doerr was the primary editor on this article and managed its editorial process and peer review in collaboration with the rest of the editorial team.
Publisher's note: Springer Nature remains neutral with regard to jurisdictional claims in published maps and institutional affiliations.
Integrated supplementary information
Supplementary information
About this article
Cite this article
Maddhuri Venkata Subramaniya, S.R., Terashi, G. & Kihara, D. Protein secondary structure detection in intermediate-resolution cryo-EM maps using deep learning. Nat Methods 16, 911–917 (2019). https://doi.org/10.1038/s41592-019-0500-1
Received:

Accepted:

Published:

Issue Date: