Abstract
We report the identification of a photocleavable anionic surfactant, 4-hexylphenylazosulfonate (Azo), which can be rapidly degraded by ultraviolet irradiation, for top-down proteomics. Azo can effectively solubilize proteins with performance comparable to that of sodium dodecyl sulfate (SDS) and is compatible with mass spectrometry. Azo-aided top-down proteomics enables the solubilization of membrane proteins for comprehensive characterization of post-translational modifications. Moreover, Azo is simple to synthesize and can be used as a general SDS replacement in SDS–polyacrylamide gel electrophoresis.
Access options
Subscribe to Journal
Get full journal access for 1 year
$59.00
only $4.92 per issue
All prices are NET prices.
VAT will be added later in the checkout.
Tax calculation will be finalised during checkout.
Rent or Buy article
Get time limited or full article access on ReadCube.
from$8.99
All prices are NET prices.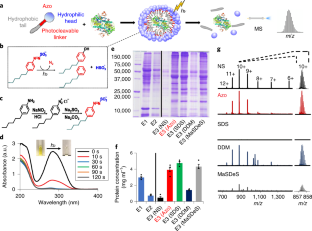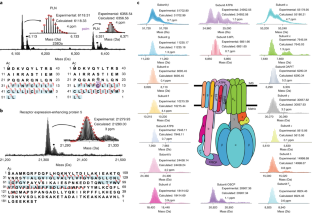 Data availability
All data generated or analyzed during this study are presented in this article or in the provided supplementary materials. Raw gel, blot and mass spectra data are available as Supplementary Data, and source data for Fig. 1 and Supplementary Figs. 4, 9, 10 and 13 are available online. Proteomics data have been uploaded to the PRIDE repository via ProteomeXchange with identifier PXD010825.
References
1.

Aebersold, R. et al. Nat. Chem. Biol. 14, 206–214 (2018).

2.

Siuti, N. & Kelleher, N. L. Nat. Methods 4, 817–821 (2007).

3.

Cai, W. X., Tucholski, T. M., Gregorich, Z. R. & Ge, Y. Expert Rev. Proteomics 13, 717–730 (2016).

4.

Chen, B., Brown, K. A., Lin, Z. & Ge, Y. Anal. Chem. 90, 110–127 (2018).

5.

Barrera, N. P. & Robinson, C. V. Annu. Rev. Biochem 80, 247–271 (2011).

6.

Speers, A. E. & Wu, C. C. Chem. Rev. 107, 3687–3714 (2007).

7.

Loo, R. R., Dales, N. & Andrews, P. C. Protein Sci. 3, 1975–1983 (1994).

8.

Wisniewski, J. R., Zougman, A., Nagaraj, N. & Mann, M. Nat. Methods 6, 359–362 (2009).

9.

Kachuk, C. & Doucette, A. A. J. Proteomics 175, 75–86 (2018).

10.

Chang, Y.-H. et al. J. Proteome Res. 14, 1587–1599 (2015).

11.

Yu, Y. Q., Gilar, M., Lee, P. J., Bouvier, E. S. & Gebler, J. C. Anal. Chem. 75, 6023–6028 (2003).

12.

Chen, E. I., Cociorva, D., Norris, J. L. & Yates, J. R. J. Proteome Res. 6, 2529–2538 (2007).

13.

Meng, F. et al. Anal. Chem. 74, 2923–2929 (2002).

14.

Bradley, M., Vincent, B., Warren, N., Eastoe, J. & Vesperinas, A. Langmuir 22, 101–105 (2006).

15.

Hwang, L., Guardado-Alvarez, T. M., Ayaz-Gunner, S., Ge, Y. & Jin, S. Langmuir 32, 3963–3969 (2016).

16.

Kim, M. S. & Diamond, S. L. Bioorg. Med. Chem. Lett. 16, 4007–4010 (2006).

17.

Dunkin, I. R., Gittinger, A., Sherrington, D. C. & Whittaker, P. J. Chem. Soc. Perkin Trans. I 2, 1837–1842 (1996).

18.

Laganowsky, A., Reading, E., Hopper, J. T. S. & Robinson, C. V. Nat. Protoc. 8, 639–651 (2013).

19.

MacLennan, D. H. & Kranias, E. G. Nat. Rev. Mol. Cell Biol. 4, 566–577 (2003).

20.

He, J. et al. Proc. Natl Acad. Sci. USA 115, 2988–2993 (2018).

21.

Saveliev, S. V. et al. Anal. Chem. 85, 907–914 (2013).

22.

Lee, H. B. et al. J. Org. Chem. 69, 701–713 (2004).

23.

Saveliev, S., Simpson, D. & Wood, K. V. Cleavable surfactants. US patent 0095628 A1 (2009).

24.

Mezger, T., Nuyken, O., Meindl, K. & Wokaun, A. Prog. Org. Coat. 29, 147–157 (1996).

25.

Wientzek, M. & Katz, S. J. Mol. Cell. Cardiol. 23, 1149–1163 (1991).

26.

Peng, Y. et al. Mol. Cell. Proteomics 13, 2752–2764 (2014).

27.

Kou, Q., Xun, L. & Liu, X. Bioinformatics 32, 3495–3497 (2016).

28.

Apweiler, R. et al. Nucleic Acids Res. 32, D115–D119 (2004).

29.

Cai, W. et al. Mol. Cell. Proteomics 15, 703–714 (2016).

30.

Fellers, R. T. et al. Proteomics 15, 1235–1238 (2015).

31.

Ashburner, M. et al. Nature Genet. 25, 25–29 (2000).

32.

Szklarczyk, D. et al. Nucleic Acids Res. 45, D362–D368 (2017).

33.

Cai, W. et al. Anal. Chem. 89, 5467–5475 (2017).
Acknowledgements
This research is supported by National Institutes of Health R01 GM117058 (to S.J. and Y.G.). Y.G. acknowledges R01 HL109810, R01 HL096971, R01 GM125085 and S10 OD018475. MaSDeS was a gift from S. Saveliev (Promega Corporation). We thank A. Chen, E. Chang and W. Tang for their assistance in the early stage of the project, S. Mitchell and T. Tucholski for the help with graphics, and T. Hacker for providing the swine hearts. We thank M. Willetts at Bruker for his assistance with DataAnalysis software. We also acknowledge A. Carr, E. Bayne and J. Melby for their help testing the Supplementary Protocol to ensure reproducible results.
Ethics declarations
Competing interests
The University of Wisconsin–Madison has filed a provisional patent application P180335US01, US serial number 62/682027 (7 June 2018) on the basis of this work. Y.G., S.J., K.B. and T.M.G.-A. are named as inventors on the provisional patent application.
Additional information
Publisher's note: Springer Nature remains neutral with regard to jurisdictional claims in published maps and institutional affiliations.
Supplementary information
About this article
Cite this article
Brown, K.A., Chen, B., Guardado-Alvarez, T.M. et al. A photocleavable surfactant for top-down proteomics. Nat Methods 16, 417–420 (2019). https://doi.org/10.1038/s41592-019-0391-1
Received:

Accepted:

Published:

Issue Date:
Further reading
Timothy N. Tiambeng

,

David S. Roberts

,

Kyle A. Brown

,

Yanlong Zhu

,

Bifan Chen

,

Zhijie Wu

,

Stanford D. Mitchell

,

Tania M. Guardado-Alvarez

,

Song Jin

&

Ying Ge

Nature Communications (2020)

David S. Roberts

,

Bifan Chen

,

Timothy N. Tiambeng

,

Zhijie Wu

,

Ying Ge

&

Song Jin

Nano Research (2019)

Zhijie Wu

,

Yutong Jin

,

Bifan Chen

,

Morgan K. Gugger

,

Chance L. Wilkinson-Johnson

,

Timothy N. Tiambeng

,

Song Jin

&

Ying Ge

Journal of The American Society for Mass Spectrometry (2019)