Abstract
Site-specific protein cleavage is essential for many protein-production protocols and typically requires proteases. We report the development of a chemical protein-cleavage method that is achieved through the use of a sequence-specific nickel-assisted cleavage (SNAC)-tag. We demonstrate that the SNAC-tag can be inserted before both water-soluble and membrane proteins to achieve fusion protein cleavage under biocompatible conditions with efficiency comparable to that of enzymes, and that the method works even when enzymatic cleavages fail.
Access options
Subscribe to Journal
Get full journal access for 1 year
$59.00
only $4.92 per issue
All prices are NET prices.
VAT will be added later in the checkout.
Tax calculation will be finalised during checkout.
Rent or Buy article
Get time limited or full article access on ReadCube.
from$8.99
All prices are NET prices.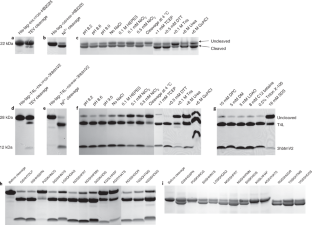 Data availability
The data that support the findings of this study are available from the corresponding author upon reasonable request.
References
1.

Young, C. L., Britton, Z. T. & Robinson, A. S. Biotechnol. J. 7, 620–634 (2012).

2.

Kimple, M. E., Brill, A. L. & Pasker, R. L. Curr. Protoc. Protein Sci. 73, 9.9.1–9.9.23 (2013).

3.

Waugh, D. S. Protein Expr. Purif. 80, 283–293 (2011).

4.

Gross, E. & Witkop, B. J. Am. Chem. Soc. 83, 1510–1511 (1961).

5.

Parac, T. N. & Kostic, N. M. J. Am. Chem. Soc. 118, 51–58 (1996).

6.

Dutca, L. M., Ko, K. S., Pohl, N. L. & Kostić, N. M. Inorg. Chem. 44, 5141–5146 (2005).

7.

Krezel, A. et al. J. Am. Chem. Soc. 132, 3355–3366 (2010).

8.

Allen, G. & Campbell, R. O. Int. J. Pept. Protein Res. 48, 265–273 (1996).

9.

Kopera, E., Belczyk-Ciesielska, A. & Bal, W. PLoS ONE 7, e36350 (2012).

10.

Kopera, E. et al. PLoS ONE 9, e106936 (2014).

11.

Matthews, D. J. & Wells, J. A. Science 260, 1113–1117 (1993).

12.

Fairhead, M. & Howarth, M. Methods Mol. Biol. 1266, 171–184 (2015).

13.

Krezel, A., Mylonas, M., Kopera, E. & Bal, W. Acta Biochim. Pol. 53, 721–727 (2006).

14.

Kopera, E. et al. Inorg. Chem. 49, 6636–6645 (2010).

15.

Hackeng, T. M., Griffin, J. H. & Dawson, P. E. Proc. Natl Acad. Sci. USA 96, 10068–10073 (1999).

16.

Hay, R. W., Porter, L. J. & Morris, P. J. Aust. J. Chem. 19, 1197–1205 (1966).

17.

Wezynfeld, N. E., Fraczyk, T. & Bal, W. Coord. Chem. Rev. 327, 166–187 (2016).

18.

Dang, B. & DeGrado, W. F. Protocol Exchange https://doi.org/10.1038/protex.2019.013 (2019).

19.

Chen, G. & Sidhu, S. S. Methods Mol. Biol. 1131, 113–131 (2014).

20.

Sidhu, S. S., Lowman, H. B., Cunningham, B. C. & Wells, J. A. Methods Enzymol. 328, 333–363 (2000).
Acknowledgements
We thank the Wells lab at UCSF for generously providing BirA enzymes, and A. Martinko and S. Pollock for helping us carry out phage biotinylation reactions. We thank the Craik lab at UCSF for providing the pCES1 phagemid vector, N. Sevillano for helping us build phage libraries, and M. Ravalin for help operating the multichannel peptide synthesizer. This work was supported in part by the National Institutes of Health (grant 5R35GM122603-02 to W.F.D.).
Ethics declarations
Competing interests
The authors declare no competing interests.
Additional information
Publisher's note: Springer Nature remains neutral with regard to jurisdictional claims in published maps and institutional affiliations.
Integrated supplementary information
Supplementary information
Supplementary Figures 1–15 and Supplementary Tables 1–5
About this article
Cite this article
Dang, B., Mravic, M., Hu, H. et al. SNAC-tag for sequence-specific chemical protein cleavage. Nat Methods 16, 319–322 (2019). https://doi.org/10.1038/s41592-019-0357-3
Received:

Accepted:

Published:

Issue Date: