Abstract
We present DeepNovo-DIA, a de novo peptide-sequencing method for data-independent acquisition (DIA) mass spectrometry data. We use neural networks to capture precursor and fragment ions across m/z, retention-time, and intensity dimensions. They are then further integrated with peptide sequence patterns to address the problem of highly multiplexed spectra. DIA coupled with de novo sequencing allowed us to identify novel peptides in human antibodies and antigens.
Access options
Subscribe to Journal
Get full journal access for 1 year
$259.00
only $21.58 per issue
All prices are NET prices.
VAT will be added later in the checkout.
Rent or Buy article
Get time limited or full article access on ReadCube.
from$8.99
All prices are NET prices.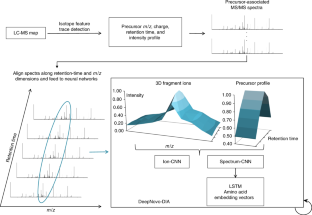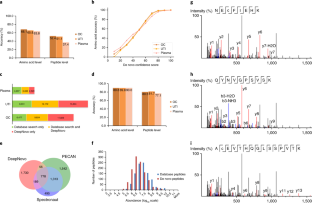 Data availability
Data and a pretrained model are publicly available in the MassIVE repository under accession number MSV000082368. Source data for Fig. 2 are available online.
References
1.

Ott, P. A. et al. Nature 547, 217–221 (2017).

2.

Sahin, U. et al. Nature 547, 222–226 (2017).

3.

Anonymous. Nat. Biotechnol. 35, 97 (2017).

4.

Vitiello, A. & Zanetti, M. Nat. Biotechnol. 35, 815–817 (2017).

5.

Bassani-Sternberg, M. et al. Nat. Commun. 7, 13404 (2016).

6.

Venable, J. D., Dong, M. Q., Wohlschlegel, J., Dillin, A. & Yates, J. R. Nat. Methods 1, 39–45 (2004).

7.

Röst, H. L. et al. Nat. Biotechnol. 32, 219–223 (2014).

8.

Egertson, J. D., MacLean, B., Johnson, R., Xuan, Y. & MacCoss, M. J. Nat. Protoc. 10, 887–903 (2015).

9.

Tsou, C. C. et al. Nat. Methods 12, 258–264 (2015).

10.

Ting, Y. S. et al. Nat. Methods 14, 903–908 (2017).

11.

Tran, N. H., Zhang, X., Xin, L., Shan, B. & Li, M. Proc. Natl Acad. Sci. USA 114, 8247–8252 (2017).

12.

Zhang, J. et al. Mol. Cell. Proteomics. 11, M111.010587 (2012).

13.

Muntel, J. et al. J. Proteome. Res. 14, 4752–4762 (2015).

14.

Bruderer, R. et al. Mol. Cell. Proteomics. 14, 1400–1410 (2015).

15.

Tan, J. et al. Nature 529, 105–109 (2016).

16.

Caron, E. et al. eLife 4, e07661 (2015).

17.

Lin, T. Y., Goyal, P., Girshick, R., He, K. & Dollár, P. Focal loss for dense object detection. arXiv Preprint at https://arxiv.org/abs/1708.02002 (2017).

18.

Tyanova, S., Temu, T. & Cox, J. Nat. Protoc. 11, 2301–2319 (2016).
Acknowledgements
This work was funded in part by NSERC (grant OGP0046506), China's Research and Development Program (grants 2016YFB1000902 and 2018YFB1003202), the NSFC (grant 61832019), and the Canada Research Chair program for M.L. N.H.T. was supported by the Mitacs Elevate Fellowship. The authors thank N. Keshav, K.P. Choi, and K. Xiong for discussions and proofreading of the manuscript.
Ethics declarations
Competing interests
L.X., X.C., and B.S. are employees of Bioinformatics Solutions Inc., Waterloo, Ontario, Canada.
Additional information
Publisher's note: Springer Nature remains neutral with regard to jurisdictional claims in published maps and institutional affiliations.
Integrated supplementary information
Supplementary information
About this article
Cite this article
Tran, N.H., Qiao, R., Xin, L. et al. Deep learning enables de novo peptide sequencing from data-independent-acquisition mass spectrometry. Nat Methods 16, 63–66 (2019). https://doi.org/10.1038/s41592-018-0260-3
Received:

Accepted:

Published:

Issue Date: