Abstract
Whole-brain imaging allows for comprehensive functional mapping of distributed neural pathways, but neuronal perturbation experiments are usually limited to targeting predefined regions or genetically identifiable cell types. To complement whole-brain measures of activity with brain-wide manipulations for testing causal interactions, we introduce a system that uses measured activity patterns to guide optical perturbations of any subset of neurons in the same fictively behaving larval zebrafish. First, a light-sheet microscope collects whole-brain data that are rapidly analyzed by a distributed computing system to generate functional brain maps. On the basis of these maps, the experimenter can then optically ablate neurons and image activity changes across the brain. We applied this method to characterize contributions of behaviorally tuned populations to the optomotor response. We extended the system to optogenetically stimulate arbitrary subsets of neurons during whole-brain imaging. These open-source methods enable delineating the contributions of neurons to brain-wide circuit dynamics and behavior in individual animals.
Relevant articles
Open Access articles citing this article.
Marc Corrales

,

Benjamin T. Cocanougher

…

Marta Zlatic

Neural Development Open Access 24 August 2022

Alexandro D. Ramirez

&

Emre R. F. Aksay

Nature Communications Open Access 06 July 2021

Gustavo de Medeiros

,

Dimitri Kromm

…

Lars Hufnagel

Scientific Reports Open Access 06 February 2020
Access options
Subscribe to Nature+
Get immediate online access to Nature and 55 other Nature journal
Subscribe to Journal
Get full journal access for 1 year
$99.00
only $8.25 per issue
All prices are NET prices.
VAT will be added later in the checkout.
Tax calculation will be finalised during checkout.
Buy article
Get time limited or full article access on ReadCube.
$32.00
All prices are NET prices.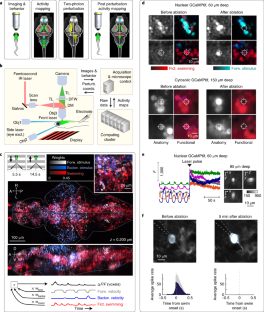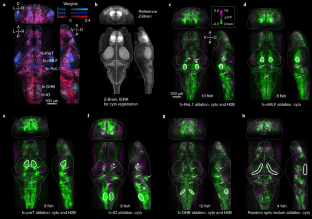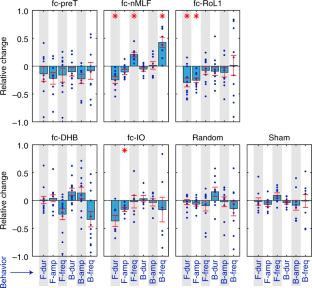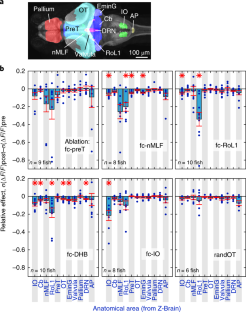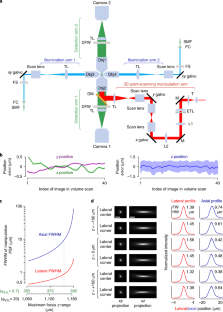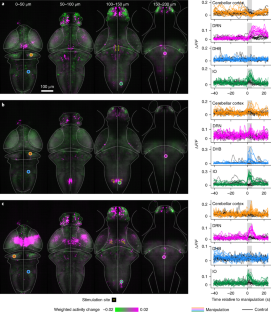 Data availability
Raw data for Fig. 1c are available at https://github.com/optofish-paper/ (downsampled in space to avoid excessive data size). Example processing steps for Python notebooks are available at the same address. Processed data for Fig. 2 are available at the same address in the form of full brain volumes.
References
Vogel, A. & Venugopalan, V. Mechanisms of pulsed laser ablation of biological tissues. Chem. Rev. 103, 577–644 (2003).

Deisseroth, K. Optogenetics: 10 years of microbial opsins in neuroscience. Nat. Neurosci. 18, 1213–1225 (2015).

Yang, W., Carrillo-Reid, L., Bando, Y., Peterka, D. S. & Yuste, R. Simultaneous two-photon imaging and two-photon optogenetics of cortical circuits in three dimensions. eLife 7, e32671 (2018).

Liu, X. et al. Optogenetic stimulation of a hippocampal engram activates fear memory recall. Nature 484, 381–385 (2012).

Chen, S., Chiu, C. N., McArthur, K. L., Fetcho, J. R. & Prober, D. A. TRP channel mediated neuronal activation and ablation in freely behaving zebrafish. Nat. Methods 13, 147–150 (2016).

Lee, J. H. et al. Global and local fMRI signals driven by neurons defined optogenetically by type and wiring. Nature 465, 788–792 (2010).

Boyden, E. S., Zhang, F., Bamberg, E., Nagel, G. & Deisseroth, K. Millisecond-timescale, genetically targeted optical control of neural activity. Nat. Neurosci. 8, 1263–1268 (2005).

Rickgauer, J. P., Deisseroth, K. & Tank, D. W. Simultaneous cellular-resolution optical perturbation and imaging of place cell firing fields. Nat. Neurosci. 17, 1816–1824 (2014).

Packer, A. M., Russell, L. E., Dalgleish, H. W. P. & Häusser, M. Simultaneous all-optical manipulation and recording of neural circuit activity with cellular resolution in vivo. Nat. Methods 12, 140–146 (2015).

Dal Maschio, M., Donovan, J. C., Helmbrecht, T. O. & Baier, H. Linking neurons to network function and behavior by two-photon holographic optogenetics and volumetric imaging. Neuron 94, 774–789.e5 (2017).

Carrillo-Reid, L., Han, S., Yang, W., Akrouh, A. & Yuste, R. Triggering visually-guided behavior by holographic activation of 1 pattern completion neurons in cortical ensembles 2 3. Preprint at https://www.biorxiv.org/content/early/2018/08/17/394999 (2018).

Chen, X. et al. Brain-wide organization of neuronal activity and convergent sensorimotor transformations in larval zebrafish. Neuron https://doi.org/10.1016/j.neuron.2018.09.042 (2018).

Portugues, R., Feierstein, C. E., Engert, F. & Orger, M. B. Whole-brain activity maps reveal stereotyped, distributed networks for visuomotor behavior. Neuron 81, 1328–1343 (2014).

Naumann, E. A. et al. From whole-brain data to functional circuit models: the zebrafish optomotor response. Cell 167, 947–960.e20 (2016).

Grosenick, L., Marshel, J. H. & Deisseroth, K. Closed-loop and activity-guided optogenetic control. Neuron 86, 106–139 (2015).

Otchy, T. M. et al. Acute off-target effects of neural circuit manipulations. Nature 528, 358–363 (2015).

Krakauer, J. W., Ghazanfar, A. A., Gomez-Marin, A., MacIver, M. A. & Poeppel, D. Neuroscience needs behavior: correcting a reductionist bias. Neuron 93, 480–490 (2017).

Panier, T. et al. Fast functional imaging of multiple brain regions in intact zebrafish larvae using selective plane illumination microscopy. Front. Neural Circuits 7, 65 (2013).

Ahrens, M. B., Orger, M. B., Robson, D. N., Li, J. M. & Keller, P. J. Whole-brain functional imaging at cellular resolution using light-sheet microscopy. Nat. Methods 10, 413–420 (2013).

Vladimirov, N. et al. Light-sheet functional imaging in fictively behaving zebrafish. Nat. Methods 11, 883–884 (2014).

Freeman, J. et al. Mapping brain activity at scale with cluster computing. Nat. Methods 11, 941–950 (2014).

Alivisatos, A. P. et al. The brain activity map. Science 339, 1284–1285 (2013).

Klapoetke, N. C. et al. Independent optical excitation of distinct neural populations. Nat. Methods 11, 338–346 (2014).

Orger, M. B., Kampff, A. R., Severi, K. E., Bollmann, J. H. & Engert, F. Control of visually guided behavior by distinct populations of spinal projection neurons. Nat. Neurosci. 11, 327–333 (2008).

Miri, A., Daie, K., Burdine, R. D., Aksay, E. & Tank, D. W. Regression-based identification of behavior-encoding neurons during large-scale optical imaging of neural activity at cellular resolution. J. Neurophysiol. 105, 964–980 (2011).

Fang-Yen, C., Gabel, C. V., Samuel, A. D. T., Bargmann, C. I. & Avery, L. Laser microsurgery in Caenorhabditis elegans. Methods Cell Biol. 107, 177–206 (2012).

Nishimura, N. et al. Targeted insult to subsurface cortical blood vessels using ultrashort laser pulses: three models of stroke. Nat. Methods 3, 99–108 (2006).

Liu, K. S. & Fetcho, J. R. Laser ablations reveal functional relationships of segmental hindbrain neurons in zebrafish. Neuron 23, 325–335 (1999).

Mendelson, B. Development of reticulospinal neurons of the zebrafish. II. Early axonal outgrowth and cell body position. J. Comp. Neurol. 251, 172–184 (1986).

McLean, D. L. & Fetcho, J. R. Ontogeny and innervation patterns of dopaminergic, noradrenergic, and serotonergic neurons in larval zebrafish. J. Comp. Neurol. 480, 38–56 (2004).

Randlett, O. et al. Whole-brain activity mapping onto a zebrafish brain atlas. Nat. Methods 12, 1039–1046 (2015).

Thiele, T. R., Donovan, J. C. & Baier, H. Descending control of swim posture by a midbrain nucleus in zebrafish. Neuron 83, 679–691 (2014).

Roeser, T. & Baier, H. Visuomotor behaviors in larval zebrafish after GFP-guided laser ablation of the optic tectum. J. Neurosci. 23, 3726–3734 (2003).

Lemon, W. C. et al. Whole-central nervous system functional imaging in larval Drosophila. Nat. Commun. 6, 7924 (2015).

Tomer, R., Khairy, K., Amat, F. & Keller, P. J. Quantitative high-speed imaging of entire developing embryos with simultaneous multiview light-sheet microscopy. Nat. Methods 9, 755–763 (2012).

Royer, L. A. et al. Adaptive light-sheet microscopy for long-term, high-resolution imaging in living organisms. Nat. Biotechnol. 34, 1267–1278 (2016).

Dana, H. et al. Sensitive red protein calcium indicators for imaging neural activity. eLife 5, 413–420 (2016).

Kawashima, T., Zwart, M. F., Yang, C.-T., Mensh, B. D. & Ahrens, M. B. The serotonergic system tracks the outcomes of actions to mediate short-term motor learning. Cell 167, 933–946.e20 (2016).

Sugihara, I., Lang, E. J. & Llinás, R. Serotonin modulation of inferior olivary oscillations and synchronicity: a multiple-electrode study in the rat cerebellum. Eur. J. Neurosci. 7, 521–534 (1995).

Ito, M. Long-term depression as a memory process in the cerebellum. Neurosci. Res. 3, 531–539 (1986).

Bae, Y.-K. et al. Anatomy of zebrafish cerebellum and screen for mutations affecting its development. Dev. Biol. 330, 406–426 (2009).

Bouchard, M. B. et al. Swept confocally-aligned planar excitation (SCAPE) microscopy for high speed volumetric imaging of behaving organisms. Nat. Photonics 9, 113–119 (2015).

Tomer, R. et al. SPED light sheet microscopy: fast mapping of biological system structure and function. Cell 163, 1796–1806 (2015).

Quirin, S. et al. Calcium imaging of neural circuits with extended depth-of-field light-sheet microscopy. Opt. Lett. 41, 855–858 (2016).

Fahrbach, F. O., Voigt, F. F., Schmid, B., Helmchen, F. & Huisken, J. Rapid 3D light-sheet microscopy with a tunable lens. Opt. Express 21, 21010–21026 (2013).

Patterson, G. H. & Lippincott-Schwartz, J. A photoactivatable GFP for selective photolabeling of proteins and cells. Science 297, 1873–1877 (2002).

Ahrens, M. B. et al. Brain-wide neuronal dynamics during motor adaptation in zebrafish. Nature 485, 471–477 (2012).

Motta-Mena, L. B. et al. An optogenetic gene expression system with rapid activation and deactivation kinetics. Nat. Chem. Biol. 10, 196–202 (2014).

Singh, C., Oikonomou, G. & Prober, D. A. Norepinephrine is required to promote wakefulness and for hypocretin-induced arousal in zebrafish. eLife 4, e07000 (2015).

Lovett-Barron, M. et al. Ancestral circuits for the coordinated modulation of brain state. Cell 171, 1411–1423.e17 (2017).

Severi, K. E. et al. Neural control and modulation of swimming speed in the larval zebrafish. Neuron 83, 692–707 (2014).

Wang, W.-C. & McLean, D. L. Selective responses to tonic descending commands by temporal summation in a spinal motor pool. Neuron 83, 708–721 (2014).

Horn, K. M., Deep, A. & Gibson, A. R. Progressive limb ataxia following inferior olive lesions. J. Physiol. (Lond.) 591, 5475–5489 (2013).

Masino, M. A. & Fetcho, J. R. Fictive swimming motor patterns in wild type and mutant larval zebrafish. J. Neurophysiol. 93, 3177–3188 (2005).

White, R. M. et al. Transparent adult zebrafish as a tool for in vivo transplantation analysis. Cell Stem Cell 2, 183–189 (2008).

Chen, T.-W. et al. Ultrasensitive fluorescent proteins for imaging neuronal activity. Nature 499, 295–300 (2013).

Satou, C. et al. Transgenic tools to characterize neuronal properties of discrete populations of zebrafish neurons. Development 140, 3927–3931 (2013).

Koyama, M., Kinkhabwala, A., Satou, C., Higashijima, S. & Fetcho, J. Mapping a sensory-motor network onto a structural and functional ground plan in the hindbrain. Proc. Natl. Acad. Sci. USA 108, 1170–1175 (2011).

Preibisch, S., Saalfeld, S., Schindelin, J. & Tomancak, P. Software for bead-based registration of selective plane illumination microscopy data. Nat. Methods 7, 418–419 (2010).

Wasserstein, R. L. & Lazar, N. The ASA's statement on p-values: context, process, and purpose. Am. Stat. 70, 129–133 (2016).

Farcomeni, A. A review of modern multiple hypothesis testing, with particular attention to the false discovery proportion. Stat. Methods Med. Res. 17, 347–388 (2008).

Zhou, W. et al. Non-sense mutations in the dihydropyridine receptor β1 gene, CACNB1, paralyze zebrafish relaxed mutants. Cell Calcium 39, 227–236 (2006).

Eaton, R. C., Lee, R. K. K. & Foreman, M. B. The Mauthner cell and other identified neurons of the brainstem escape network of fish. Prog. Neurobiol. 63, 467–485 (2001).

Murphy, D. B. & Davidson, M. W. Fundamentals of Light Microscopy and Electronic Imaging. (John Wiley & Sons, Hoboken, NJ, USA, 2012).

Zipfel, W. R., Williams, R. M. & Webb, W. W. Nonlinear magic: multiphoton microscopy in the biosciences. Nat. Biotechnol. 21, 1369–1377 (2003).

Avants, B. B. et al. The optimal template effect in hippocampus studies of diseased populations. Neuroimage 49, 2457–2466 (2010).
Acknowledgements
We thank F. Engert, N. Li, A. Bolton, A. Hantman, and B. Mensh for comments on the manuscript; V. Goncharov, D. Flickinger, C. McRaven, and Janelia Experimental Technology for help with microscopy design and construction; D. Flickinger for helpful discussions on ETL-based remote focusing; M. Zwart for discussions on optogenetics; T. Kawashima for technical assistance; M. Coleman, A. Chiu, and F. Angstadt for assistance with coding; S. Sawtelle for discussions and ETL driver construction; D. Leuenberger and C. Grätzel at Optotune for discussions; J. Cox, B. Foster, J. Rouchard, and C. McGlynn for fish husbandry; D. Bennet for assistance with Thunder code; K. Branson, S. Romani, M. Rubinov, and A. Porrello for helpful discussions; G. Ceric, K. Carlile, and R. Lines for assistance with the high-performance computer cluster; and S.-I. Higashijima (NIBB, Japan) for providing the fish lines labeling gad1b- and vGlut2a-positive neurons. This work was supported by the Howard Hughes Medical Institute (M.K., P.J.K., and M.B.A.); by the Simons Foundation–Simons Collaboration on the Global Brain Research Awards 325171 and 542943SPI (J.F. and M.B.A.); and by MDC Berlin (S.P.).
Ethics declarations
Competing interests
The authors declare no competing interests.
Additional information
Publisher's note: Springer Nature remains neutral with regard to jurisdictional claims in published maps and institutional affiliations.
Integrated supplementary information
Supplementary information
About this article
Cite this article
Vladimirov, N., Wang, C., Höckendorf, B. et al. Brain-wide circuit interrogation at the cellular level guided by online analysis of neuronal function. Nat Methods 15, 1117–1125 (2018). https://doi.org/10.1038/s41592-018-0221-x
Received:

Accepted:

Published:

Issue Date:

DOI: https://doi.org/10.1038/s41592-018-0221-x