Abstract
Single-wavelength fluorescent reporters allow visualization of specific neurotransmitters with high spatial and temporal resolution. We report variants of intensity-based glutamate-sensing fluorescent reporter (iGluSnFR) that are functionally brighter; detect submicromolar to millimolar amounts of glutamate; and have blue, cyan, green, or yellow emission profiles. These variants could be imaged in vivo in cases where original iGluSnFR was too dim, resolved glutamate transients in dendritic spines and axonal boutons, and allowed imaging at kilohertz rates.
Access options
Subscribe to Journal
Get full journal access for 1 year
$259.00
only $21.58 per issue
All prices are NET prices.
VAT will be added later in the checkout.
Rent or Buy article
Get time limited or full article access on ReadCube.
from$8.99
All prices are NET prices.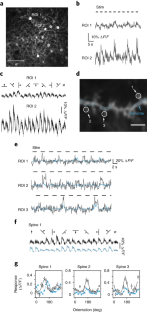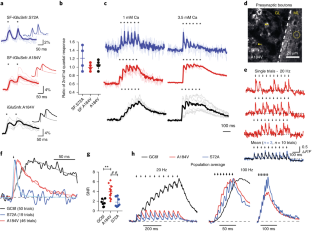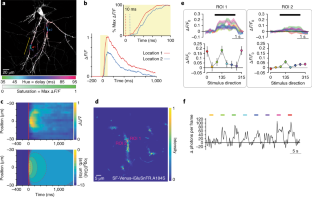 Data availability
All data from this study are available upon request. All constructs have been deposited at Addgene (#106174–106206; hSynapsin1, FLEX-hSynapsin1, FLEX-CAG, GFAP promoters; some fusions with the red fluorescent protein mRuby3 are available). Sequences have been deposited in GenBank (MH392460, MH392461, MH392462, MH392463, MH392464, and MH392465). AAV is available from Addgene.
References
1.

Marvin, J. S. et al. Nat. Methods 10, 162–170 (2013).

2.

Park, S. J. H., Kim, I.-J., Looger, L. L., Demb, J. B. & Borghuis, B. G. J. Neurosci. 34, 3976–3981 (2014).

3.

Brunert, D., Tsuno, Y., Rothermel, M., Shipley, M. T. & Wachowiak, M. J. Neurosci. 36, 6820–6835 (2016).

4.

O'Herron, P. et al. Nature 534, 378–382 (2016).

5.

Xie, Y. et al. J. Neurosci. 36, 1261–1272 (2016).

6.

Bao, H. et al. Nat. Struct. Mol. Biol. 23, 67–73 (2016).

7.

Rosa, J. M. et al. eLife 4, 728 (2015).

8.

Enger, R. et al. Cereb. Cortex 25, 4469–4476 (2015).

9.

Jiang, R., Diaz-Castro, B., Looger, L. L. & Khakh, B. S. J. Neurosci. 36, 3453–3470 (2016).

10.

Pédelacq, J.-D., Cabantous, S., Tran, T., Terwilliger, T. C. & Waldo, G. S. Nat. Biotechnol. 24, 79–88 (2006).

11.

Marvin, J. S. & Hellinga, H. W. Nat. Struct. Biol. 8, 795–798 (2001).

12.

Helassa, N. et al. Proc. Natl Acad. Sci. USA 115, 5594–5599 (2018).

13.

Dodge, F. A. Jr. & Rahamimoff, R. J. Physiol. (Lond.) 193, 419–432 (1967).

14.

Abrahamsson, T., Cathala, L., Matsui, K., Shigemoto, R. & Digregorio, D. A. Neuron 73, 1159–1172 (2012).

15.

Valera, A. M., Doussau, F., Poulain, B., Barbour, B. & Isope, P. J. Neurosci. 32, 3267–3280 (2012).

16.

van Beugen, B. J., Gao, Z., Boele, H.-J., Hoebeek, F. & De Zeeuw, C. I. Front. Neural Circuits 7, 95 (2013).

17.

Tang, S., Liu, J., Krasieva, T. B., Chen, Z. & Tromberg, B. J. J. Biomed. Opt. 14, 030508 (2009).

18.

Kazemipour, A. et al. bioRxiv Preprint at https://www.biorxiv.org/content/early/2018/06/28/357269 (2018).

19.

Borghuis, B. G. et al. J. Neurosci. 31, 2855–2867 (2011).

20.

Pologruto, T. A., Sabatini, B. L. & Svoboda, K. Biomed. Eng. Online 2, 13 (2003).

21.

Wilson, D. E., Whitney, D. E., Scholl, B. & Fitzpatrick, D. Nat. Neurosci. 19, 1003–1009 (2016).

22.

Peirce, J. W. J. Neurosci. Methods 162, 8–13 (2007).

23.

Schindelin, J. et al. Nat. Methods 9, 676–682 (2012).

24.

Sage, D., Prodanov, D., Tinevez, J.-Y. & Schindelin, J. MIJ: making interoperability between ImageJ and Matlab possible. Poster presented at the ImageJ User Developer Conference, Luxembourg, 24–26 October 2012.

25.

Woitecki, A. M. H. et al. J. Neurosci. 36, 2561–2570 (2016).

26.

Silver, R. A., Cull-Candy, S. G. & Takahashi, T. J. Physiol. (Lond.) 494, 231–250 (1996).
Acknowledgements
We thank J. Macklin (Janelia Research Campus) for two-photon spectra, and K. Ritola and Janelia Virus Services for AAV production. E.C. was a Janelia Undergraduate Scholar.
Ethics declarations
Competing interests
J.S.M. and L.L.L. are named on US patent 9719992, which pertains to original iGluSnFR.
Additional information
Publisher's note: Springer Nature remains neutral with regard to jurisdictional claims in published maps and institutional affiliations.
Supplementary information
About this article
Cite this article
Marvin, J.S., Scholl, B., Wilson, D.E. et al. Stability, affinity, and chromatic variants of the glutamate sensor iGluSnFR. Nat Methods 15, 936–939 (2018). https://doi.org/10.1038/s41592-018-0171-3
Received:

Accepted:

Published:

Issue Date: