Abstract
Multi-omic insights into microbiome function and composition typically advance one study at a time. However, in order for relationships across studies to be fully understood, data must be aggregated into meta-analyses. This makes it possible to generate new hypotheses by finding features that are reproducible across biospecimens and data layers. Qiita dramatically accelerates such integration tasks in a web-based microbiome-comparison platform, which we demonstrate with Human Microbiome Project and Integrative Human Microbiome Project (iHMP) data.
This is a preview of subscription content
Access options
Subscribe to Journal
Get full journal access for 1 year
$119.00
only $9.92 per issue
All prices are NET prices.
VAT will be added later in the checkout.
Tax calculation will be finalised during checkout.
Rent or Buy article
Get time limited or full article access on ReadCube.
from$8.99
All prices are NET prices.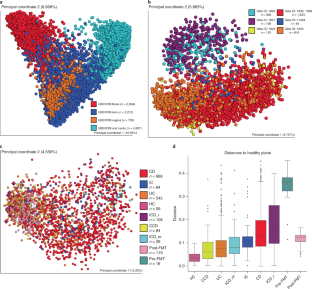 References
1.

Caporaso, J. G. et al. ISME J. 6, 1621–1624 (2012).

2.

Thompson, L. R. et al. Nature 551, 457–463 (2017).

3.

Halfvarson, J. et al. Nat. Microbiol. 2, 17004 (2017).

4.

Lozupone, C. A. & Knight, R. Proc. Natl Acad. Sci. USA 104, 11436–11440 (2007).

5.

Ley, R. E., Lozupone, C. A., Hamady, M., Knight, R. & Gordon, J. I. Nat. Rev. Microbiol. 6, 776–788 (2008).

6.

Adams, R. I., Bateman, A. C., Bik, H. M. & Meadow, J. F. Microbiome 3, 49 (2015).

7.

Debelius, J. et al. Genome. Biol. 17, 217 (2016).

8.

Lozupone, C. A. et al. Genome Res. 23, 1704–1714 (2013).

9.

Caporaso, J. G. et al. Nat. Methods 7, 335–336 (2010).

10.

Wang, M. et al. Nat. Biotechnol. 34, 828–837 (2016).

11.

Langille, M. G. I., Ravel, J. & Fricke, W. F. Microbiome 6, 8 (2018).

12.

Yilmaz, P. et al. Nat. Biotechnol. 29, 415–420 (2011).

13.

Sinha, R. et al. Nat. Biotechnol. 35, 1077–1086 (2017).

14.

Gevers, D. et al. Cell. Host. Microbe. 15, 382–392 (2014).

15.

Human Microbiome Project Consortium. Nature 486, 207–214 (2012).

16.

Weingarden, A. et al. Microbiome 3, 10 (2015).

17.

Lozupone, C. & Knight, R. Appl. Environ. Microbiol. 71, 8228–8235 (2005).

18.

Bokulich, N. A. et al. Nat. Methods 10, 57–59 (2013).

19.

Navas-Molina, J. A. et al. Methods Enzymol. 531, 371–444 (2013).

20.

Amir, A. et al. mSystems 2, e00191-16 (2017).

21.

Vázquez-Baeza, Y., Pirrung, M., Gonzalez, A. & Knight, R. Gigascience 2, 16 (2013).
Acknowledgements
We are grateful to J. Debelius, J. Jansson, D. Bazaldua, and J. Kuczynski for their help in improving Qiita via suggestion, code changes, and contributed datasets, or during the preparation of this manuscript; and to J. Gordon and his laboratory for helpful discussions. This work was supported in part by the Alfred P. Sloan Foundation (2017-9838 and 2015-13933 (R.K.)), the NIH/NIDDK (P01DK078669 (R.K.)), the NSF (DBI-1565057 and 1565100 (J.G.C. and R.K.)), the Office of Naval Research (ONR; N00014-15-1-2809 (R.K.)), and the US Army (CDMRP W81XWH-15-1-0653 (R.K.)).
Ethics declarations
Competing interests
The authors declare no competing interests.
Additional information
Publisher's note: Springer Nature remains neutral with regard to jurisdictional claims in published maps and institutional affiliations.
Integrated supplementary information
A. Monthly studies and sample depositions to EBI-ENA via Qiita. B. Geographical distribution of the samples present in Qiita
Supplementary information
Supplementary Figure 1, Supplementary Tables 1 and 2
SupplementarySoftware.zip contains two zip files: (1) qiita-master.zip, which is the main code for the Qiita software at the time of publication (latest version: https://github.com/biocore/qiita), and (2) qiita-paper-master.zip, which includes all steps and necessary files to reproduce all panels in Fig. 1 (live repository: https://github.com/knightlab-analyses/qiita-paper).
About this article
Cite this article
Gonzalez, A., Navas-Molina, J.A., Kosciolek, T. et al. Qiita: rapid, web-enabled microbiome meta-analysis. Nat Methods 15, 796–798 (2018). https://doi.org/10.1038/s41592-018-0141-9
Received:

Accepted:

Published:

Issue Date: