Abstract
Plants sense abscisic acid (ABA) using chemical-induced dimerization (CID) modules, including the receptor PYR1 and HAB1, a phosphatase inhibited by ligand-activated PYR1. This system is unique because of the relative ease with which ligand recognition can be reprogrammed. To expand the PYR1 system, we designed an orthogonal '*' module, which harbors a dimer interface salt bridge; X-ray crystallographic, biochemical and in vivo analyses confirm its orthogonality. We used this module to create PYR1*MANDI/HAB1* and PYR1*AZIN/HAB1*, which possess nanomolar sensitivities to their activating ligands mandipropamid and azinphos-ethyl. Experiments in Arabidopsis thaliana and Saccharomyces cerevisiae demonstrate the sensitive detection of banned organophosphate contaminants using living biosensors and the construction of multi-input/output genetic circuits. Our new modules enable ligand-programmable multi-channel CID systems for plant and eukaryotic synthetic biology that can empower new plant-based and microbe-based sensing modalities.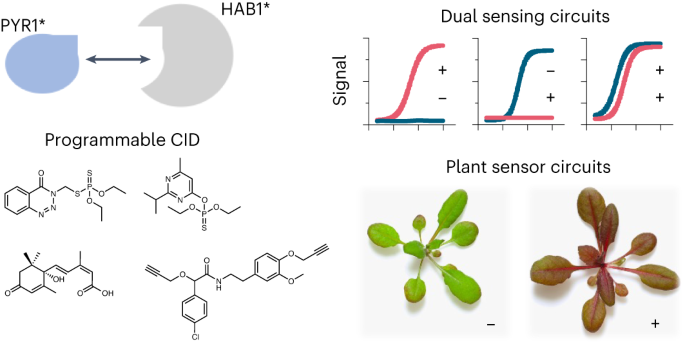 Data availability
All data discussed in this paper are provided as supplementary information. The X-ray crystallographic coordinates are available from the Protein Data Bank website using accession code 8EY0. All materials are available upon reasonable request and the completion of standard material transfer agreements with the University of California, Riverside. Source data are provided with this paper.
References
Cameron, D. E., Bashor, C. J. & Collins, J. J. A brief history of synthetic biology. Nat. Rev. Microbiol. 12, 381–390 (2014).

Stanton, B. Z., Chory, E. J. & Crabtree, G. R. Chemically induced proximity in biology and medicine. Science 359, eaao5902 (2018).

Urban, D. J. & Roth, B. L. DREADDs (designer receptors exclusively activated by designer drugs): chemogenetic tools with therapeutic utility. Annu. Rev. Pharmacol. Toxicol. 55, 399–417 (2015).

Taylor, N. D. et al. Engineering an allosteric transcription factor to respond to new ligands. Nat. Methods 13, 177–183 (2016).

Schreiber, S. L. The rise of molecular glues. Cell 184, 3–9 (2021).

Haruki, H., Nishikawa, J. & Laemmli, U. K. The anchor-away technique: rapid, conditional establishment of yeast mutant phenotypes. Mol. Cell 31, 925–932 (2008).

Janse, D. M., Crosas, B., Finley, D. & Church, G. M. Localization to the proteasome is sufficient for degradation. J. Biol. Chem. 279, 21415–21420 (2004).

Banaszynski, L. A., Chen, L.-C., Maynard-Smith, L. A., Ooi, A. G. L. & Wandless, T. J. A rapid, reversible, and tunable method to regulate protein function in living cells using synthetic small molecules. Cell 126, 995–1004 (2006).

Calderon-Villalobos, L. I., Tan, X., Zheng, N. & Estelle, M. Auxin perception–structural insights. Cold Spring Harb. Perspect. Biol. 2, a005546 (2010).

Fischer, E. S. et al. Structure of the DDB1–CRBN E3 ubiquitin ligase in complex with thalidomide. Nature 512, 49–53 (2014).

Chamberlain, P. P. et al. Structure of the human Cereblon–DDB1–lenalidomide complex reveals basis for responsiveness to thalidomide analogs. Nat. Struct. Mol. Biol. 21, 803–809 (2014).

Ito, T. et al. Identification of a primary target of thalidomide teratogenicity. Science 327, 1345–1350 (2010).

Zheng, N. & Shabek, N. Ubiquitin ligases: structure, function, and regulation. Annu. Rev. Biochem. 86, 129–157 (2017).

Melcher, K. et al. A gate–latch–lock mechanism for hormone signalling by abscisic acid receptors. Nature 462, 602–608 (2009).

Shimada, A. et al. Structural basis for gibberellin recognition by its receptor GID1. Nature 456, 520–523 (2008).

Kagiyama, M. et al. Structures of D14 and D14L in the strigolactone and karrikin signaling pathways. Genes Cells 18, 147–160 (2013).

Weiner, J. J., Peterson, F. C., Volkman, B. F. & Cutler, S. R. Structural and functional insights into core ABA signaling. Curr. Opin. Plant Biol. 13, 495–502 (2010).

Cutler, S. R., Rodriguez, P. L., Finkelstein, R. R. & Abrams, S. R. Abscisic acid: emergence of a core signaling network. Annu. Rev. Plant Biol. 61, 651–679 (2010).

Park, S.-Y. et al. Abscisic acid inhibits type 2C protein phosphatases via the PYR/PYL family of START proteins. Science 324, 1068–1071 (2009).

Ma, Y. et al. Regulators of PP2C phosphatase activity function as abscisic acid sensors. Science 324, 1064–1068 (2009).

Yin, P. et al. Structural insights into the mechanism of abscisic acid signaling by PYL proteins. Nat. Struct. Mol. Biol. 16, 1230–1236 (2009).

Miyazono, K. et al. Structural basis of abscisic acid signalling. Nature 462, 609–614 (2009).

Beltrán, J. et al. Rapid biosensor development using plant hormone receptors as reprogrammable scaffolds. Nat. Biotechnol. 40, 1855–1861 (2022).

Zimran, G., Feuer, E., Pri-Tal, O., Shpilman, M. & Mosquna, A. Directed evolution of herbicide biosensors in a fluorescence-activated cell-sorting-compatible yeast two-hybrid platform. ACS Synth. Biol. 11, 2880–2888 (2022).

Park, S.-Y. et al. Agrochemical control of plant water use using engineered abscisic acid receptors. Nature 520, 545–548 (2015).

Liang, F.-S., Ho, W. Q. & Crabtree, G. R. Engineering the ABA plant stress pathway for regulation of induced proximity. Sci. Signal. 4, rs2 (2011).

Pu, J., Zinkus-Boltz, J. & Dickinson, B. C. Evolution of a split RNA polymerase as a versatile biosensor platform. Nat. Chem. Biol. 13, 432–438 (2017).

Zetsche, B., Volz, S. E. & Zhang, F. A split-Cas9 architecture for inducible genome editing and transcription modulation. Nat. Biotechnol. 33, 139–142 (2015).

Amin, P., Soper Ní Chafraidh, S., Leontiou, I. & Hardwick, K. G. Regulated reconstitution of spindle checkpoint arrest and silencing through chemically induced dimerisation. J. Cell Sci. 132, jcs219766 (2018).

Chen, T. et al. Chemically controlled epigenome editing through an inducible dCas9 system. J. Am. Chem. Soc. 139, 11337–11340 (2017).

Leontiou, I. et al. The Bub1-TPR domain interacts directly with Mad3 to generate robust spindle checkpoint arrest. Curr. Biol. 29, 2407–2414 (2019).

Chang, M. M. et al. Small-molecule control of antibody N-glycosylation in engineered mammalian cells. Nat. Chem. Biol. 15, 730–736 (2019).

Gao, Y., Han, M., Shang, S., Wang, H. & Qi, L. S. Interrogation of the dynamic properties of higher-order heterochromatin using CRISPR–dCas9. Mol. Cell 81, 4287–4299 (2021).

Fink, T. et al. Design of fast proteolysis-based signaling and logic circuits in mammalian cells. Nat. Chem. Biol. 15, 115–122 (2018).

Hathaway, N. A. et al. Dynamics and memory of heterochromatin in living cells. Cell 149, 1447–1460 (2012).

Jones, K. A., Snodgrass, H. M., Belsare, K., Dickinson, B. C. & Lewis, J. C. Phage-assisted continuous evolution and selection of enzymes for chemical synthesis. ACS Cent. Sci. 7, 1581–1590 (2021).

Ziegler, M. J. et al. Mandipropamid as a chemical inducer of proximity for in vivo applications. Nat. Chem. Biol. 18, 64–69 (2022).

Szostkiewicz, I. et al. Closely related receptor complexes differ in their ABA selectivity and sensitivity. Plant J. 61, 25–35 (2010).

Steiner, P. J. et al. A closed form model for molecular ratchet-type chemically induced dimerization modules. Biochemistry 62, 281–291 (2022).

Brophy, J. A. N. Toward synthetic plant development. Plant Physiol. 188, 738–748 (2022).

Lloyd, J. P. B. et al. Synthetic memory circuits for stable cell reprogramming in plants. Nat. Biotechnol. 40, 1862–1872 (2022).

Schaumberg, K. A. et al. Quantitative characterization of genetic parts and circuits for plant synthetic biology. Nat. Methods 13, 94–100 (2016).

Mosquna, A. et al. Potent and selective activation of abscisic acid receptors in vivo by mutational stabilization of their agonist-bound conformation. Proc. Natl Acad. Sci. USA 108, 20838–20843 (2011).

Vidal, M., Brachmann, R. K., Fattaey, A., Harlow, E. & Boeke, J. D. Reverse two-hybrid and one-hybrid systems to detect dissociation of protein–protein and DNA–protein interactions. Proc. Natl Acad. Sci. USA 93, 10315–10320 (1996).

Soon, F.-F. et al. Molecular mimicry regulates ABA signaling by SnRK2 kinases and PP2C phosphatases. Science 335, 85–88 (2012).

Nishimura, N. et al. Structural mechanism of abscisic acid binding and signaling by dimeric PYR1. Science 326, 1373 (2009).

McIsaac, R. S. et al. Synthetic gene expression perturbation systems with rapid, tunable, single-gene specificity in yeast. Nucleic Acids Res. 41, e57 (2013).

Weber, W. et al. Macrolide-based transgene control in mammalian cells and mice. Nat. Biotechnol. 20, 901–907 (2002).

Liu, W., Yuan, J. S. & Stewart, C. N. Jr. Advanced genetic tools for plant biotechnology. Nat. Rev. Genet. 14, 781–793 (2013).

Zhong, V., Archibald, B. N. & Brophy, J. A. N. Transcriptional and post-transcriptional controls for tuning gene expression in plants. Curr. Opin. Plant Biol. 71, 102315 (2023).

Dupeux, F. et al. Modulation of abscisic acid signaling in vivo by an engineered receptor-insensitive protein phosphatase type 2C allele. Plant Physiol. 156, 106–116 (2011).

Kuhn, J. M., Boisson-Dernier, A., Dizon, M. B., Maktabi, M. H. & Schroeder, J. I. The protein phosphatase AtPP2CA negatively regulates abscisic acid signal transduction in Arabidopsis, and effects of abh1 on AtPP2CA mRNA. Plant Physiol. 140, 127–139 (2006).

He, Y., Zhang, T., Sun, H., Zhan, H. & Zhao, Y. A reporter for noninvasively monitoring gene expression and plant transformation. Hortic. Res. 7, 152 (2020).

Santner, A. & Estelle, M. Recent advances and emerging trends in plant hormone signalling. Nature 459, 1071–1078 (2009).

Harper, J. W., Adami, G. R., Wei, N., Keyomarsi, K. & Elledge, S. J. The p21 Cdk-interacting protein Cip1 is a potent inhibitor of G1 cyclin-dependent kinases. Cell 75, 805–816 (1993).

Okamoto, M. & Cutler, S. R. Chemical control of ABA receptors to enable plant protection against water stress. Methods Mol. Biol. 1795, 127–141 (2018).

Otwinowski, Z. & Minor, W. Processing of X-ray diffraction data collected in oscillation mode. Methods Enzymol. 276, 307–326 (1997).

Adams, P. D. et al. PHENIX: a comprehensive Python-based system for macromolecular structure solution. Acta Crystallogr. D 66, 213–221 (2010).

Emsley, P., Lohkamp, B., Scott, W. G. & Cowtan, K. Features and development of Coot. Acta Crystallogr. D 66, 486–501 (2010).

Chen, V. B. et al. MolProbity: all-atom structure validation for macromolecular crystallography. Acta Crystallogr. D 66, 12–21 (2010).

Davis, I. W. et al. MolProbity: all-atom contacts and structure validation for proteins and nucleic acids. Nucleic Acids Res. 35, W375–W383 (2007).

Wrenbeck, E. E. et al. Plasmid-based one-pot saturation mutagenesis. Nat. Methods 13, 928–930 (2016).

Klesmith, J. R. & Hackel, B. J. Improved mutant function prediction via PACT: Protein Analysis and Classifier Toolkit. Bioinformatics 35, 2707–2712 (2019).

Peterson, F. C. et al. Structural basis for selective activation of ABA receptors. Nat. Struct. Mol. Biol. 17, 1109–1113 (2010).

Beerli, R. R., Segal, D. J., Dreier, B. & Barbas, C. F. 3rd Toward controlling gene expression at will: specific regulation of the erbB-2/HER-2 promoter by using polydactyl zinc finger proteins constructed from modular building blocks. Proc. Natl Acad. Sci. USA 95, 14628–14633 (1998).

Lee, M. E., DeLoache, W. C., Cervantes, B. & Dueber, J. E. A highly characterized yeast toolkit for modular, multipart assembly. ACS Synth. Biol. 4, 975–986 (2015).

Cutler, S. R., Ehrhardt, D. W., Griffitts, J. S. & Somerville, C. R. Random GFP∷cDNA fusions enable visualization of subcellular structures in cells of Arabidopsis at a high frequency. Proc. Natl Acad. Sci. USA 97, 3718–3723 (2000).

Clough, S. J. & Bent, A. F. Floral dip: a simplified method for Agrobacterium-mediated transformation of Arabidopsis thaliana. Plant J. 16, 735–743 (1998).
Acknowledgements
This work was supported by Defense Advanced Research Projects Agency Advanced Plant Technologies (DARPA-APT, HR001118C0137); National Institutes of Health, National Institute on Drug Abuse 1R21DA053496-01; and NSF-2128016, NSF-2128287 and NSF-2128246. Additional support was provided by the Medical College of Wisconsin, the University of California, Syngenta AG and the California Citrus Research Board. The views, opinions and/or findings expressed are those of the authors and should not be interpreted as representing the official views or policies of the US Department of Defense or the US Government. Approved for public release, distribution unlimited.
Ethics declarations
Competing interests
S.-Y.P. and S.R.C. are co-inventors on a University of California (UC)-owned patent (US20190389914A1), and S.R.C, I.W., T.A.W., S.W. and J.B. are co-inventors on a joint UC–University of Colorado Boulder (CUB) provisional patent, both of which cover some parts of the research described in the present work. The other authors declare no competing interests.
Peer review
Peer review information
Nature Chemical Biology thanks the anonymous reviewers for their contribution to the peer review of this work.
Additional information
Publisher's note Springer Nature remains neutral with regard to jurisdictional claims in published maps and institutional affiliations.
Supplementary information
Supplementary Figs. 1 and 2, Tables 1–8 and References.
Vector sequences for constructs used in this paper and source data for supplementary figures.
Rights and permissions
Open Access This article is licensed under a Creative Commons Attribution 4.0 International License, which permits use, sharing, adaptation, distribution and reproduction in any medium or format, as long as you give appropriate credit to the original author(s) and the source, provide a link to the Creative Commons license, and indicate if changes were made. The images or other third party material in this article are included in the article's Creative Commons license, unless indicated otherwise in a credit line to the material. If material is not included in the article's Creative Commons license and your intended use is not permitted by statutory regulation or exceeds the permitted use, you will need to obtain permission directly from the copyright holder. To view a copy of this license, visit http://creativecommons.org/licenses/by/4.0/.
About this article
Cite this article
Park, SY., Qiu, J., Wei, S. et al. An orthogonalized PYR1-based CID module with reprogrammable ligand-binding specificity. Nat Chem Biol (2023). https://doi.org/10.1038/s41589-023-01447-7
Received:

Accepted:

Published:

DOI: https://doi.org/10.1038/s41589-023-01447-7