Abstract
Much of the human proteome is involved in mRNA homeostasis, but most RNA-binding proteins lack chemical probes. Here we identify electrophilic small molecules that rapidly and stereoselectively decrease the expression of transcripts encoding the androgen receptor and its splice variants in prostate cancer cells. We show by chemical proteomics that the compounds engage C145 of the RNA-binding protein NONO. Broader profiling revealed that covalent NONO ligands suppress an array of cancer-relevant genes and impair cancer cell proliferation. Surprisingly, these effects were not observed in cells genetically disrupted for NONO, which were instead resistant to NONO ligands. Reintroduction of wild-type NONO, but not a C145S mutant, restored ligand sensitivity in NONO-disrupted cells. The ligands promoted NONO accumulation in nuclear foci and stabilized NONO–RNA interactions, supporting a trapping mechanism that may prevent compensatory action of paralog proteins PSPC1 and SFPQ. These findings show that NONO can be co-opted by covalent small molecules to suppress protumorigenic transcriptional networks.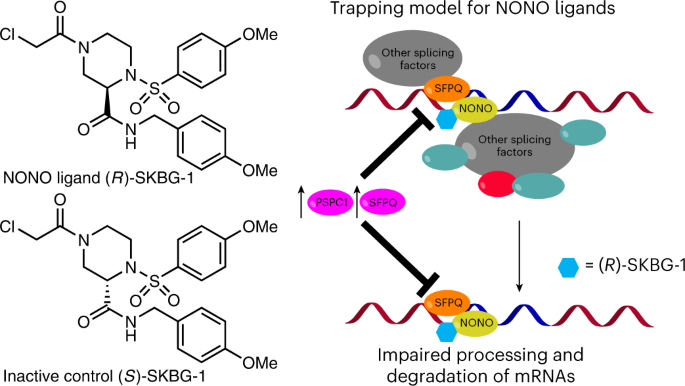 Access options
Access Nature and 54 other Nature Portfolio journals
Get Nature+, our best-value online-access subscription
$29.99 / 30 days
cancel any time
Subscribe to this journal
Receive 12 print issues and online access
$259.00 per year
only $21.58 per issue
Rent or buy this article
Get just this article for as long as you need it
$39.95
Prices may be subject to local taxes which are calculated during checkout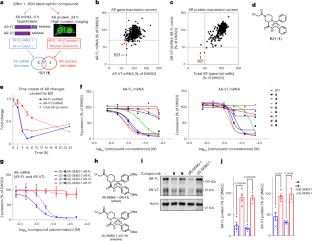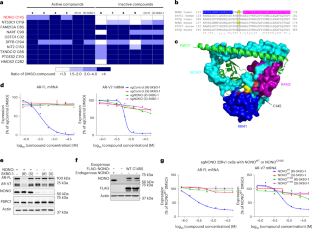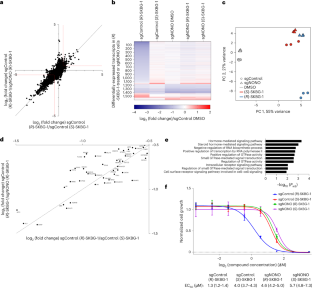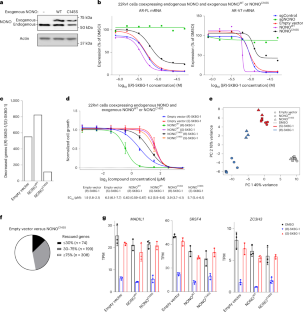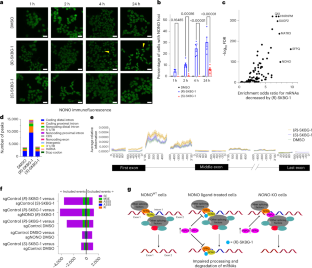 Data availability
Raw proteomic data have been deposited to the ProteomeXchange Consortium via the PRIDE partner repository with the dataset identifiers PXD039283 (cysteine MS-ABPP with 6 h of compound treatment and FLAG–NONO coimmunoprecipitation–MS) and PXD032087 (all other experiments). Raw RNA-seq and eCLIP–seq data have been deposited to NCBI under Gene Expression Omnibus accession codes GSE222217 and GSE198212, respectively. Processed proteomic data are provided in Supplementary Datasets 1 and 3, RNA-seq data are provided in Supplementary Datasets 2 and 6, and eCLIP–seq data are provided in Supplementary Datasets 4 and 5. Source data are provided with this paper.
Code availability
All software used for data analysis is publicly available and detailed in the Methods. Custom scripts that were used for analyzing eCLIP data are linked in the Methods and Reporting Summary.
References
Bentley, D. L. Coupling mRNA processing with transcription in time and space. Nat. Rev. Genet. 15, 163–175 (2014).

Gerstberger, S., Hafner, M. & Tuschl, T. A census of human RNA-binding proteins. Nat. Rev. Genet. 15, 829–845 (2014).

Gebauer, F., Schwarzl, T., Valcárcel, J. & Hentze, M. W. RNA-binding proteins in human genetic disease. Nat. Rev. Genet. 22, 185–198 (2021).

Pereira, B., Billaud, M. & Almeida, R. RNA-binding proteins in cancer: old players and new actors. Trends Cancer 3, 506–528 (2017).

Julio, A. R. & Backus, K. M. New approaches to target RNA binding proteins. Curr. Opin. Chem. Biol. 62, 13–23 (2021).

Wu, P. Inhibition of RNA-binding proteins with small molecules. Nat. Rev. Chem. 4, 441–458 (2020).

D'Agostino, V. G. et al. Screening approaches for targeting ribonucleoprotein complexes: a new dimension for drug discovery. SLAS Discov. 24, 314–331 (2019).

Alberti, S. & Hyman, A. A. Biomolecular condensates at the nexus of cellular stress, protein aggregation disease and ageing. Nat. Rev. Mol. Cell Biol. 22, 196–213 (2021).

Han, T. et al. Anticancer sulfonamides target splicing by inducing RBM39 degradation via recruitment to DCAF15. Science 356, eaal3755 (2017).

Kotake, Y. et al. Splicing factor SF3b as a target of the antitumor natural product pladienolide. Nat. Chem. Biol. 3, 570–575 (2007).

Naineni, S. K. et al. Functional mimicry revealed by the crystal structure of an eIF4A:RNA complex bound to the interfacial inhibitor, desmethyl pateamine A. Cell Chem. Biol. 28, 825–834 (2021).

Iwasaki, S. et al. The translation inhibitor rocaglamide targets a bimolecular cavity between eIF4A and polypurine RNA. Mol. Cell 73, 738–748 (2019).

Palacino, J. et al. SMN2 splice modulators enhance U1–pre-mRNA association and rescue SMA mice. Nat. Chem. Biol. 11, 511–517 (2015).

Lonergan, P. & Tindall, D. Androgen receptor signaling in prostate cancer development and progression. J. Carcinog. 10, 20 (2011).

Sanford, M. Enzalutamide: a review of its use in metastatic, castration-resistant prostate cancer. Drugs 73, 1723–1732 (2013).

Kregel, S. et al. Androgen receptor degraders overcome common resistance mechanisms developed during prostate cancer treatment. Neoplasia 22, 111–119 (2020).

Salami, J. et al. Androgen receptor degradation by the proteolysis-targeting chimera ARCC-4 outperforms enzalutamide in cellular models of prostate cancer drug resistance. Commun. Biol. 1, 100 (2018).

Joseph, J. D. et al. A clinically relevant androgen receptor mutation confers resistance to second-generation antiandrogens enzalutamide and ARN-509. Cancer Discov. 3, 1020–1029 (2013).

Antonarakis, E. S. et al. AR-V7 and resistance to enzalutamide and abiraterone in prostate cancer. N. Engl. J. Med. 371, 1028–1038 (2014).

Andersen, R. J. et al. Regression of castrate-recurrent prostate cancer by a amall-molecule inhibitor of the amino-terminus domain of the androgen receptor. Cancer Cell 17, 535–546 (2010).

Xie, J. et al. Targeting androgen receptor phase separation to overcome antiandrogen resistance. Nat. Chem. Biol. 18,1341–1350 (2022).

Luna Velez, M. V., Verhaegh, G. W., Smit, F., Sedelaar, J. P. M. & Schalken, J. A. Suppression of prostate tumor cell survival by antisense oligonucleotide-mediated inhibition of AR-V7 mRNA synthesis. Oncogene 38, 3696–3709 (2019).

Melnyk, J. E. et al. Targeting a splicing-mediated drug resistance mechanism in prostate cancer by inhibiting transcriptional regulation by PKCβ1. Oncogene 41, 1536–1549 (2022).

Backus, K. M. et al. Proteome-wide covalent ligand discovery in native biological systems. Nature 534, 570–574 (2016).

Ostrem, J. M., Peters, U., Sos, M. L., Wells, J. A. & Shokat, K. M. K-Ras(G12C) inhibitors allosterically control GTP affinity and effector interactions. Nature 503, 548–551 (2013).

Vinogradova, E. V. et al. An activity-guided map of electrophile-cysteine interactions in primary human T Cells. Cell 182, 1009–1026 (2020).

Weerapana, E. et al. Quantitative reactivity profiling predicts functional cysteines in proteomes. Nature 468, 790–795 (2010).

Knott, G. J., Bond, C. S. & Fox, A. H. The DBHS proteins SFPQ, NONO and PSPC1: a multipurpose molecular scaffold. Nucleic Acids Res. 44, 3989–4004 (2016).

Emili, A. et al. Splicing and transcription-associated proteins PSF and p54nrb/nonO bind to the RNA polymerase II CTD. RNA 8, 1102–1111 (2002).

Passon, D. M. et al. Structure of the heterodimer of human NONO and paraspeckle protein component 1 and analysis of its role in subnuclear body formation. Proc. Natl Acad. Sci. USA 109, 4846–4850 (2012).

Ishitani, K. et al. p54nrb acts as a transcriptional coactivator for activation function 1 of the human androgen receptor. Biochem. Biophys. Res. Commun. 306, 660–665 (2003).

Dong, X., Sweet, J., Challis, J. R. G., Brown, T. & Lye, S. J. Transcriptional activity of androgen receptor is modulated by two RNA splicing factors, PSF and p54nrb. Mol. Biol. Cell 27, 4863–4875 (2007).

Takayama, K.-I. et al. Dysregulation of spliceosome gene expression in advanced prostate cancer by RNA-binding protein PSF. Proc. Natl Acad. Sci. USA 114, 10461–10466 (2017).

Mathieson, T. et al. Systematic analysis of protein turnover in primary cells. Nat. Commun. 9, 689 (2018).

Witwicki, R. M. et al. TRPS1 is a lineage-specific transcriptional dependency in breast cancer. Cell Rep. 25, 1255–1267 (2018).

Lefèvre, L. et al. Combined transcriptome studies identify AFF3 as a mediator of the oncogenic effects of β-catenin in adrenocortical carcinoma. Oncogenesis 4, e161 (2015).

Grand, R. S. et al. BANP opens chromatin and activates CpG-island-regulated genes. Nature 596, 133–137 (2021).

Young, L. C., McDonald, D. W. & Hendzel, M. J. Kdm4b histone demethylase is a DNA damage response protein and confers a survival advantage following γ irradiation. J. Biol. Chem. 288, 21376–21388 (2013).

Li, S. et al. Double-strand break repair deficiency in NONO knockout murine embryonic fibroblasts and compensation by spontaneous upregulation of the PSPC1 paralog. Nucleic Acids Res. 42, 9771–9780 (2014).

Stagsted, L. V. W., O'Leary, E. T., Ebbesen, K. K. & Hansen, T. B. The RNA-binding protein SFPQ preserves long-intron splicing and regulates circRNA biogenesis in mammals. eLife 10, e63088 (2021).

Kim, S., Kim, D., Cho, S. W., Kim, J. & Kim, J.-S. Highly efficient RNA-guided genome editing in human cells via delivery of purified Cas9 ribonucleoproteins. Genome Res. 24, 1012–1019 (2014).

Fox, A. H., Bond, C. S. & Lamond, A. L. P54nrb forms a heterodimer with PSP1 that localizes to paraspeckles in an RNA-dependent manner. Mol. Biol. Cell 16, 5304–5315 (2005).

Fox, A. H. et al. Paraspeckles: a novel nuclear domain. Curr. Biol. 12, 13–25 (2002).

Prasanth, K. V. et al. Regulating gene expression through RNA nuclear retention. Cell 123, 249–263 (2005).

Van Nostrand, E. L. et al. A large-scale binding and functional map of human RNA-binding proteins. Nature 583, 711–719 (2020).

Van Nostrand, E. L. et al. Robust transcriptome-wide discovery of RNA-binding protein binding sites with enhanced CLIP (eCLIP). Nat. Methods 13, 508–514 (2016).

Salton, M., Lerenthal, Y., Wang, S.-Y., Chen, D. J. & Shiloh, Y. Involvement of matrin 3 and SFPQ/NONO in the DNA damage response. Cell Cycle 9, 1568–1576 (2010).

Her, H., Boyle, E. & Yeo, G. W. Metadensity: a background-aware Python pipeline for summarizing CLIP signals on various transcriptomic sites. Bioinform. Adv. 2, vbac083 (2022).

Briata, P. et al. Diverse roles of the nucleic acid-binding protein KHSRP in cell differentiation and disease. Wiley Interdiscip. Rev. RNA 7, 227–240 (2016).

Schreiber, S. L. The rise of molecular glues. Cell 184, 3–9 (2021).

Shalem, O. et al. Genome-scale CRISPR–Cas9 knockout screening in human cells. Science 343, 84–87 (2014).

Verbist, B. et al. Analyzing magnetic bead QuantiGene Plex 2.0 gene expression data in high throughput mode using QGprofiler. BMC Bioinformatics 20, 378 (2019).

Cornelissen, F., Cik, M. & Gustin, E. Phaedra, a protocol-driven system for analysis and validation of high-content imaging and flow cytometry. J. Biomol. Screen. 17, 496–506 (2012).

Patro, R., Duggal, G., Love, M. I., Irizarry, R. A. & Kingsford, C. Salmon provides fast and bias-aware quantification of transcript expression. Nat. Methods 14, 417–419 (2017).

Love, M. I. et al. Tximeta: reference sequence checksums for provenance identification in RNA-seq. PLoS Comput. Biol. 16, e1007664 (2020).

Love, M. I., Huber, W. & Anders, S. Moderated estimation of fold change and dispersion for RNA-seq data with DESeq2. Genome Biol. 15, 550 (2014).

Subramanian, A. et al. Gene set enrichment analysis: a knowledge-based approach for interpreting genome-wide expression profiles. Proc. Natl Acad. Sci. USA 102, 15545–15550 (2005).

Shen, S. et al. rMATS: robust and flexible detection of differential alternative splicing from replicate RNA-seq data. Proc. Natl Acad. Sci. USA 111, E5593–E5601 (2014).

Heinz, S. et al. Simple combinations of lineage-determining transcription factors prime cis-regulatory elements required for macrophage and B cell identities. Mol. Cell 38, 576–589 (2010).

Yee, B. A., Pratt, G. A., Graveley, B. R., Van Nostrand, E. L. & Yeo, G. W. RBP-Maps enables robust generation of splicing regulatory maps. RNA 25, 193–204 (2019).
Acknowledgements
This work was supported by the NIH (R35 CA231991), a fellowship to S.G.K. from the National Cancer Institute (CA228436), a fellowship to H.-L.H. from the J. Yang Foundation Fellowship, a fellowship to H.L. from the Damon Runyon Foundation and a fellowship to J.R.R. from the American Cancer Society (PF-18-217-01-CDD). Part of this work was supported by Janssen R&D Integrated Technology Strategy Funding. We thank G. Van Hecke, H. De Wolf, G. Laenen and H. Murray for technical help, R. de Hoogt for providing the engineered cell line and S. Allen, I. Heo, H. Murray, P. Abeywickrema, A. Thompson, S. Sharma, P. J. Connolly and J. P. Edwards for insightful discussions. G.W.Y. is supported by NIH grants U41 HG009889, U01 HG009417, R01 HL137223 and R01 HG004659. G.W.Y. is supported as an Allen Distinguished Investigator, a Paul G. Allen Frontier Group advised grant to the Paul G. Allen Family Foundation.
Ethics declarations
Competing interests
B.F.C. is a founder and scientific advisor to Vividion Therapeutics. G.W.Y. is an SAB member of Jumpcode Genomics and a cofounder, a member of the Board of Directors, on the SAB, an equity holder and a paid consultant for Locanabio and Eclipse BioInnovations. G.W.Y. is a visiting professor at the National University of Singapore. G.W.Y.'s interests have been reviewed and approved by the University of California, San Diego, in accordance with its conflict-of-interest policies. The other authors declare no competing interests.
Peer review
Peer review information
Nature Chemical Biology thanks Benjamin Blencowe and the other, anonymous, reviewer(s) for their contribution to the peer review of this work.
Additional information
Publisher's note Springer Nature remains neutral with regard to jurisdictional claims in published maps and institutional affiliations.
Supplementary information
Rights and permissions
Springer Nature or its licensor (e.g. a society or other partner) holds exclusive rights to this article under a publishing agreement with the author(s) or other rightsholder(s); author self-archiving of the accepted manuscript version of this article is solely governed by the terms of such publishing agreement and applicable law.
About this article
Cite this article
Kathman, S.G., Koo, S.J., Lindsey, G.L. et al. Remodeling oncogenic transcriptomes by small molecules targeting NONO. Nat Chem Biol (2023). https://doi.org/10.1038/s41589-023-01270-0
Received:

Accepted:

Published:

DOI: https://doi.org/10.1038/s41589-023-01270-0