Abstract
A drug's selectivity for target receptors is essential to its therapeutic utility, but achieving selectivity between similar receptors is challenging. The serendipitous discovery of ligands that stimulate target receptors more strongly than closely related receptors, despite binding with similar affinities, suggests a solution. The molecular mechanism of such 'efficacy-driven selectivity' has remained unclear, however, hindering design of such ligands. Here, using atomic-level simulations, we reveal the structural basis for the efficacy-driven selectivity of a long-studied clinical drug candidate, xanomeline, between closely related muscarinic acetylcholine receptors (mAChRs). Xanomeline's binding mode is similar across mAChRs in their inactive states but differs between mAChRs in their active states, with divergent effects on active-state stability. We validate this mechanism experimentally and use it to design ligands with altered efficacy-driven selectivity. Our results suggest strategies for the rational design of ligands that achieve efficacy-driven selectivity for many pharmaceutically important G-protein-coupled receptors.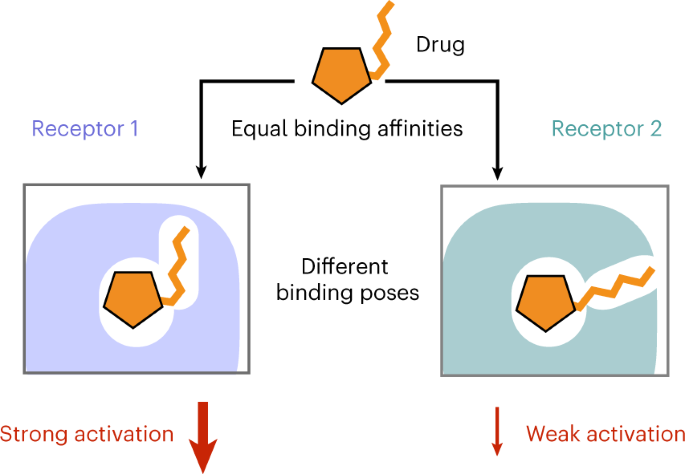 References
Huggins, D. J., Sherman, W. & Tidor, B. Rational approaches to improving selectivity in drug design. J. Med. Chem. 55, 1424–1444 (2012).

Campillos, M., Kuhn, M., Gavin, A. C., Jensen, L. J. & Bork, P. Drug target identification using side-effect similarity. Science 321, 263–266 (2008).

Weinstein, Z. B. et al. Modeling the impact of drug interactions on therapeutic selectivity. Nat. Commun. 9, 3452 (2018).

Liu, H. et al. Structure-guided development of selective M3 muscarinic acetylcholine receptor antagonists. Proc. Natl Acad. Sci. USA 115, 12045–12050 (2018).

Wang, Q., MacH, R. H., Luedtke, R. R. & Reichert, D. E. Subtype selectivity of dopamine receptor ligands: insights from structure and ligand-based methods. J. Chem. Inf. Model. 50, 1970–1985 (2010).

Shannon, H. E. et al. Xanomeline: a novel muscarinic receptor agonist with functional selectivity for M1 receptors. J. Pharmacol. Exp. Ther. 269, 271–281 (1994).

Gay, E. A., Urban, J. D., Nichols, D. E., Oxford, G. S. & Mailman, R. B. Functional selectivity of D2 receptor ligands in a Chinese hamster ovary hD2L cell line: evidence for induction of ligand-specific receptor states. Mol. Pharmacol. 66, 97–105 (2004).

Li, X. et al. Crystal structure of the human cannabinoid receptor CB2. Cell 176, 459–467 (2019).

Newman, A. H. et al. Molecular determinants of selectivity and efficacy at the dopamine D3 receptor. J. Med. Chem. 55, 6689–6699 (2012).

Kruse, A. C. et al. Muscarinic acetylcholine receptors: novel opportunities for drug development. Nat. Rev. Drug Discov. 13, 549–560 (2014).

Bender, A. M., Jones, C. K. & Lindsley, C. W. Classics in chemical neuroscience: xanomeline. ACS Chem. Neurosci. 8, 435–443 (2017).

Lutfy, K. & Cowan, A. Buprenorphine: a unique drug with complex pharmacology. Curr. Neuropharmacol. 2, 395–402 (2005).

Gudin, J. & Fudin, J. A narrative pharmacological review of buprenorphine: a unique opioid for the treatment of chronic pain. Pain Ther. 9, 41–54 (2020).

Kilts, J. D. et al. Functional selectivity of dopamine receptor agonists. II. Actions of dihydrexidine in D2L receptor-transfected MN9D cells and pituitary lactotrophs. J. Pharmacol. Exp. Ther. 301, 1179–1189 (2002).

Dominguez, C. et al. Methyl substitution of 2-aminobicyclo[3.1.0]hexane 2,6-dicarboxylate (LY354740) determines functional activity at metabotropic glutamate receptors: identification of a subtype selective mGlu2 receptor agonist. J. Med. Chem. 48, 3605–3612 (2005).

Oyama, T. et al. Adaptability and selectivity of human peroxisome proliferator-activated receptor (PPAR) pan agonists revealed from crystal structures. Acta Crystallogr. D 65, 786–795 (2009).

Bymaster, F. P. et al. Xanomeline: a selective muscarinic agonist for the treatment of Alzheimer's disease. Drug Dev. Res. 40, 158–170 (1997).

Eglen, R. M., Choppin, A. & Watson, N. Therapeutic opportunities from muscarinic receptor research. Trends Pharmacol. Sci. 22, 409–414 (2001).

Bodick, N. C. et al. Effects of xanomeline, a selective muscarinic receptor agonist, on cognitive function and behavioral symptoms in Alzheimer disease. Arch. Neurol. 54, 465–473 (1997).

Brannan, S. K. et al. Muscarinic cholinergic receptor agonist and peripheral antagonist for schizophrenia. N. Engl. J. Med. 384, 717–726 (2021).

Shekhar, A. et al. Selective muscarinic receptor agonist xanomeline as a novel treatment approach for schizophrenia. Am. J. Psychiatry 165, 1033–1039 (2008).

Thorn, C. A. et al. Striatal, hippocampal, and cortical networks are differentially responsive to the M4- and M1-muscarinic acetylcholine receptor mediated effects of xanomeline. ACS Chem. Neurosci. 10, 1753–1764 (2019).

Miao, Y., Nichols, S. E., Gasper, P. M., Metzger, V. T. & McCammon, J. A. Activation and dynamic network of the M2 muscarinic receptor. Proc. Natl Acad. Sci. USA 110, 10982–10987 (2013).

Thal, D. M. et al. Crystal structures of the M1 and M4 muscarinic acetylcholine receptors. Nature 531, 335–340 (2016).

Vuckovic, Z. et al. Crystal structure of the M5 muscarinic acetylcholine receptor. Proc. Natl Acad. Sci. USA 116, 26001–26007 (2019).

Pándy-Szekeres, G. et al. GPCRdb in 2018: adding GPCR structure models and ligands. Nucleic Acids Res. 46, 440–446 (2018).

Jakubík, J., El-Fakahany, E. E. & Doležal, V. Differences in kinetics of xanomeline binding and selectivity of activation of G proteins at M1 and M2 muscarinic acetylcholine receptors. Mol. Pharmacol. 70, 656–666 (2006).

Black, J. W. & Leff, P. Operational models of pharmacological agonism. Proc. R. Soc. Lond. B 220, 141–162 (1983).

Kenakin, T., Watson, C., Muniz-Medina, V., Christopoulos, A. & Novick, S. A simple method for quantifying functional selectivity and agonist bias. ACS Chem. Neurosci. 3, 193–203 (2012).

Olsen, R. H. J. et al. TRUPATH, an open-source biosensor platform for interrogating the GPCR transducerome. Nat. Chem. Biol. 16, 841–849 (2020).

Christopoulos, A., Pierce, T. L., Sorman, J. L. & El-Fakahany, E. E. On the unique binding and activating properties of xanomeline at the M1 muscarinic acetylcholine receptor. Mol. Pharmacol. 53, 1120–1130 (1998).

Randáková, A. et al. Agonist-specific conformations of the M2 muscarinic acetylcholine receptor assessed by molecular dynamics. J. Chem. Inf. Model. 60, 2325–2338 (2020).

Sharif, N. A., Williams, G. W. & DeSantis, L. M. Affinities of muscarinic drugs for [3H]N-methylscopolamine (NMS) and [3H]oxotremorine (OXO) binding to a mixture of M1–M4 muscarinic receptors: use of NMS/OXO-M ratios to group compounds into potential agonist, partial agonist, and antagonist classes. Neurochem. Res. 20, 669–674 (1995).

Zhu, L., Cui, Y. Y., Feng, J. M., Wu, X. J. & Chen, H. Z. Aceclidine and pilocarpine interact differently with muscarinic receptor in isolated rabbit iris muscle. Life Sci. 78, 1617–1623 (2006).

Koehl, A. et al. Structure of the µ-opioid receptor–Gi protein complex. Nature 558, 547–552 (2018).

Wakeham, M. C. L. et al. Structural features of iperoxo–BQCA muscarinic acetylcholine receptor hybrid ligands determining subtype selectivity and efficacy. ACS Chem. Neurosci. 13, 97–111 (2022).

Finlay, D. B., Duffull, S. B. & Glass, M. 100 years of modelling ligand–receptor binding and response: a focus on GPCRs. Br. J. Pharmacol. 177, 1472–1484 (2020).

Jakubı, J., Tuc, S. & El-fakahany, E. E. Role of receptor protein and membrane lipids in xanomeline wash-resistant binding to muscarinic M1 receptors. J. Pharmacol. Exp. Ther. 308, 105–110 (2004).

Kane, B. E., Grant, M. K. O., El-Fakahany, E. E. & Ferguson, D. M. Synthesis and evaluation of xanomeline analogs—probing the wash-resistant phenomenon at the M1 muscarinic acetylcholine receptor. Bioorg. Med. Chem. 16, 1376–1392 (2008).

Kruse, A. C. et al. Structure and dynamics of the M3 muscarinic acetylcholine receptor. Nature 482, 552–556 (2012).

Tautermann, C. S. et al. Molecular basis for the long duration of action and kinetic selectivity of tiotropium for the muscarinic M3 receptor. J. Med. Chem. 56, 8746–8756 (2013).

Toll, L. & Auh, J. Standard binding and functional assays related to medications development division testing for potential cocaine and opiate narcotic treatment medications. NIDA Res. Monogr. 178, 440–466 (1998).

Greedy, B. M. et al. Orvinols with mixed κ/μ opioid receptor agonist activity. J. Med. Chem. 56, 3207–3216 (2013).

McMahon, C. et al. Yeast surface display platform for rapid discovery of conformationally selective nanobodies. Nat. Struct. Mol. Biol. 25, 289–296 (2018).

de Oliveira, T. M., van Beek, L., Shilliday, F., Debreczeni, J. & Phillips, C. Cryo-EM: the resolution revolution and drug discovery. SLAS Discov. 26, 17–31 (2021).

Hollingsworth, S. A. et al. Cryptic pocket formation underlies subtype selectivity of GPCR allosteric modulators. Nat. Commun. 10, 3289 (2019).

Miao, Y. & McCammon, J. A. G-protein-coupled receptors: advances in simulation and drug discovery. Curr. Opin. Struct. Biol. 41, 83–89 (2016).

Ghanouni, P. et al. The effect of pH on β2 adrenoceptor function. Evidence for protonation-dependent activation. J. Biol. Chem. 275, 3121–3127 (2000).

Ranganathan, A., Dror, R. O. & Carlsson, J. Insights into the role of Asp 79(2.50) in β2 adrenergic receptor activation from molecular dynamics simulations. Biochemistry 53, 7283–7296 (2014).

Morozenko, A. & Stuchebrukhov, A. Dowser++, a new method of hydrating protein structures. Proteins 84, 1347–1357 (2016).

Betz, R. M. Dabble (v2.6.3). Zenodo https://doi.org/10.5281/zenodo.836914 (2017).

Salomon-Ferrer, R., Götz, A. W., Poole, D., Le Grand, S. & Walker, R. C. Routine microsecond molecular dynamics simulations with AMBER on GPUs. 2. Explicit solvent particle mesh Ewald. J. Chem. Theory Comput. 9, 3878–3888 (2013).

Huang, J. & MacKerell, A. D. CHARMM36 all-atom additive protein force field: validation based on comparison to NMR data. J. Comput. Chem. 34, 2135–2145 (2013).

Vanommeslaeghe, K. & MacKerell, A. D. Automation of the CHARMM general force field (CGenFF) I: bond perception and atom typing. J. Chem. Inf. Model. 52, 3144–3154 (2012).

Betz, R. M. & Walker, R. C. Paramfit: automated optimization of force field parameters for molecular dynamics simulations. J. Comput. Chem. 36, 79–87 (2015).

Suomivuori, C. M. et al. Molecular mechanism of biased signaling in a prototypical G-protein-coupled receptor. Science 367, 881–887 (2020).

Roe, D. R. & Cheatham, T. E. PTRAJ and CPPTRAJ: software for processing and analysis of molecular dynamics trajectory data. J. Chem. Theory Comput. 9, 3084–3095 (2013).

Humphrey, W., Dalke, A. & Schulten, K. VMD: visual molecular dynamics. J. Mol. Graph. 14, 33–38 (1996).

McDonald, J. K. et al. Biased profile of xanomeline at the recombinant human M4 muscarinic acetylcholine receptor. ACS Chem. Neurosci. 13, 1206–1218 (2022).

Yung-Chi, C. & Prusoff, W. H. Relationship between the inhibition constant (Ki) and the concentration of inhibitor which causes 50 percent inhibition (I50) of an enzymatic reaction. Biochem. Pharmacol. 22, 3099–3108 (1973).
Acknowledgements
We thank D. Aydin, S. Hollingsworth and M. Popiolek for discussions and advice. Funding was provided by a National Science Foundation Graduate Research Fellowship (A.S.P.), the Stanford ChEM-H Chemistry/Biology Interface Predoctoral Training Program under National Institutes of Health (NIH) Award Number T32GM120007, the Australian Research Council Discovery Project DP190102950 (C.V.) and DECRA fellowship DE170100152 (D.M.T.), the National Health and Medical Research Council of Australia (NHMRC) Program Grant APP1150083 (A.C. and P.M.S.) and Project Grant APP1138448 (D.M.T.), NHMRC Early Career Investigator APP1196951 (D.M.T.), NHMRC Senior Principal Research Fellowship APP1154434 (P.M.S.), NIH grant R01GM127359 (R.O.D.) and Karuna Therapeutics (S.M.P., C.C.F. and R.O.D.).
Ethics declarations
Competing interests
C.C.F. and S.M.P. are employees of and hold equity in Karuna Therapeutics. A.C. and P.M.S. are co-founders of Septerna, Inc. A.C., P.M.S. and R.O.D. hold equity in Septerna, Inc.
Peer review
Peer review information
Nature Chemical Biology thanks Xavier Deupi, John McCorvy and Nagarajan Vaidehi for their contribution to the peer review of this work.
Additional information
Publisher's note Springer Nature remains neutral with regard to jurisdictional claims in published maps and institutional affiliations.
Supplementary information
Supplementary Methods, Tables 1–6 and Figs. 1–10.
Rights and permissions
Open Access This article is licensed under a Creative Commons Attribution 4.0 International License, which permits use, sharing, adaptation, distribution and reproduction in any medium or format, as long as you give appropriate credit to the original author(s) and the source, provide a link to the Creative Commons license, and indicate if changes were made. The images or other third party material in this article are included in the article's Creative Commons license, unless indicated otherwise in a credit line to the material. If material is not included in the article's Creative Commons license and your intended use is not permitted by statutory regulation or exceeds the permitted use, you will need to obtain permission directly from the copyright holder. To view a copy of this license, visit http://creativecommons.org/licenses/by/4.0/.
About this article
Cite this article
Powers, A.S., Pham, V., Burger, W.A.C. et al. Structural basis of efficacy-driven ligand selectivity at GPCRs. Nat Chem Biol (2023). https://doi.org/10.1038/s41589-022-01247-5
Received:

Accepted:

Published:

DOI: https://doi.org/10.1038/s41589-022-01247-5