Abstract
Engineered destruction of target proteins by recruitment to the cell's degradation machinery has emerged as a promising strategy in drug discovery. The majority of molecules that facilitate targeted degradation do so via a select number of ubiquitin ligases, restricting this therapeutic approach to tissue types that express the requisite ligase. Here, we describe a new strategy of targeted protein degradation through direct substrate recruitment to the 26S proteasome. The proteolytic complex is essential and abundantly expressed in all cells; however, proteasomal ligands remain scarce. We identify potent peptidic macrocycles that bind directly to the 26S proteasome subunit PSMD2, with a 2.5-Å-resolution cryo-electron microscopy complex structure revealing a binding site near the 26S pore. Conjugation of this macrocycle to a potent BRD4 ligand enabled generation of chimeric molecules that effectively degrade BRD4 in cells, thus demonstrating that degradation via direct proteasomal recruitment is a viable strategy for targeted protein degradation.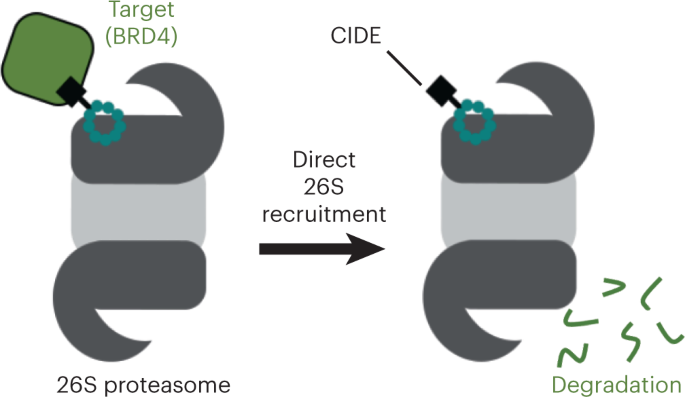 Data availability
The PSMD2/Fab/MC1 and PSMD2/Fab maps have been submitted to the EMD (https://www.ebi.ac.uk/pdbe/emdb/) under accession numbers 24742 and 24743, respectively. The PSMD2/MC1 and PSMD2 apo models have been deposited to the PDB (rcsb.org) under accession numbers 7UJD and 7UJH. Source data are provided with this paper. All other data generated or analyzed during this study are included in this published article and its Supplementary Information files.
References
Schwartz, A. L. & Ciechanover, A. Targeting proteins for destruction by the ubiquitin system: implications for human pathobiology. Annu. Rev. Pharm. 49, 73–96 (2008).

Chamberlain, P. P. & Hamann, L. G. Development of targeted protein degradation therapeutics. Nat. Chem. Biol. 15, 937–944 (2019).

Burslem, G. M. & Crews, C. M. Proteolysis-targeting chimeras as therapeutics and tools for biological discovery. Cell 181, 102–114 (2020).

Mullard, A. Targeted protein degraders crowd into the clinic. Nat. Rev. Drug Discov. 20, 247–250 (2021).

Buckley, D. L. et al. Targeting the von Hippel–Lindau E3 ubiquitin ligase using small molecules to disrupt the VHL/HIF-1α interaction. J. Am. Chem. Soc. 134, 4465–4468 (2012).

Winter, G. E. et al. Phthalimide conjugation as a strategy for in vivo target protein degradation. Science 348, 1376–1381 (2015).

Bondeson, D. P. et al. Catalytic in vivo protein knockdown by small-molecule PROTACs. Nat. Chem. Biol. 11, 611–617 (2015).

Raina, K. et al. PROTAC-induced BET protein degradation as a therapy for castration-resistant prostate cancer. Proc. Natl Acad. Sci. USA 113, 7124–7129 (2016).

Zengerle, M., Chan, K.-H. & Ciulli, A. Selective small molecule induced degradation of the BET bromodomain protein BRD4. ACS Chem. Biol. 10, 1770–1777 (2015).

Sakamoto, K. M. et al. PROTACs: chimeric molecules that target proteins to the Skp1–Cullin–F box complex for ubiquitination and degradation. Proc. Natl Acad. Sci. USA 98, 8554–8559 (2001).

Khan, S. et al. A selective BCL-XL PROTAC degrader achieves safe and potent antitumor activity. Nat. Med. 25, 1938–1947 (2019).

Zeng, M. et al. Exploring targeted degradation strategy for oncogenic KRASG12C. Cell Chem. Biol. 27, 19–31 (2019).

Rousseau, A. & Bertolotti, A. Regulation of proteasome assembly and activity in health and disease. Nat. Rev. Mol. Cell Biol. 19, 697–712 (2018).

Bard, J. A. M. et al. Structure and function of the 26S proteasome. Annu. Rev. Biochem. 87, 697–724 (2018).

Goto, Y., Katoh, T. & Suga, H. Flexizymes for genetic code reprogramming. Nat. Protoc. 6, 779–790 (2011).

Ishizawa, T., Kawakami, T., Reid, P. C. & Murakami, H. TRAP display: a high-speed selection method for the generation of functional polypeptides. J. Am. Chem. Soc. 135, 5433–5440 (2013).

Yamagishi, Y. et al. Natural product-like macrocyclic N-methyl-peptide inhibitors against a ubiquitin ligase uncovered from a ribosome-expressed de novo library. Chem. Biol. 18, 1562–1570 (2011).

Vinogradov, A. A., Yin, Y. & Suga, H. Macrocyclic peptides as drug candidates: recent progress and remaining challenges. J. Am. Chem. Soc. 141, 4167–4181 (2019).

Ferretti, L. P. et al. Cullin3-KLHL15 ubiquitin ligase mediates CtIP protein turnover to fine-tune DNA-end resection. Nat. Commun. 7, 12628 (2016).

Oberg, E. A., Nifoussi, S. K., Gingras, A. -C. & Strack, S. Selective proteasomal degradation of the B′β subunit of protein phosphatase 2A by the E3 ubiquitin ligase adaptor Kelch-like 15. J. Biol. Chem. 287, 43378–43389 (2012).

Rosenzweig, R., Bronner, V., Zhang, D., Fushman, D. & Glickman, M. H. Rpn1 and Rpn2 coordinate ubiquitin processing factors at proteasome. J. Biol. Chem. 287, 14659–14671 (2012).

Shi, Y. et al. Rpn1 provides adjacent receptor sites for substrate binding and deubiquitination by the proteasome. Science 351, aad9421 (2016).

Dong, Y. et al. Cryo-EM structures and dynamics of substrate-engaged human 26S proteasome. Nature 565, 49–55 (2018).

Fidanze, S. D. et al. Tetracyclic bromodomain inhibitors. International patent WO/2014/139324.

Gadd, M. S. et al. Structural basis of PROTAC cooperative recognition for selective protein degradation. Nat. Chem. Biol. 13, 514–521 (2017).

Zorba, A. et al. Delineating the role of cooperativity in the design of potent PROTACs for BTK. Proc. Natl Acad. Sci. USA 115, E7285–E7292 (2018).

Roy, M. J. et al. SPR-measured dissociation kinetics of PROTAC ternary complexes influence target degradation rate. ACS Chem. Biol. 14, 361–368 (2019).

Robers, M. B. et al. Quantitative, real-time measurements of intracellular target engagement using energy transfer. Methods Mol. Biol. 1888, 45–71 (2018).

Erales, J. & Coffino, P. Ubiquitin-independent proteasomal degradation. Biochim. Biophys. Acta 1843, 216–221 (2014).

Prakash, S., Inobe, T., Hatch, A. J. & Matouschek, A. Substrate selection by the proteasome during degradation of protein complexes. Nat. Chem. Biol. 5, 29–36 (2008).

Inobe, T., Fishbain, S., Prakash, S. & Matouschek, A. Defining the geometry of the two-component proteasome degron. Nat. Chem. Biol. 7, 161–167 (2010).

Bashore, C. et al. Ubp6 deubiquitinase controls conformational dynamics and substrate degradation of the 26S proteasome. Nat. Struct. Mol. Biol. 22, 712–719 (2015).

Yang, C. -Y., Qin, C., Bai, L. & Wang, S. Small-molecule PROTAC degraders of the bromodomain and extra terminal (BET) proteins—a review. Drug Discov. Today Technol. 31, 43–51 (2019).

Mayor-Ruiz, C. et al. Rational discovery of molecular glue degraders via scalable chemical profiling. Nat. Chem. Biol. 16, 1199–1207 (2020).

Zhang, L., Riley-Gillis, B., Vijay, P. & Shen, Y. Acquired resistance to BET-PROTACs (proteolysis-targeting chimeras) caused by genomic alterations in core components of E3 ligase complexes. Mol. Cancer Ther. 18, 1302–1311 (2019).

Ottis, P. et al. Cellular resistance mechanisms to targeted protein degradation converge toward impairment of the engaged ubiquitin transfer pathway. ACS Chem. Biol. 14, 2215–2223 (2019).

Roelofs, J. et al. Chaperone-mediated pathway of proteasome regulatory particle assembly. Nature 459, 861–865 (2009).

Kaneko, T. et al. Assembly pathway of the mammalian proteasome base subcomplex is mediated by multiple specific chaperones. Cell 137, 914–925 (2009).

Funakoshi, M., Tomko, R. J., Kobayashi, H. & Hochstrasser, M. Multiple assembly chaperones govern biogenesis of the proteasome regulatory particle base. Cell 137, 887–899 (2009).

Dong, K. C. et al. Preparation of distinct ubiquitin chain reagents of high purity and yield. Structure 19, 1053–1063 (2011).

Tonikian, R., Zhang, Y., Boone, C. & Sidhu, S. S. Identifying specificity profiles for peptide recognition modules from phage-displayed peptide libraries. Nat. Protoc. 2, 1368–1386 (2007).

Kashiwagi, K. & Reid, C. P. Rapid display method in translational synthesis of peptide. European patent EP2492344A1.

Huang, T. et al. MSstatsTMT: statistical detection of differentially abundant proteins in experiments with isobaric labeling and multiple mixtures. Mol. Cell Proteomics 19, 1706–1723 (2020).

Lee, W., Tonelli, M. & Markley, J. L. NMRFAM-SPARKY: enhanced software for biomolecular NMR spectroscopy. Bioinformatics 31, 1325–1327 (2014).

Fellouse, F. A. et al. High-throughput generation of synthetic antibodies from highly functional minimalist phage-displayed libraries. J. Mol. Biol. 373, 924–940 (2007).

Kabat, E. A., Wu, T., Foeller, C., Perry, H. M. & Gottesman, K. S. Sequences of Proteins of Immunological Interest (Diane Publishing, 1992).

Mastronarde, D. N. SerialEM: a program for automated tilt series acquisition on Tecnai microscopes using prediction of specimen position. Microsc. Microanal. 9, 1182–1183 (2003).

Scheres, S. H. W. A Bayesian view on cryo-EM structure determination. J. Mol. Biol. 415, 406–418 (2011).

Zivanov, J. et al. New tools for automated high-resolution cryo-EM structure determination in RELION-3. eLife 7, e42166 (2018).

Grant, T., Rohou, A. & Grigorieff, N. cisTEM, user-friendly software for single-particle image processing. eLife 7, e35383 (2018).

Rohou, A. & Grigorieff, N. CTFFIND4: fast and accurate defocus estimation from electron micrographs. J. Struct. Biol. 192, 216–221 (2015).

Terwilliger, T. C., Ludtke, S. J., Read, R. J., Adams, P. D. & Afonine, P. V. Improvement of cryo-EM maps by density modification. Nat. Methods 17, 923–927 (2020).

Emsley, P., Lohkamp, B., Scott, W. G. & Cowtan, K. Features and development of Coot. Acta Crystallogr. D Biol. Crystallogr. 66, 486–501 (2009).

Liebschner, D. et al. Macromolecular structure determination using X-rays, neutrons and electrons: recent developments in Phenix. Acta Crystallogr. D Struct. Biol. 75, 861–877 (2019).

Krissinel, E. & Henrick, K. Inference of macromolecular assemblies from crystalline state. J. Mol. Biol. 372, 774–797 (2007).

Lin, M., Krawitz, D., Callahan, M. D., Deperalta, G. & Wecksler, A. T. Characterization of ELISA antibody–antigen interaction using footprinting-mass spectrometry and negative staining transmission electron microscopy. J. Am. Soc. Mass Spectrom. 29, 961–971 (2017).

Sun, Y., Estevez, A., Schlothauer, T. & Wecksler, A. T. Antigen physiochemical properties allosterically effect the IgG Fc-region and Fc neonatal receptor affinity. MAbs 12, 1802135 (2020).

Garcia, N. K., Sreedhara, A., Deperalta, G. & Wecksler, A. T. Optimizing hydroxyl radical footprinting analysis of biotherapeutics using internal standard dosimetry. J. Am. Soc. Mass Spectrom. 31, 1563–1571 (2020).

Zhang, Y., Wecksler, A. T., Molina, P., Deperalta, G. & Gross, M. L. Mapping the binding interface of VEGF and a monoclonal antibody Fab-1 fragment with fast photochemical oxidation of proteins (FPOP) and mass spectrometry. J. Am. Soc. Mass Spectrom. 28, 850–858 (2017).
Acknowledgements
We thank A. Fedorova and C. Cunningham for technical support with mRNA display screens, E. Kraft for assistance with Fab expression and purification, C. Arthur and A. Estevez for assistance with cryo-EM grid preparation and data collection and J. Murray for advice in structure refinement. BRD4BD1 and BRD4BD2 domains were a gift from J. Fuhrmann. We thank R. Lazarus, J. Rudolph, E. Villemure, M. Sagolla, W. Sawyer and L. Kenner for many helpful discussions and J. Rudolph, J. Fuhrmann and A. Rohou for critical reading of the manuscript.
Ethics declarations
Competing interests
All authors were employees of Genentech at the time of this work. I.E.W. is currently an employee at Lyterian Therapeutics, C.B. is currently an employee at Eikon Therapeutics, S.P. is currently an employee of Nurix Therapeutics and S.T.S. is currently an employee at Lycia Therapeutics.
Peer review
Peer review information
Nature Chemical Biology thanks Frank Sicheri, Hiroaki Suga and the other, anonymous, reviewer(s) for their contribution to the peer review of this work.
Additional information
Publisher's note Springer Nature remains neutral with regard to jurisdictional claims in published maps and institutional affiliations.
Supplementary information
Supplementary Figs. 1–13, Tables 1–11, Figs. 14–17 (unprocessed gels or blots) and note (synthesis of MC1Cy5.5 and CIDEs).
Table of oligonucleotides and reagents for KLHL15-knockout experiments.
Rights and permissions
Open Access This article is licensed under a Creative Commons Attribution 4.0 International License, which permits use, sharing, adaptation, distribution and reproduction in any medium or format, as long as you give appropriate credit to the original author(s) and the source, provide a link to the Creative Commons license, and indicate if changes were made. The images or other third party material in this article are included in the article's Creative Commons license, unless indicated otherwise in a credit line to the material. If material is not included in the article's Creative Commons license and your intended use is not permitted by statutory regulation or exceeds the permitted use, you will need to obtain permission directly from the copyright holder. To view a copy of this license, visit http://creativecommons.org/licenses/by/4.0/.
About this article
Cite this article
Bashore, C., Prakash, S., Johnson, M.C. et al. Targeted degradation via direct 26S proteasome recruitment. Nat Chem Biol 19, 55–63 (2023). https://doi.org/10.1038/s41589-022-01218-w
Received:

Accepted:

Published:

Issue Date:

DOI: https://doi.org/10.1038/s41589-022-01218-w
This article is cited by
Nature Chemical Biology (2023)